187+ Henna Mehndi Designs For Indian Brides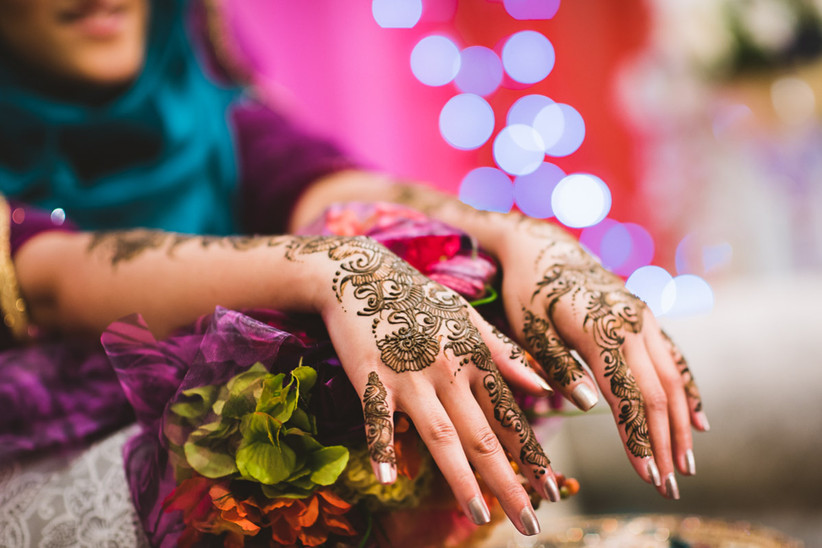 Image Courtesy: Baltana
The epitome of romance and an epic symbol of love, donning the hands of bride and groom before their wedding ceremony is an Indian wedding tradition we all are familiar with. Wedding season is upon us and we know you must be swamped with endless last minute shopping sprees and trips to the beauty salon or your wedding venue. Well, thanks to us you will now have one less thing to worry about, your bridal mehndi designs. Read this handy piece of information and know all about the different mehndi designs that are hot this wedding season that you can flaunt.
Mehndi & Henna: Origin & Significance
The Hindi word 'Mehndi' is the definitive art of applying henna to the hands of both men and women. Being home to the Indian sensibilities for centuries now, the application of henna on the hands of a bride-to-be and a groom-to-be is considered an auspicious tradition that falls two days before the wedding ceremony. Primarily used for weddings, festivities and celebrations, applying mehndi patterns is seen as a sacred pre-wedding ritual that all Hindu and vis-a-vis other cultures since time immemorial have been incorporating if their pre-wedding festivities.
1. This Is What Bridal Dreams Are Made Of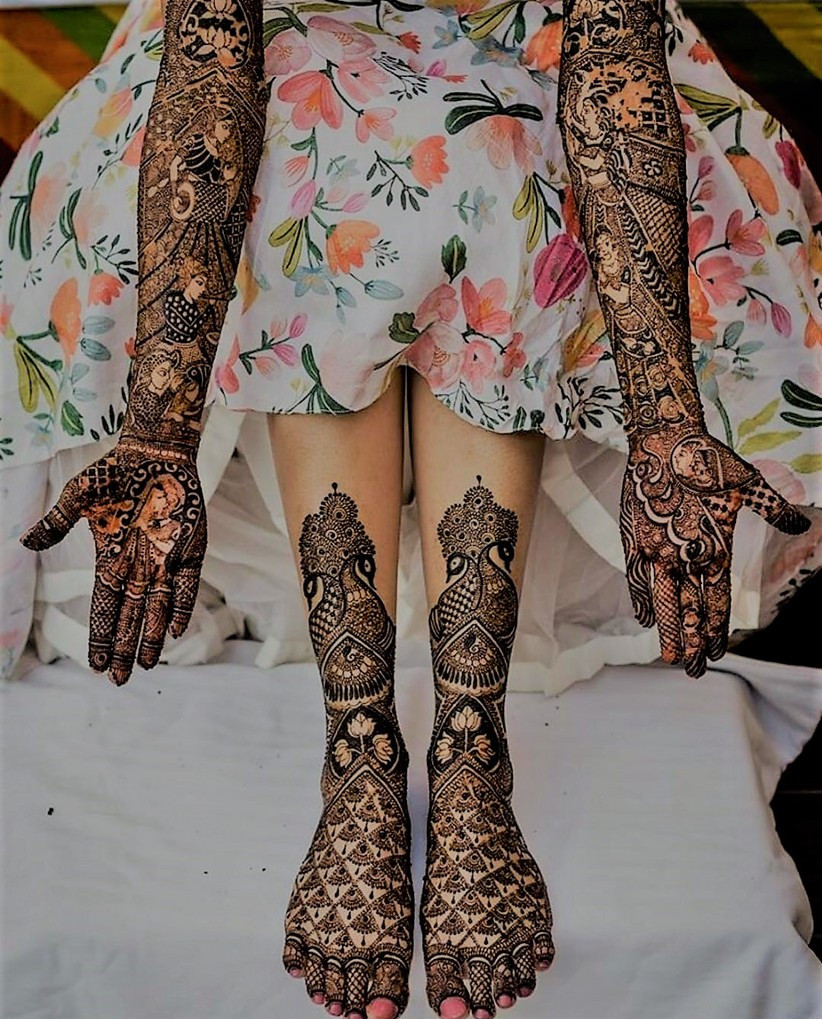 Image Courtesy: The Cage Story
The quintessential example of traditional bridal mehndi. A mehndi with intricate patterns both for the arms and the feet, a little criss-cross magic and a keen eye for creativity. Is the intricacy not a mesmerising treat to the eyes? Yes!
2. The Pristine Beauty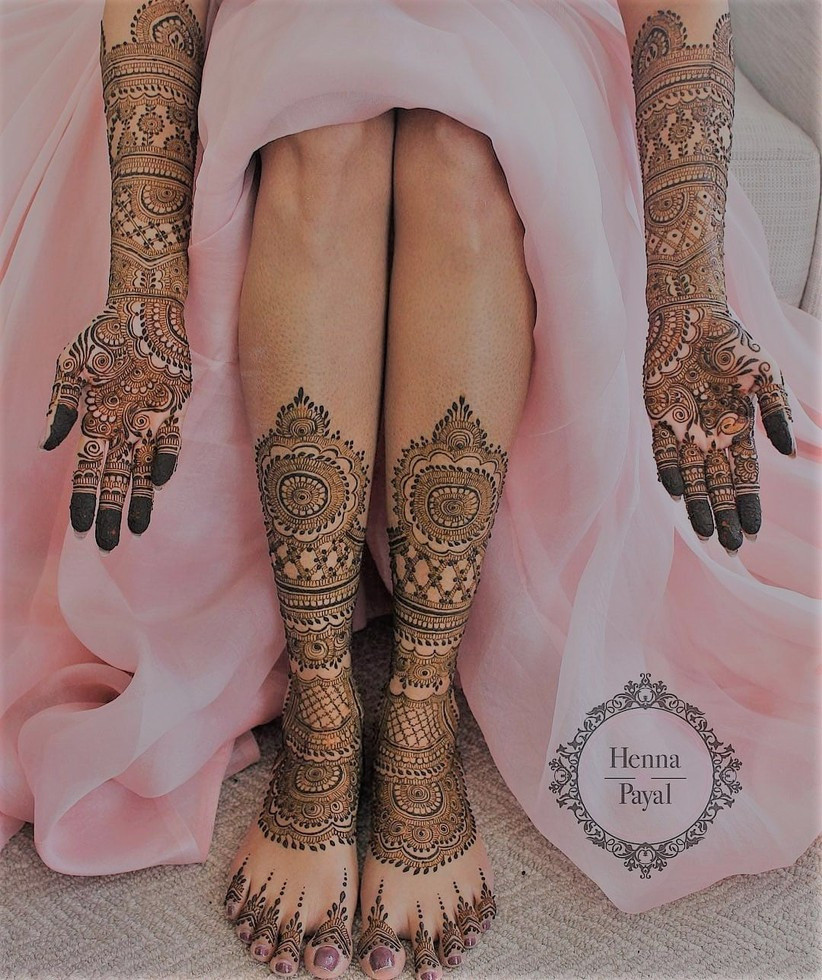 Image Courtesy: Henna By Payal
Goal!!! is the only word that comes to our minds! What about you? The neat and clean finishes are the most aesthetic designs seen in a mehndi design. The empty spaces in between make it less crowded.
3. The Butterfly Effect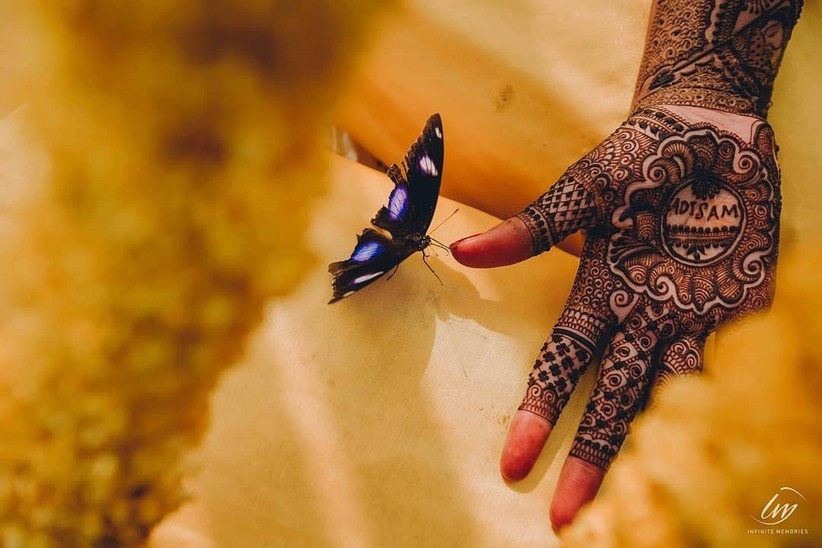 Infinite Memories A stunning mehndi design and that oh so gorgeous butterfly, her mehndi design and this picture are both goals for us! The tips are kept clean and the floral centre of it makes it a traditional epitome with the name of your better half. Perfect? yes!
4. When Close-ups Are All That Matters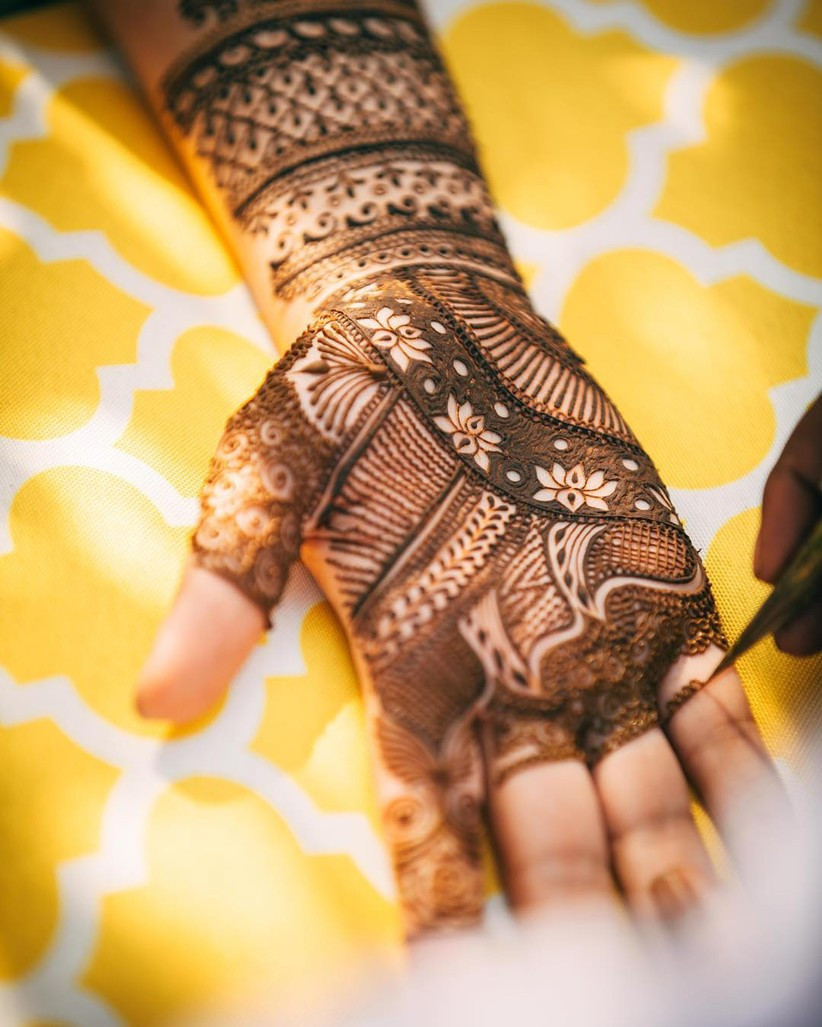 Gautam Khullar Photography A little reverse henna magic coming your way - those tiny lotus buds and flowers against the sheer black background of henna - a is a treat for sore eyes. Don't agree with us? We challenge you to keep staring at it for long and then not fall in love with it.
5. The Beauty of Swirls & Twirls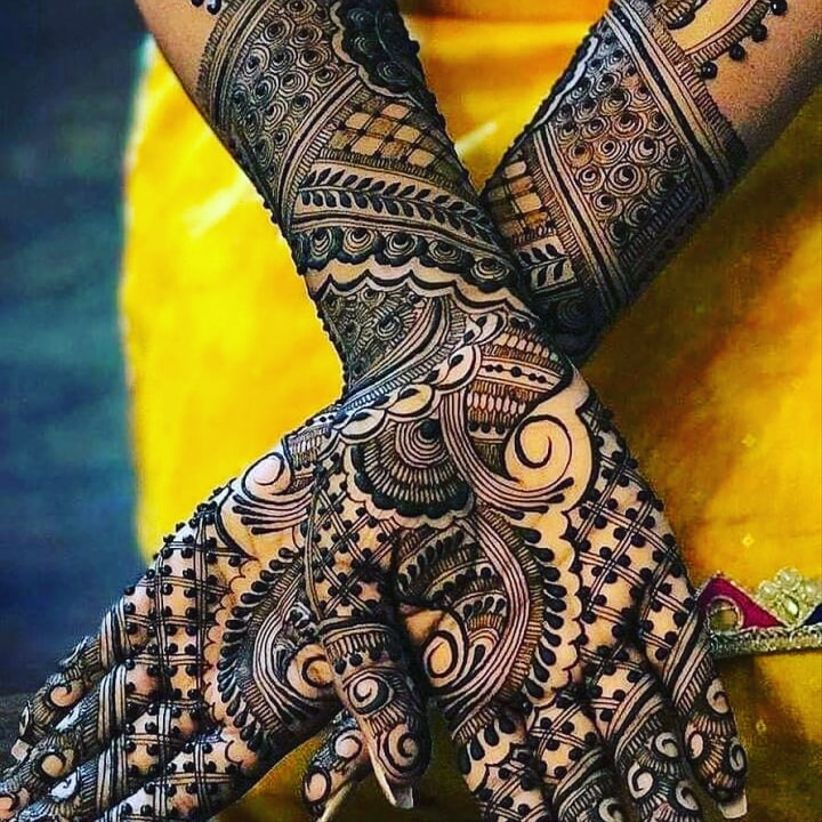 Mehandi Creation by Manu Bishnoi A swirly design that marks the traces of her palms and polka dots edging its boundaries, this mehndi design is brilliant, beautiful and absolutely one of a kind. This kind of mehndi design takes a lot of skill on the part of the artist, and a lot of patience from the bride. So if you've decided to go with a full-hand mehndi design, make sure you are prepared to sit still and be calm for a good amount of time.
6. Intricate Chadar Design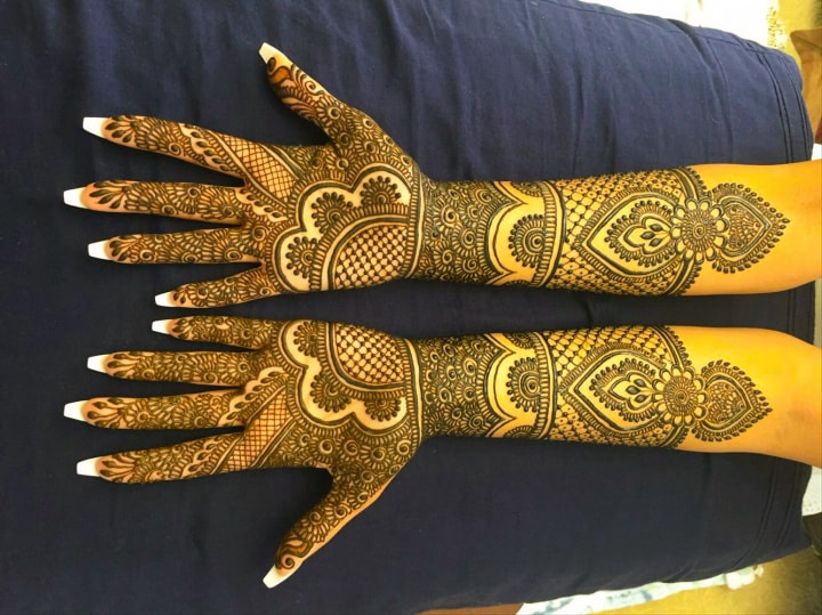 Mehandi Creation by Manu Bishnoi This design is hands down bridal mehndi goals and we cannot get enough of it! What about you? The Chadar unfolds on her pretty palms, carries through to her forearms, with a frilly segment flowing over to her index fingers. French manicure and the dark rich colours of the mehndi designs fit perfectly.
7. Paisley Peacocks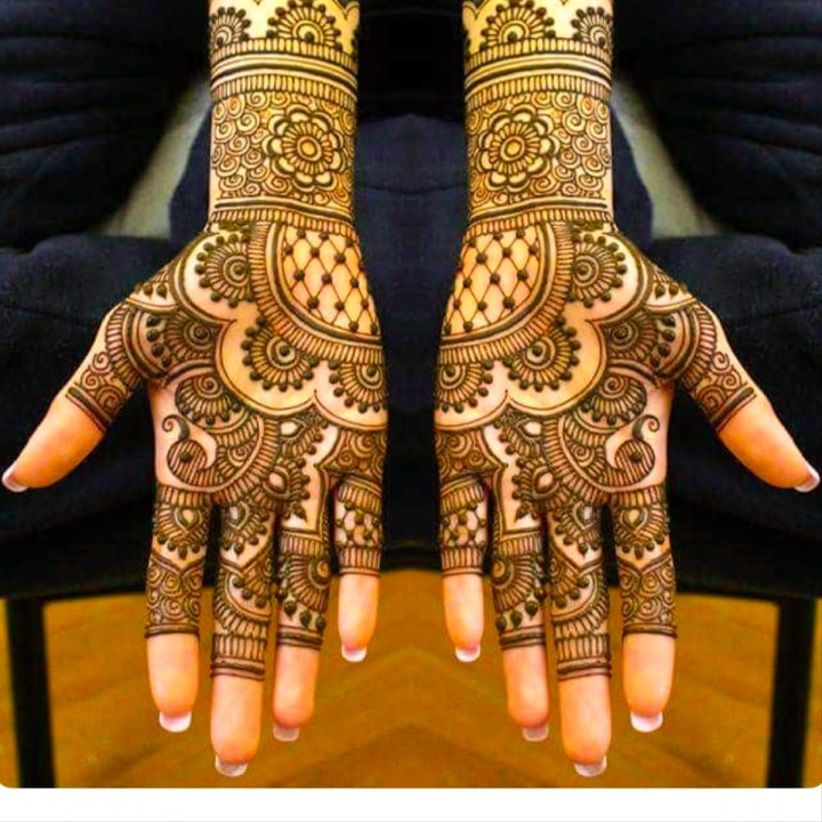 Mehandi Creation by Manu Bishnoi A soulful mix of minimalism and traditionalism, perfect for a bride who is a go-getter. Paisleys as peacocks are next level goals  - beyond simple paisleys and preening peacocks on the wrists.
8. The Detailed Magnificence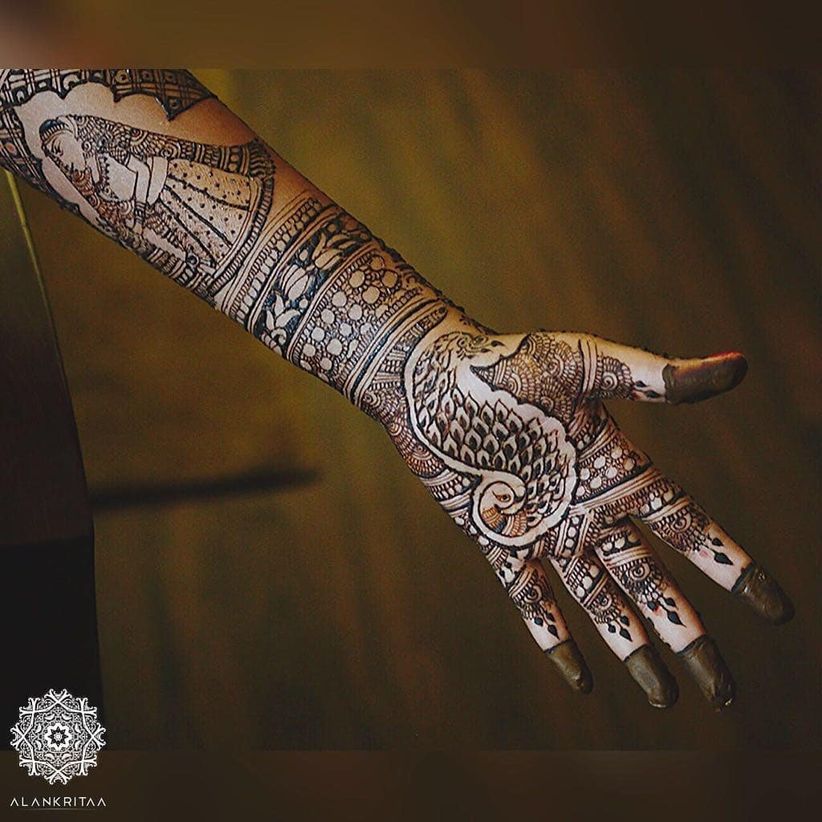 Alankritaa Donning the hands of a bride-to-be with henna, has been a long living Indian tradition and this henna design proves why! In fact, this mehndi design from Alankritaa has all the bridal favourites - the reverse lotus, a long-tailed peacock, bubbles and darts and dabbed fingertips. The Dulhan mehndi motif acts as the cherry on top!
9. When You Can't Decide What Is Prettier - the Rose or This New Mehndi Design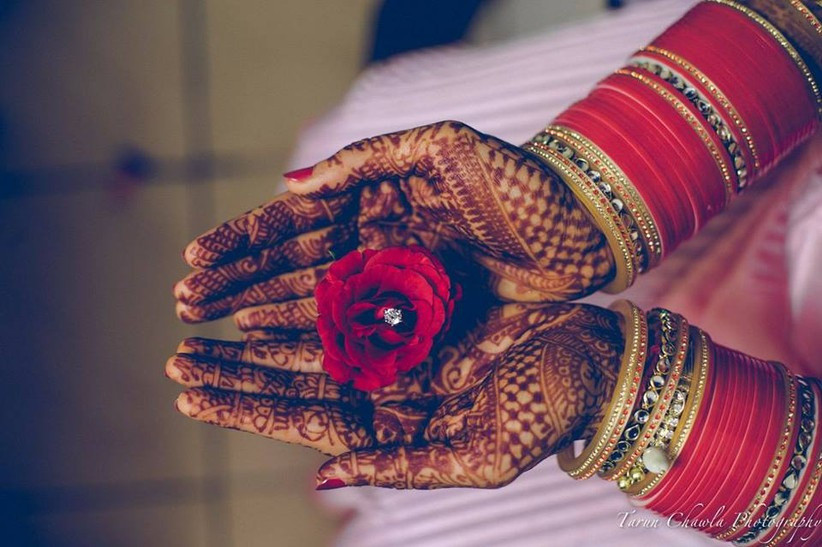 Tarun Chawla Photography When the photography skills are on point, when aesthetic juices are flowing in and the mehndi couldn't have been any better - we call that moment the moment of bliss for every bride-to-be.
10. The Light of My Life - My Sacred New Mehndi Design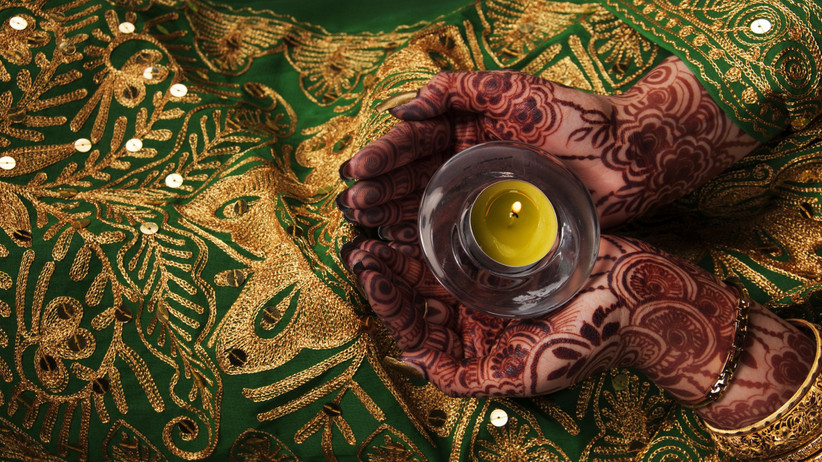 Image Courtesy: Crafter Wallpapers
Remember Aishwarya Rai in the movie
Devdas, 
when she walks up with a diya in her hands, in a similar way as this real bride is holding this light? We sure do! This mehndi design is impeccable, the green lehenga is just out of this world and that tea light is what is holding this entire picture together! Sometimes it is all about aesthetics and this picture proves why!
11. Raja-Rani Mehndi Design with Mantra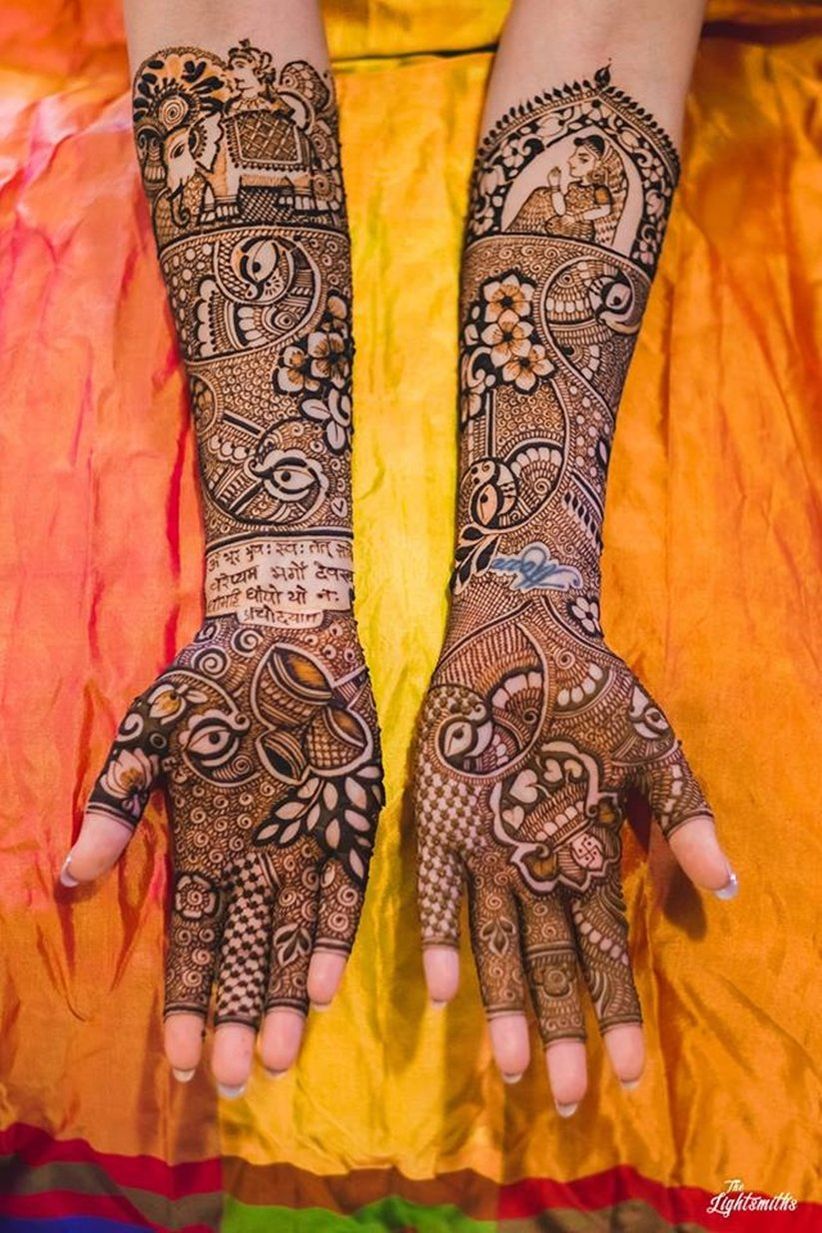 The Lightsmiths Ravishing. Isn't it? The intricacy of the pattern and the use of musical instruments as the motif is refreshing and unique. The bride has flaunted a prayer on her wrist and this mehndi design even speaks of a story with the groom and bride in her arms.
12. The Storyteller Mehndi Design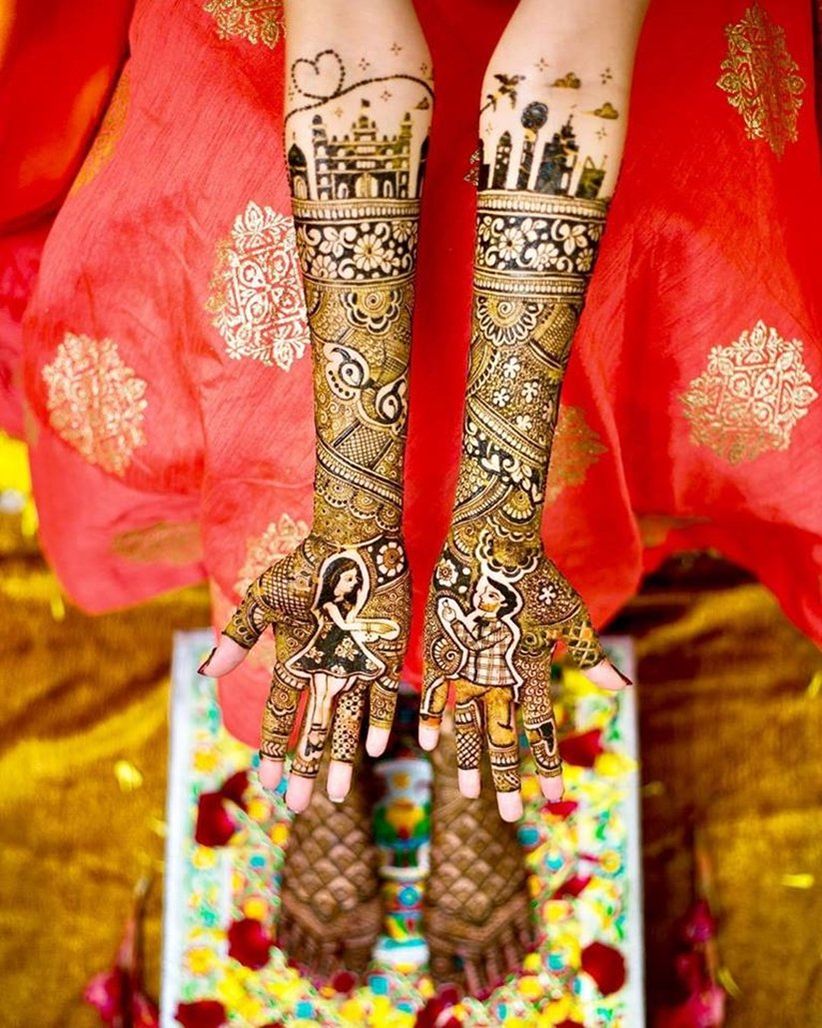 Plush Affairs This image is truly a sight for sore eyes! This go-getter bride got her love story weaved onto her bridal henna. Make the cut with your 'I-said-Yes' moment, the things you love to do together and how you stay connected to each other as your mehendi designs. You're only limited by your imagination!
13. Intricate Ganesh Mehndi Design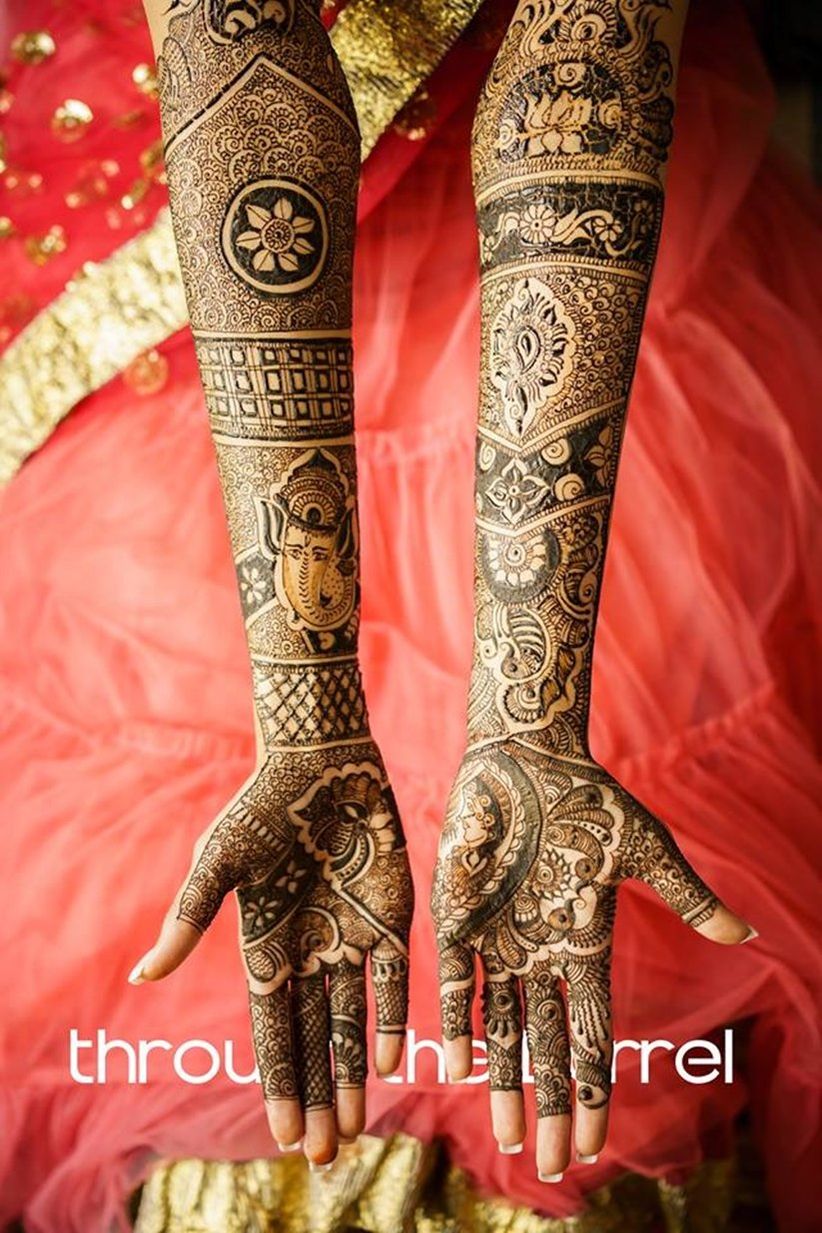 Through the Barrel Jai Shri Ganesh! Have an auspicious start to your new journey with this traditional mehndi design. If you wear your religion on your sleeve, add it to your bridal mehndi too. And if you don't, invoking Ganesh, Gauri Shankar or Radha Krishna through mehndi designs is an added blessing which also looks super cool. Traditional mehndi designs like this one are always a hit.
14. Varmala and Sindoor Design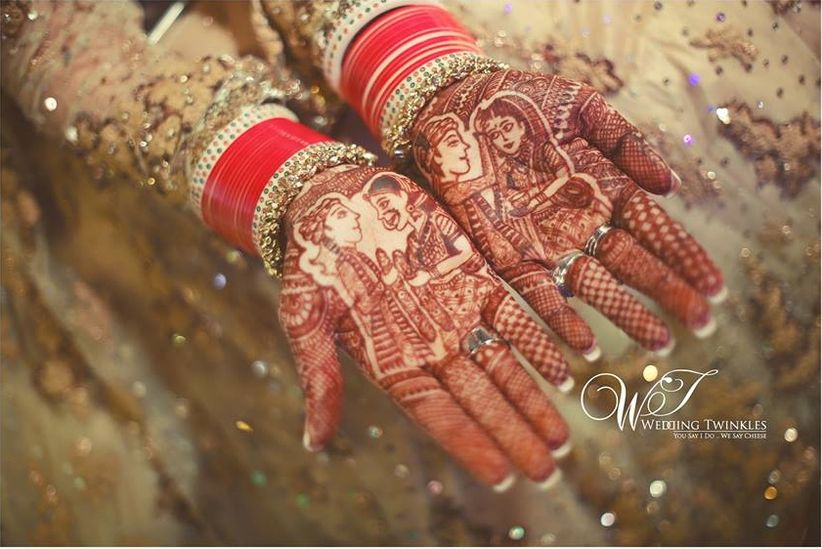 Wedding Twinkles When your mehndi represents your wedding traditions! The Jaimala Mehndi! We all know the importance of this ritual, in fact, it is one of the most sought after rituals in a wedding ceremony. Why, you ask? Because of the banter and the crazy shenanigans as the bride and the groom playfully dodge the mala.
15. Geometric Jaipuri Mehndi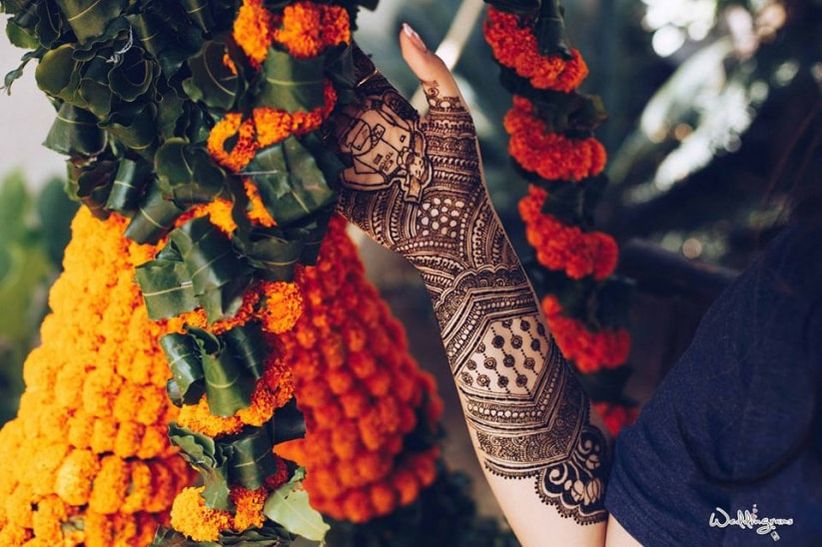 Weddingrams Can you spot the groom in this real bride's mehndi? We sure did! You can also add your own bike love - be the Bikerni for your own bridal mehndi designs.
16. Peek-a-boo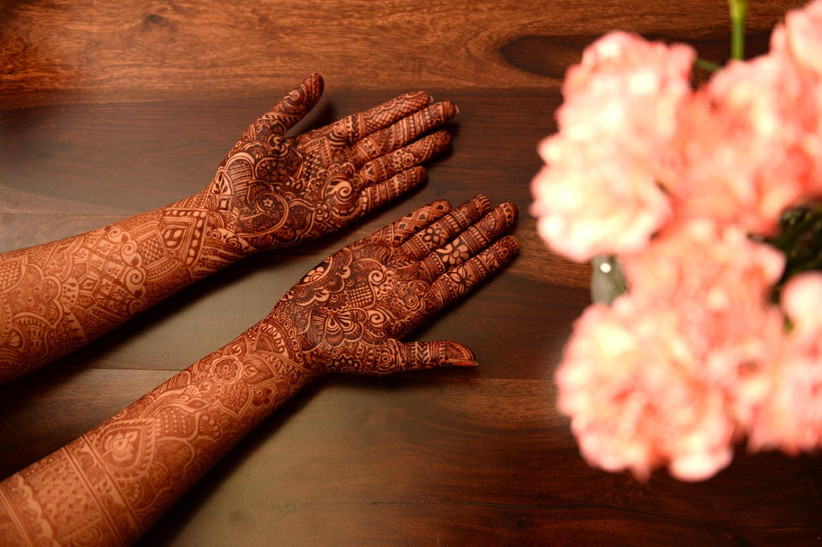 Ajay Mali Photography Talk about full mehndi designs! This one doesn't go for any set patterns and plays whimsically with a lot of motifs which have all come together beautifully. The fingers on the right hand alone are a great example of that. And how majestic yet adorable is the 5 petal flower just below the wrist! This is definitely going to stay long in our screenshot gallery.
B. Leg Mehndi Designs
No bridal mehndi comes to justice without some bespoke foot mehndi designs. Women spend as much time to take care of their feet as they do to take care of their face. So let's talk about that special occasion when you can exclusively decorate your lovely feet in the most graceful and stylish way possible. You can go for a minimalistic design for your feet or go full swing with an elaborate design, which does justice to your overall bridal avatar. Take quick inspiration from this galore of bridal mehndi designs curated especially for your feet and contact your mehndi artist right away!
17. Mehndi Din Shagna Di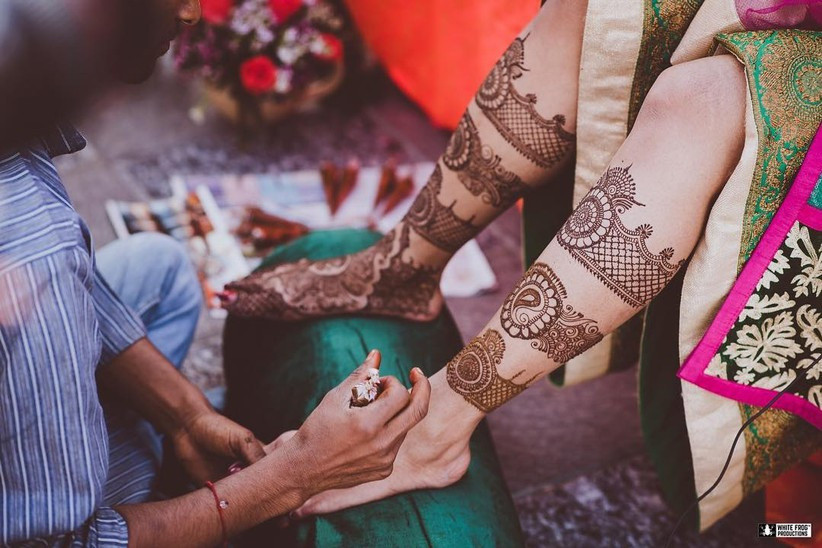 White Frog Productions
Mehndi Din Shagna Di
is the closest thing we know to magic and for a bride, her mehndi must be a class apart and different from anything that as sees before this day. Also, these bracelet style patterns are not just different but it brings out this fusion of traditional meets modern. So, if you are a believer of modern meets traditional then this is it! Bookmark more of these simple leg mehndi designs here!
18. Minimalistic Foot Mehndi Design with Statement Anklet Piece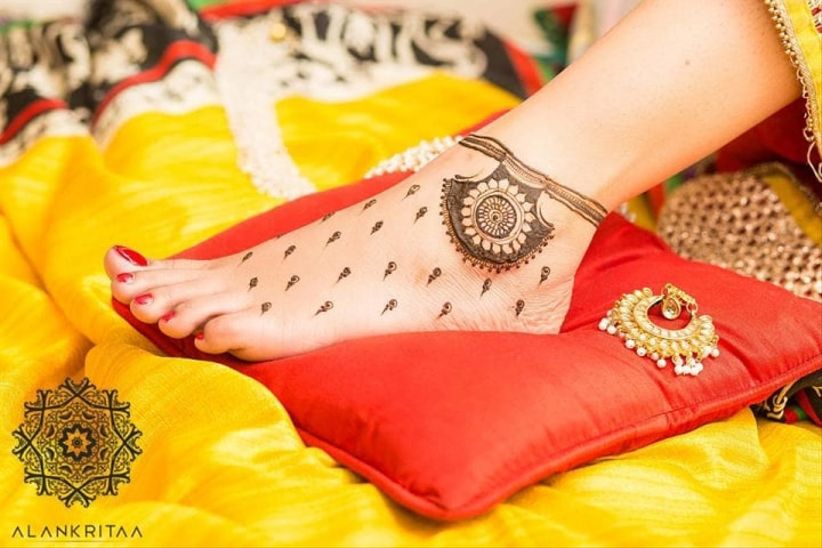 Alankritaa The minimalistic way is the right way and this mehndi design proves it why! The anklet style design mimics a piece of jewellery.
Ek Teer Do Nishane
? Yes, something like that. Incorporating jewellery in your mehndi style is a very popular motif in fact. When it comes to elegance and charm, sometimes less is more, and we are totally digging these mehendi designs which are #goals, through and through.
19. Bold is beautiful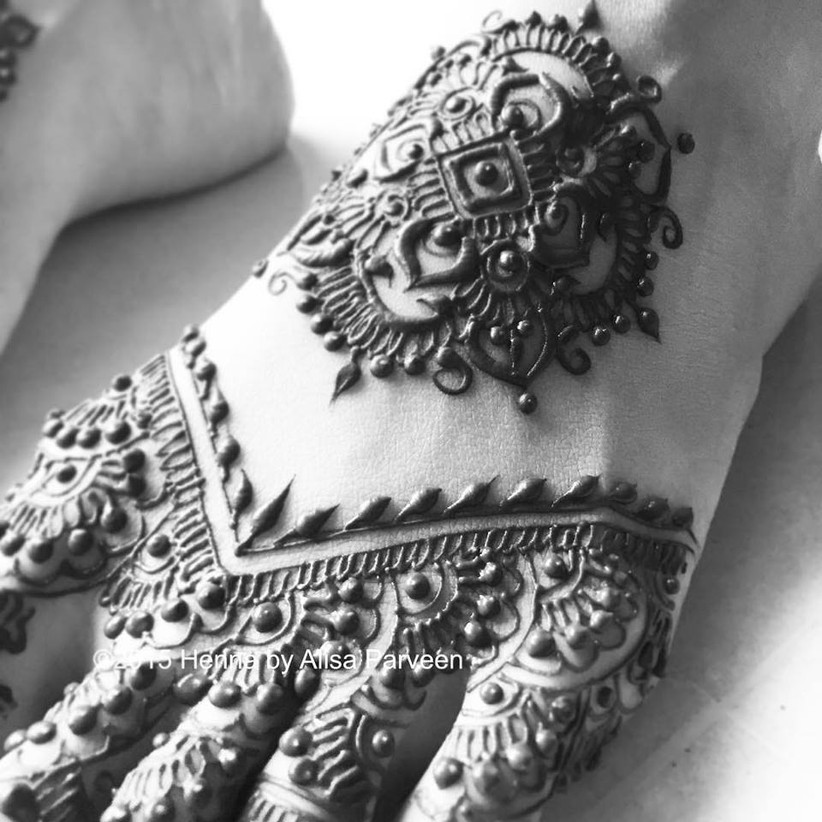 Image Courtesy: Alisa Parveen
Talking about lasting impressions, how about this mesmerising Arabic mehndi design for the foot. The trademark bold strikes of the mehndi are at once appealing and soothing. Bonus - Arabic mehndi designs take half the time than your traditional Indian designs and come out equally (if not more) charming.
20. Gorgeous Full Legs Mehndi Design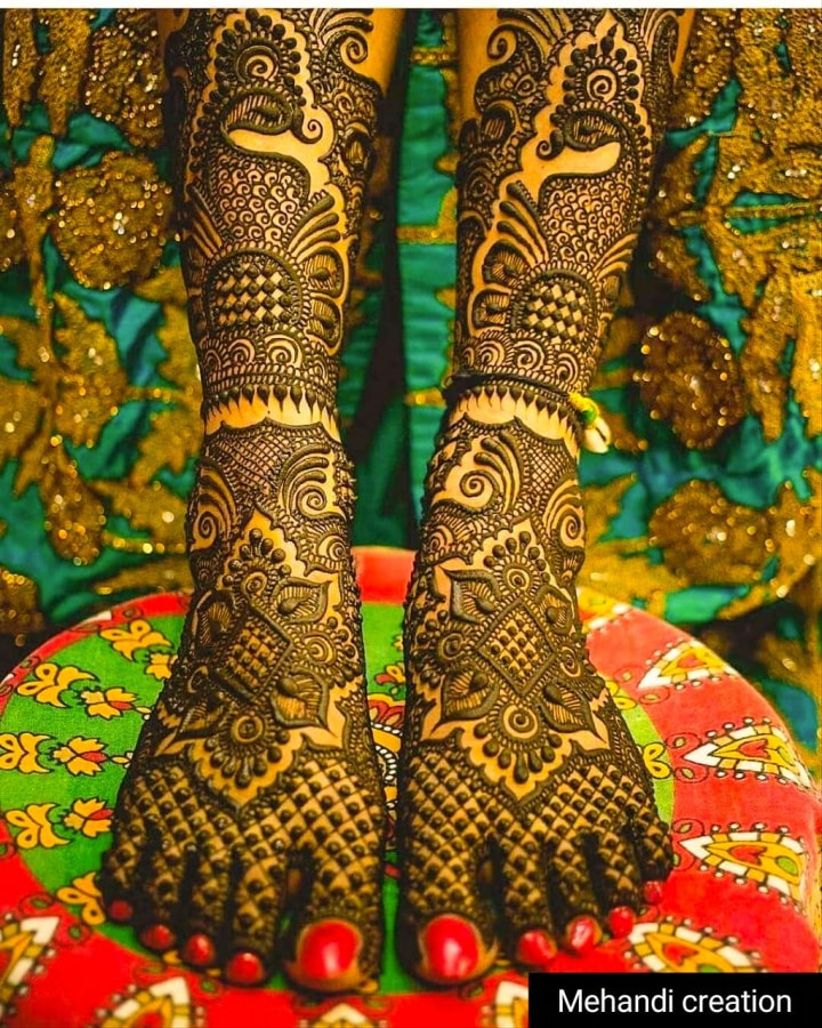 Mehandi Creation by Manu Bishnoi Here's a gorgeous design by Manu Bishnoi that showcases an astounding mirror image pattern. This design is so perfect that it looks unreal to us. How about you? The paisley peacocks are stealing the thunder and the precision of it all is just spellbinding.
21. Elephant Motif Leg Mehndi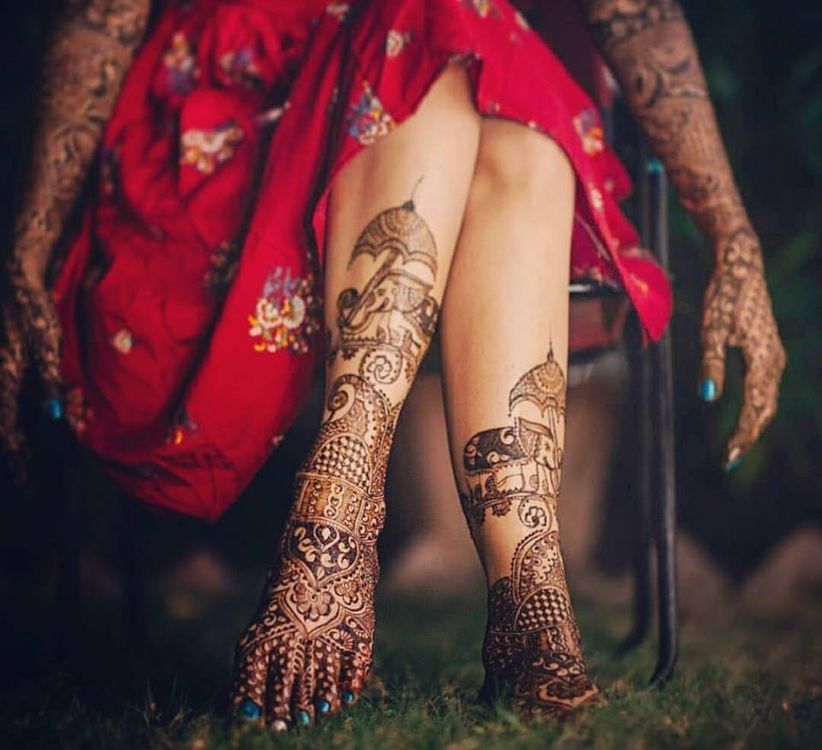 Mehndi Boutique - Henna Art by Aishwarya
Haathi Pe Hoke Sawaar Chali Re! 
Who knew an elephant motif mehndi design could look so rad? And the adorable elephant is even holding an umbrella - could it be any cooler?
22. Floral Entwined Paisley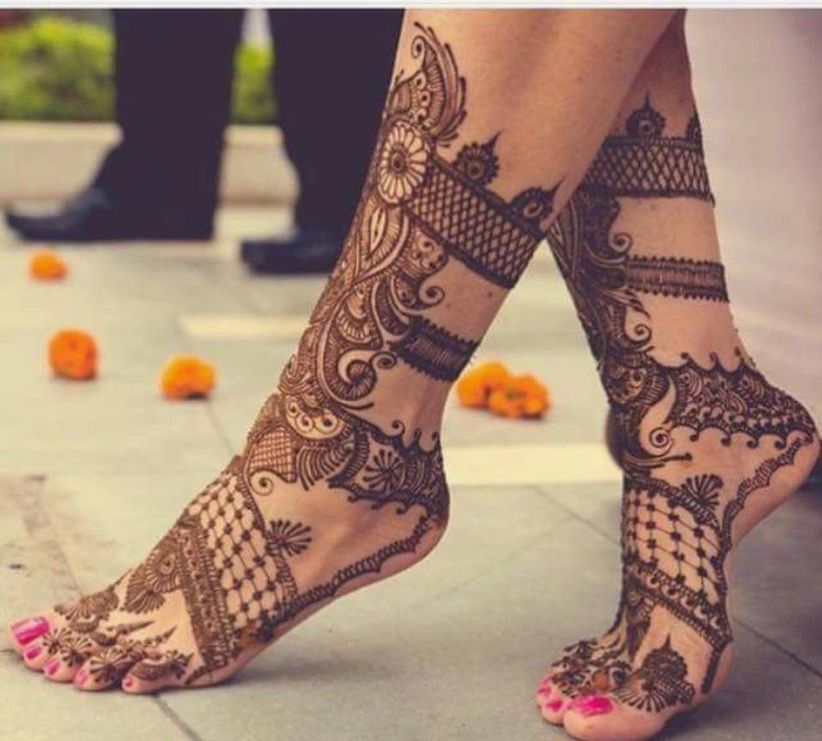 Barkha Arts The diamond shapes on the feet look simple yet beautiful, especially with the accompanying anklet style henna bands. In fact, mehendi designs which can double as ornaments is a great idea because it gives you the freedom to be all decked up, without your ensemble being overcrowded with too many elements.
23. Foot Mehndi Bands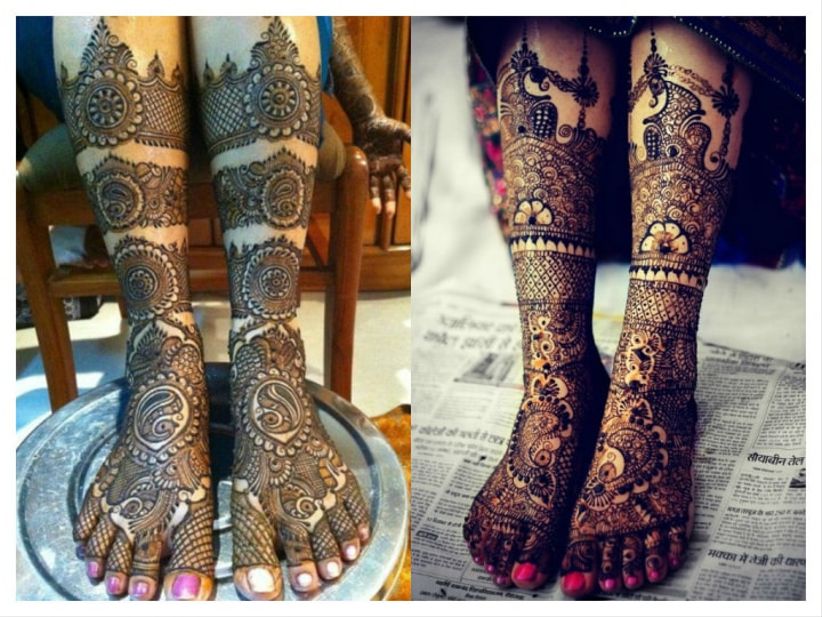 TaiNaz The Chadar and Jaal style mehndi design on the feet look complicated yet beautiful, especially with the accompanying peacock style henna holding this masterpiece together. The tasteful gaps given in between the mehndi design serve as borders which helps in noticing the intricacies of the patterns used.
24. Distinctive Floral Design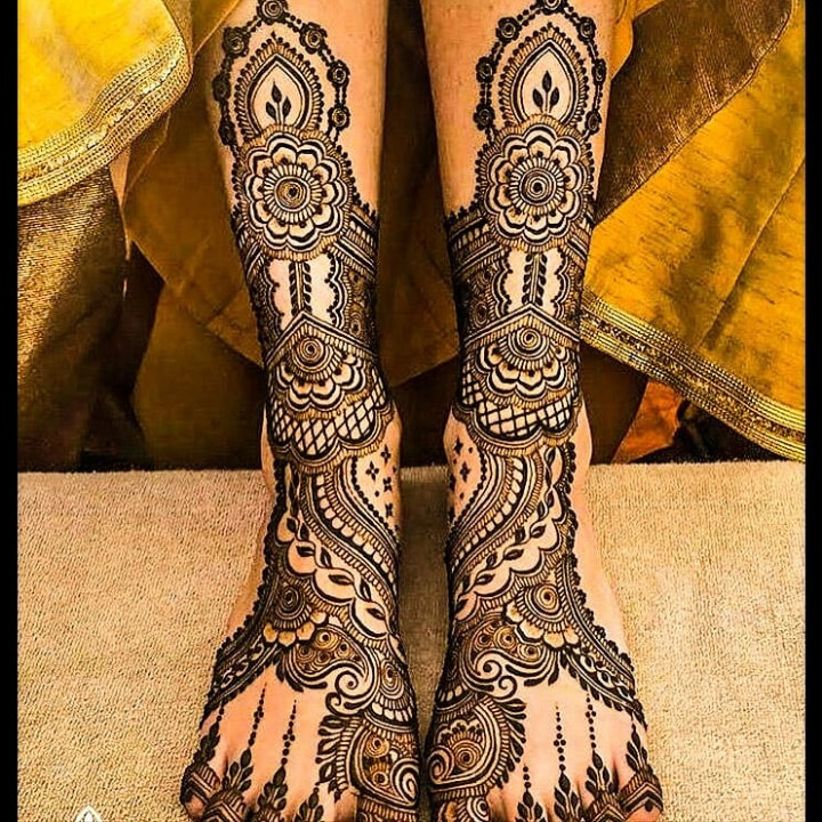 Mehandi Creation by Manu Bishnoi If we didn't know any better, we'd think this was a tattoo! Who knew mehndi could leave such a bold impression! And the perfect symmetry of this mehndi design could have only been achieved by masterful strokes after years of practice. Just one another reason that makes it hard for us to believe that this is a leg mehndi design and not a 2-D painting.
25. Alta-style Floral Mehndi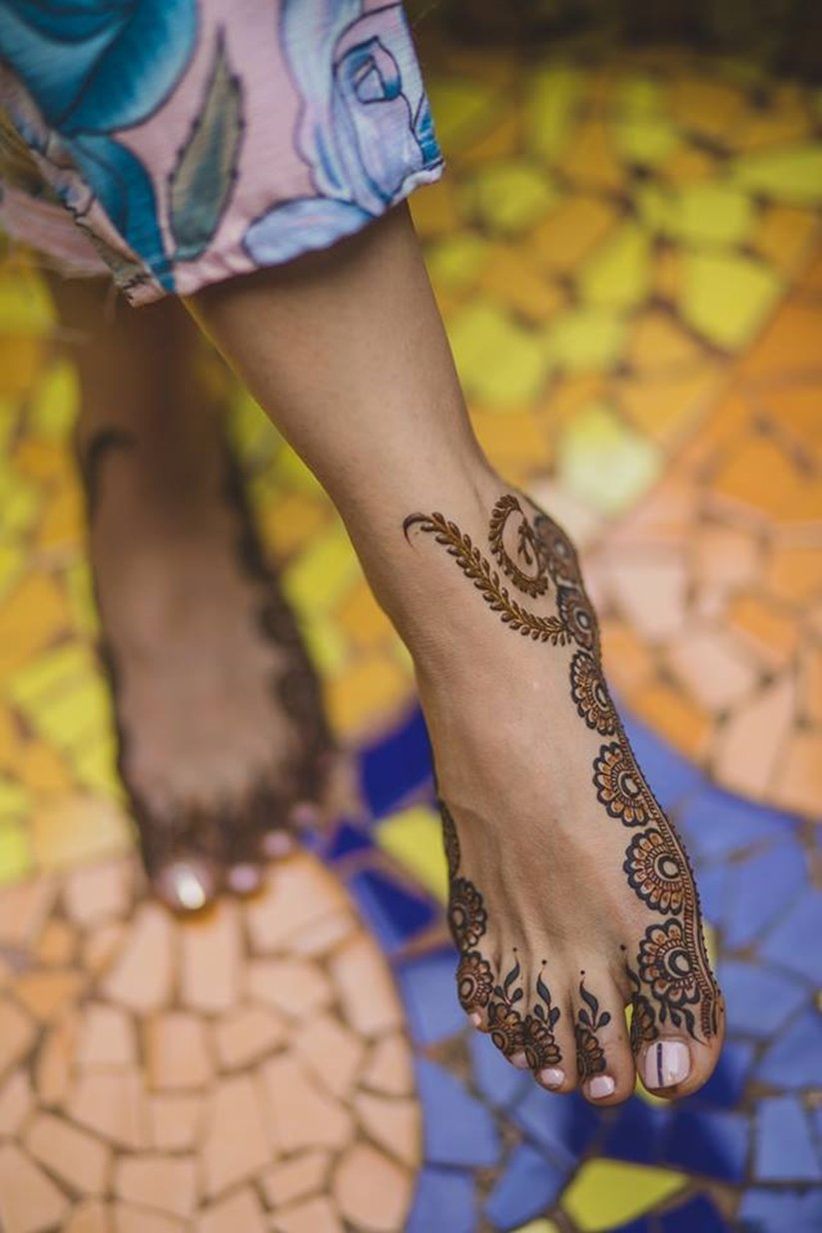 The Lightsmiths Such intricacy, much wow! If minimal mehndi design is your thing, this is definitely the style for you. The tiny vines and flowers have our heart for sure.
26. Reverse Mehndi Lotus in Peacock Motif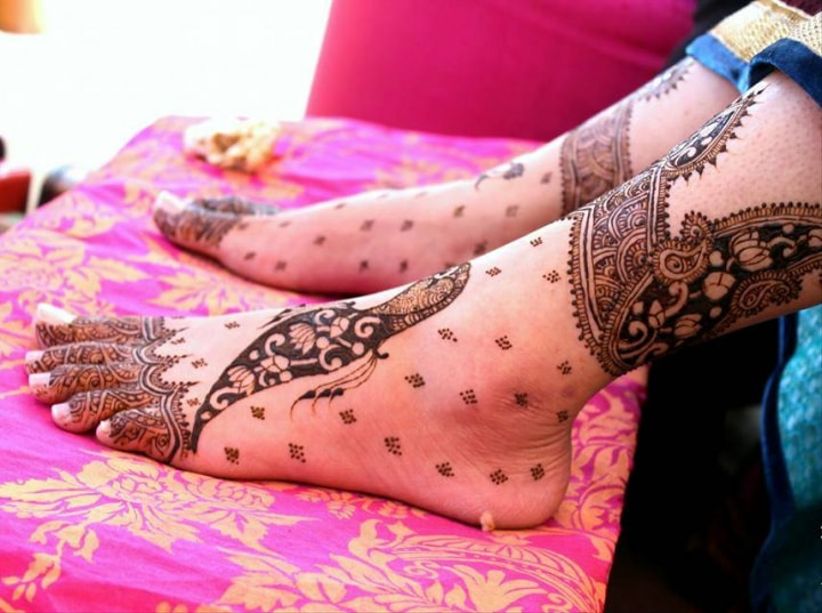 Alankritaa This design by The Alankritaa just left us speechless. It is simple, yet majestic. The spaced out design is totally unforgettable. And the stately peacock looks so lovely perched in between this intricate dot patterns. Even it's plumage is a work of art.
27. Minimalism Lover's Style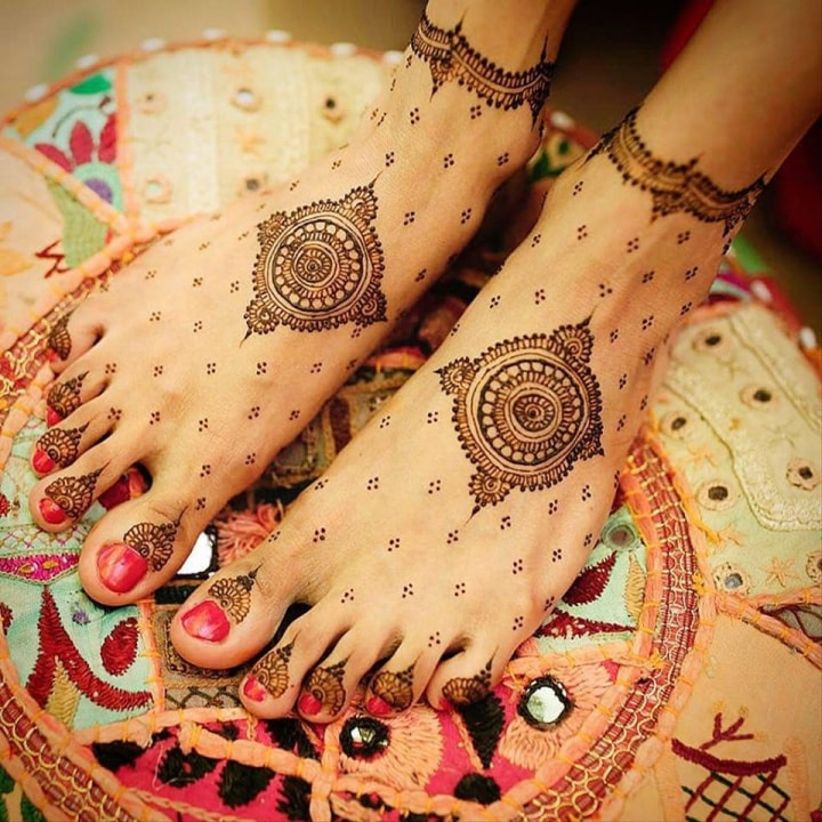 Alankritaa We love how radiant this real bride's feet appear with this head-turning new bridal mehndi design. A little dot here and a little stroke there and there you have it, a simple, elegant and graceful mehndi design. The best part of it all is that it wouldn't take half as much time as an intricate pattern and yet come out to be such a stunner.
28. Minimalistic Reverse Mehndi Design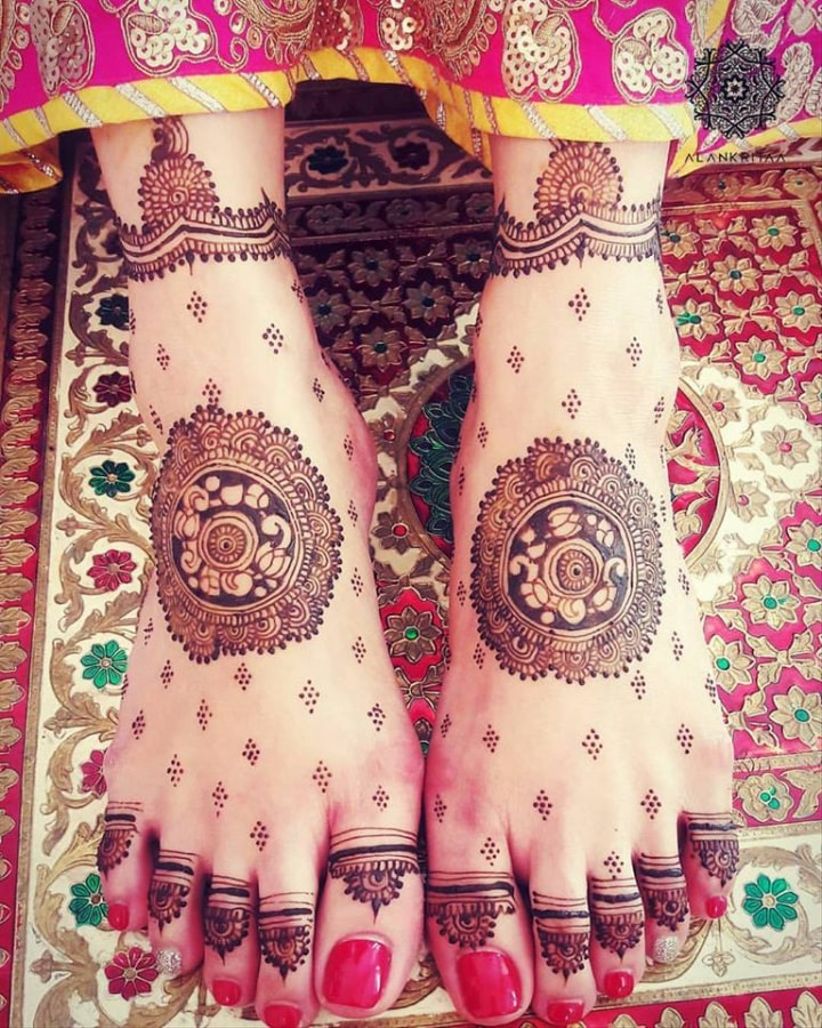 Alankritaa Or, perhaps this one? Well, we may be fangirling over this close-knit dot pattern design, but with very good reason. It provides such an excellent backdrop for any and all types of more intricate and filled-in patterns which can be used in the middle of the mehndi design.
29. Chadar Design for Feet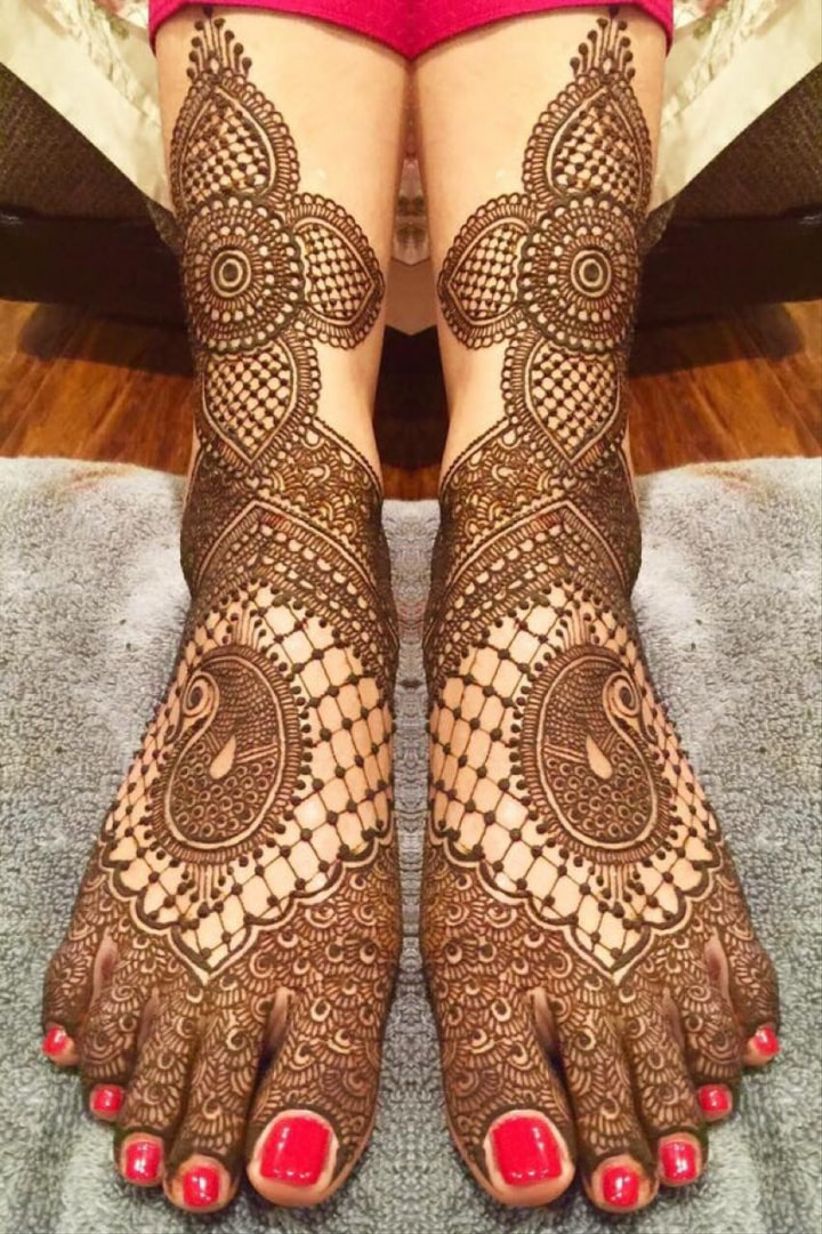 Raju Mehendi Art Mehndi signifies the colour of love and compassion. Paint your love all over and let the world know of how much you love your beau! This technique of big bold patterns, surrounded and filled in with intricate smaller ones comes out beautifully all the time and can be used for all functions - big or small. Learn how you can make your mehndi colour come out darker here!
30. The Anklet Inspired Mehndi Design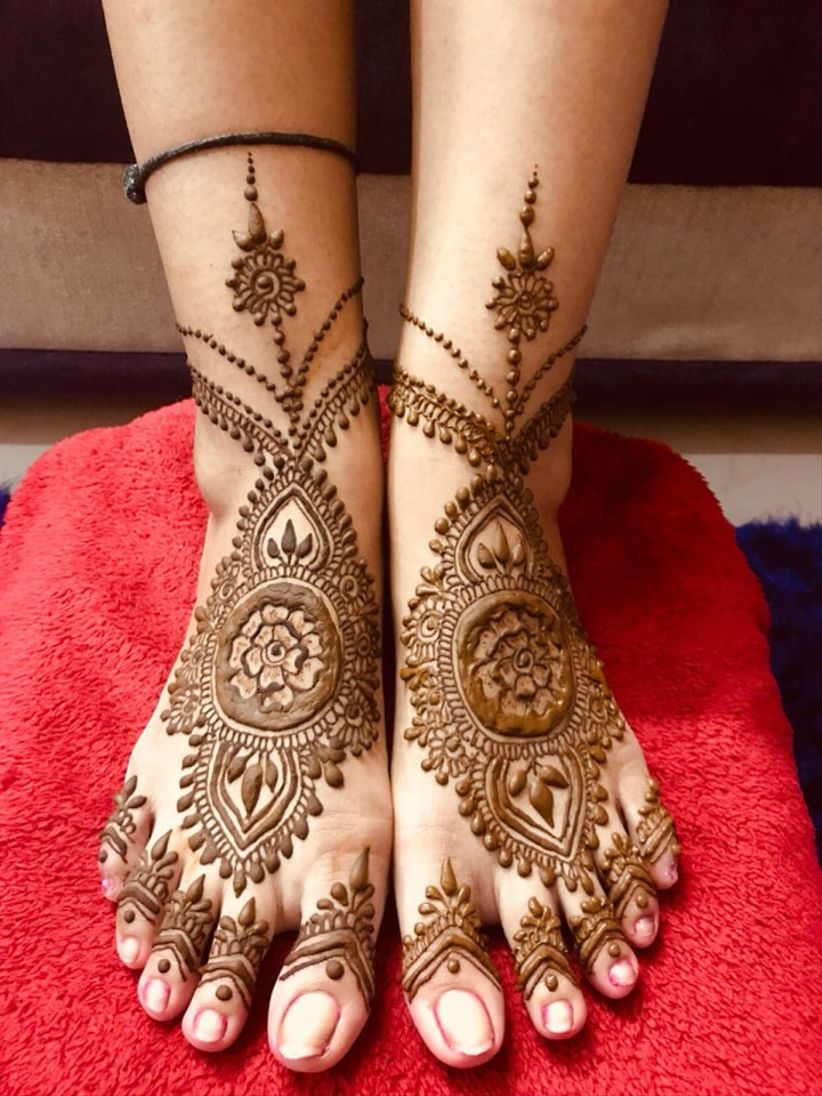 Nazwas Mehndi Who knew mehndi could give the feeling of an anklet as well? But, it sure can! The bold stripes and use of arches give this simple and elegant design a hard to miss the look and feel.
31. The Floral Motif Mehndi Design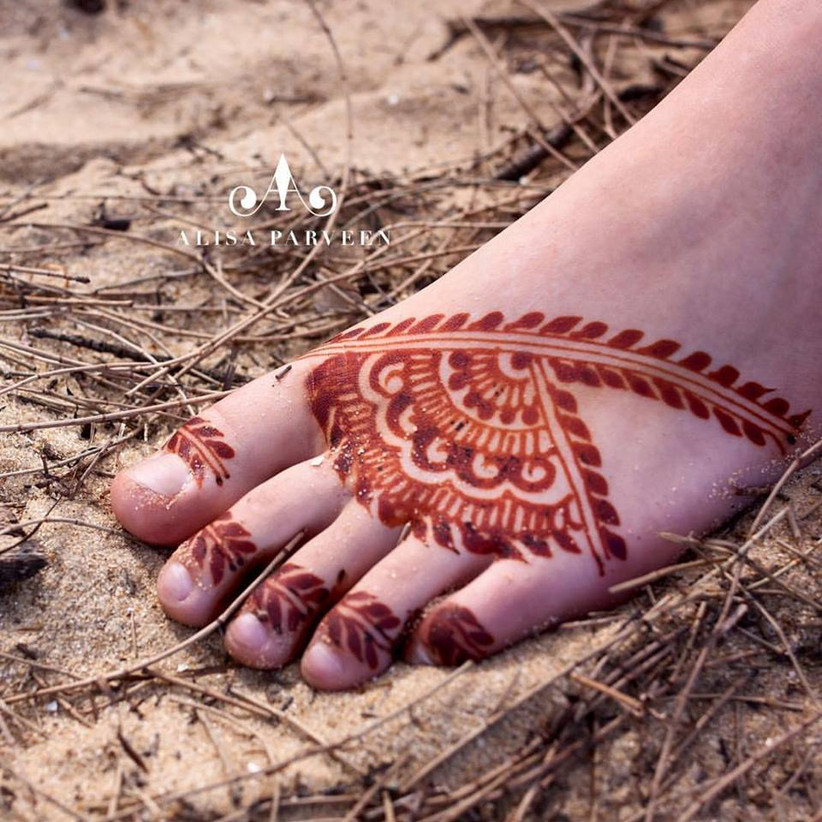 Image Courtesy: Alisa Parveen
Our trust in the mantra of 'less is more' just got reinstated. This minimalist mehndi design gives the feeling of dainty slip-on footwear and we are bowled over by the creativity used.
32. Chaadar, Peacock & Florals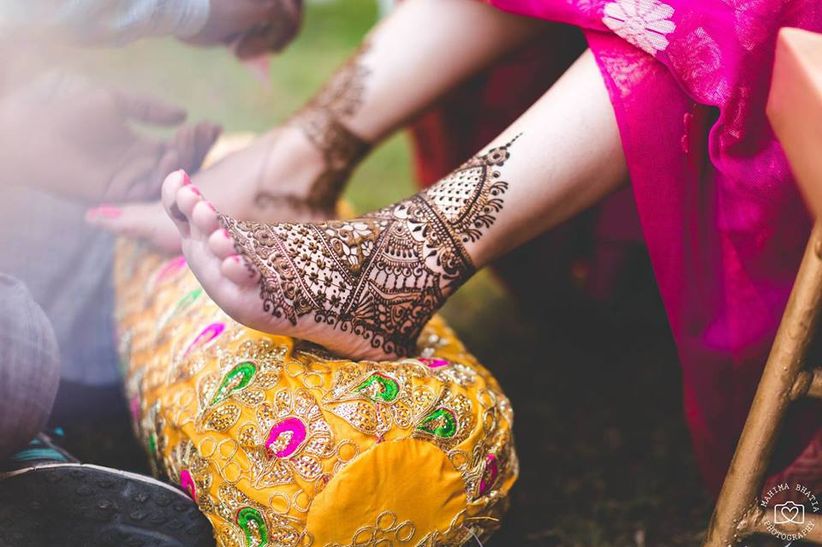 Alankritaa Flowers and paisley go very well together. You can use both of these for better impact and more creative design. Alternating between bold and finer patterns is always a good idea as well.
33. The Geometric Beauty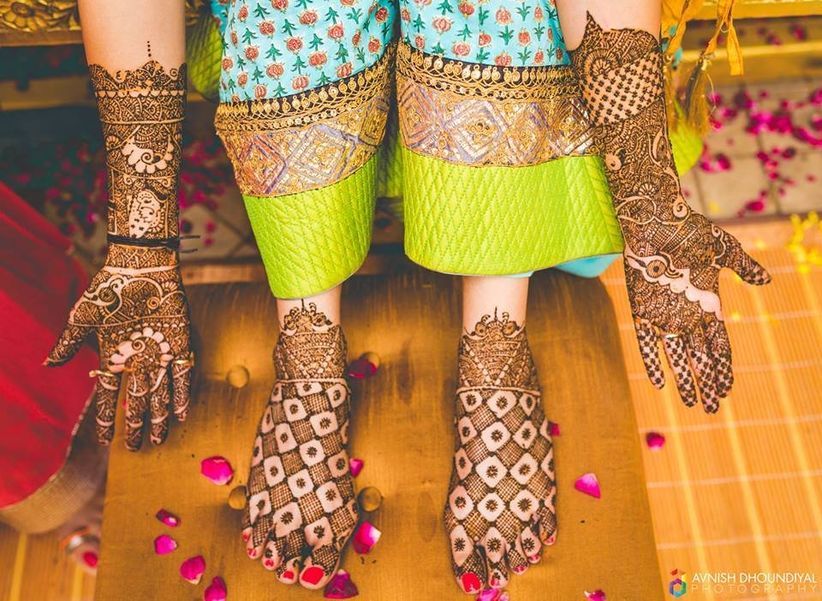 Alankritaa A soulful blend of contemporary and classic using geometrical shapes. This is an amazing twist to the chadar mehndi design and we are loving it.
34. Mehndi Laga Ke Rakhna...Doli Saja Ke Rakhna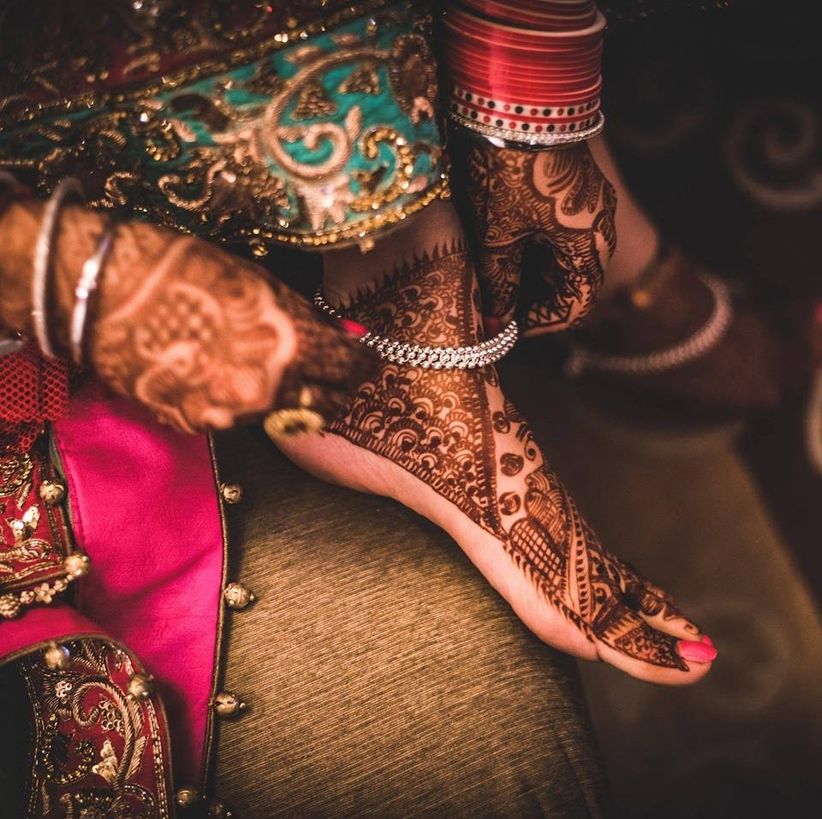 Alankritaa Beautiful ringlets and the splendour of maroon.
35. The Minimalistic Beauty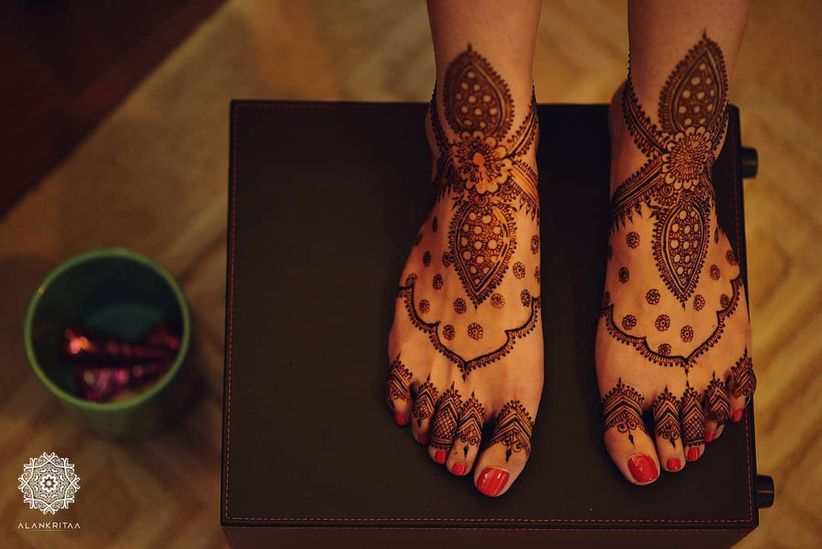 Alankritaa This truly is an aesthetically pleasing new bridal mehndi design which features the mastery of art form. The intricate smaller flowers used to fill in the design do so without overcrowding the look and preserving the aesthetics.
36. Trinkets Of Happiness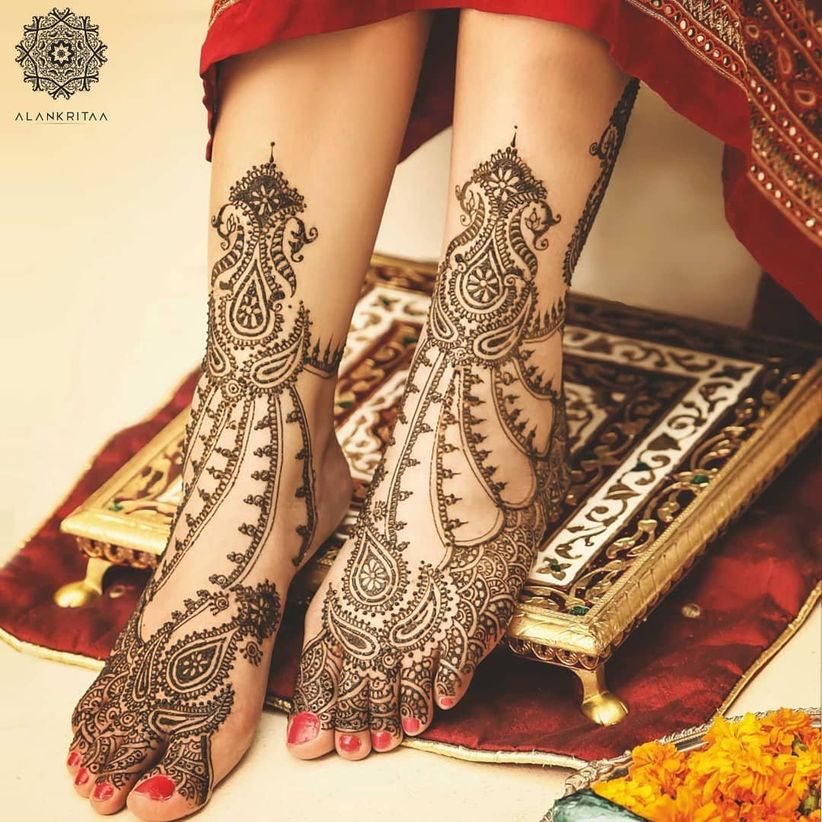 Alankritaa Elegant extensions and a stunning overall appeal, this truly is one of our favourites from the collection of mehndi designs so far! The beauty of this mehndi design lies as much in the unique concept, as well as the perfect symmetry achieved by the mehndi artist.
37. when Lotus Meets Mandala Style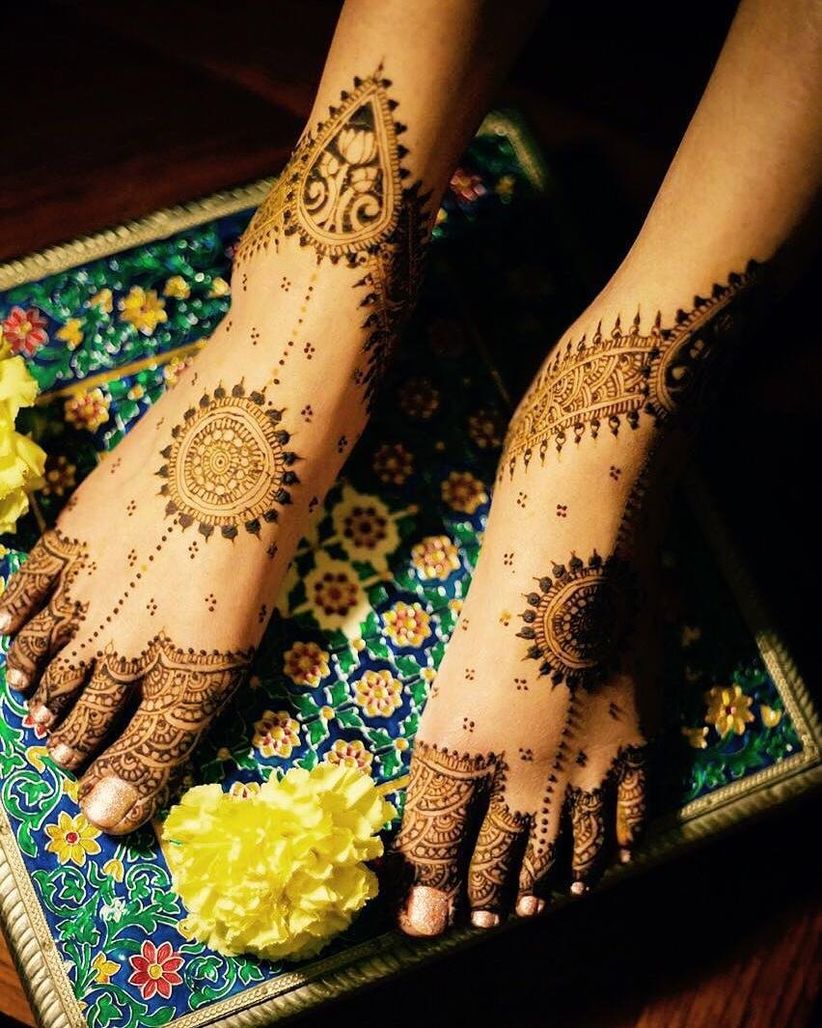 Alankritaa Minimalistic, yet totally brilliant and awe-inspiring. The lotus flower on top, flagged by 2 buds adds a whole another dimension to this design.
38. The Merry Making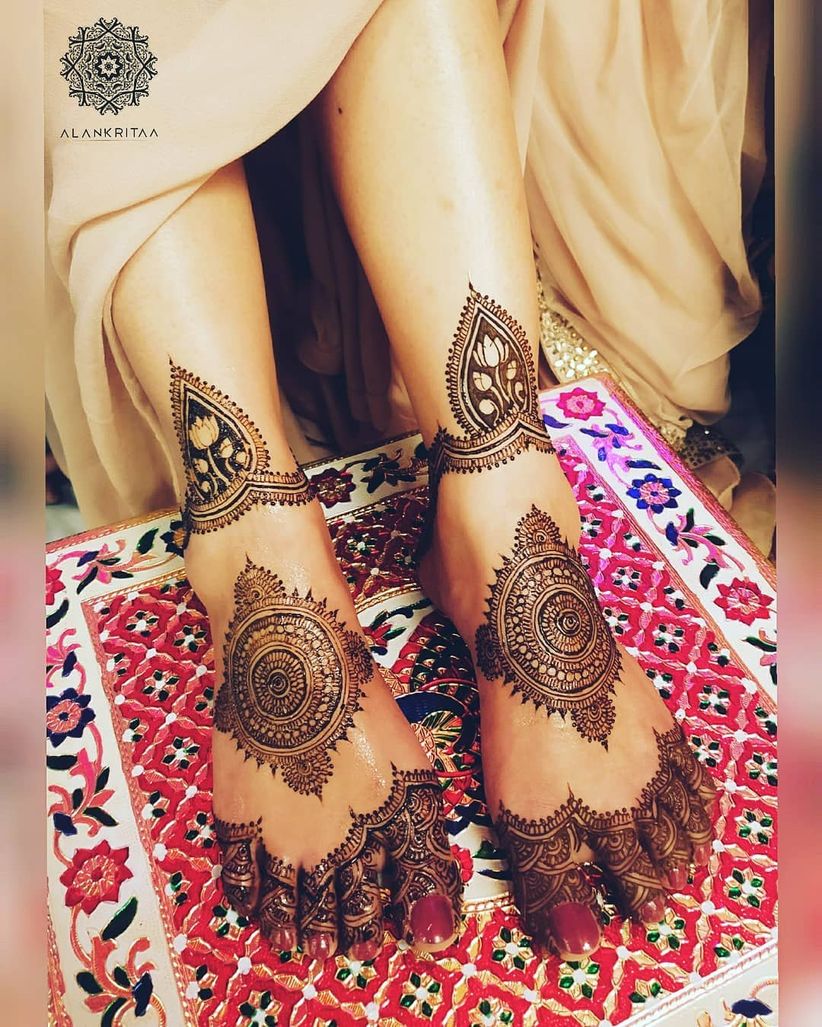 Alankritaa This real bride chose to go with the less is the better approach. Her feet look lovely and we can only imagine how beautiful this new bridal mehndi design would have looked once the true colour would have come out in its full splendour.
39. Aren't flowers The Prettiest Of Them All?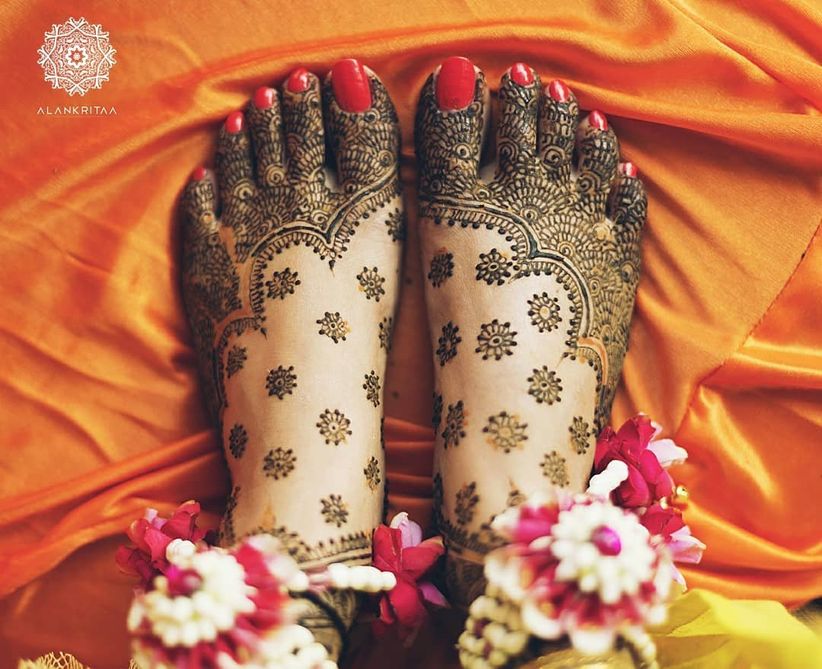 Alankritaa This image gave us the chills! What about you? The interplay of blank spaces and intricate design make for stellar mehandi designs.
40. The inception of Paisley Design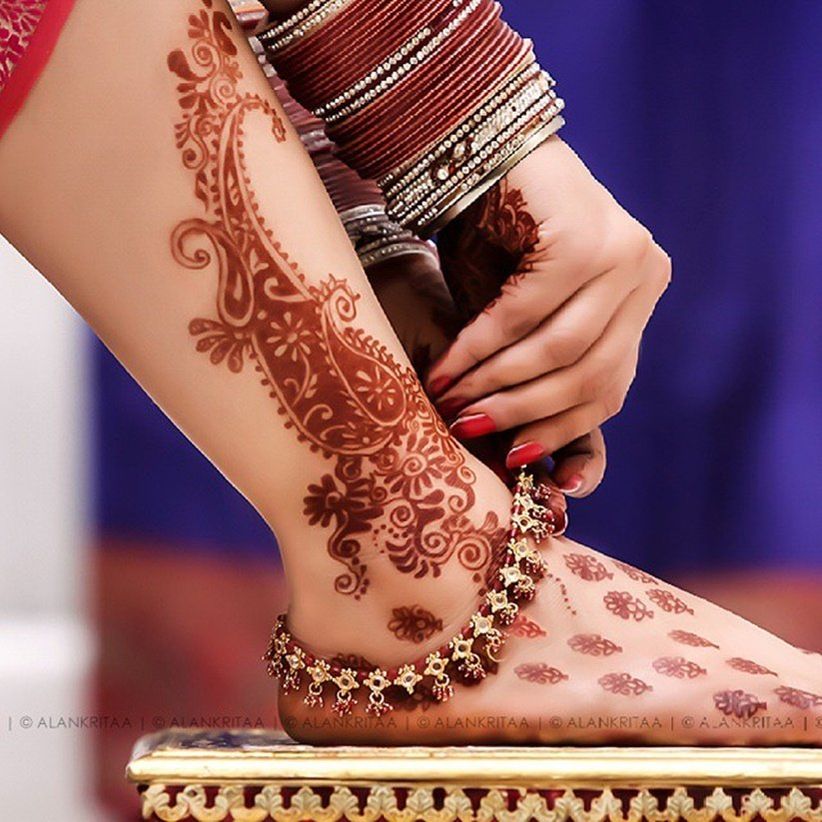 Alankritaa After much deliberation, we think we found the perfect mehndi design starring paisleys.
41. The Magic Of Reverse String Mehndi Design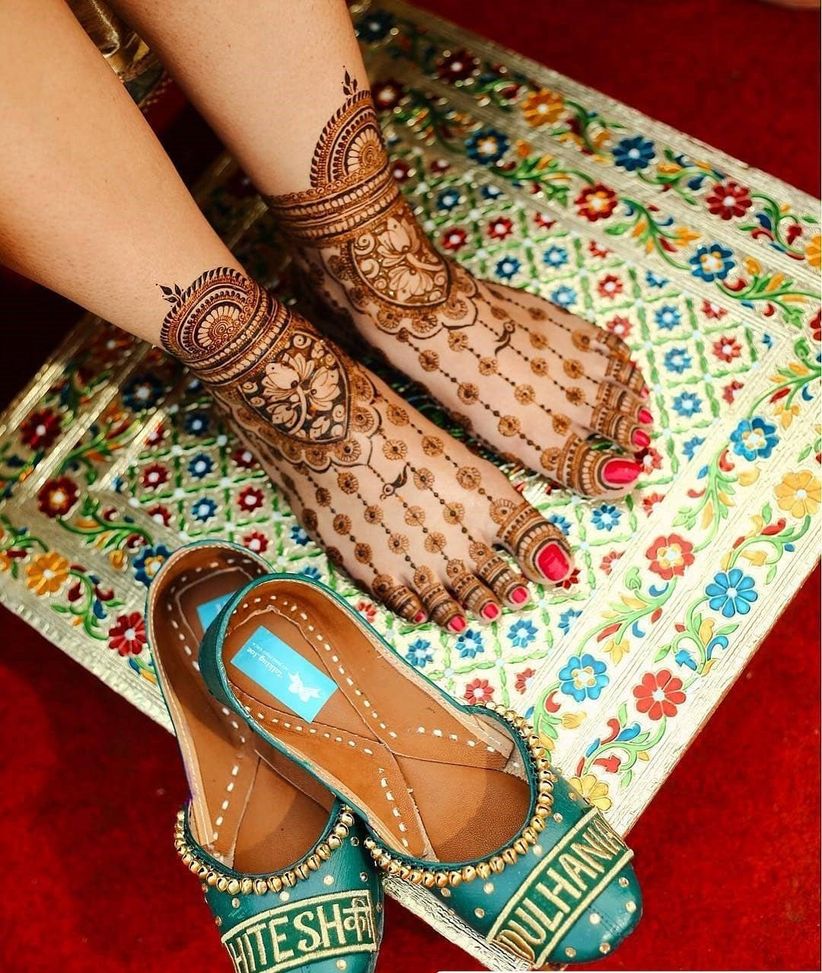 Alankritaa Nothing screams Dulhan better than these rad
Ghungroo Jutis
and her gorgeous henna coloured feet!
42. The Priceless Chaadar Mehndi Design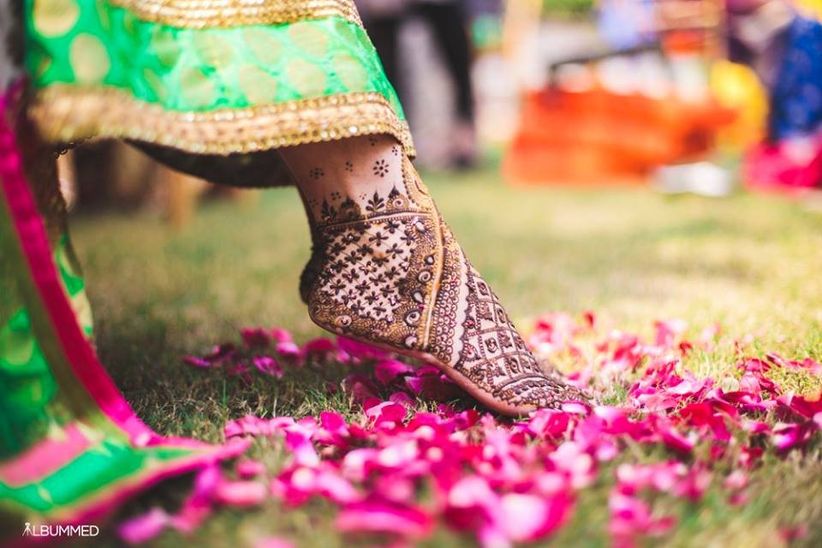 Albummed With the flowers, throw in some leaves too!
43. Reign With The Peacock Motif!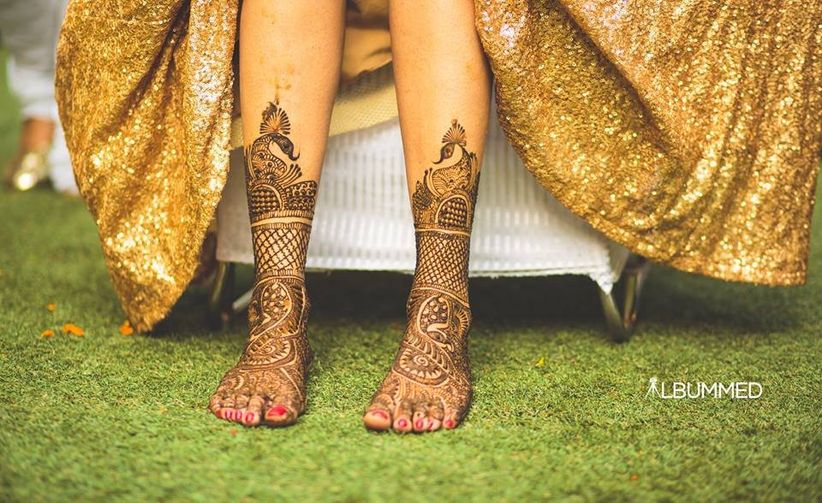 Albummed The golden bride with a golden mehndi design!
44. The Crowning Moment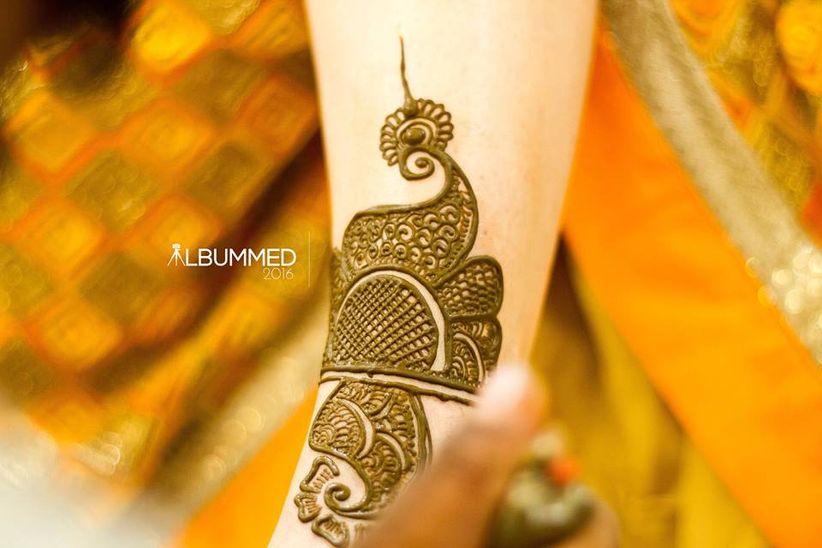 Albummed It is all in the meticulous detailing and the eye for perfection! Some mehandi designs are just meant to be the centre of attraction, always.
45. Mirror Image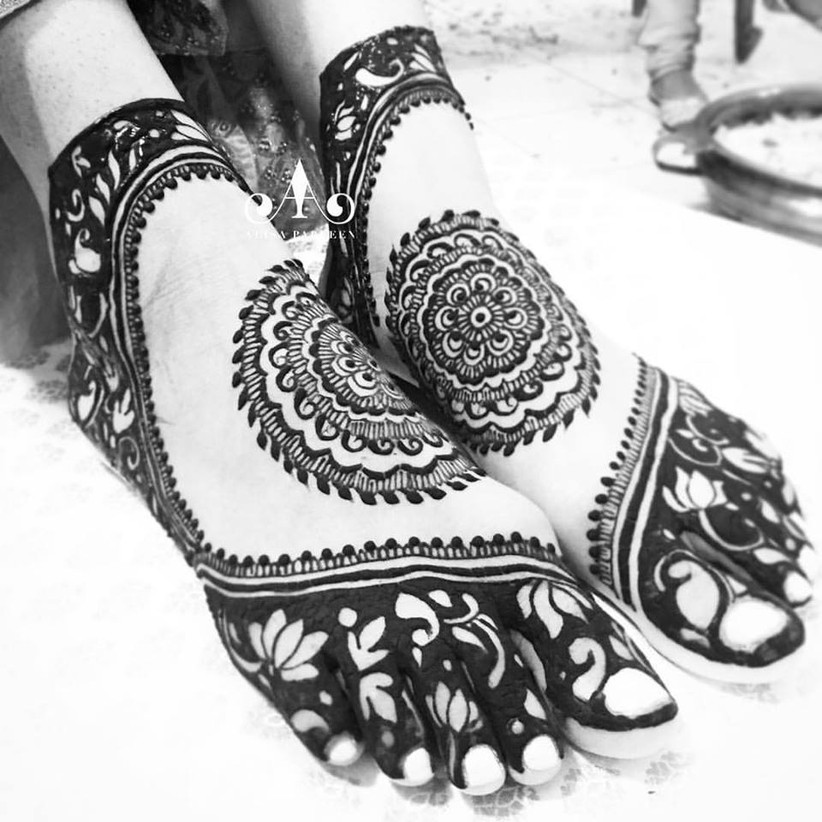 Image Courtesy: Alisa Parveen
The beauty of Mandala and the simplicity of symmetry. With soulful lotuses peeking on the toes. Circle mehndi designs such as this one are always a delight.
46. There Is Beauty In Detailing!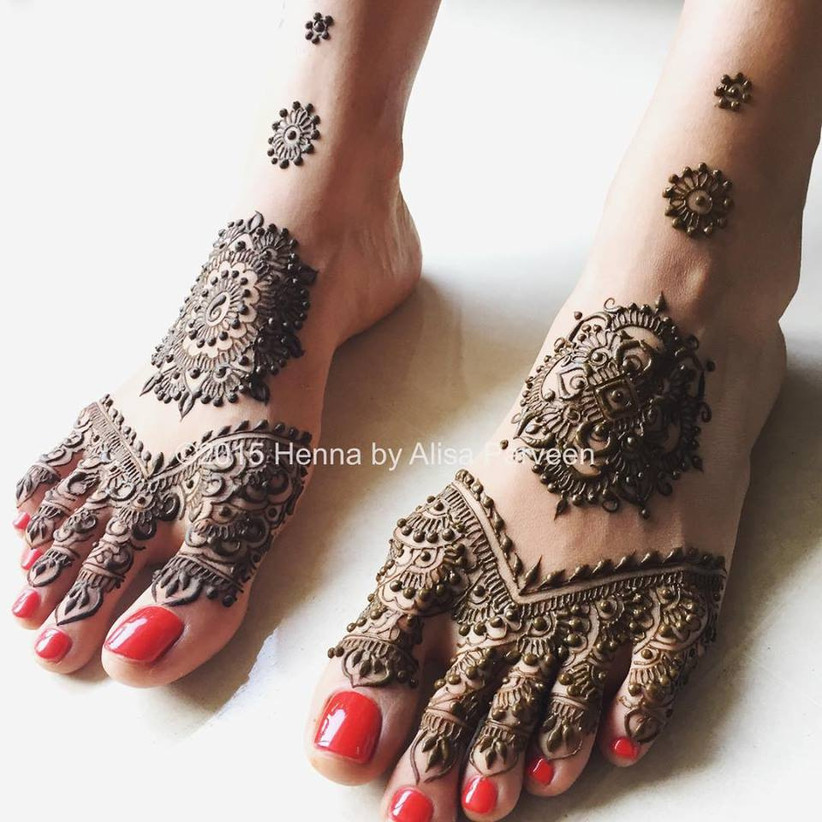 Image Courtesy: Alisa Parveen
Creatively curated henna - that's how we define this beautiful snapshot!
47. Florals & All Things Pretty!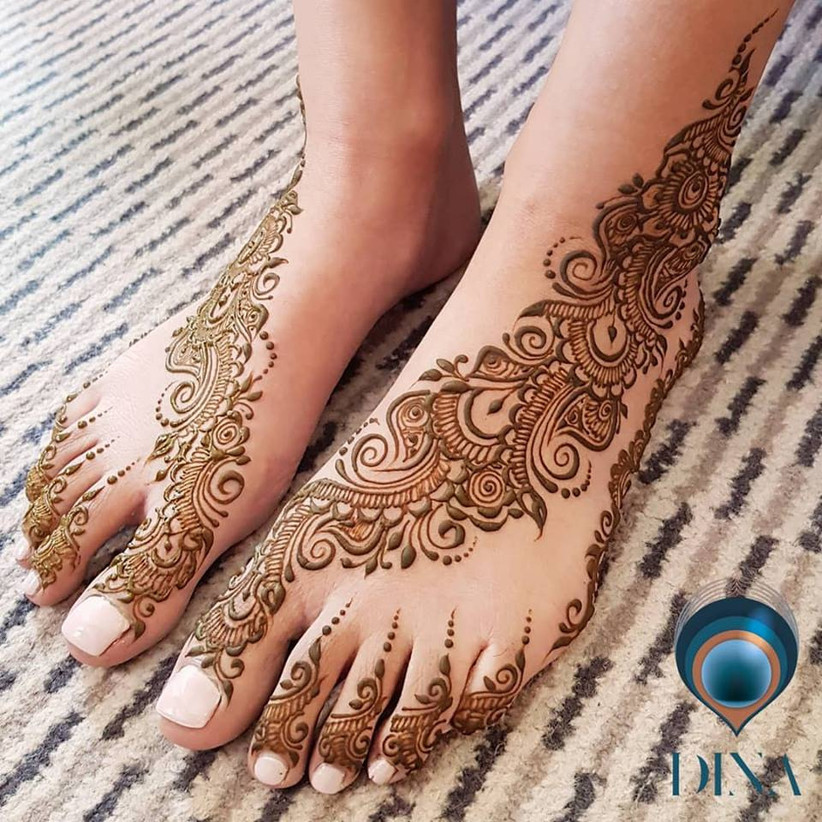 Image Courtesy: Dina Mehndi
Who needs a Payal when your mehndi is so on point?
48. Petals and Checkers = Pure Magic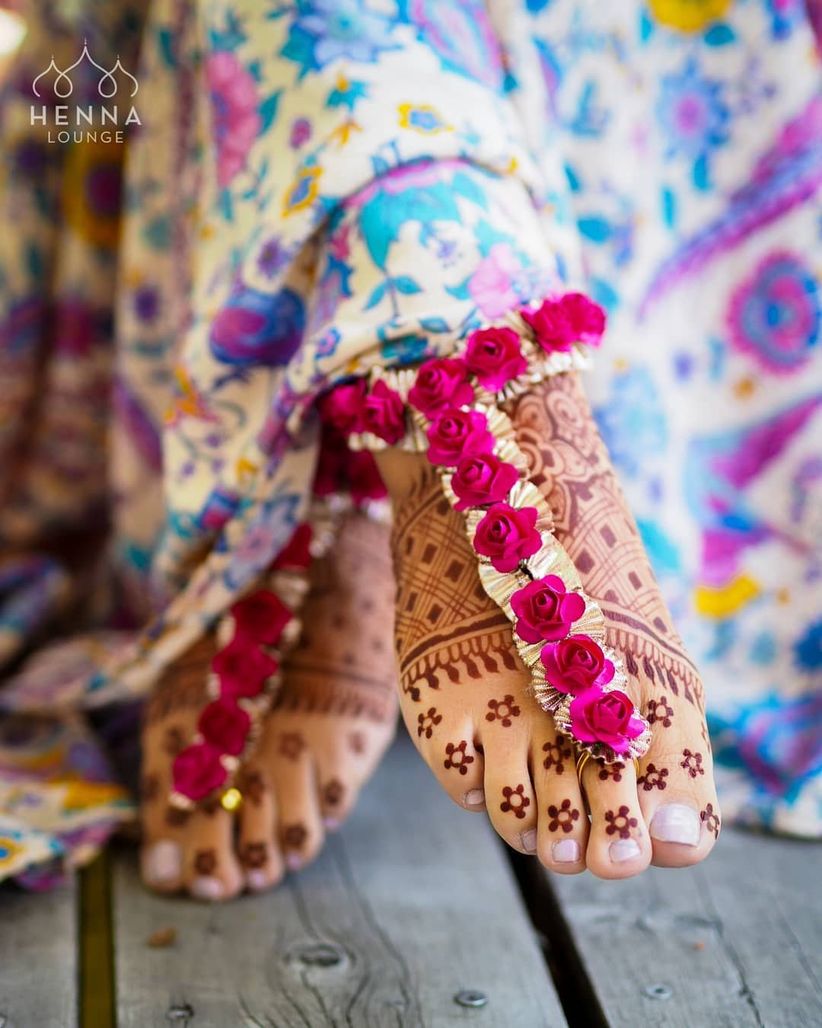 Prune Flowers! Flowers! On the Wall! Paint these beauties on my palms! If you want your mehndi designs to be anything as floral and vibrant as this real brides, then all you need are some floral motifs!
49. Design That Left Us speechless!

Image Courtesy: Ami Photo Video We are sold on this design! Sold!
50. Jaal of Spring!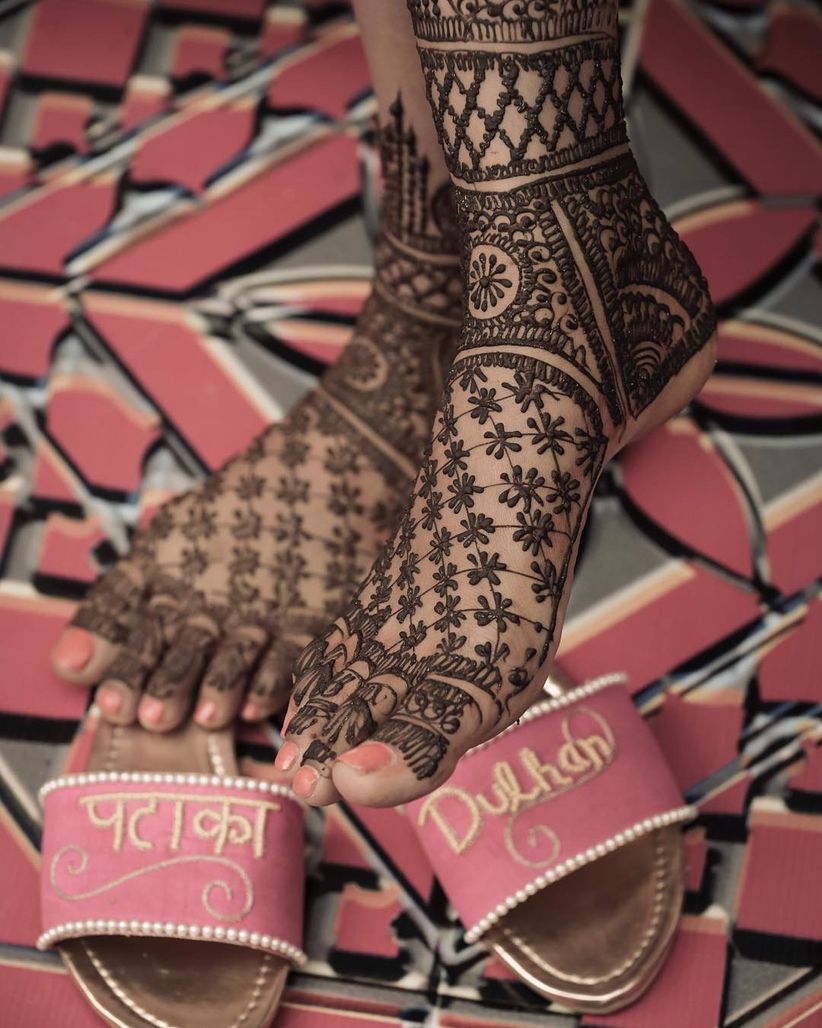 Blink Event Photographers A string of tiny cherry blossoms!
51. Check! Mate!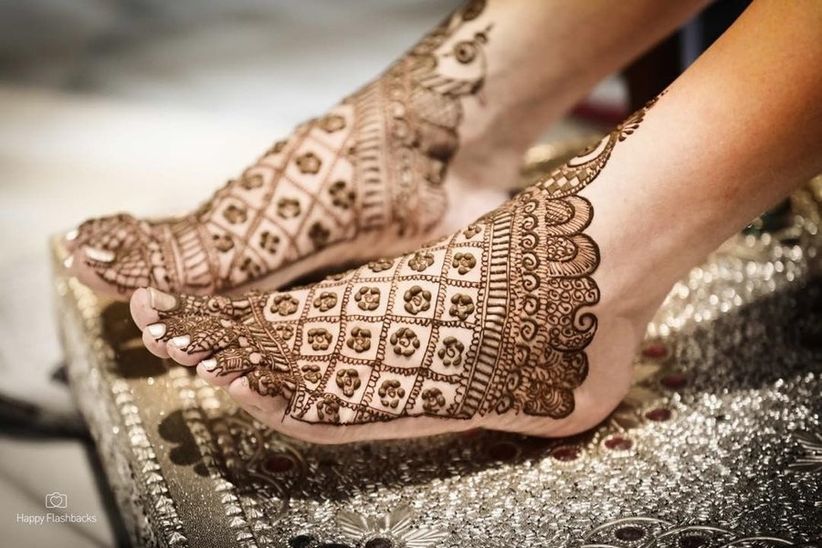 Happy Flashbacks The symbol of love - a blooming bud of rose!
52. Peacock Love!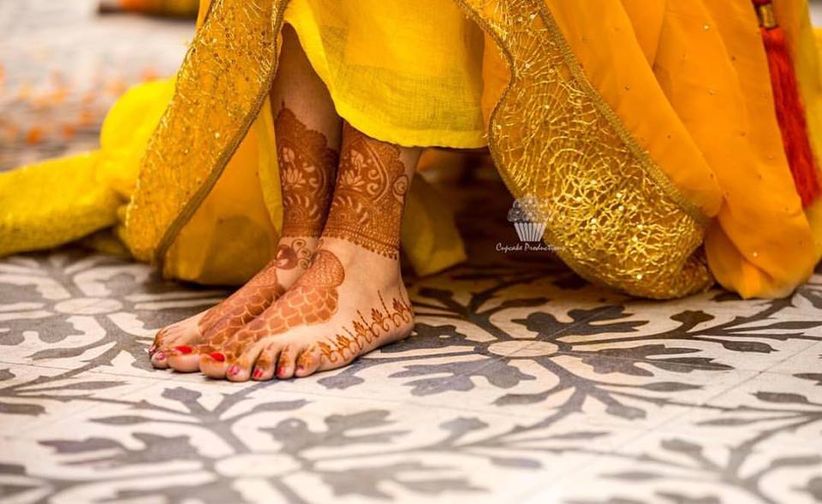 Cupcake Productions A mehndi design that will give all other mehndi designs a run for their money!
53. The Graceful Payal!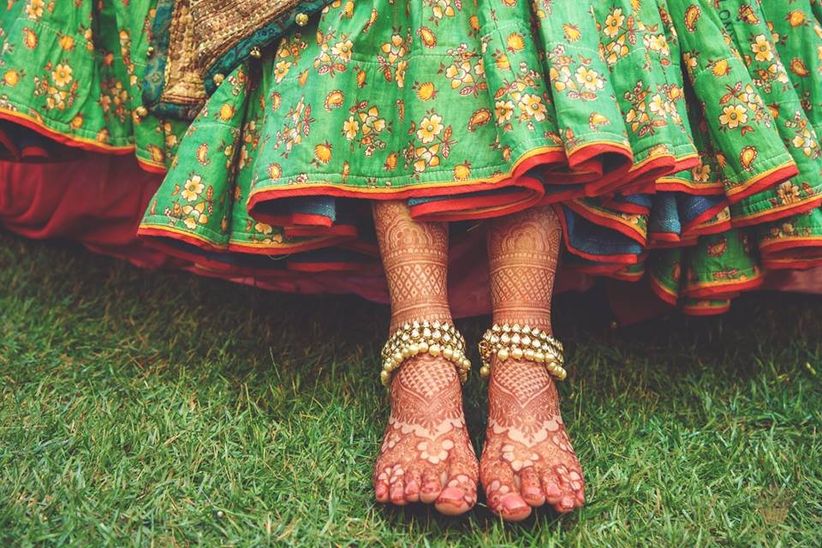 Cupcake Productions What piques your curiosity when you look at this picture? For us, it is the fact that a henna design can look so exquisite and beautiful without much effort. A scattered design and an Arabian root reaching over this bride's beautiful legs. What binds this image for us is the
Pajeb 
which makes her mehndi look even more stunning.
54. World Map Mehndi Design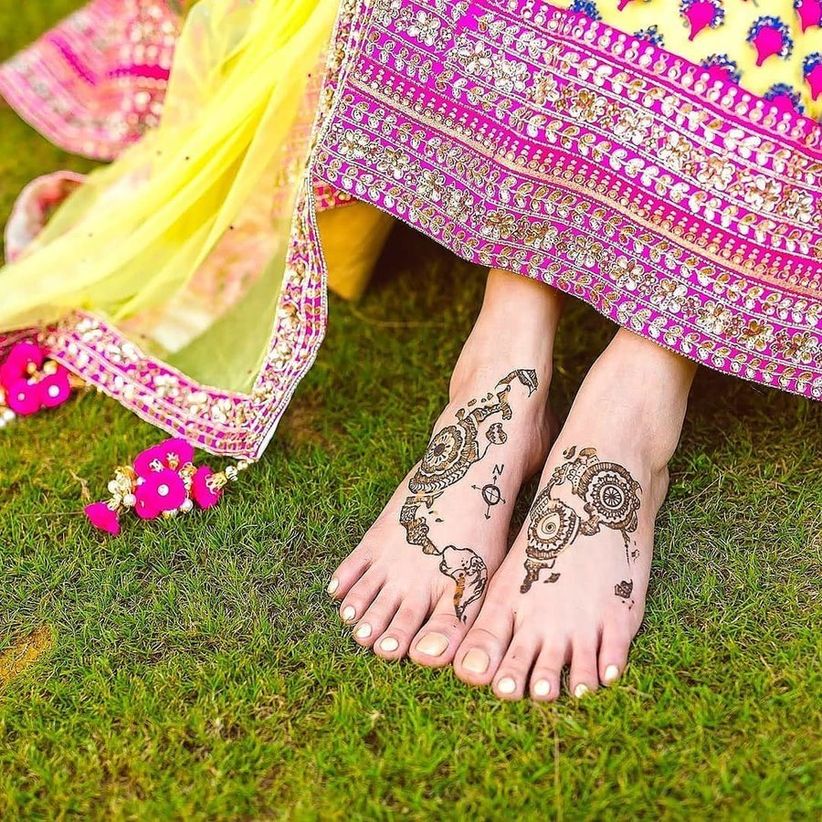 The Wedding Salad
Saat Samundar Paar Main Tere Peechhe Peechhe Aa Gai
If you and your beau are bitten by the travel bug, then what better way to show your wanderlust but with a world map-themed mehndi design. We are sure that this will turn out to be a head-turner.
55. Rose, Lotus & Daisies - Bridal Mehndi That Screams Spring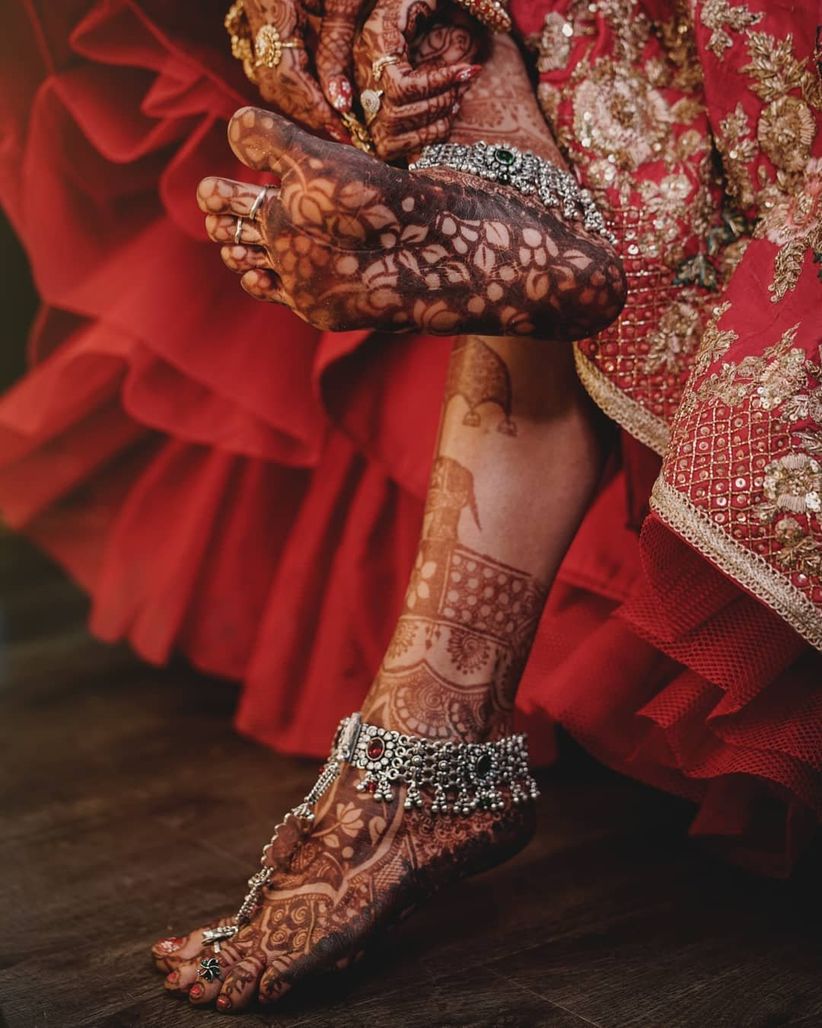 Image Courtesy: Deep Joshi Gallery
This mehndi design tops our chart in the list of our mehndi designs. It is bespoke, it is absolutely stunning and it definitely made our jaws drop. Also, we cannot get enough of this bride's silver anklet - so chic!
56. Checkered Beauty!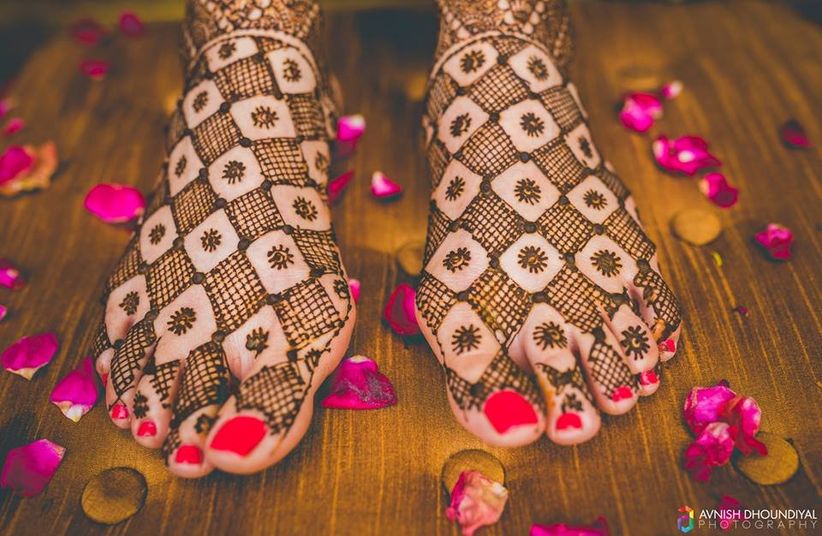 Avnish Dhoundiyal Photography A game of checkers, please!
57. Geometric Euphoria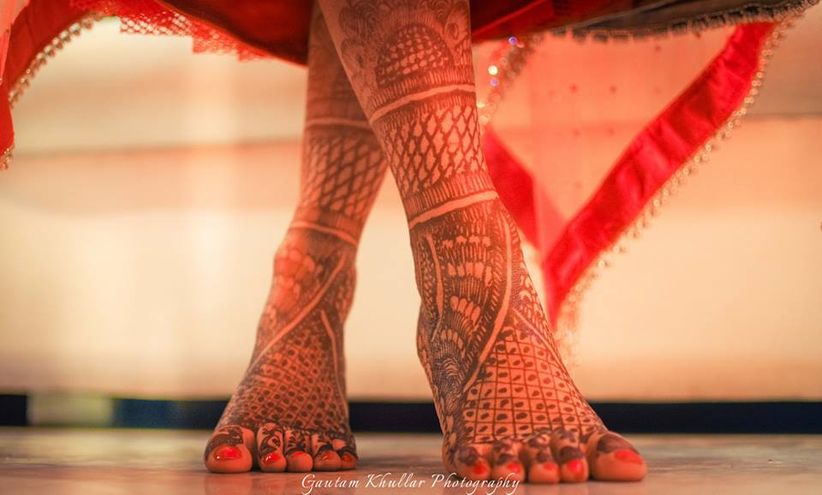 Gautam Khullar Photography Aren't you amazed by these stunning stylish mehndi designs?
58. Pretty Toes in Henna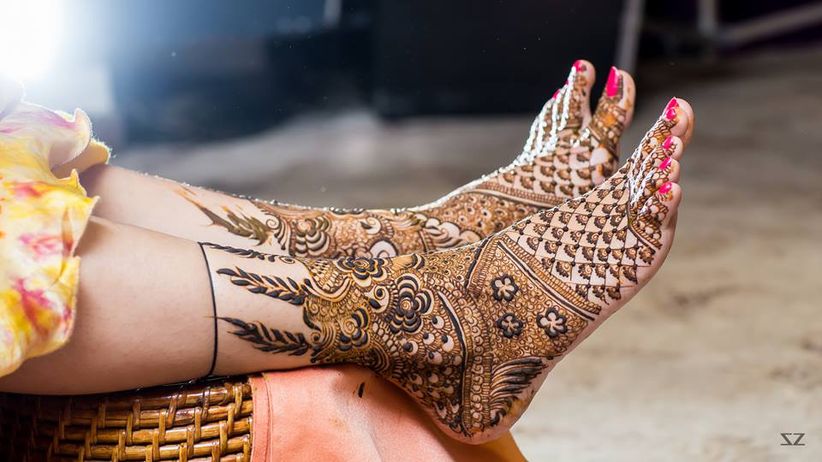 SZ Photo & Films When florals meet geometrics! What a classy fusion!
59. Minimalistic Yet Magnificent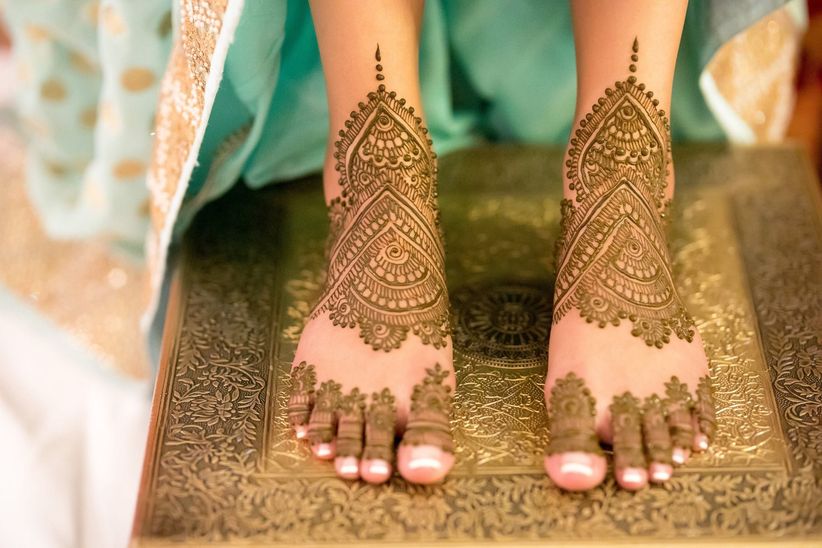 Image Courtesy: Wedding Document Art
It is all the details! Are you not stunned by how precise and neat this design is? We definitely are!
60. Underneath My Toes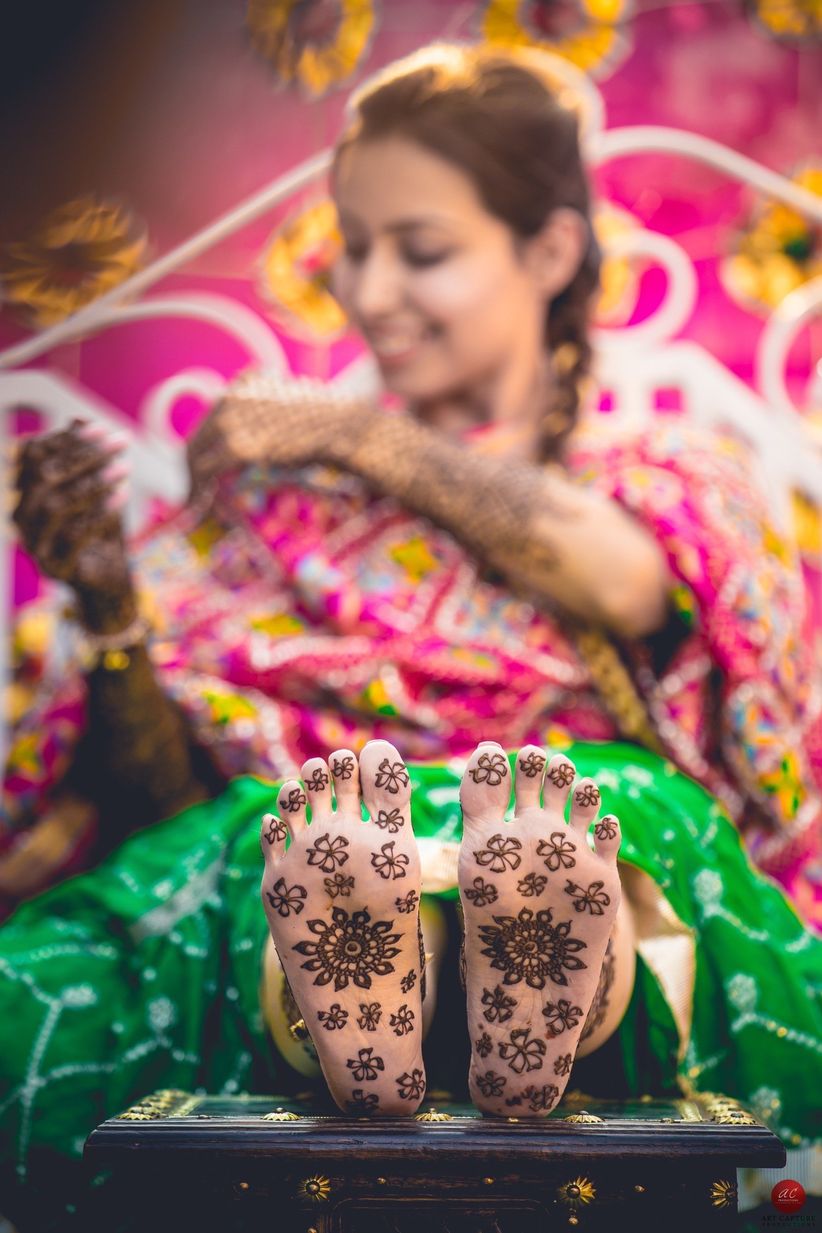 Art Capture Productions Well, who would have thought? This bride sure did!
61. Mirrored Effect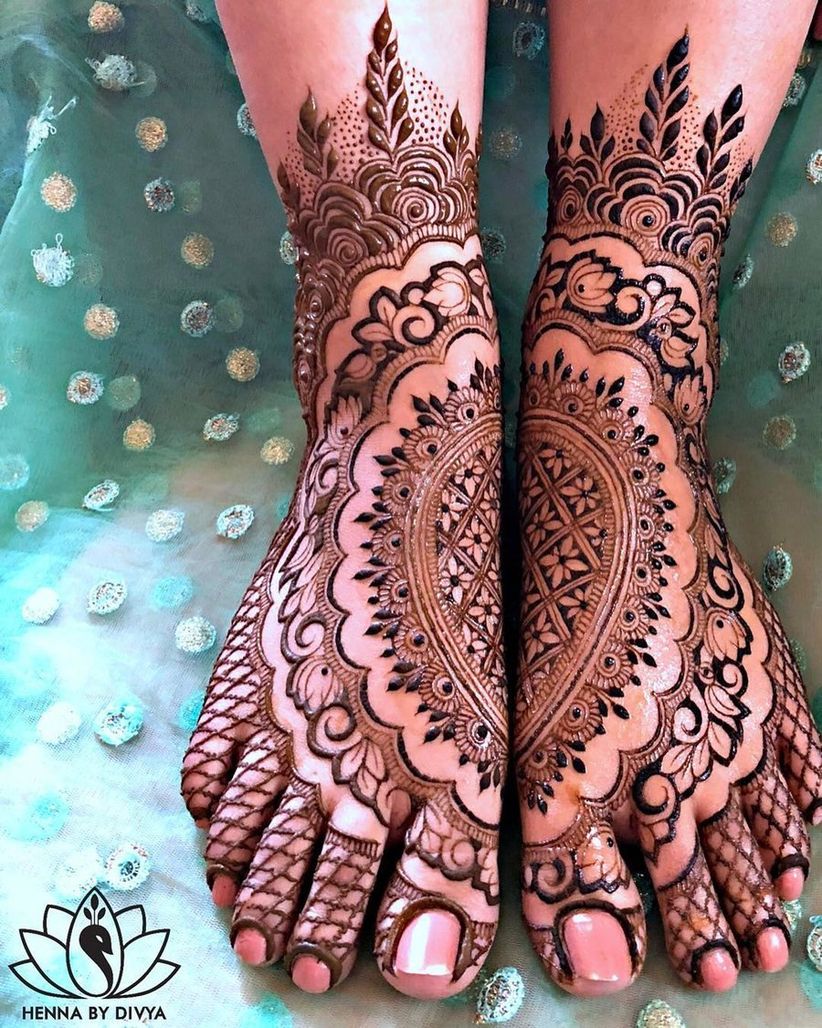 Image Courtesy: Henna By Divya
A quintessential mirror mehndi beauty, a treat for sore eyes!
62. The Mandala Style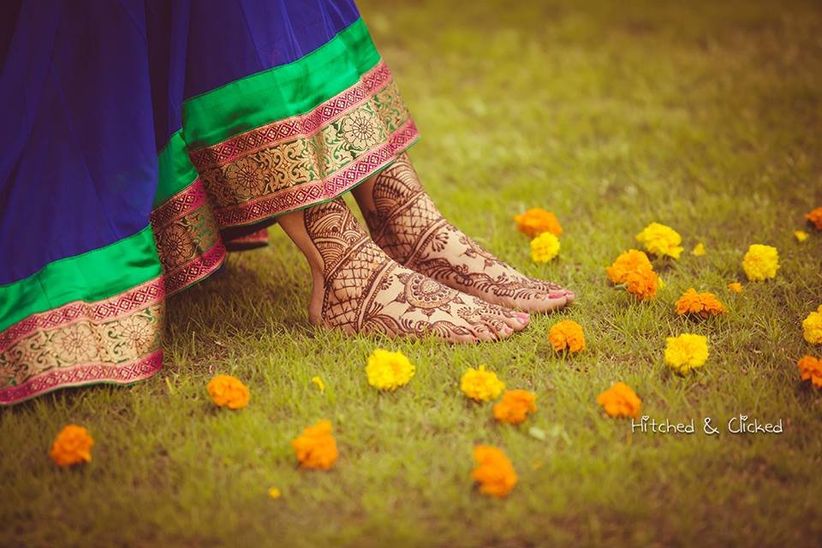 Hitched & Clicked Whether you want to go traditional or contemporary; get some heavy mehndi designs or something lesser - it is all up to you.
63. Peacock Inspired Design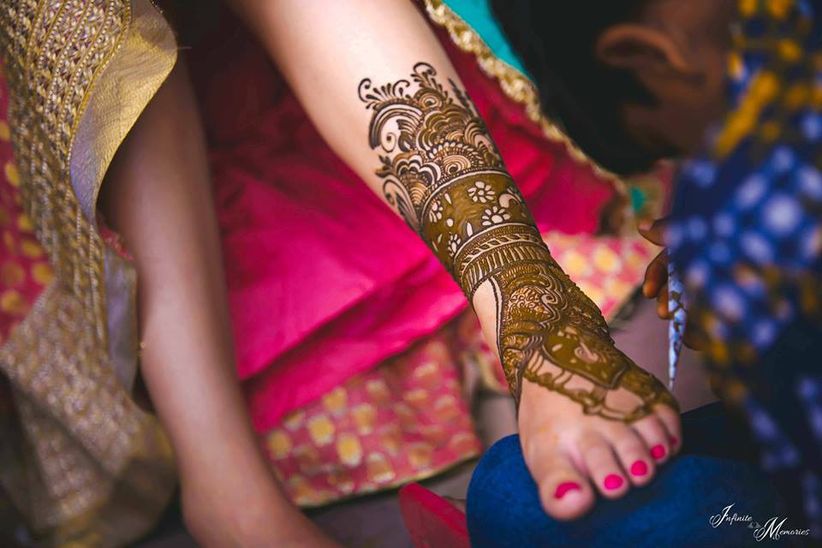 Infinite Memories The beginning of some infinite memories.
64. The Lotus Affair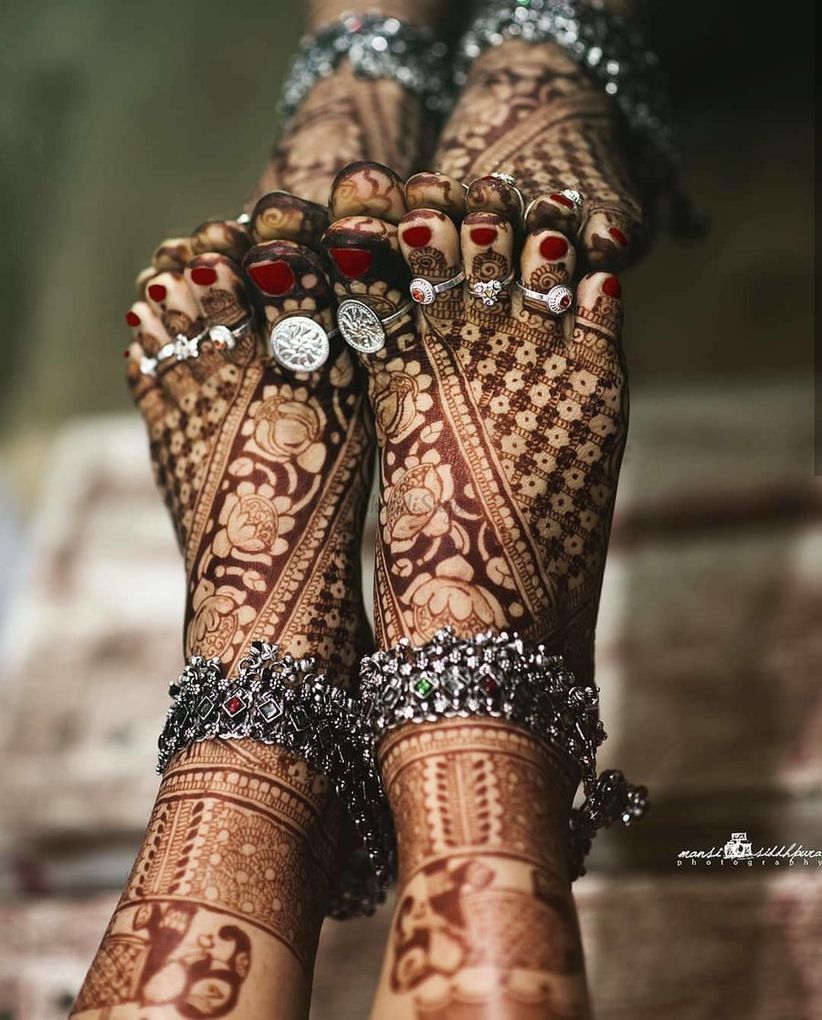 Image Courtesy: Mansi Sidhpura Photography
The darker the colour of your henna, the stronger shall be the bond of your relationship.
65. Intricate Work of Art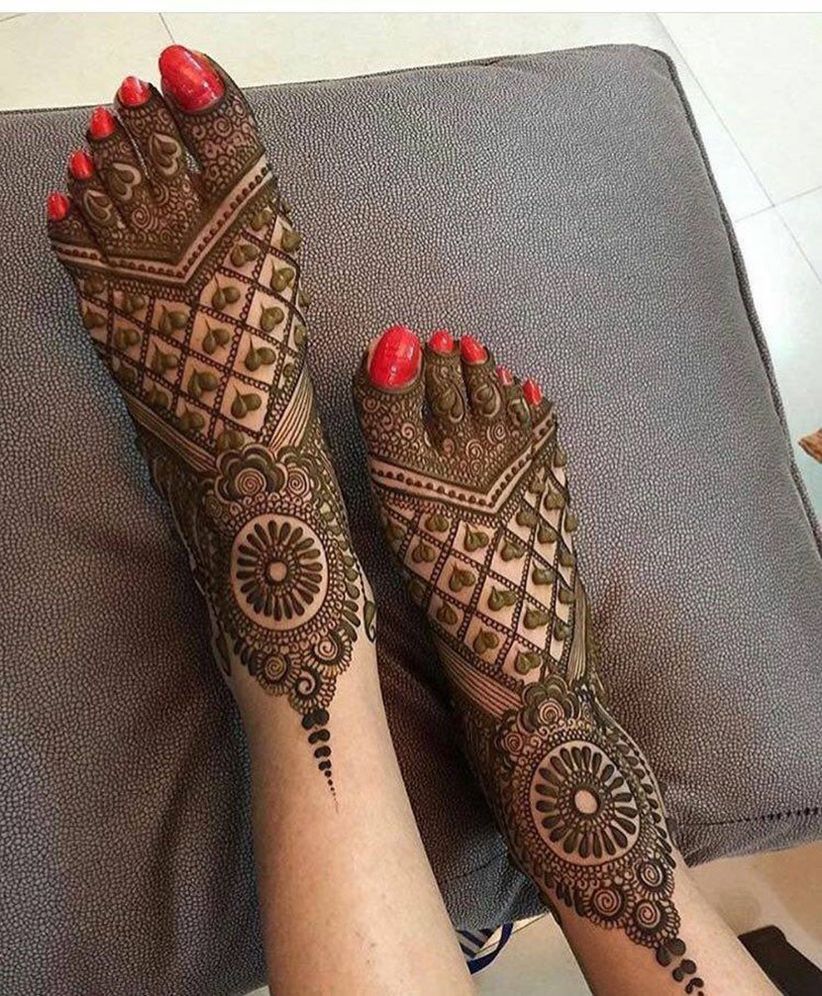 Mehandi Creation by Manu Bishnoi Seal the deal with these tiny hearts - a soulful love affair. In the race of the cutest mehandi designs, this one is a definite contender.
66. Paint My Toes With Henna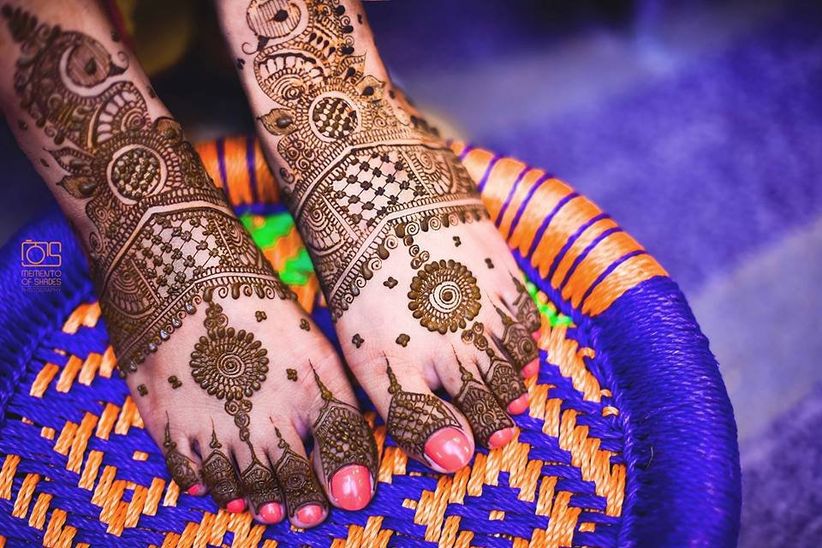 Memento of Shades Be it for the bride or her BFFs this mehndi design is perfect for all.
67. Striking Beauty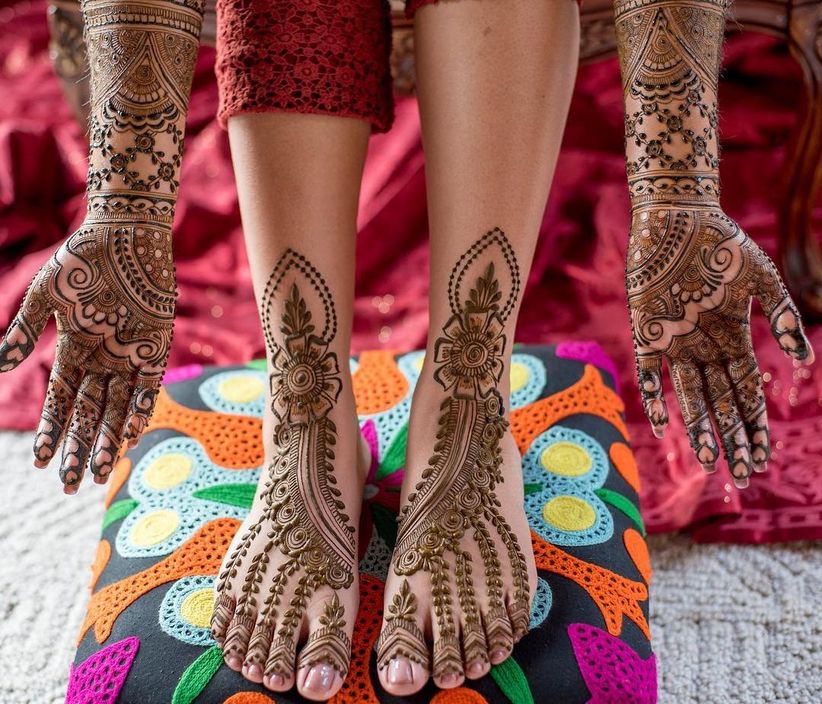 Image Courtesy: Minal Beauty
A beaded beauty tracing the length of the foot, this henna design is a package in itself. We are bowled over by the symmetry of this design.
68. Henna Design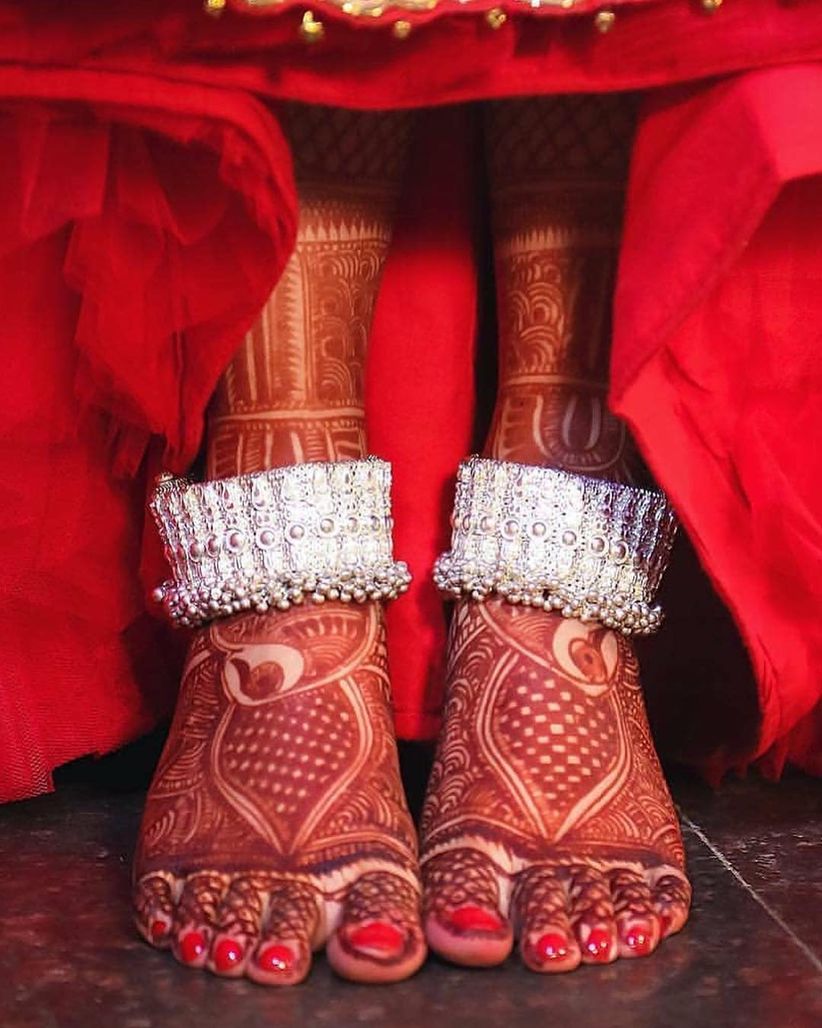 Image Courtesy: Morvi Images
What makes this image and this mehndi unforgettable, are the contrasting colours of red and silver.
69. Reverse Beauty of Lotus & Peacock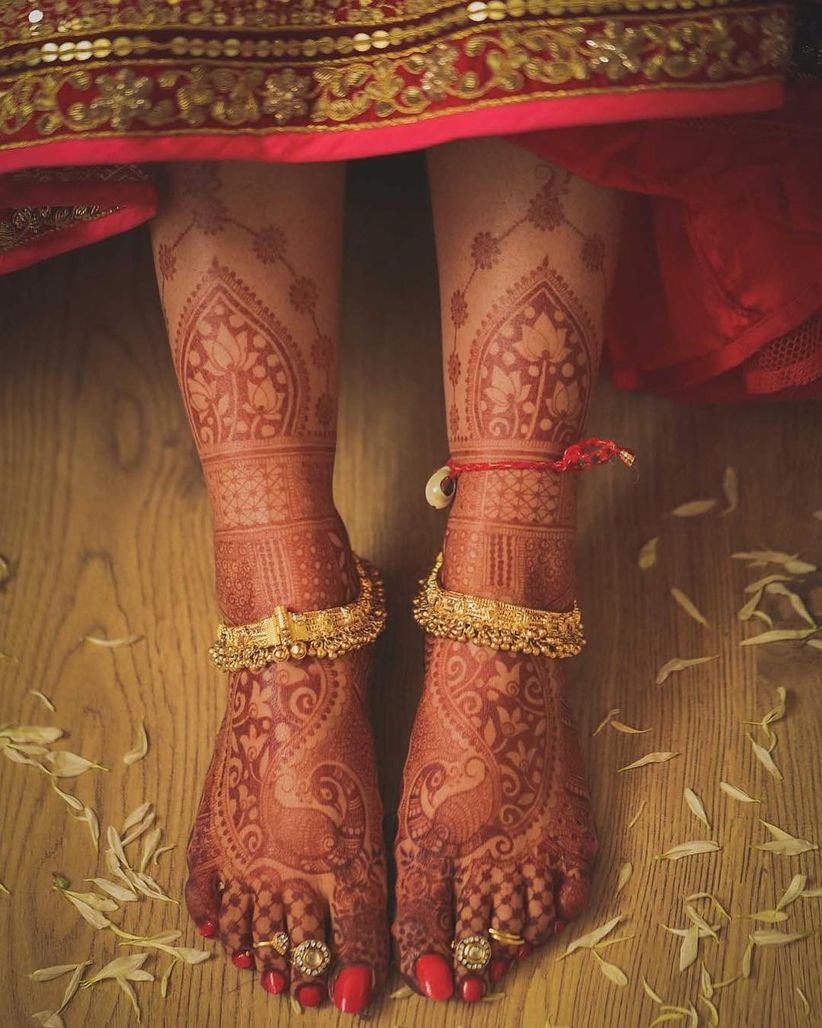 Image Courtesy: Morvi Images
We are swooning over this mehndi shot! The elegant peacocks and the beautiful lotuses, two quintessential mehndi motifs have come together so beautifully for this mehndi design.
70. Dainty Art Piece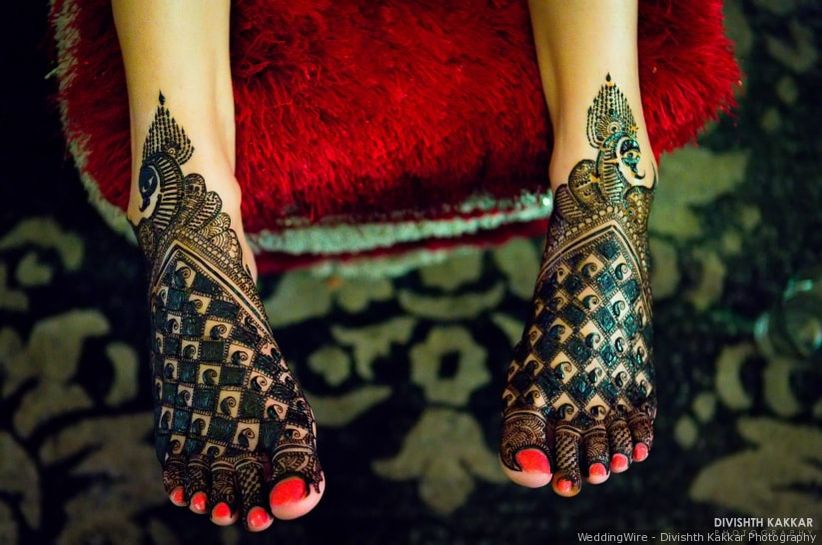 Delhivelvet by Divishth Kakkar It's all in the details! We can't stop staring at those intricate details of henna. This mehndi design is definitely a work of art.
71. Divine Peacock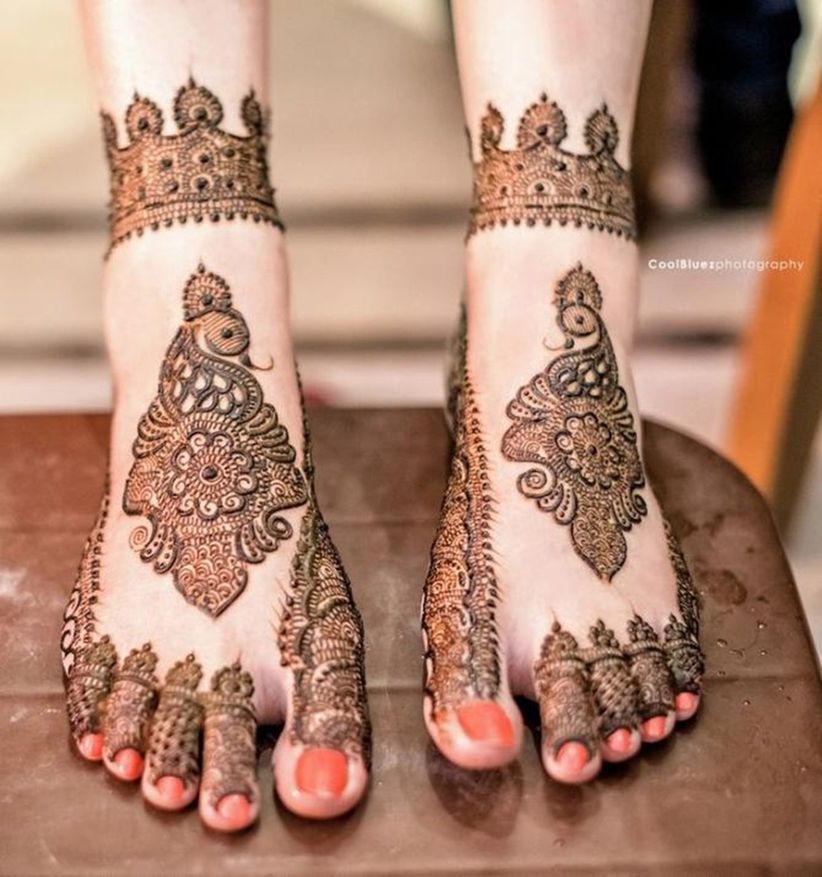 CoolBluez Photography How about a mehndi shot with such intricate detailing? We've come across a lot of mehndi designs featuring peacocks, but none as unique as this one.
72. Spring Inspired Easy Mehndi Design + Floral Jewellery = Absolute Love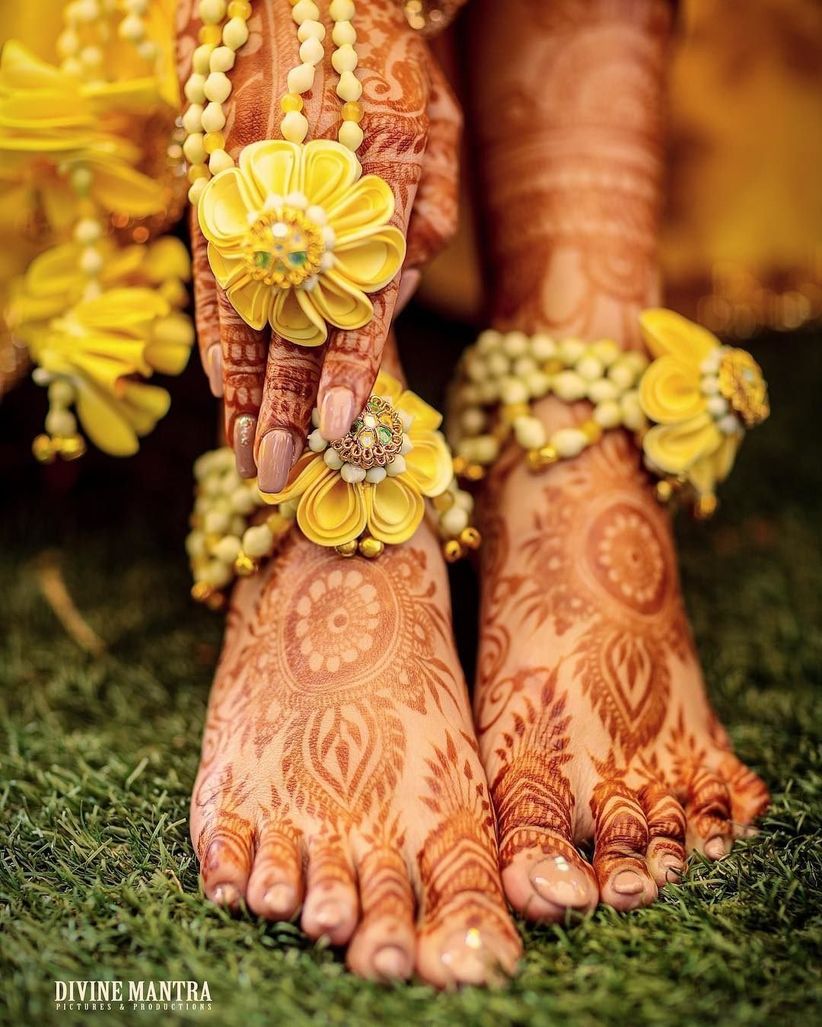 Divine Mantra, Delhi There is something very enticing about this photograph in itself. The simple shade of yellow is actually bringing out the beauty of the soulful colour of bridal henna. A little bit of yellow and a whole lot of red = bridal mehndi goals
73. Jewellery Inspired Easy Mehndi Design + Floral Anklet = Drop Dead Gorgeous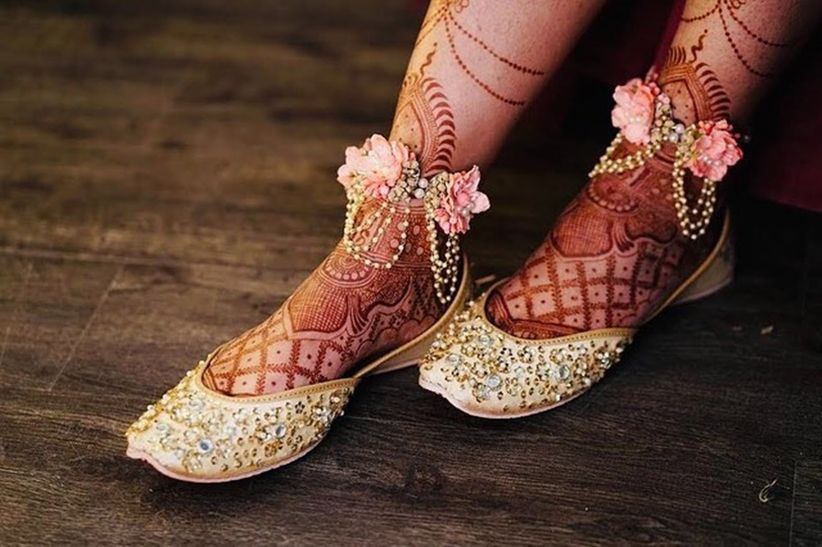 Flosaira Aren't you in love with this picture? We sure are and cannot get enough of how spectacular her floral jewellery looks!
74. Hand Me A Few Roses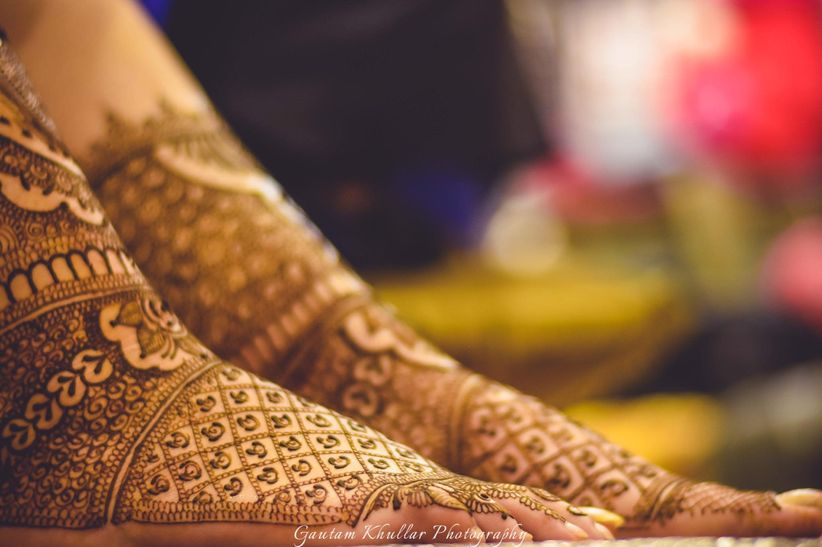 Gautam Khullar Photography A touch of gold, a drop of pearl, a hint of henna and a vibrant smile, these are all the accessories a bride-to-be needs.
75. Power Of Detailing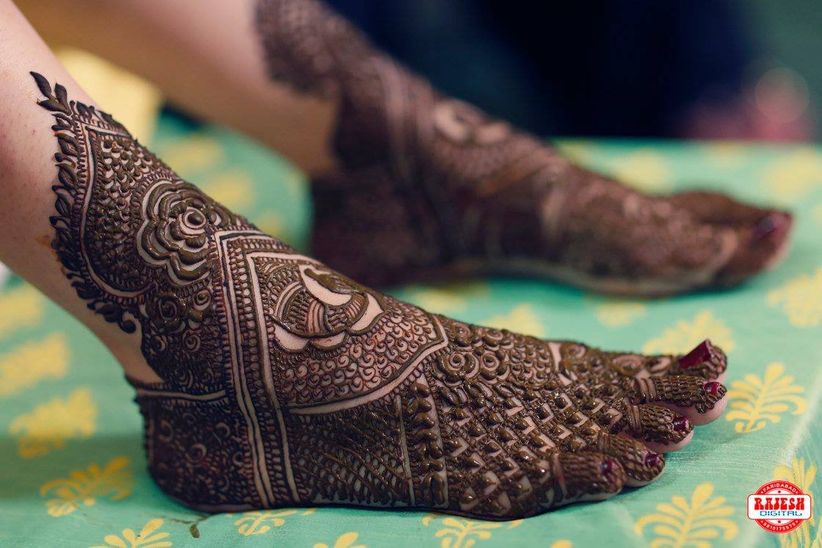 Rajesh Digital Let your
 Din Shagna Di
mehndi tell your romantic tale.
76. Glitz and Glamour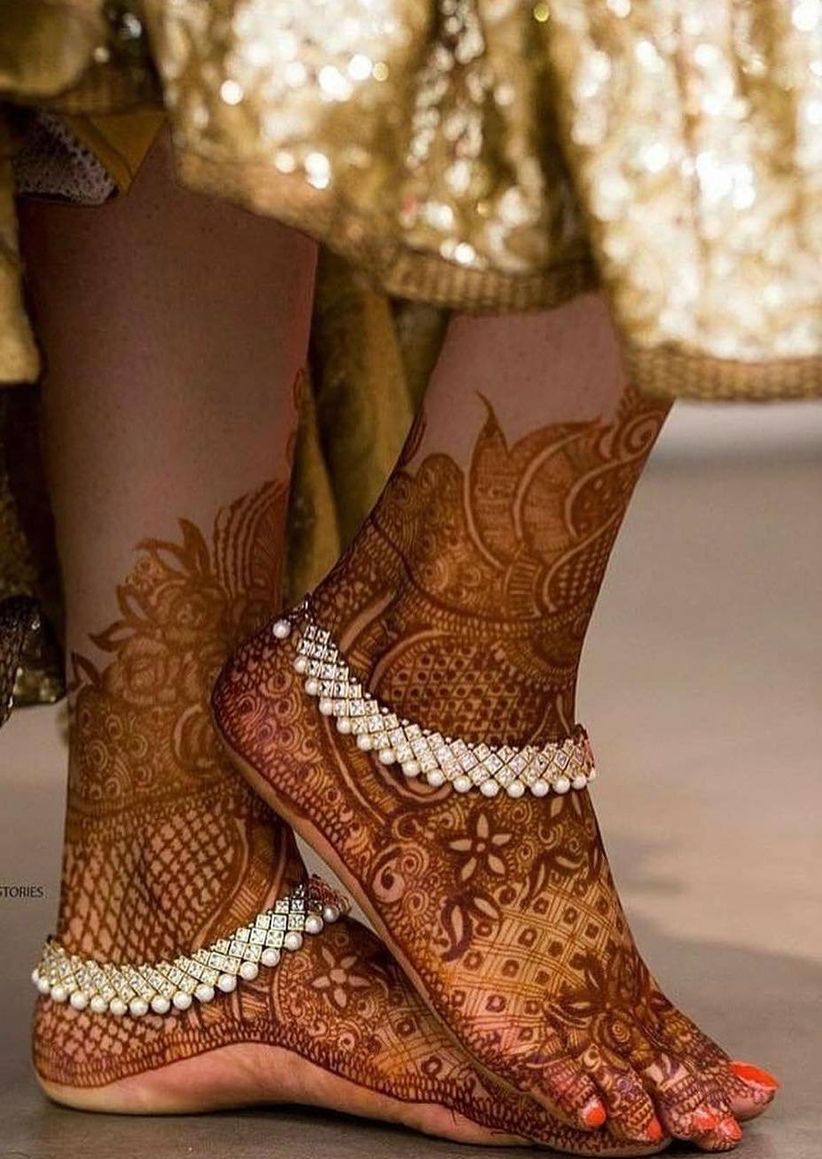 Shutter Stories The delicate detailing of this mehndi is driving us crazy! What about you?
77. Intricate Mehndi Design with Paisleys and Peacocks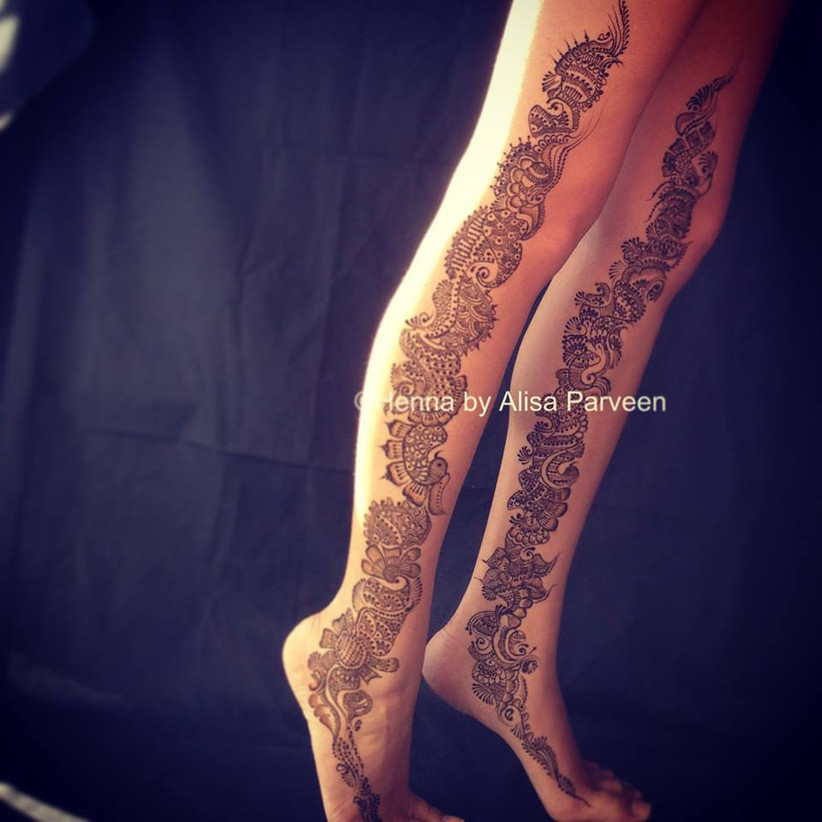 Image Courtesy: Alisa Parveen
We can't stop swooning over this full-length leg mehndi design!
78. The Elephant Motif For The Win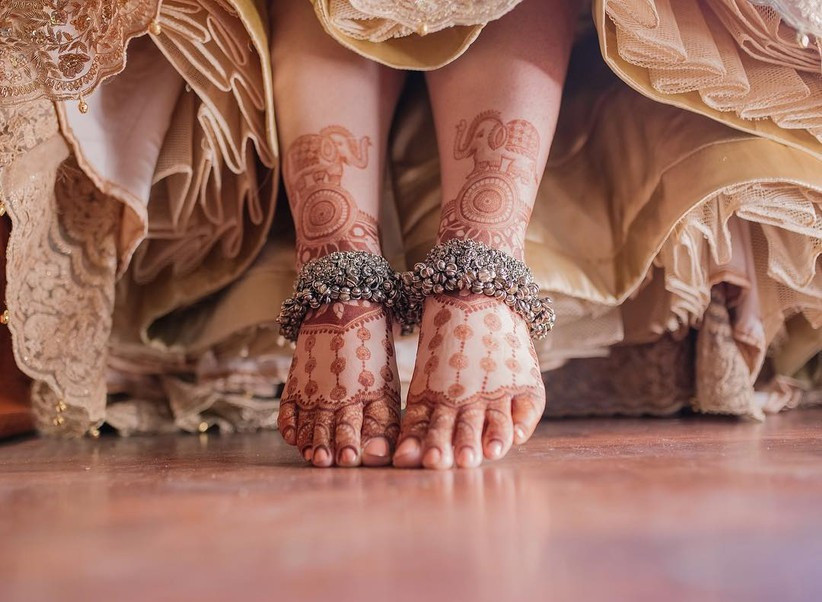 Infinite Memories There is real beauty in simplicity and mehndi designs such as this one make us believe in the mantra of simplicity, even more, thanks to those surreal looking elephants prancing on her shins. Each line, finely designed by the artist using the finest quality of the henna mix, is equal, symmetric and a replica what magic is. And, that Payal is just out of this world and we feel it is a must buy for every bride-to-be.
79. Intricate Peacock Design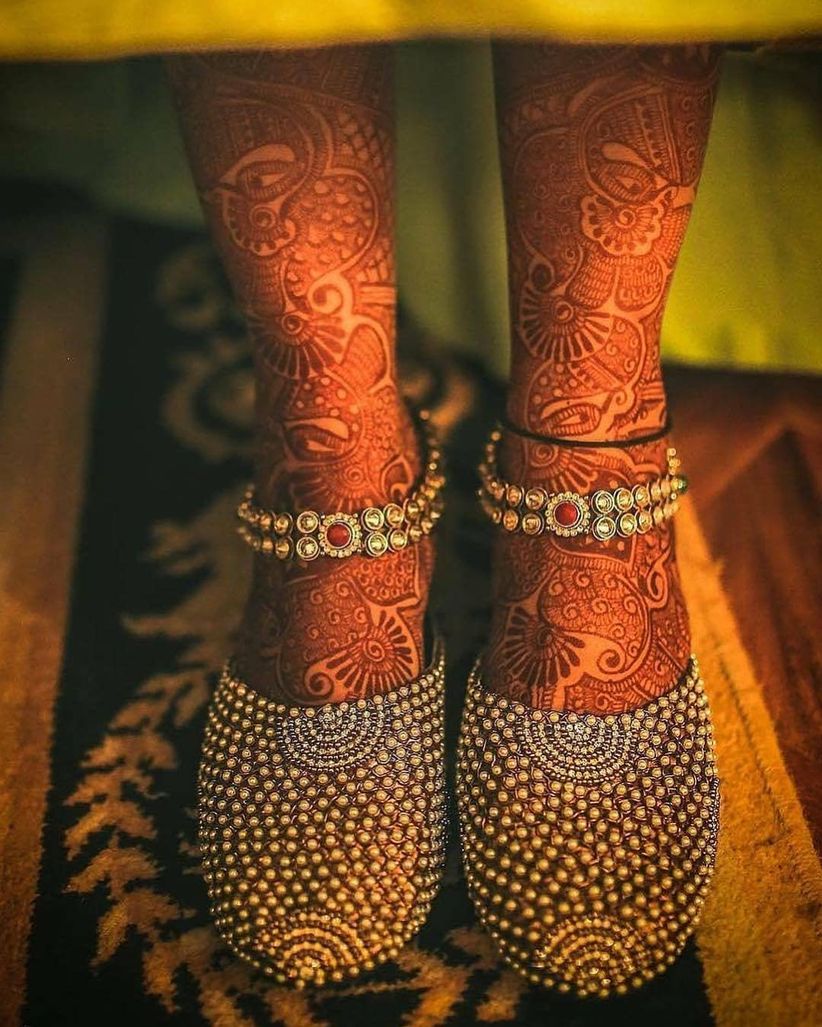 The Cheesecake Project Who else can't stop staring at this stunning mehndi shot!?
80. Chadar Band with Elephant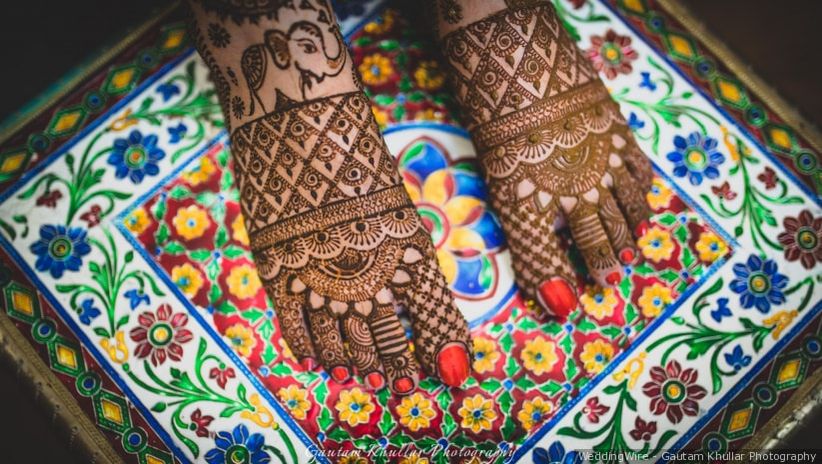 Gautam Khullar Photography How about a traditional motif in your mehndi design with intricate detailing like this one!?
81. Chadar Design with Leaves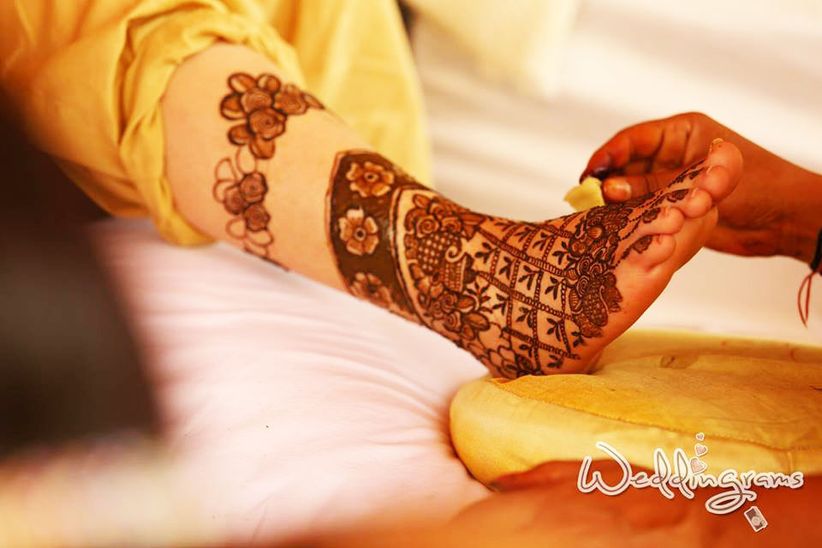 Weddingrams Talk about a mehndi stunner! The simple elegance of this mehndi design is one for the ages.
82. Pristine Beauty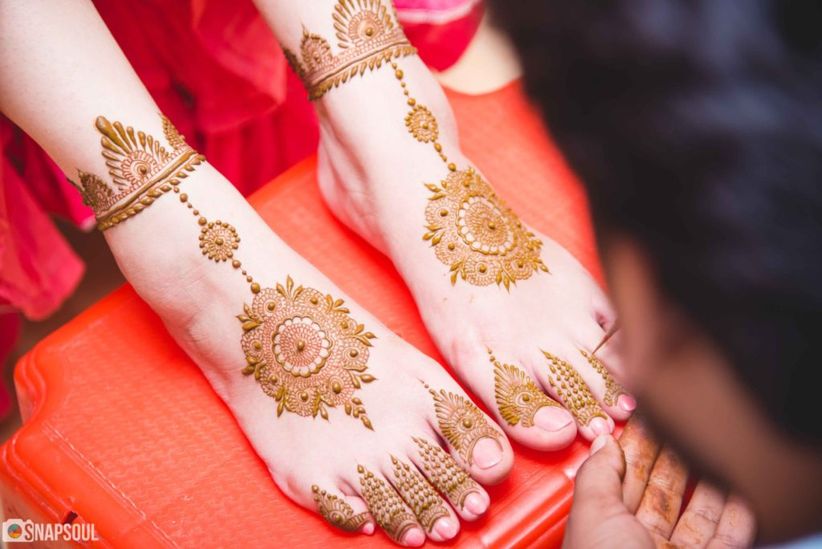 Snapsoul Just a little mehndi magic coming through. Adorned by this beautiful mandala motif your petite feet are guaranteed to be show stoppers.
83. Like a painting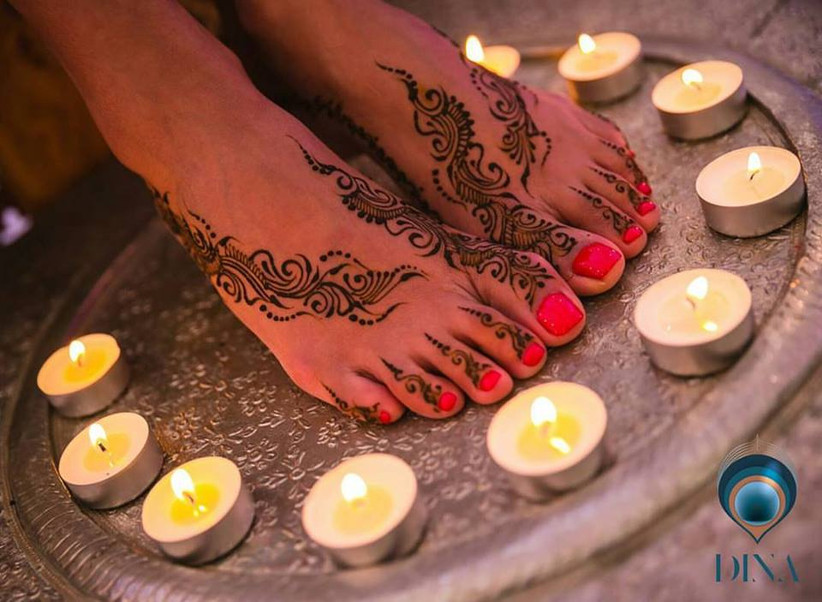 Image Courtesy: Dina's Mehndi
This minimal mehndi design is giving such awesome
Arabian Nights 
vibes. The artistry is truly unique and you'd be sure to stand out among the rest with such a 
hatt-ke 
design.
84. Cinderella's desi slippers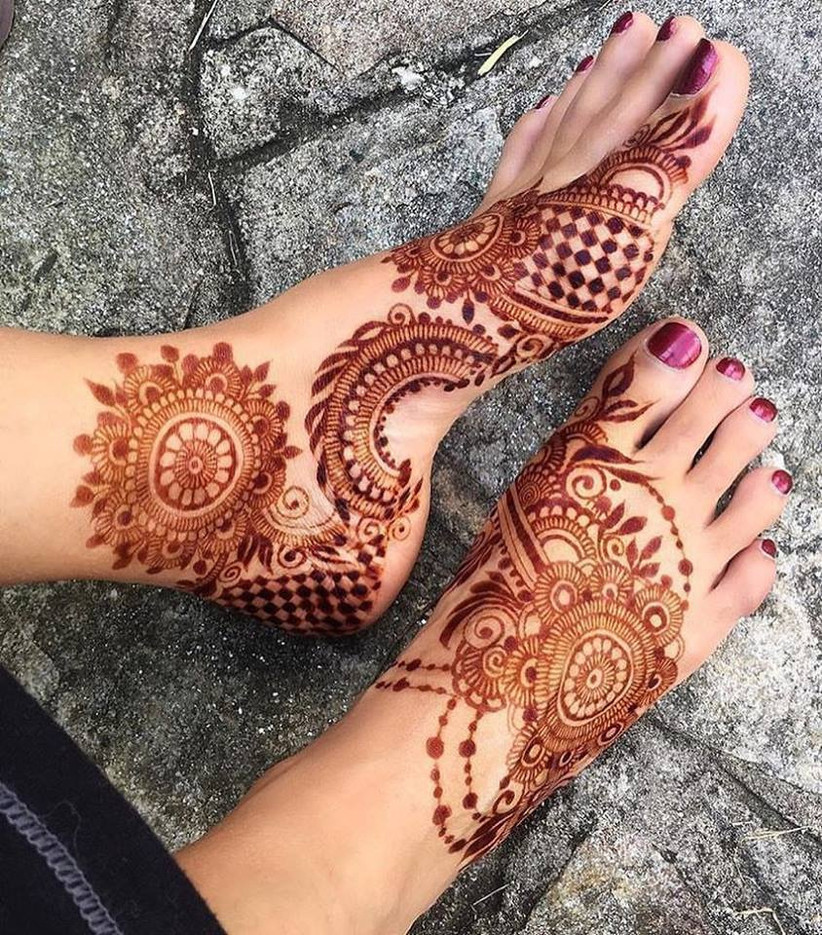 Image Courtesy: Mehndi Inspire
Is that a sandal? Is that a mehndi design? Well, we might be exaggerating just a wee-bit when we say this, but this particular application style is truly a never-seen-before kind. The way it clings to the foot arches and covers the fore-foot has opened a whole new world of mehndi designs for us.
85. Birds! Butterflies! Spring!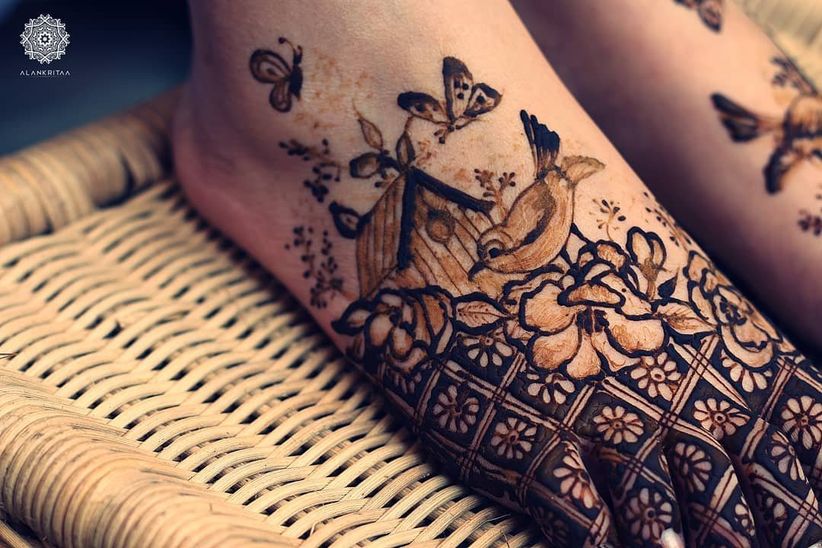 Alankritaa Add some personal touch with such special elements that will make your mehndi designs extremely unique. Like for this bride, it was this rendering of a bird coming home to roost.
C. Simple Mehndi Designs
From the avid variety and options that surge through the social media from full hand mehndi designs to front hand mehndi designs, we have curated some epic simple mehndi designs that will breathe romance into your big day and make you look like a true vision, in every sense of the word. Read on, bookmark the ones you like and get ready to slay! Also, while you're at it, don't forget to get some stunning snapshots of these simple mehndi designs which are anything but simple or boring and bombard your social media handles.
86. Each Finger Mehndi Design Has a Different Story to Tell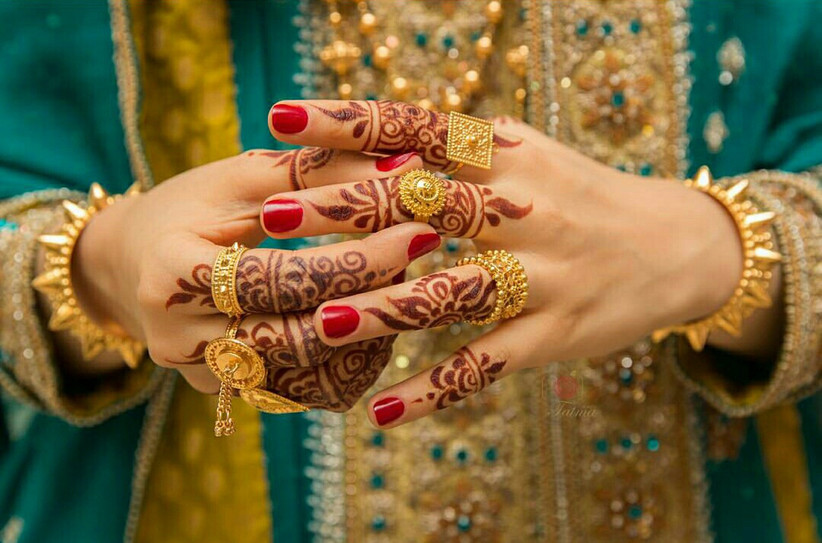 Image Courtesy: We Heart It
It is only her fingers that feature a finger mehndi design but we are simply at a loss of words and are completely floored by how effortlessly beautiful her hands' are looking. We are sold, what about you?
87. The Darkest of the Hues & the Simplest of Design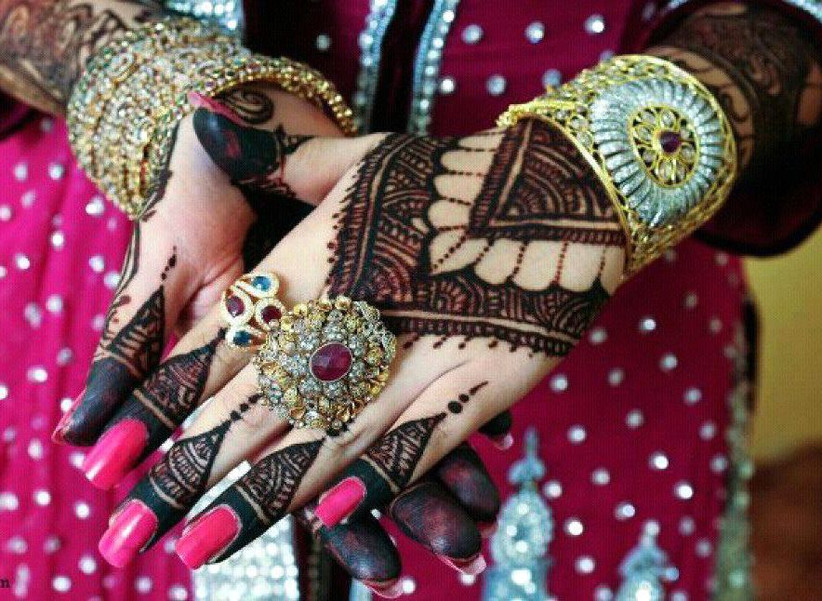 Image Courtesy: Pinterest
We can't get enough of her beautiful hands and that extremely dark colour of henna. Are you?
88. When Simplicity Is Magnificent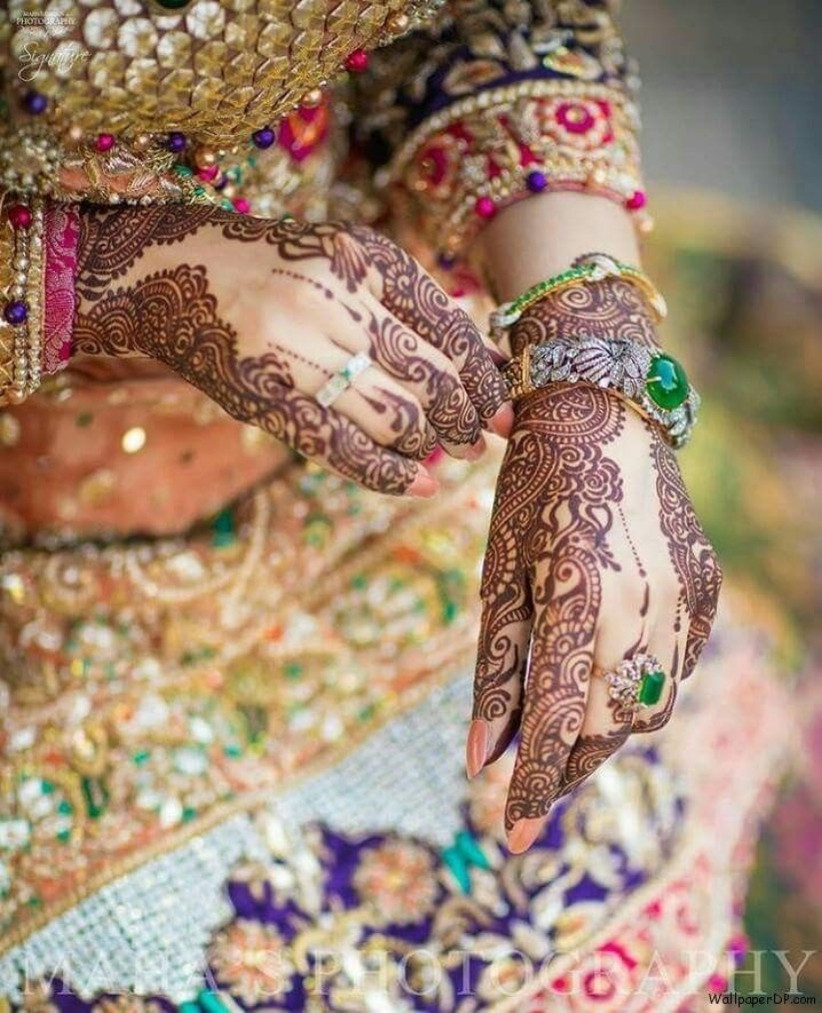 Image Courtesy: Pinterest
The dainty way of posing has got us wooed! We cannot get over the design of this henna, the lightness and the grace of her hands and the impeccable shot that this brilliant photographer has captured. If you happen to be as experimental in life as this bride, then getting a mehndi design that goes sideways and does not cover the entirety of your hand would be the way forward for you.
89. Mirrored Sun Effect!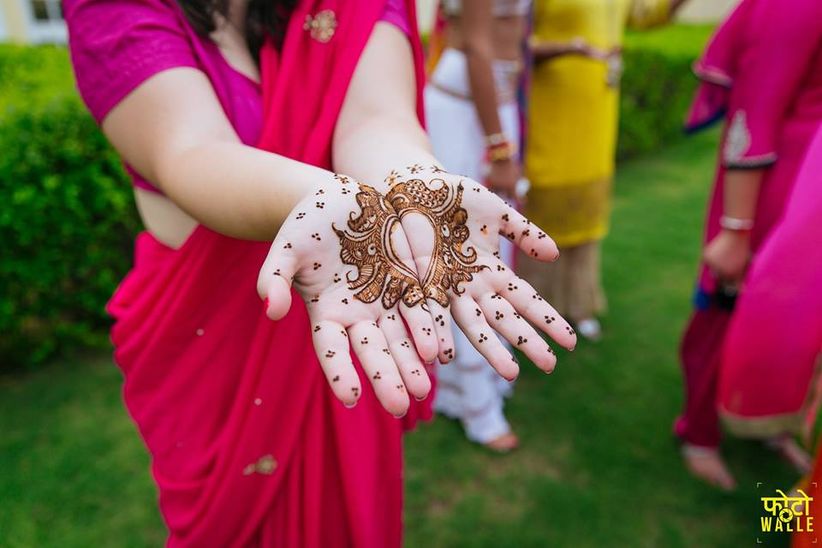 Fotowalle - The Story Folks You can never go wrong with a classic mehndi shot and an unconventional design.
90. Dulha-Dulhan Reverse Mehndi Motif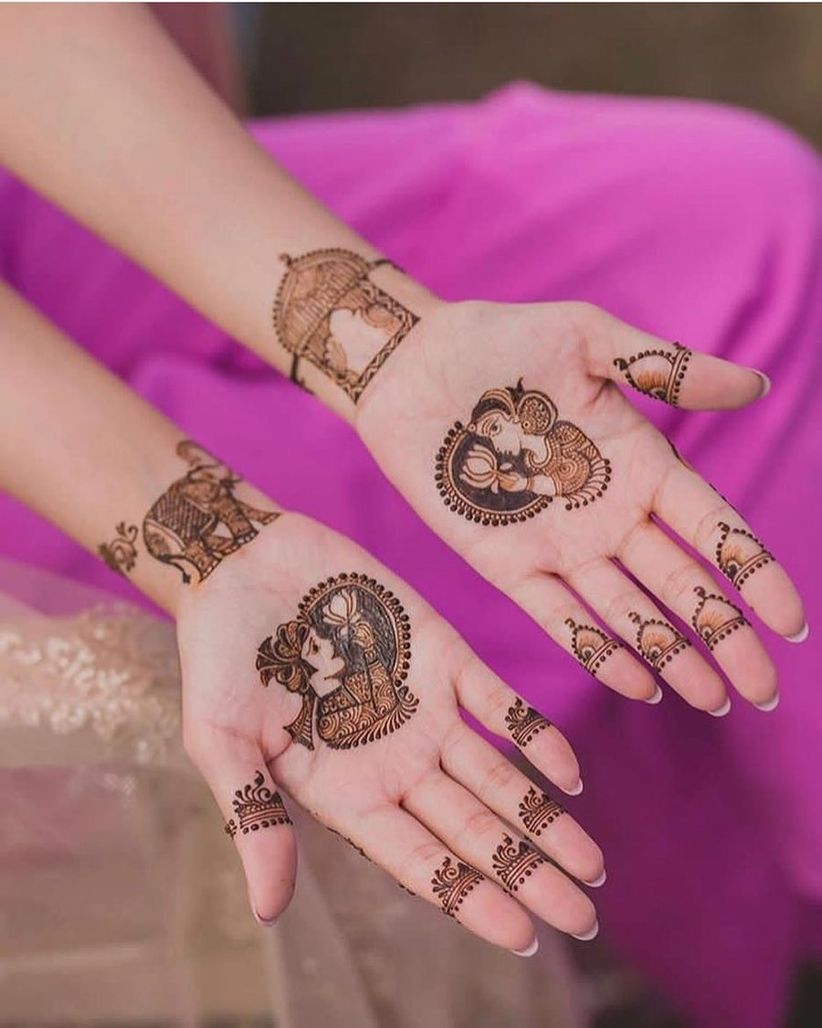 Vows & Tales Embracing the new life, one mehndi design at a time. Peeping at each other through lotus petals.
91. The Minimalistic Quotient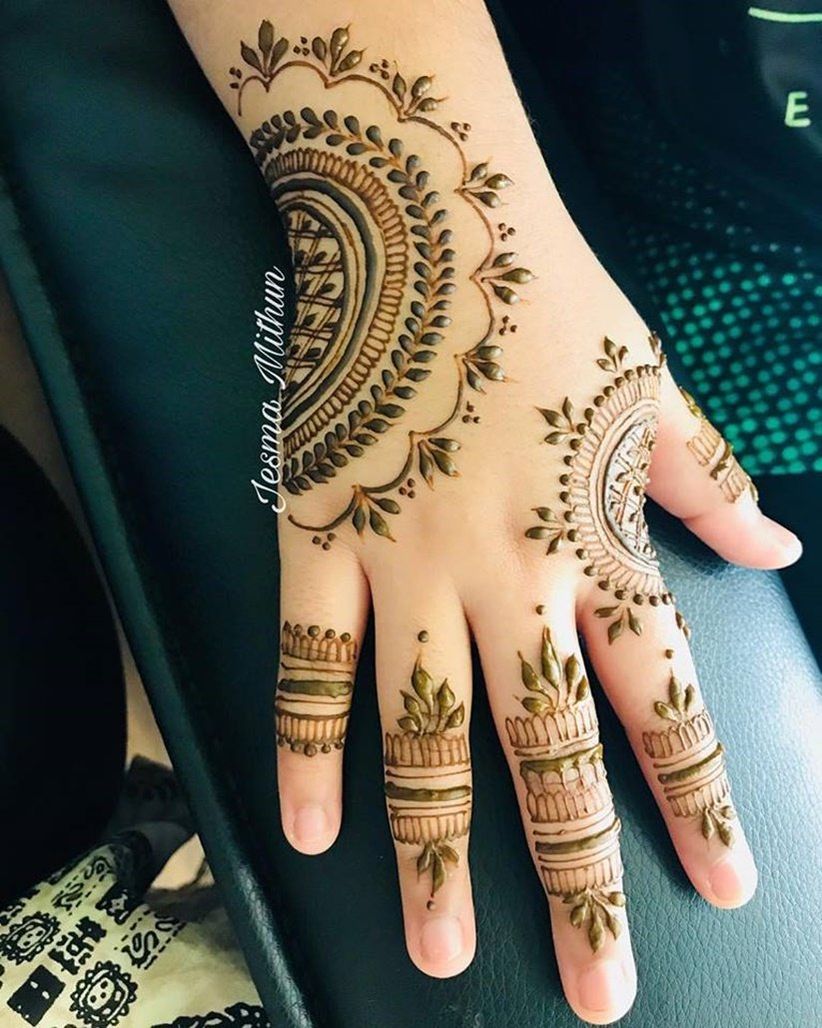 Image Courtesy: Jesma Mithun
How about this awesome mehndi design with tiny leaves to raise your style quotient?
92. Mirror Mirror on the Wall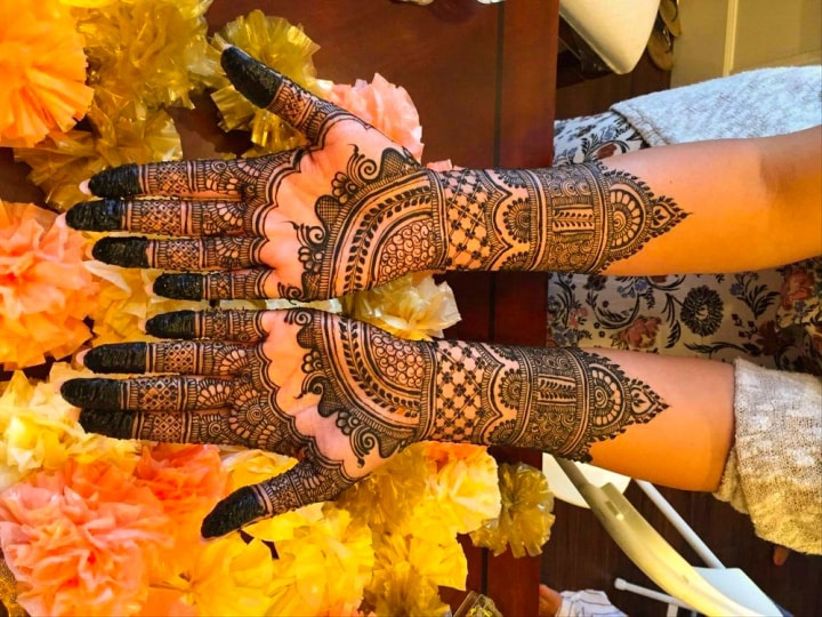 Mehandi Creation by Manu Bishnoi Mirror, mirror on the wall, who is the prettiest of them all? Definitely, this bespoke bridal mehndi design! A mirrored finish can start from a basic palm-level mandala design to arm patterns, the fingers to elaborate wrist bands. Some brides also opt for Mehndi designs where a phrase begins on one front hand palm and completes on the other.
93. Why Fear When Mandala Is Here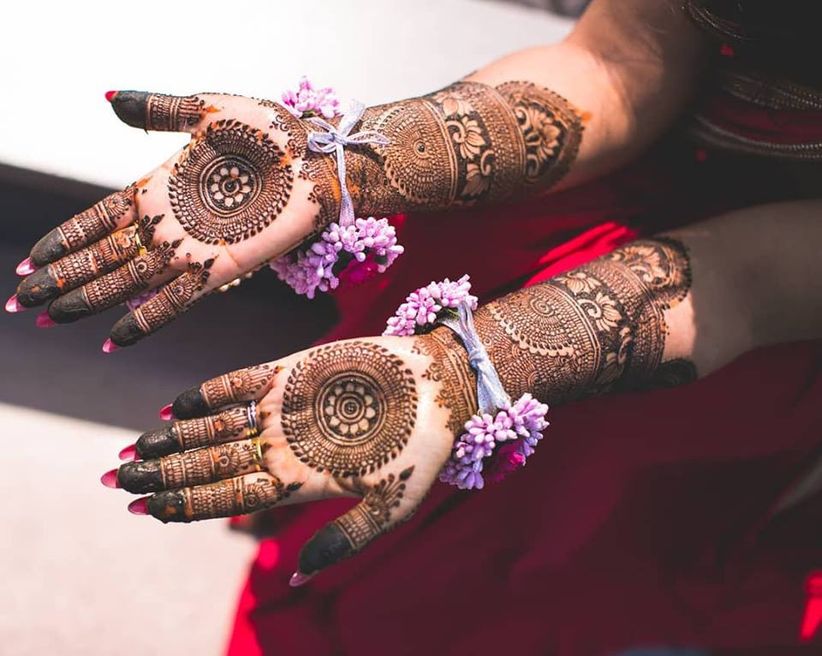 Prune A mandala design marks the centre of her palm and polka dots trace its boundaries. It is brilliant, beautiful and absolutely one of a kind. Want an expert tip? Offset your mandala with a large-enough Haath phool or stellar set of bridal Kalire.
94. Donn Me Pretty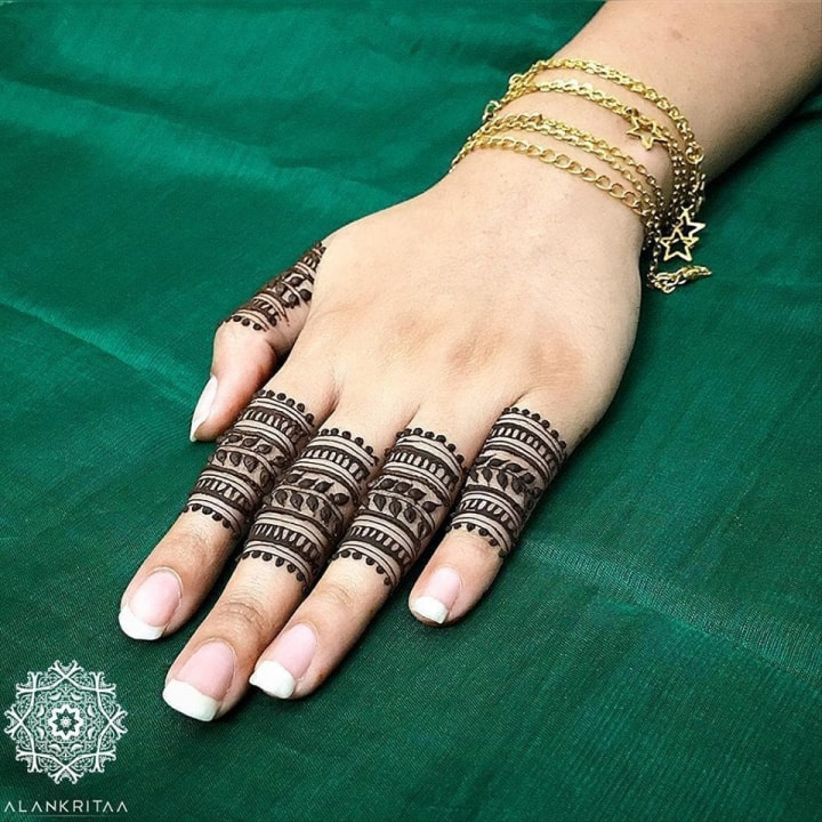 Alankritaa A finger mehndi pattern for the minimalistic lover!
95. Radha-Krishna Mehndi design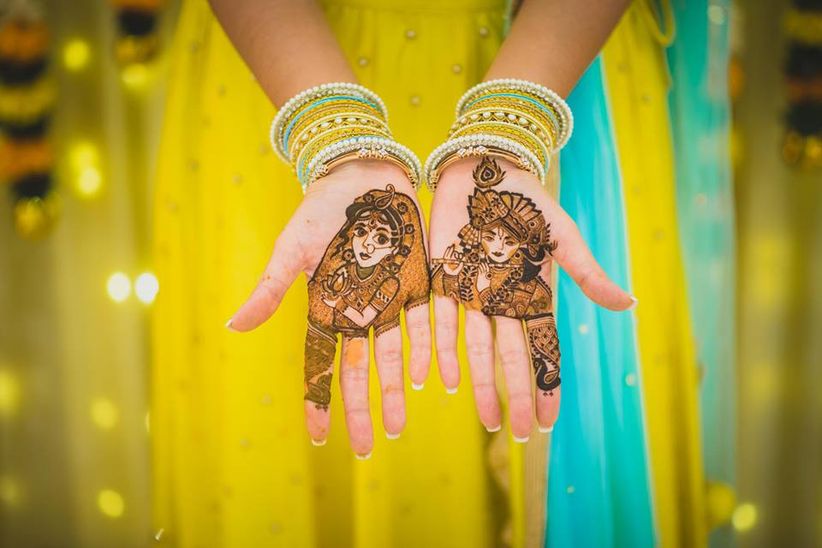 WhatKnot Wedding Photographers Doorway to the heart! The colour of your henna! Radha and Krishna are the quintessential lovers. What better way to signal the start of your life together than by giving an ode to the masters of the craft?
96. The Bindi Style Mehndi Design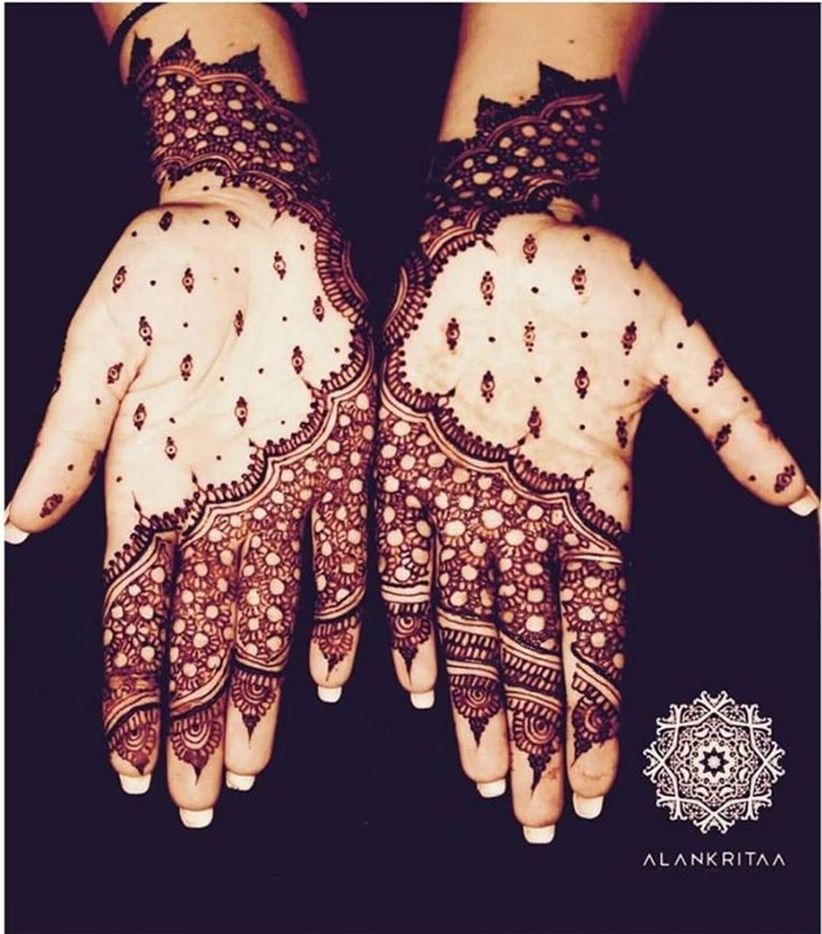 Alankritaa We are drooling over this dotted mehndi masterpiece!
97. The Hathphool beauty
Samsan Hina Artist Who needs jewellery when your mehndi makes up for it? That too with such a brilliant and unique design.
98. Hand Cuff Mehndi Style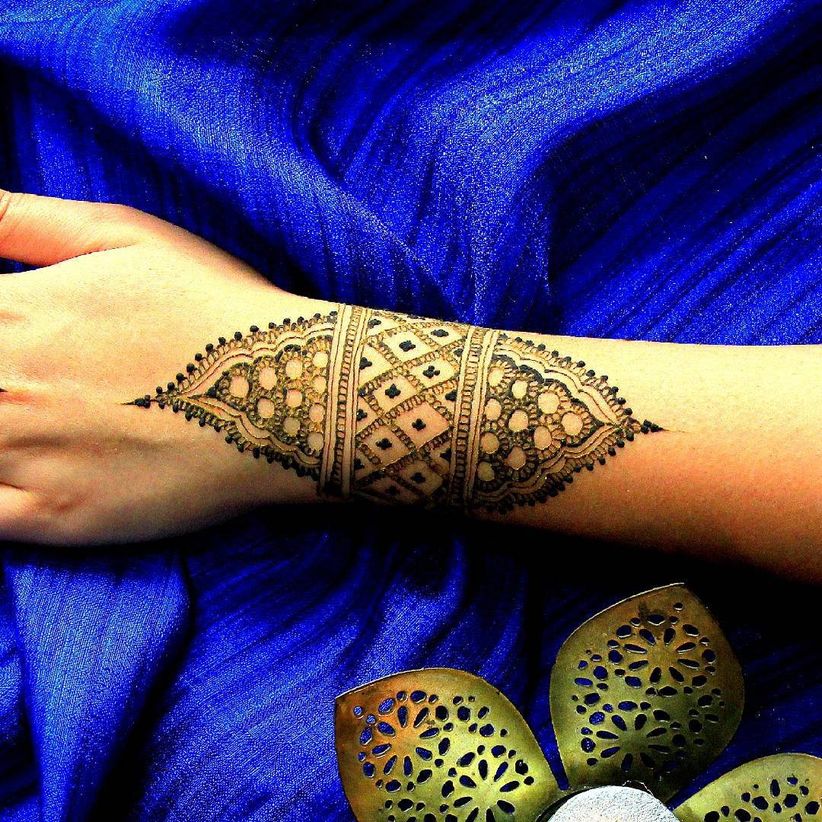 Alankritaa The henna bracelet for the edgy bridesmaid!
99. The Intricate Pattern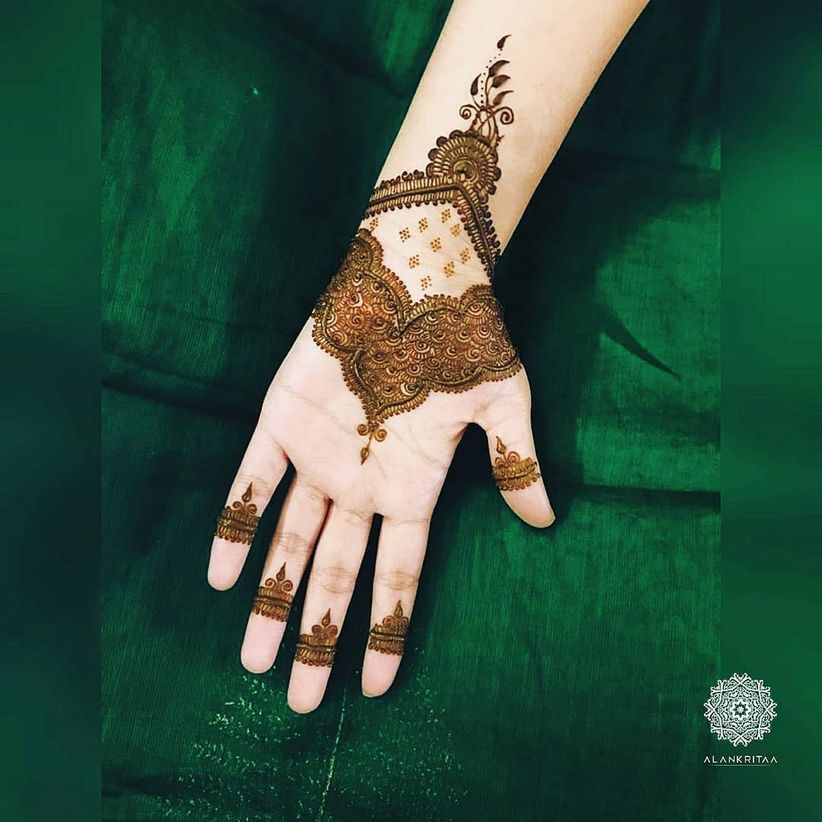 Alankritaa Who would have thought that getting some dots in your bridal mehndi design would look so chic and awesome?
D. Arabic Mehndi Designs
Arabic mehndi designs have always been a rage among the ladies. The thick design patterns covering a major portion of palms look contemporary. The Arabic mehndi incorporates designs like flowers, dots, paisley, leaves, and filled patters. We have curated a wide range of new bridal mehndi designs which are perfect for an edgy bride. They are a soulful mix of minimalism and traditionalism, perfect for a bride who is a go-getter.
100. The Intricate Arabic Fusion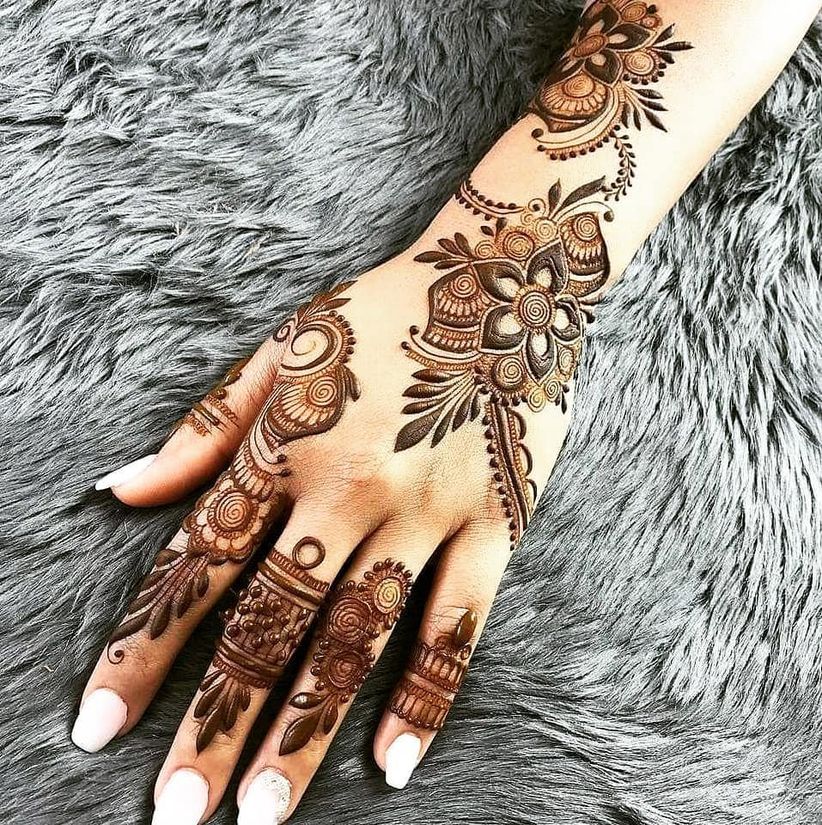 Harshita Mehendi Artist, Hyderabad City The Arabian nights and the Arabian tales! Much wow!
101. Swirls & Twirls The Arabian Vibes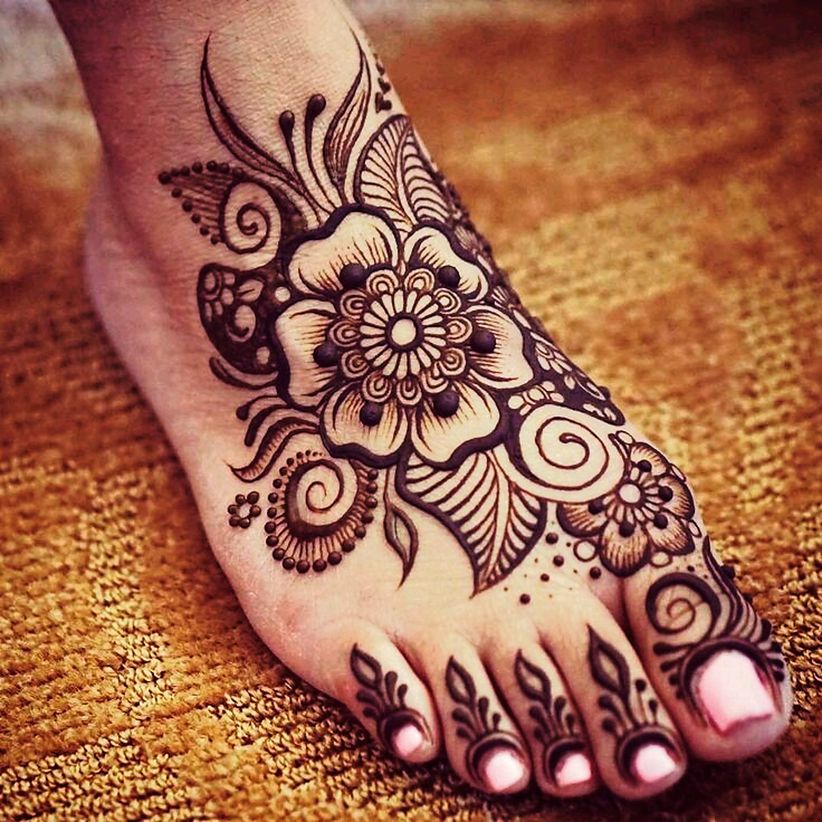 Samsan Hina Artist Are you feeling the jitters after looking at this stunning design? We sure are!
102. The Soulful Arabian Vibes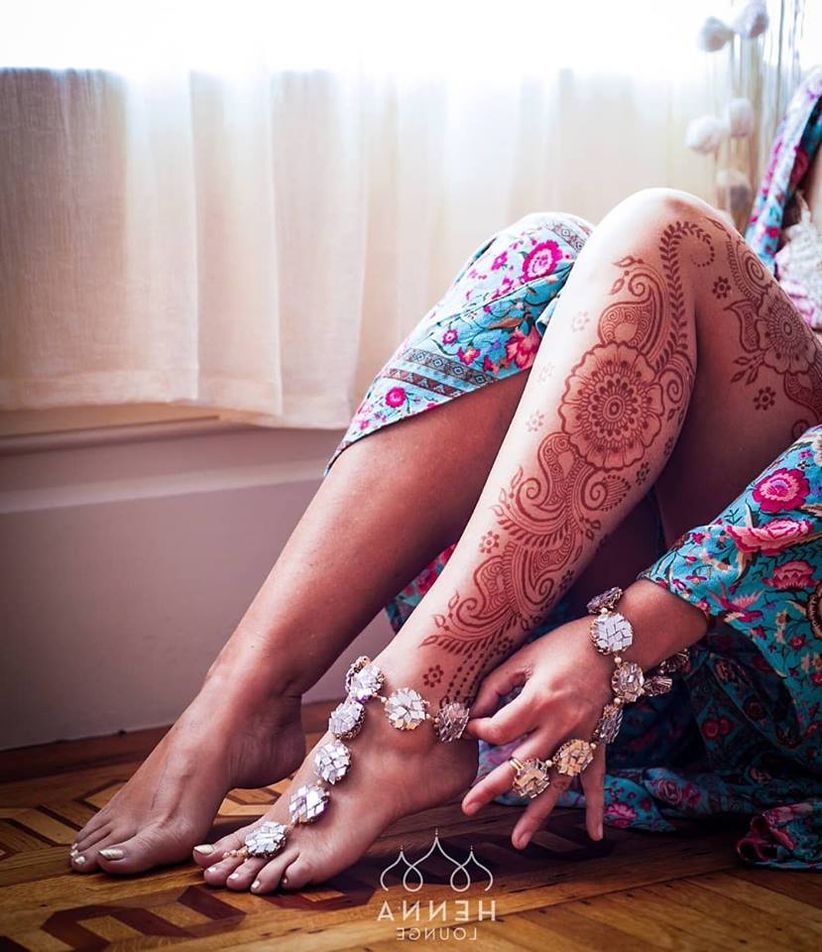 Prune Who knew Arabic mehndi would suit so well for a full leg mehndi design too.
103. Paisley and arches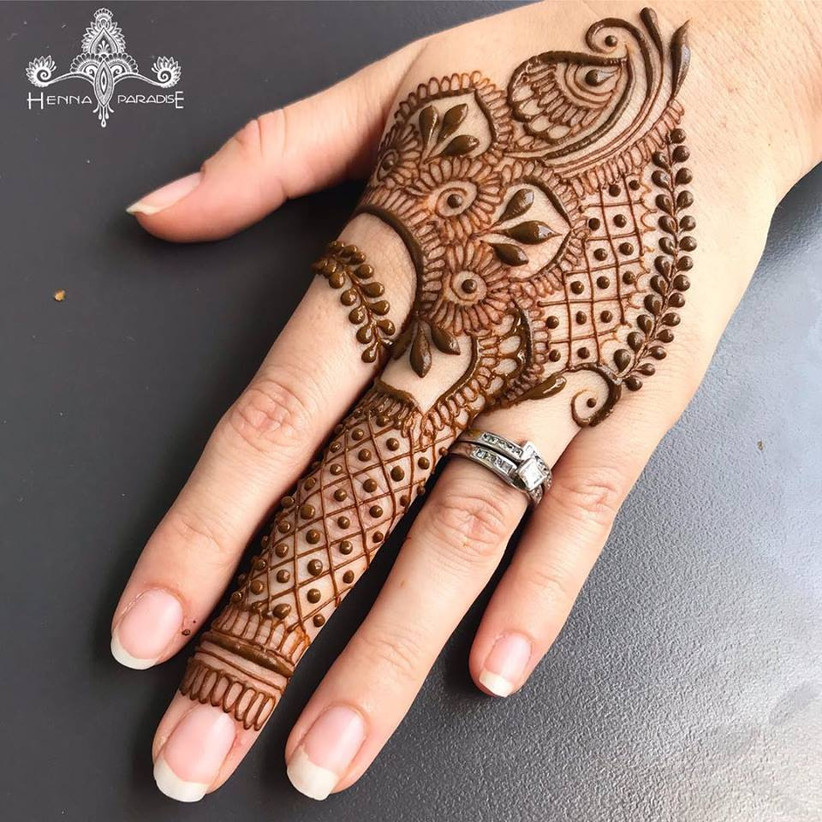 Image Courtesy: Henna Paradise
This simple Arabic mehndi design us so soulful with such clean arches and intricate paisleys.
104. Half n half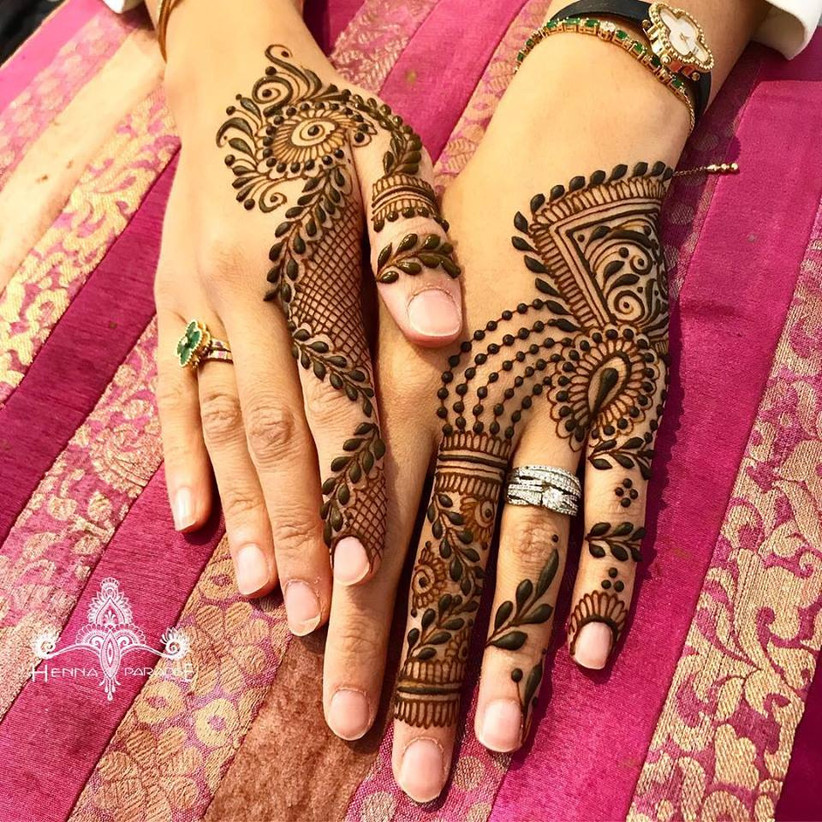 Image Courtesy: Henna Paradise
The beauty of the zig-zagging vines and the delicate touch of the mesh design is what works so well in favour of this mehndi design.
105. Chadar Heart Design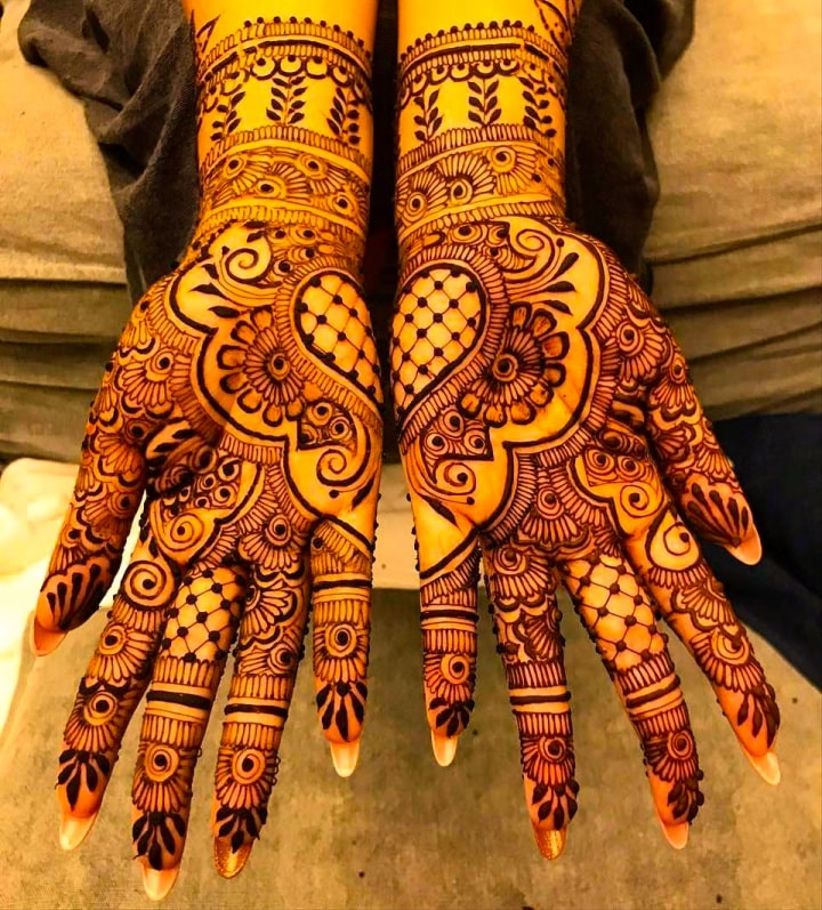 Mehandi Creation by Manu Bishnoi Mirror effect! Chadar design! Floral motif! Jaal effect! This mehndi design legit has everything! If you need one thing too many, then this design is the one for you! You may also cross-combine styles if that's your thing! Add parrots and jaals, patterned into nifty Arabic mehndi designs across your palms.
106. You can count the pretty on your fingertips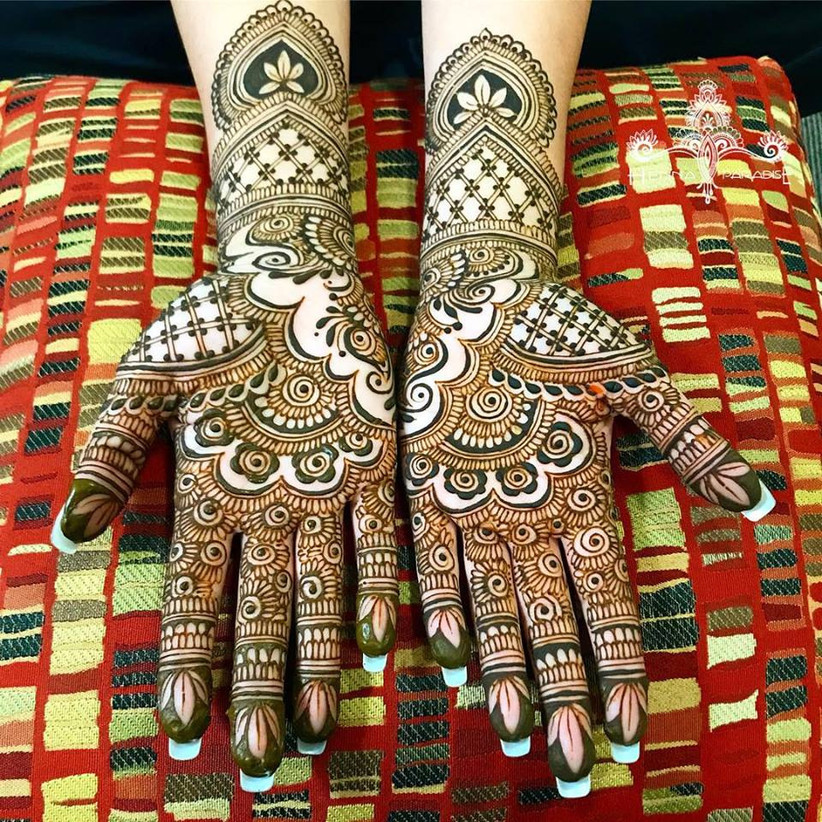 Image Courtesy: Henna Paradise
Symmetrical mehndi designs are always a good idea - always! This full hand mehndi design manages to charm without being too complicated. The gentle twirls and roses are a great way to fill empty spaces. On that note, notice the unique way of filling in the fingertips with the leaf motif.
107. Whirlwind Magic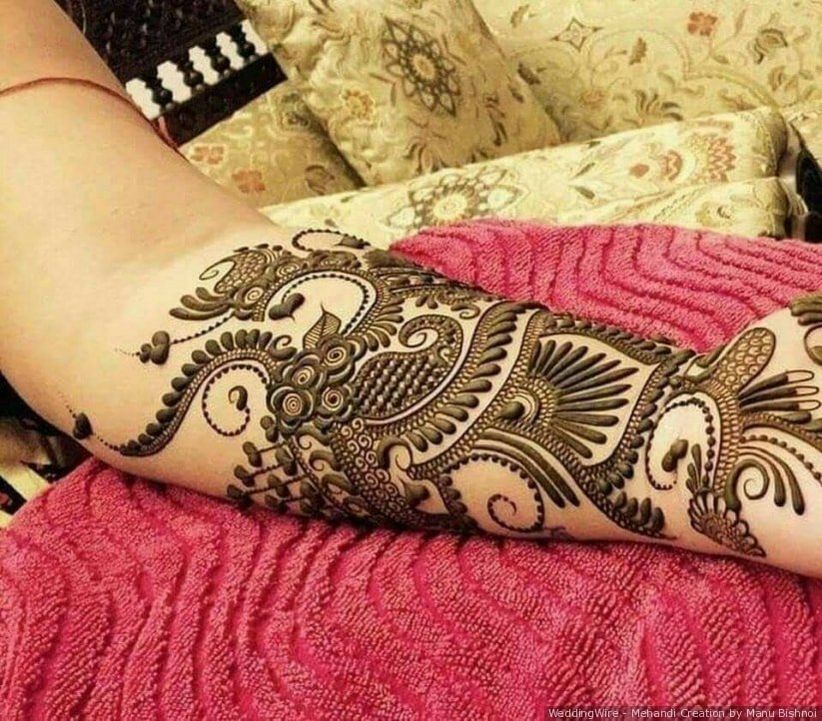 Mehandi Creation by Manu Bishnoi You know you're going to slay when your mehndi is on point!
108. Tiny Buds & Budding Dreams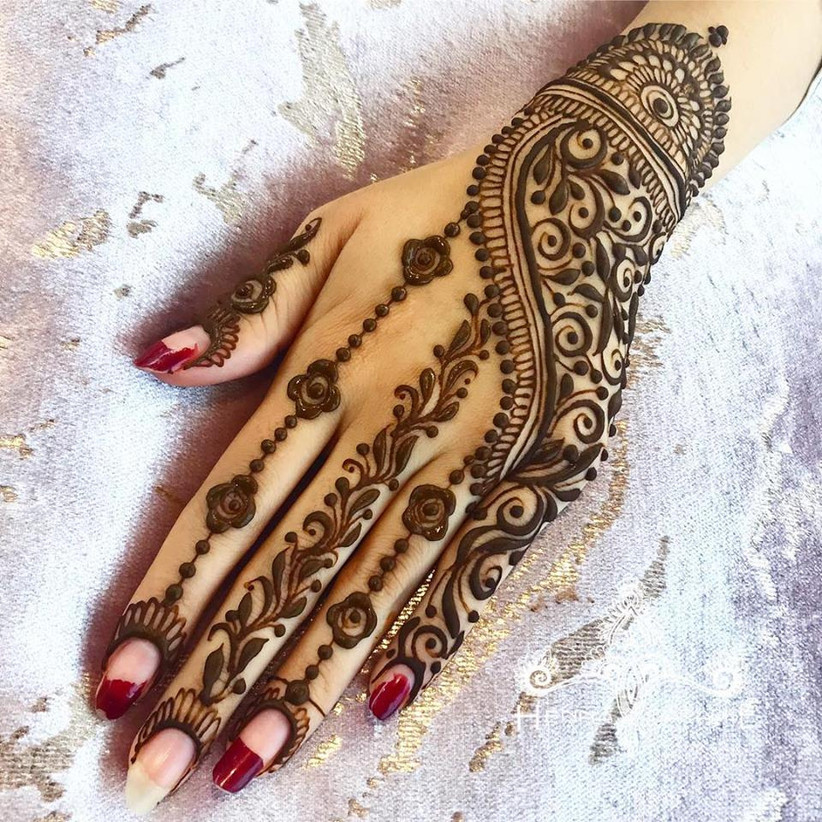 Image Courtesy: Henna Paradise
That perfection of the strokes in this intricate henna has stolen our heart!
E. Backhand Mehndi Designs
Who knew the back of your hand could look so pristine with soulful strokes of henna and some bespoke bridal jewellery? Add a dash of this beauty to your henna and opt for some stellar back hand Mehndi designs for your wedding celebration. We have curated a collection of some quirky, some classic and some completely out-of-the-box modern mehndi designs for you to gorge your eyes on. After all, what better way to express love than with mehndi designs which will put a spell on you?
109. the Bluest Of the Stones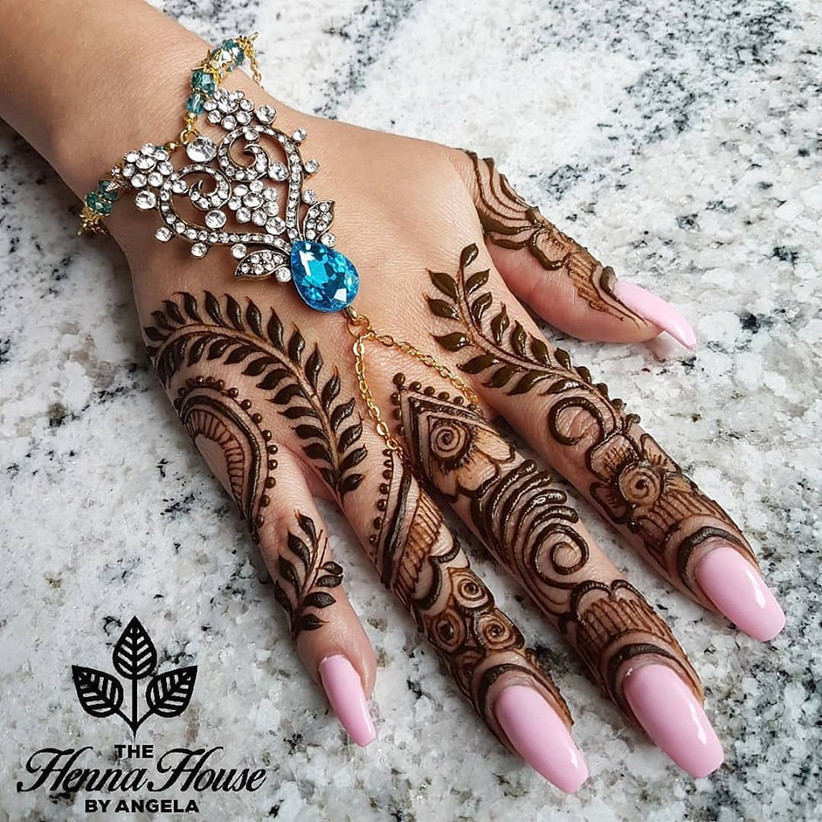 Image Courtesy: The Henna House By Angela
Yes, girl, you are ready to go slay and knock em dead with your effortless fashion inspo!
110. When Spring Is Here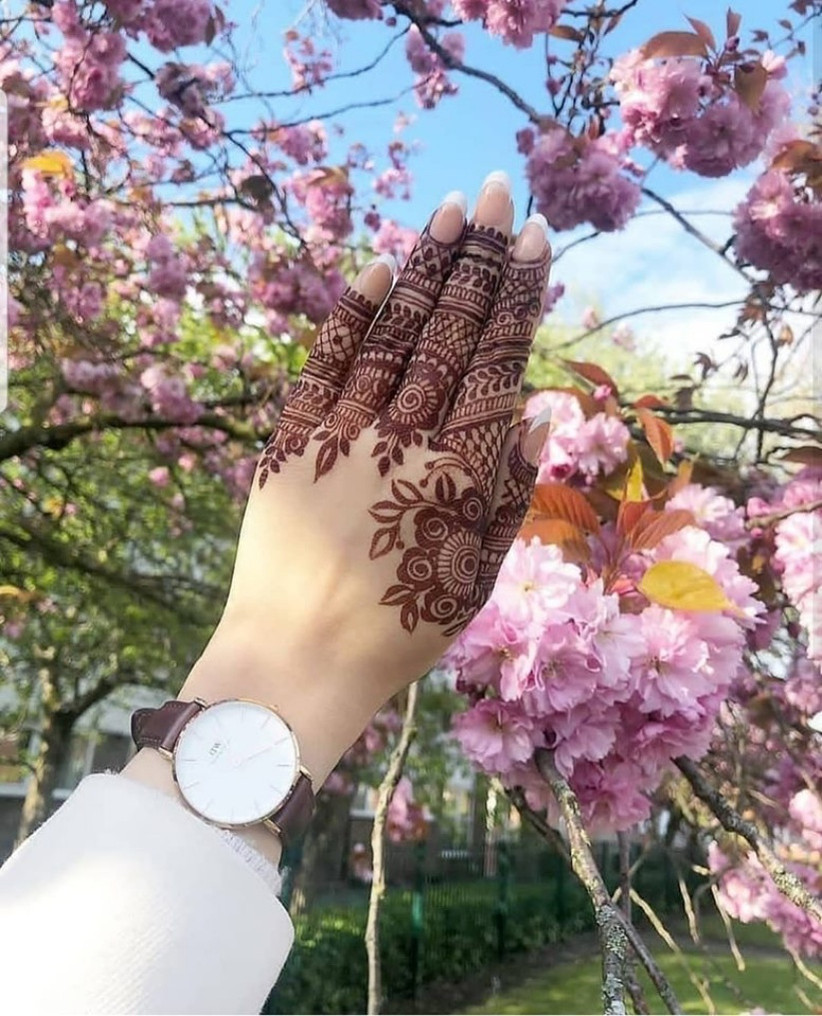 Image Courtesy: Mehndi Designs 2019 Facebook
GOALS! GOALS! GOALS! If you are a blogger with a hundred million followers, then this is your cue!
111. Some Bling! Some Henna! Some Moments of Pure Ecstasy!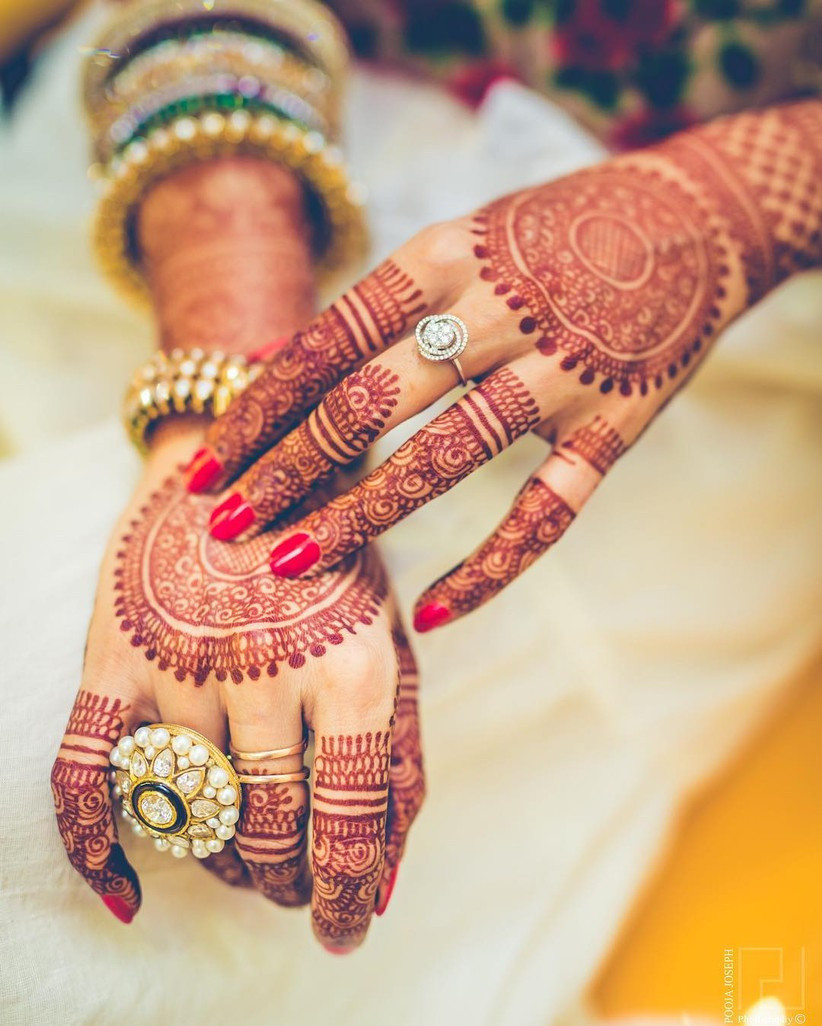 Image Courtesy: Pooja Joseph Photography
When swirls are all you want your mehndi design to be about. Each of her finger mehndi design has a tedious design of swirly patterns - but the best part is that they do not look out of place or unreal, rather they bring her entire bridal look together. And, to make everything look even more sparkly - her ring is just gorgeous and we cannot find anything that is remotely not right in this photograph.
112. Live your Alice In Wonderland Moment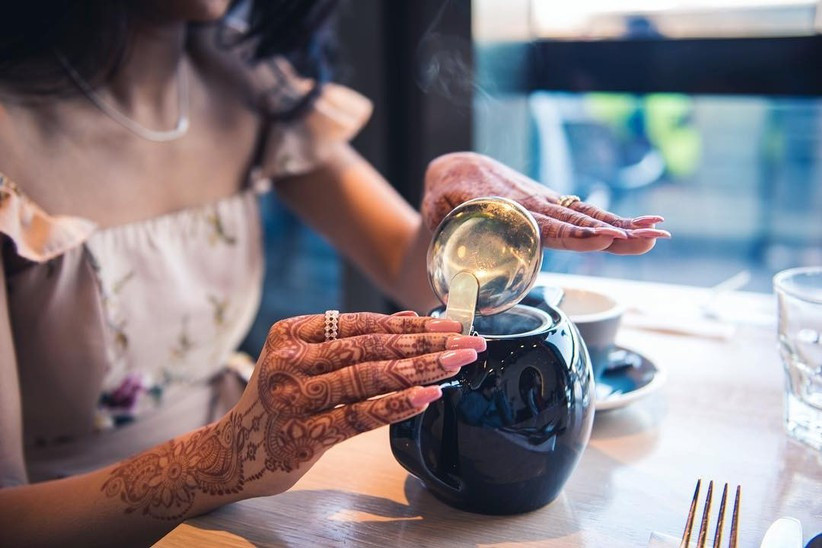 Image Courtesy: Arora Mehndi
A little teapot, her beautiful henna laden hands and those blush pink nails - if she doesn't remind you of Alice from the
Alice in Wonderland
, then we don't know what will! This image is goals in itself!
113. Dekho Magar Pyaar Se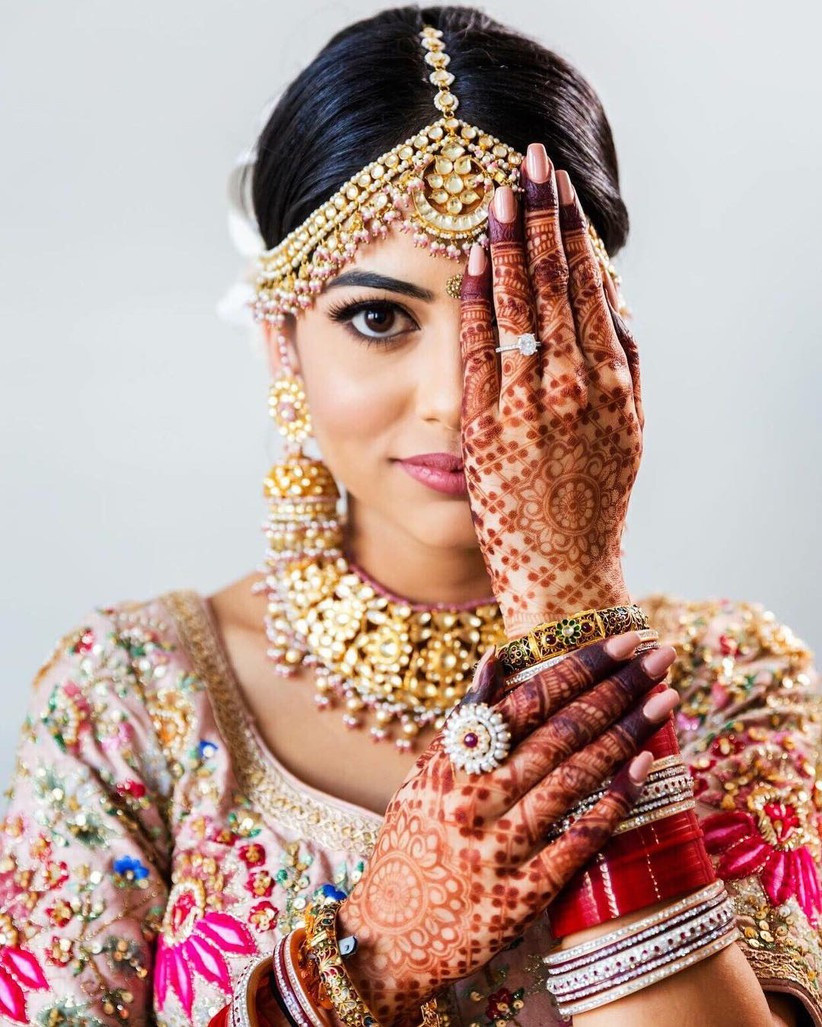 Image Courtesy: Arora Mehndi
Yup, peek-a-boo is a thing and this bride is pretty damn good at doing that. That colour lehnga blouse, her orangish red mehndi and her bridal Chura - would we do anything differently? Of course, not!
114. The Golden Beauty & The Real Beauty Of Henna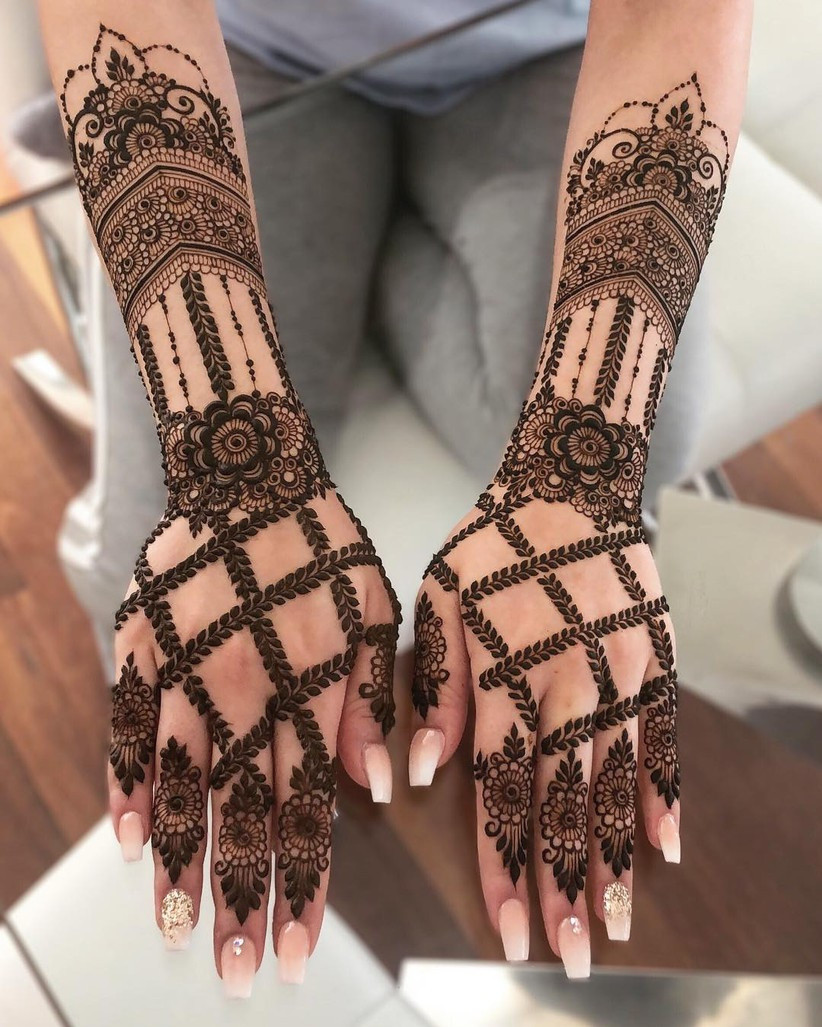 Image Courtesy: Arora Mehndi
A dainty looking mehndi design that stretches towards the rest of her hand - this new mehndi style is absolute goals. And, her nails just bind her entire look together and makes us wish hard that we too had hands as gorgeous looking as her!
115. The Delicate Beauty & Fluorescent Design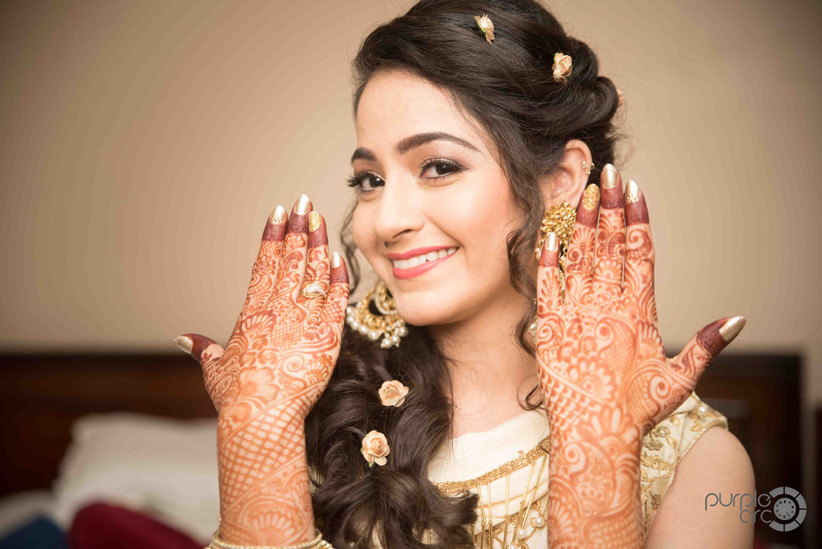 Purple Arc Weddings There is real beauty n simplicity and mehndi designs such as this one make us believe in the mantra of simplicity even more. Each line, finely designed by the artist using the finest quality of the henna mix, is equal, symmetric and a replica of sheer magic. This mehndi design features a floral pattern that traces the back of her hand and falls beautifully downwards, covering her long and beautiful fingers. If this is what dreams are made of, then we don't know what is!
116. See Me Not Beauty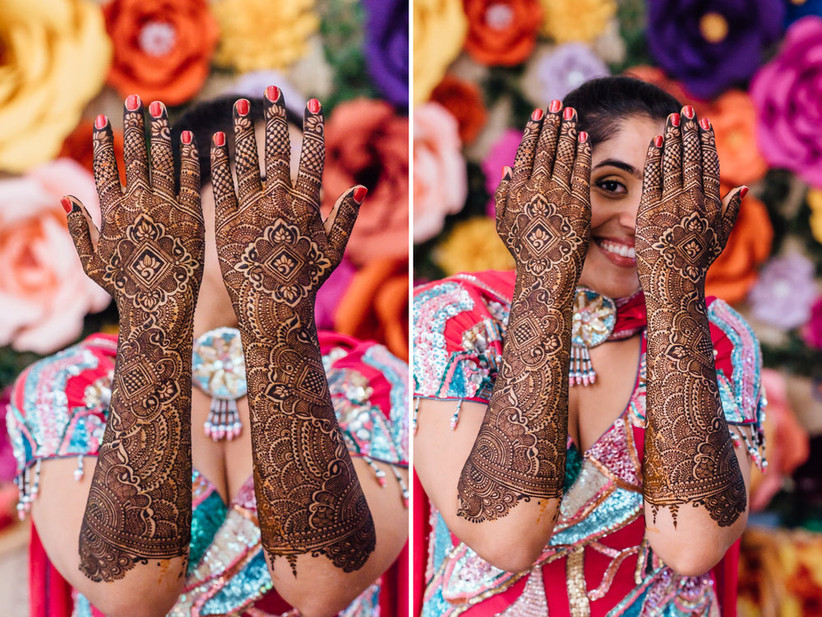 Image Courtesy: MP Singh Photography
Perfection is all that really patterns and the more intricate the design - the better will your bridal mehndi turn out to be. What we are failing to imagine is, how effortlessly beautiful will the mehndi look once it dries off and the dry henna falls off - revealing a soulful concoction of red+maroon+orange - giving us bridal henna goals for life.
117. You're The Rose Of My Life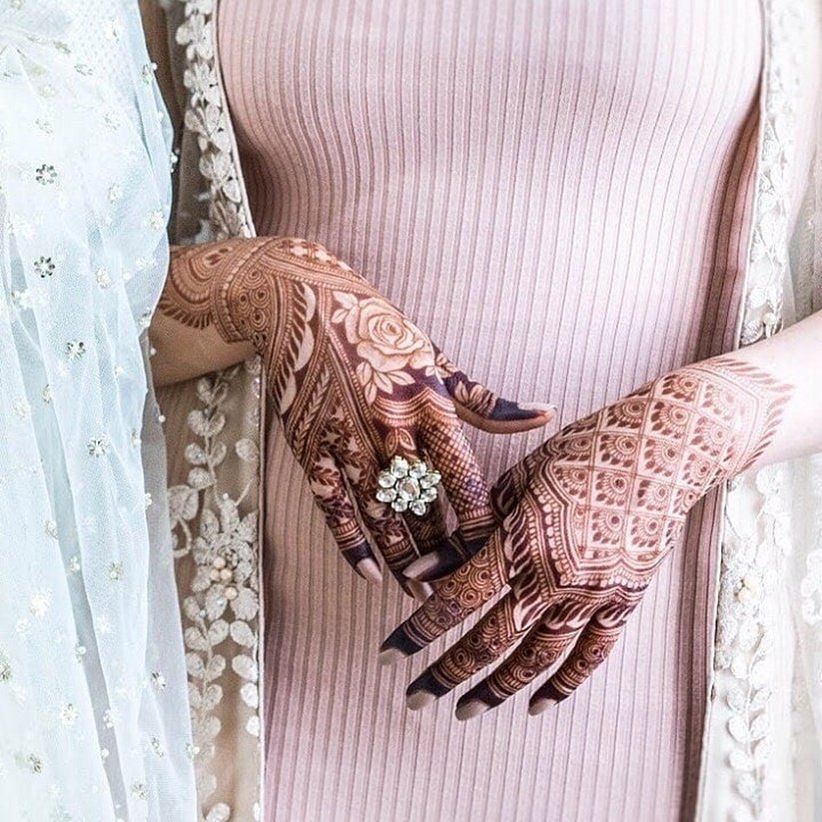 Prune Talk about a solitaire stunner and the mehndi of course! Also notice how different the design is in both hands, adding to the look in a brilliant way.
118. Exquisite Floral Motif Design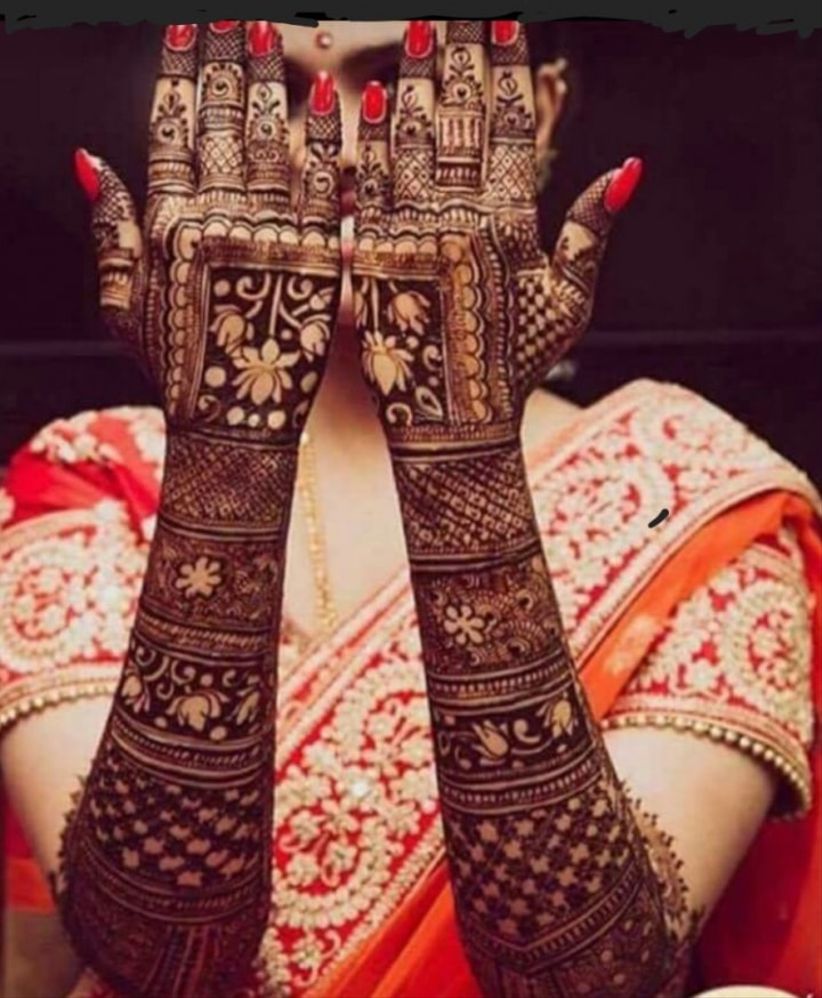 Sandeep Mehendi Art Mehndi goals squared! Hell Yeah!
119. Hand Me Those Pretty Swirls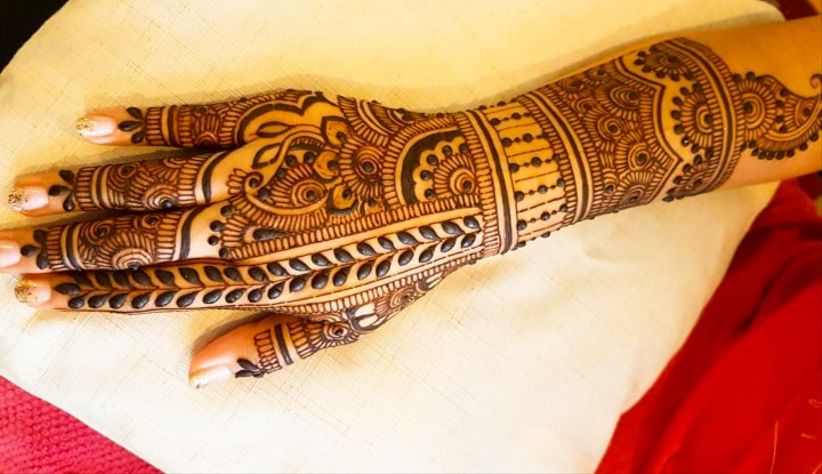 Mehandi Creation by Manu Bishnoi Who else can't stop admiring these stunning mehndi designs!?
120. Gulabo - The Mehndi Design Which Left Us Speechless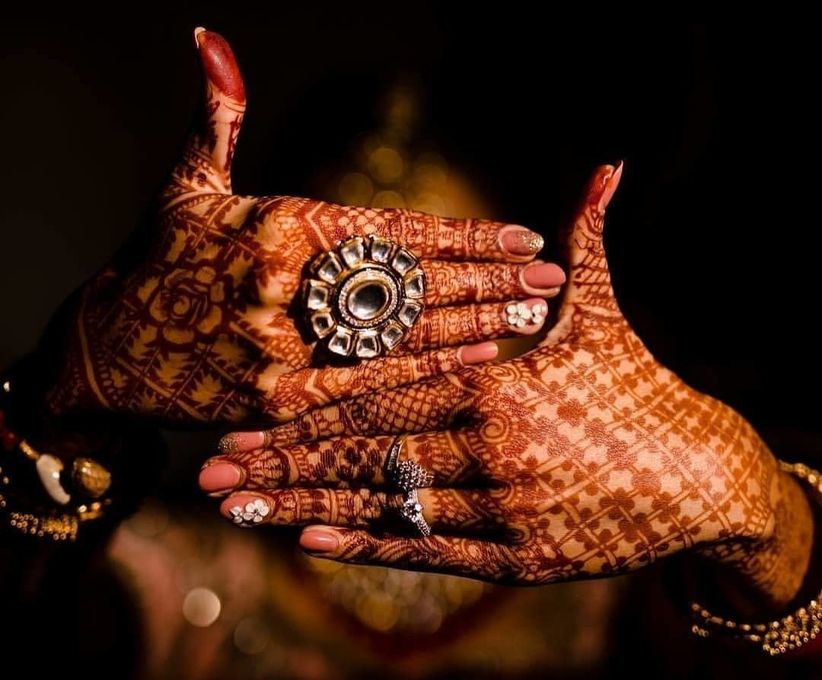 Gautam Khullar Photography For real brides who are all game for challenging the myth of 'less is more' this
Jaal 
design is yours for the taking! This mehndi design has a checkered pattern which sits beautifully on her palms. And what catches our attention most in that blingy bauble on her ring finger.
121. Is That a Real Rose or an Easy Mehndi Design? We Are Confused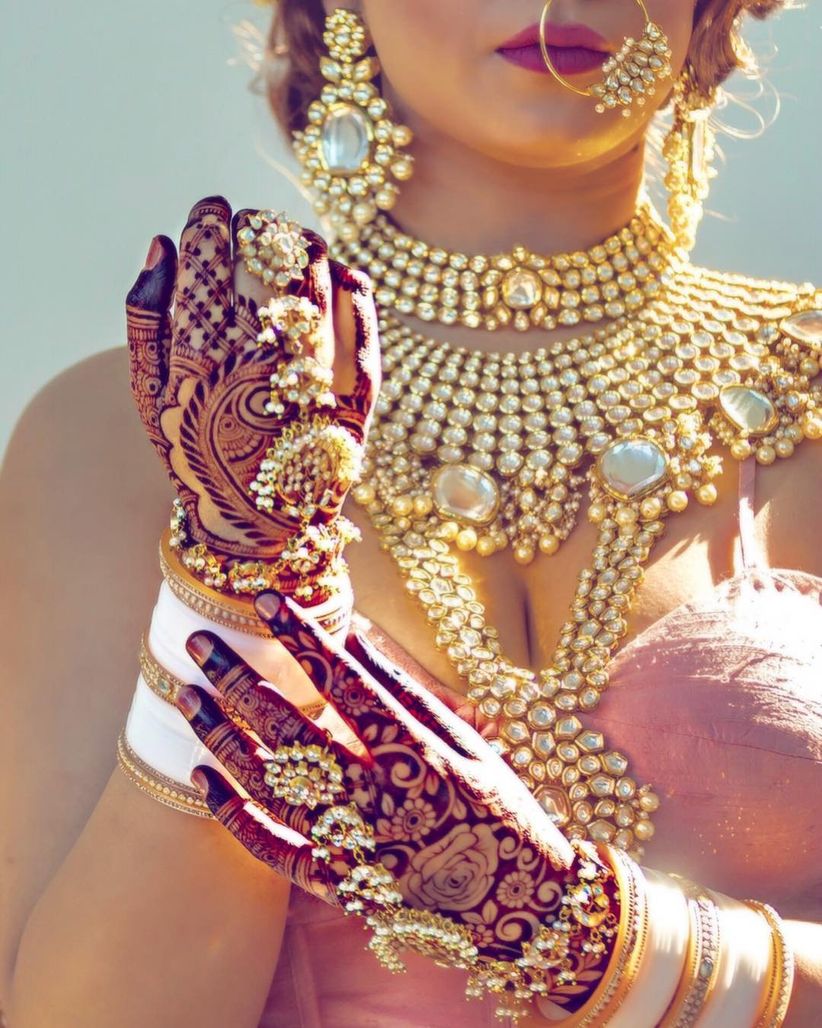 Image Courtesy: Henna By Divya
If you want to bombard your social media handles with an array of likes and comments, then this is how you do it the right! Get yourself a spectacular but easy mehndi design (that is the first step) and then you hire a photographer who will do justice to your beauty and your beautiful henna!
122. Criss Cross Easy Mehndi Design with Lots of Blingy Bling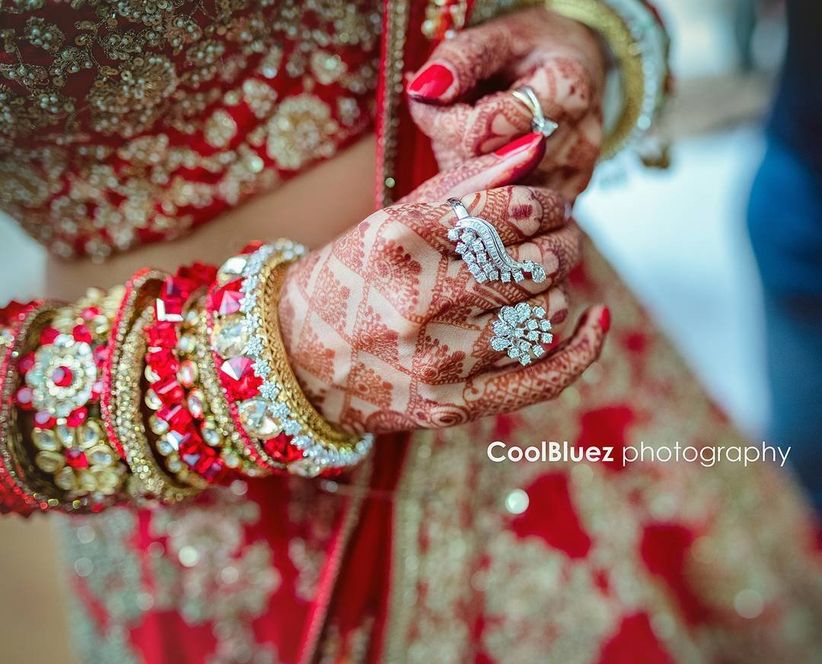 CoolBluez Photography Who even says no to bling? We certainly don't! If there is any drama or shine that we need in our lives, then it is definitely the shine of big solitaires and blingy diamonds! Mix it with a trendy mehndi design and you are all good to go!
123. The Mango Leaf - Details That Left Us Spellbound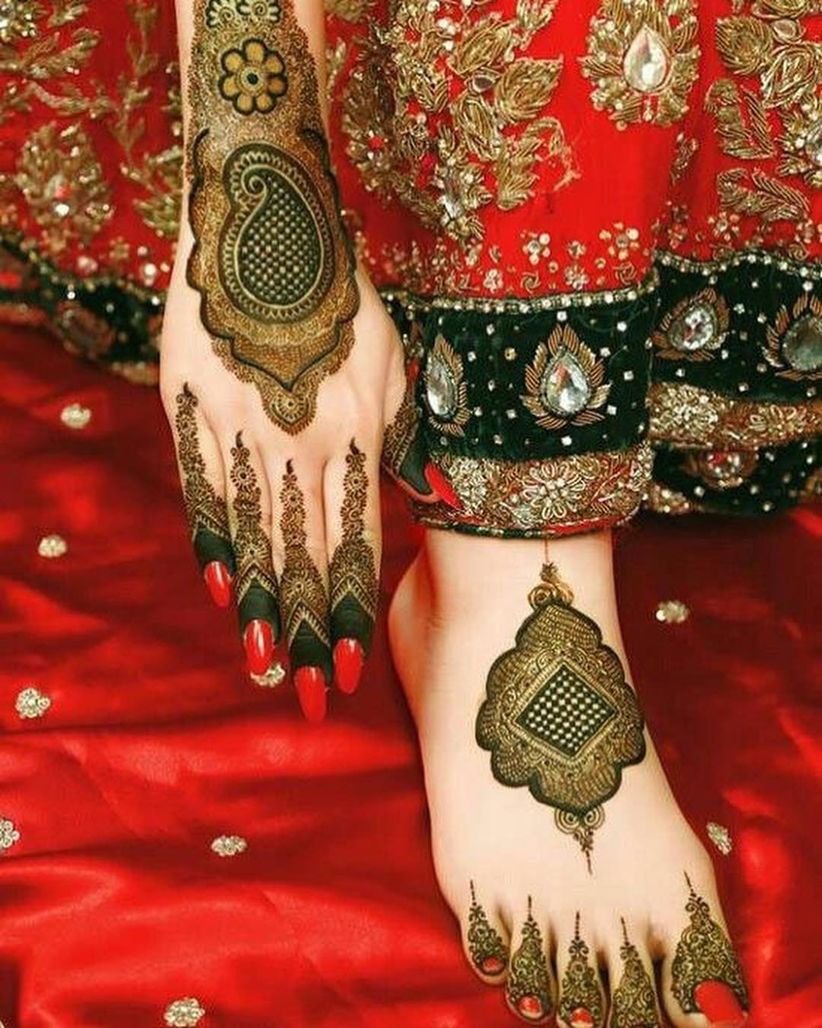 Image Courtesy: Kashees Official
Can you imagine the moment of euphoria you will be encircled with if your mehndi pattern was as intense and detailed as your bridal lehenga? This mehndi design is so intricate that it looks unreal and almost like a tattoo. This is what symmetry means and we cannot get enough of its sheer beauty and elegance.
124. Intricate Finger Mehndi Pattern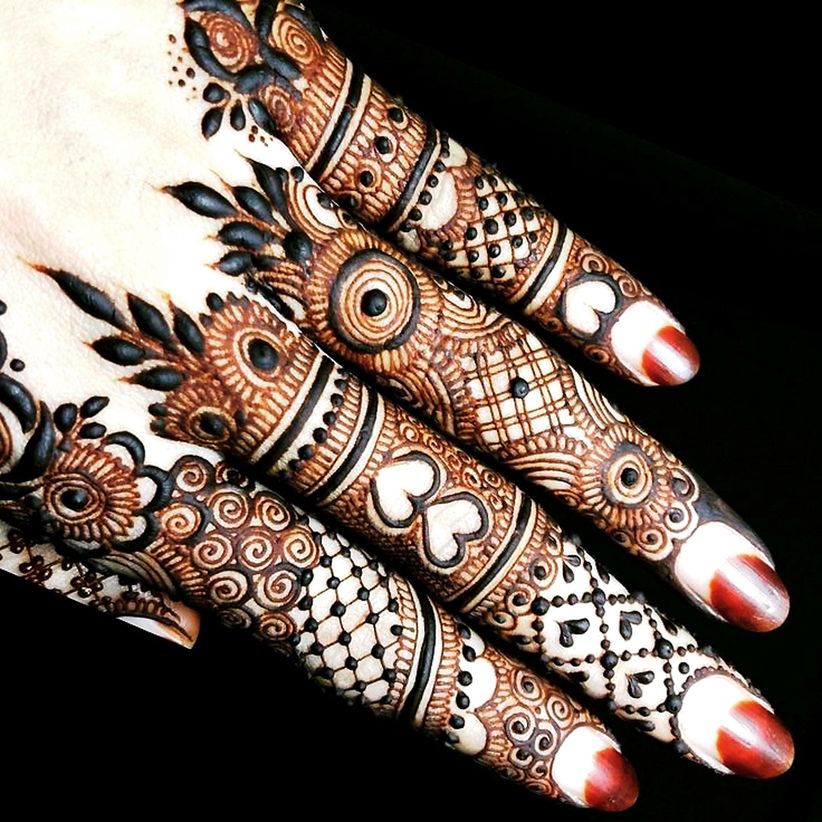 Samsan Hina Artist It is all in these tiny details!
125. The Bride & The Groom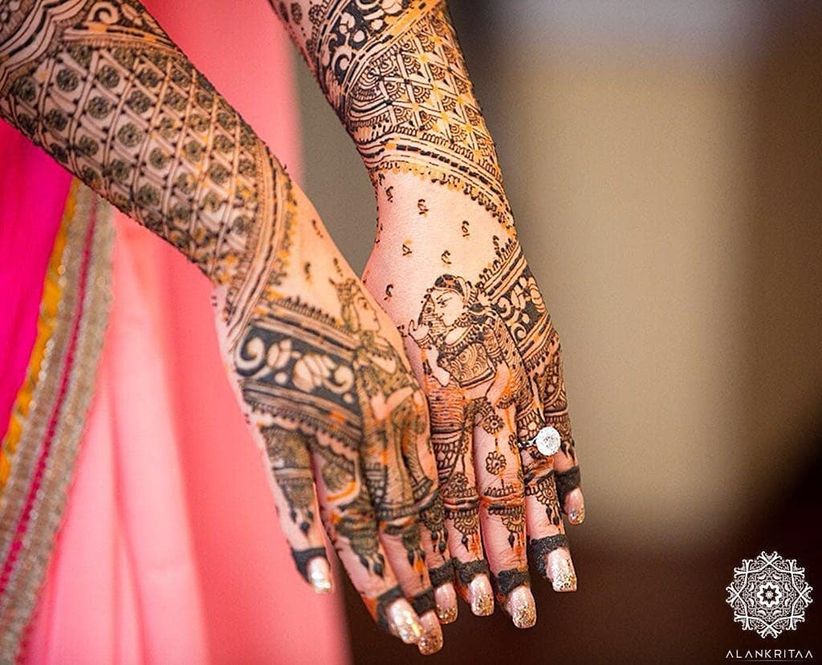 Alankritaa You can add a bit of fun by painting your own images in your Mehndi designs too.
126. Henna Jaal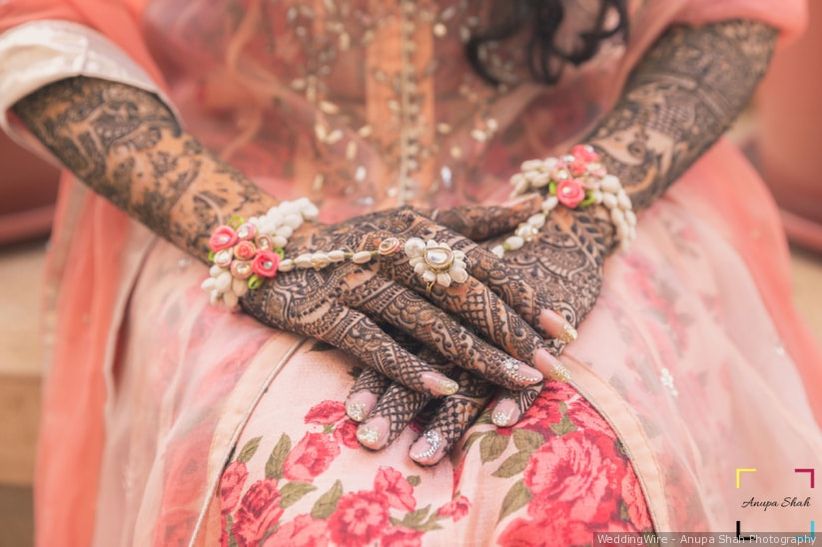 Anupa Shah Photography It's time to adorn your hands and feet in beautiful curls and swirls of henna designs!
127. The Colour of Love - the Colour of Life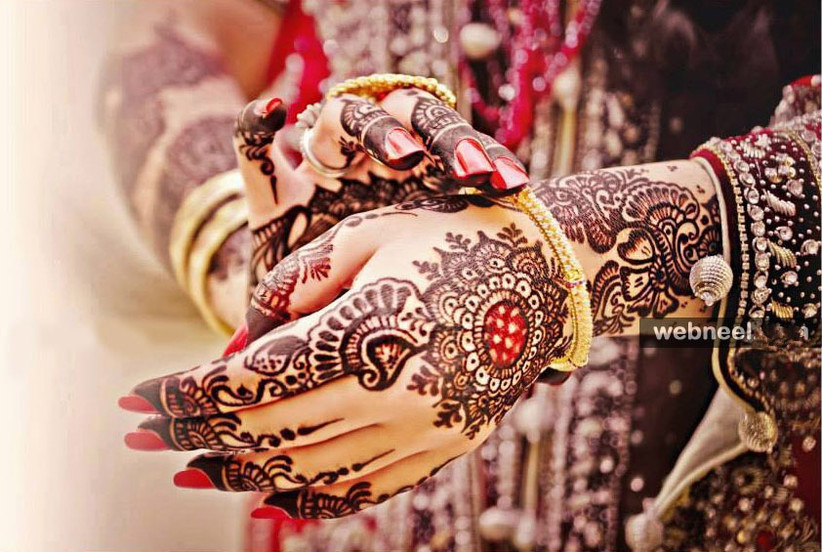 Image Courtesy: Web Neel
they say the darker the colour of your mehndi, the greater will be the love. Well, we don't know anything about that but we cannot seem to take our eyes off of this design because is the darkest hue of henna that we have ever come across. If you want your design to be anything like this, then girls google some remedies on how to get something as spectacular as this right away.
128. The Bead Effect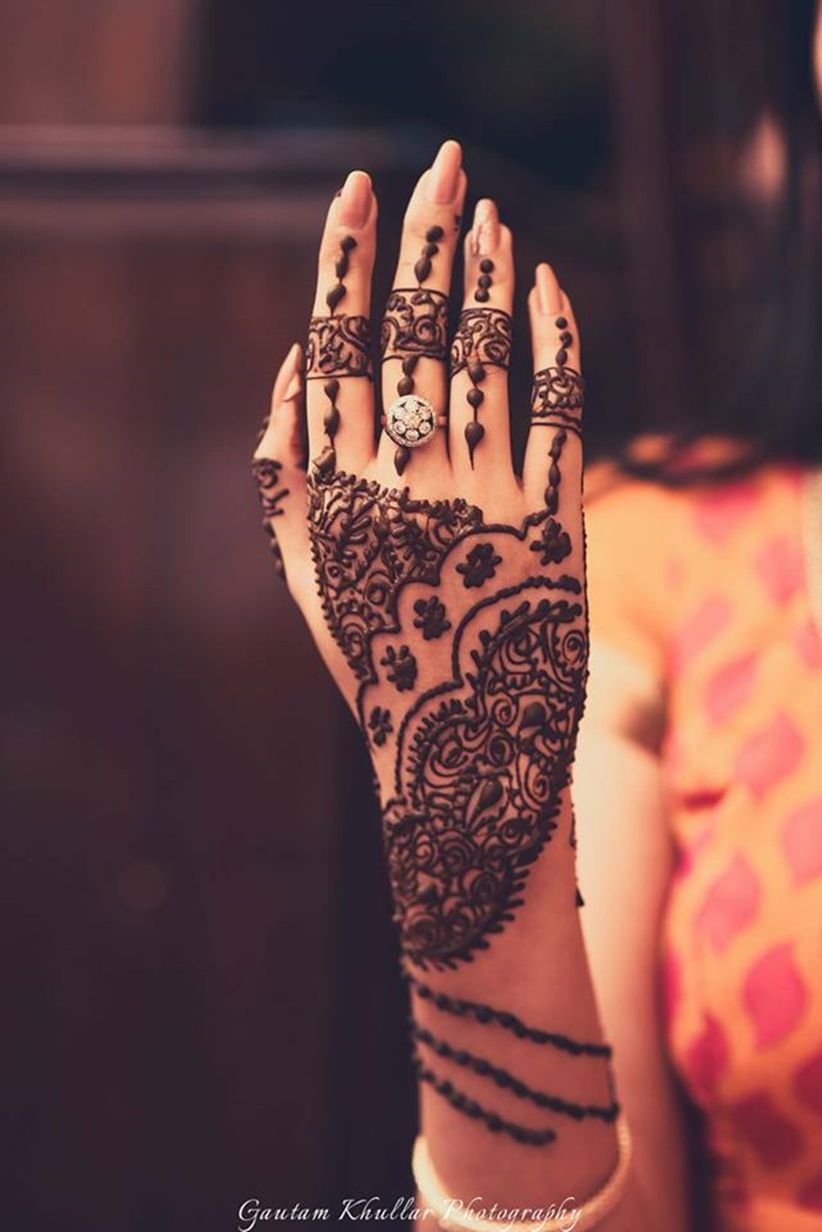 Gautam Khullar Photography A dose of perfection!
129. Reverse Drive of Perfection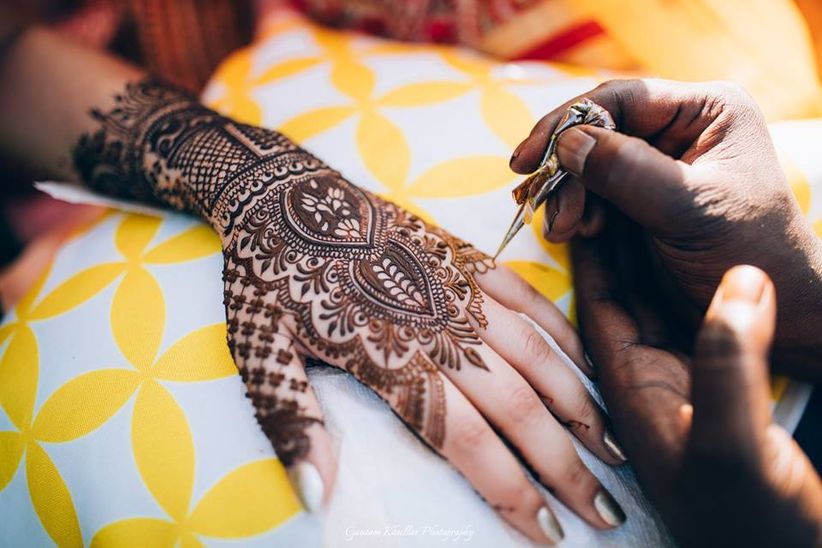 Gautam Khullar Photography The right amount of sparkle and henna.
130. Pretty Smiles & All That Henna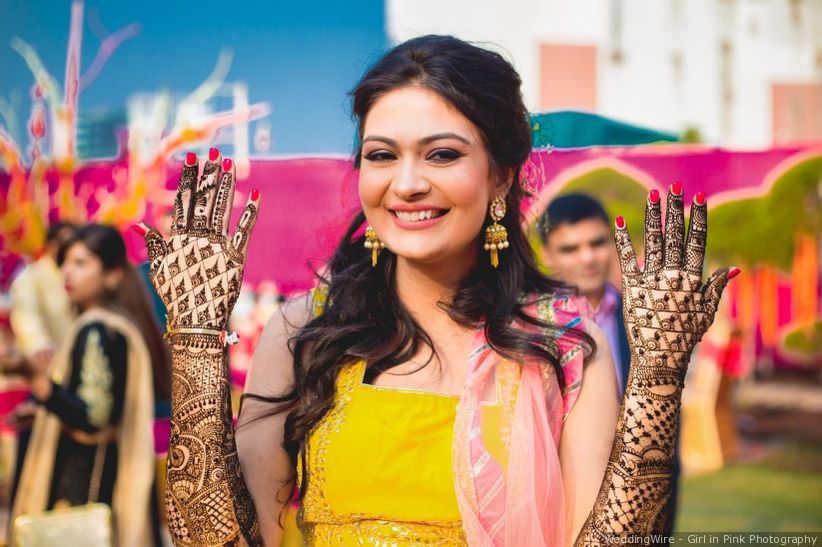 Girl in Pink Photography A stunning design and a dainty smile, yep this is all there is to a great picture!
131. Jaal Mehndi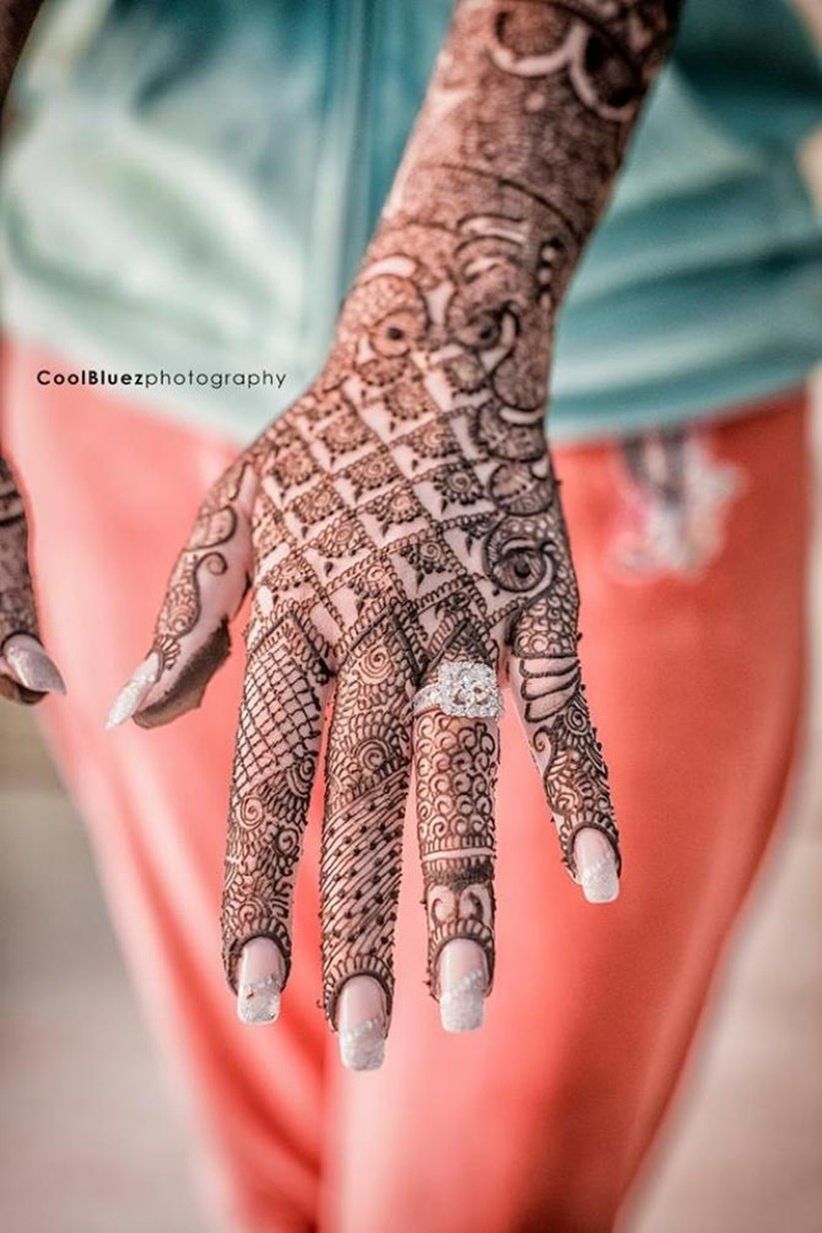 CoolBluez Photography We can't stop staring at those intricate details of the henna with that solitaire stunner!
132. Picaresque Floral Jaal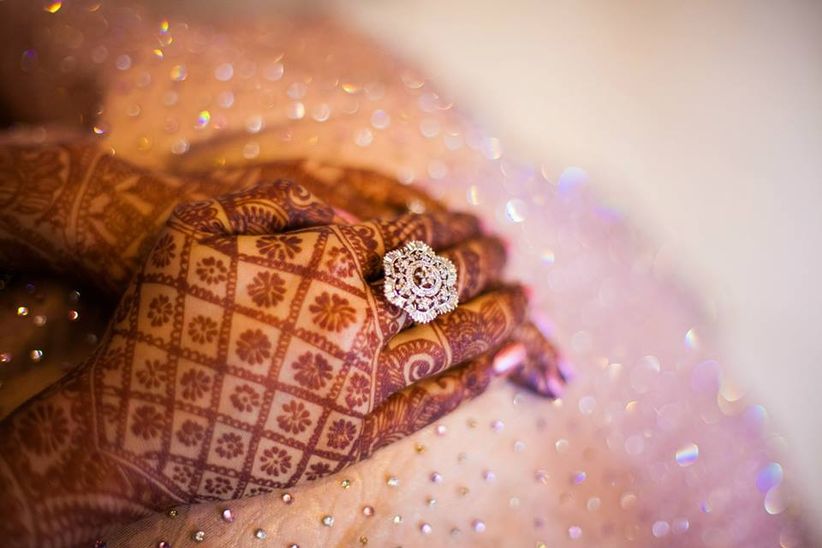 Mahima Bhatia Photography You can never go wrong with a classic mehndi shot.
133. Back Mandala Beauty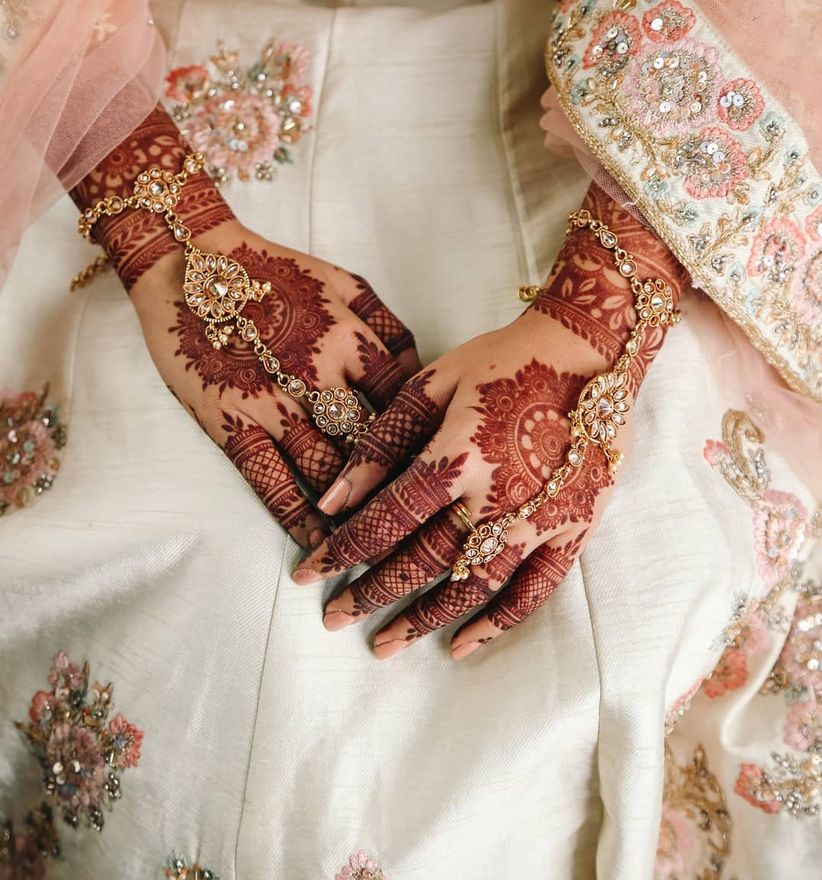 Image Courtesy: Mehndi By Hayat
Mandala symbolically represents the cosmos. Their symmetrical appearance makes them look enchanting and the go-to choice for minimalism lovers!
134. The Rose Inspiration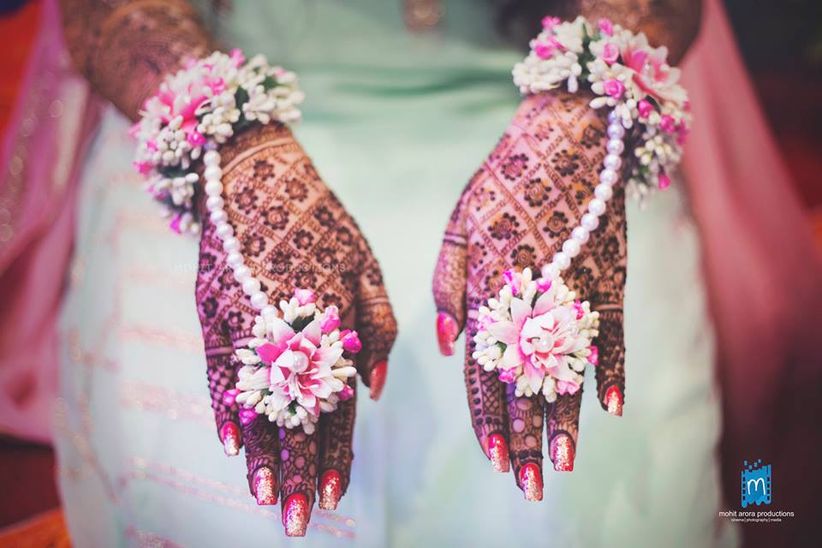 Mohit Arora Productions Aren't Mehndi pictures the brightest in any wedding album?
135. The Design That Took us By The Storm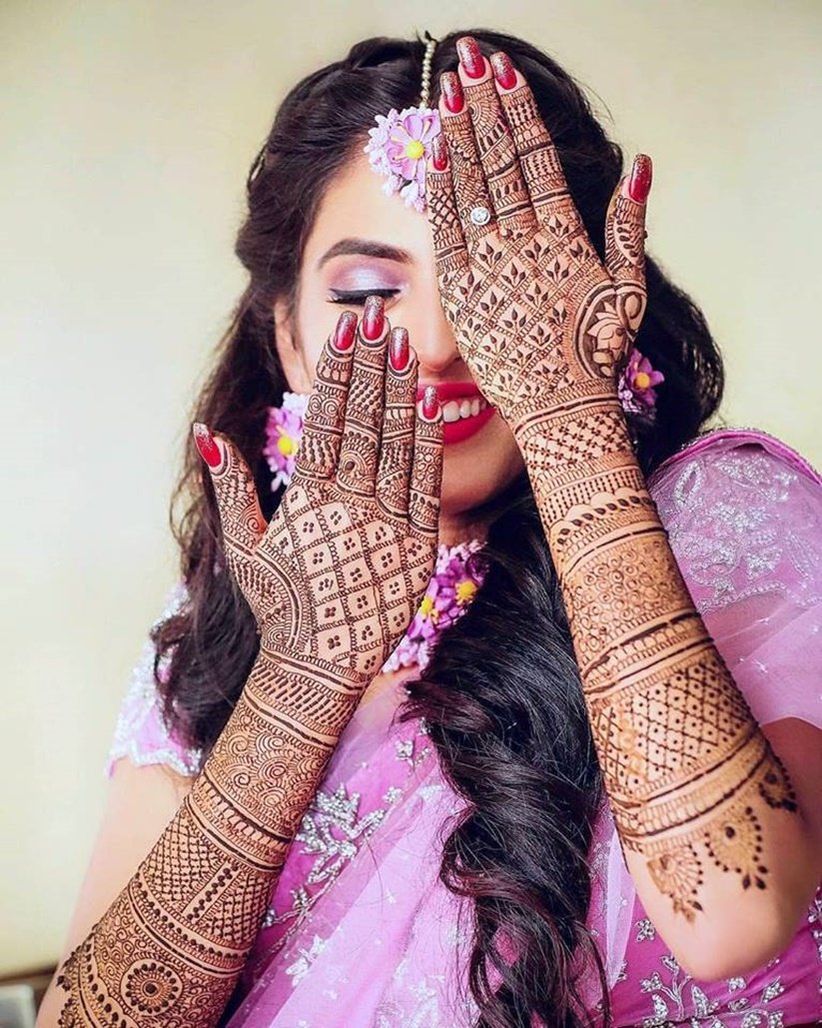 Prune The revamped avatar of the traditional patterns, for instance, such as seen Rajasthani mehndi designs in has paved the way for more stylish Mehndi designs to be flaunted by the millennial brides.
136. Charming Krishna Mehndi Design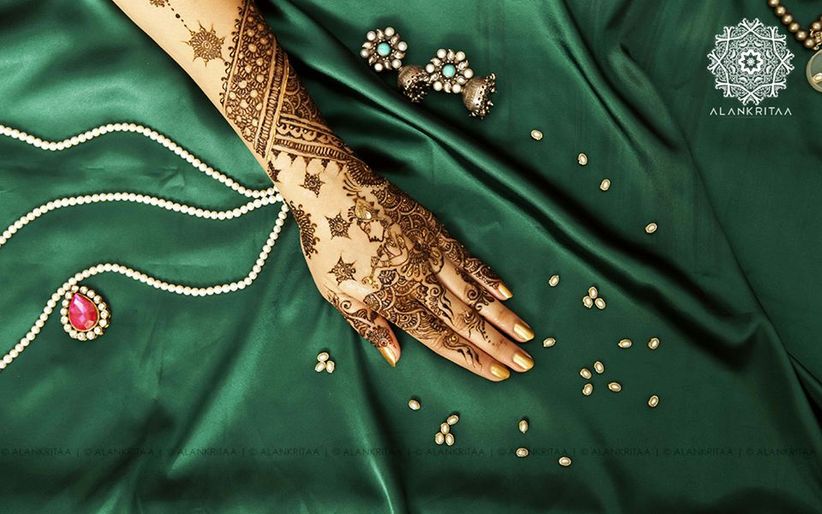 Alankritaa Stars, Galaxy, the Entire Milky Way! This mehndi design is a class apart for sure.
F. Quirky & Intricate Mehndi Designs
If you are a millennial bride of mystery, breaking the cliché norms of the society, then this inspiration is dedicated to you. Who wouldn't want to be called a trendsetter bride? We sure would love to be one of those brides! The millennials are all about experimental designs. And, brides today don't leave any stone unturned to create a fashion statement even when it comes to something as traditional as bridal mehndi. These unconventional & unique mehndi designs are a rare sight and up for grabs! Take a look and get going!
137. The Feathery Effect For The Win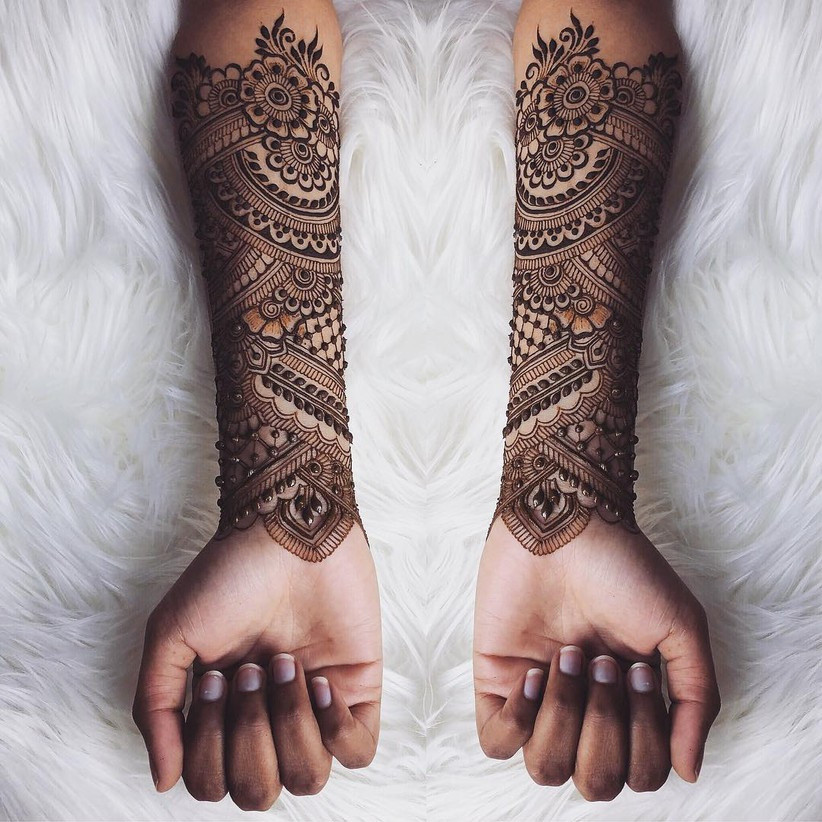 Image Courtesy: Arora Mehndi
Some feathery feel, with fine cut nails and a henna design to die for - a match made in heaven! Who knew just getting a cuff link looking mehndi design could look so cool?
138.  Simplicity Goes a Long Way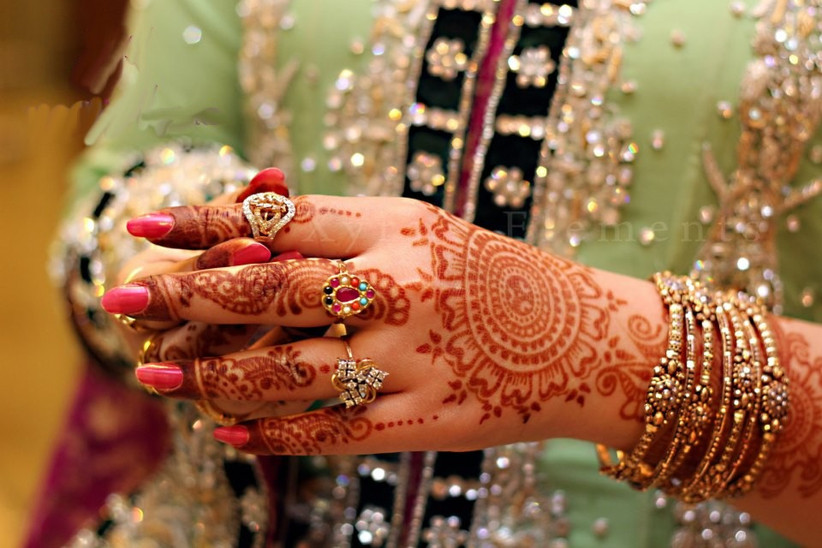 Image Courtesy: Bruna Cat
When the beauty lies not only in the henna design but also in the simpleton pose! Her henna colour is light, pure and a sheer reflection of quality and perfection have taken to the 'T' by the artist himself. If you want a spin, that too a modern take on a mandala design, then this is how you ought to do so. Remember, the sky is the limit and you are the star of your life - so stop at nothing unless you are left satisfied with your bridal mehndi design.
139. Stones & Stars & My Mehndi Design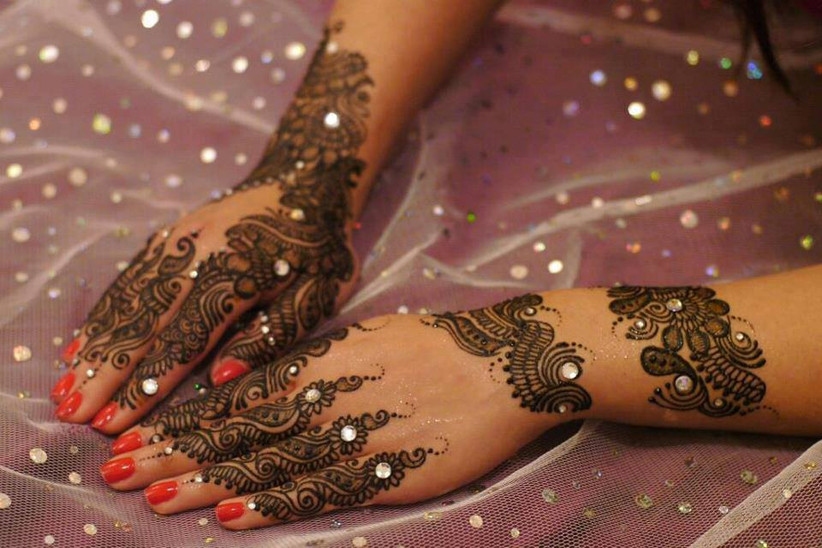 Image Courtesy: Biocenit
Why stop at a simple mehndi design when you can do so much more with it, right? Adding sparkles, glitters and Swarovski stones to your mehndi design is not an unknown facet or element. But, the beauty lies in the placement of each of these accessories. In here, the artist chose to go the simplistic way even when throwing in a dose of glamour and sparkles. So, don't just stop with a simple henna design - add some light and brightness to your mehndi design with a pack of rhinestones now!
140. You Are My Sun - You Are My Moon Mehndi Design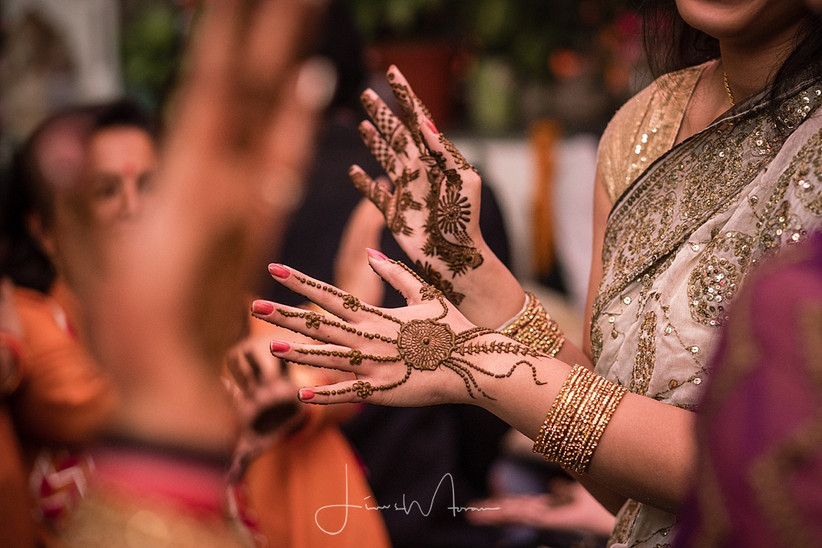 Image Courtesy: Linus Moran Photography
He is your sun, he is your moon, he is the love of your life as he is the one! Let your mehndi too reciprocate what your husband-to-be means for you. A dainty looking sun at the centre of the back of her palm and a bracelet like a pattern that stretches towards the rest of her hand - this new mehndi design is absolute goals.
141. The Beautiful Reverse Lotus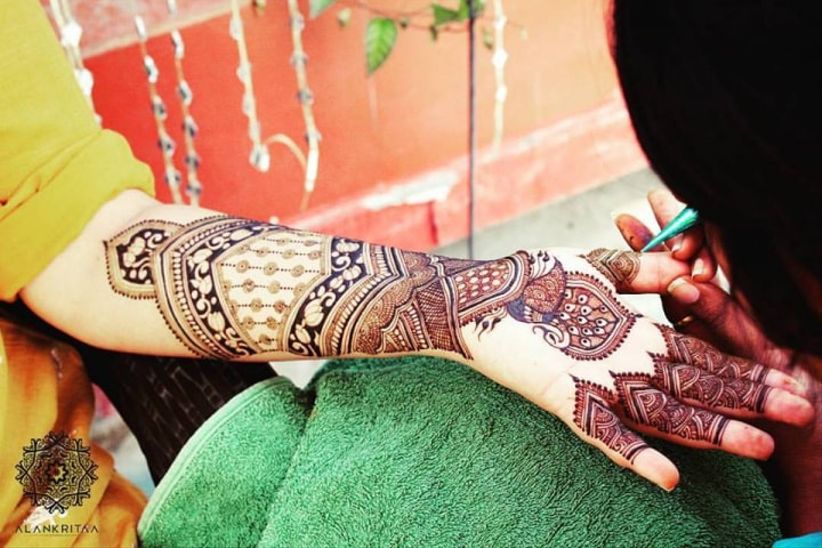 Alankritaa We are absolutely in awe of this reverse mehndi masterpiece. The lotus flower motif sits beautifully on this bride's arms and what piques our curiosity is the encircling peacock that marks the centre of her palm. In fact, the reverse lotus motif has become a hot favourite in all mehndi designs ever since it was spotted as part of Sonam Kapoor's bridal mehndi. Square segments in palm designs, fillers in backhand designs and bands on the arm - it's a design pattern that we continue to spot everywhere.
142. Detailed Artwork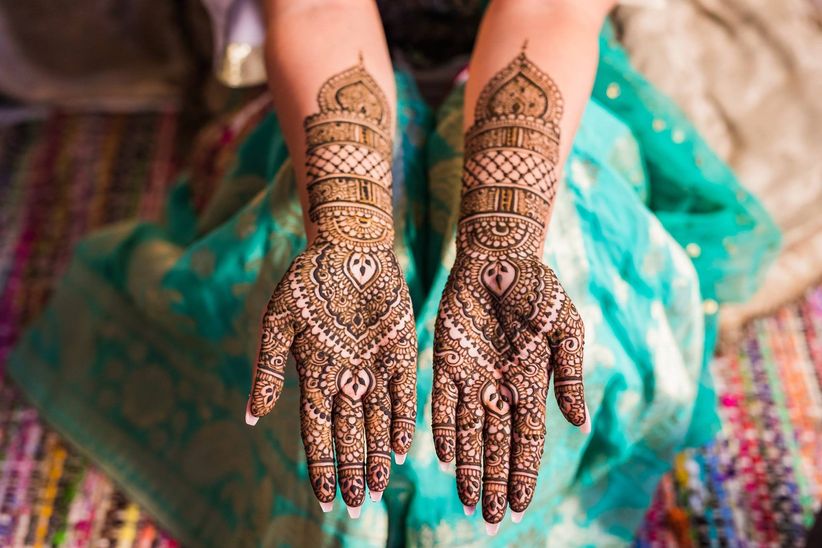 Image Courtesy:
Wedding Documentary
Mehndi Laga Ke Rakhna...Doli Saja Ke Rakhna...Lene Tujhe O Gori...Ayenge Tere Sajna!
Get some architectural inspiration for your Sajna to navigate through - opt for wheels, arches and domes while you sneak in his name into the intricate design.
143. Pretty Chadar Design Carrying a Heart Within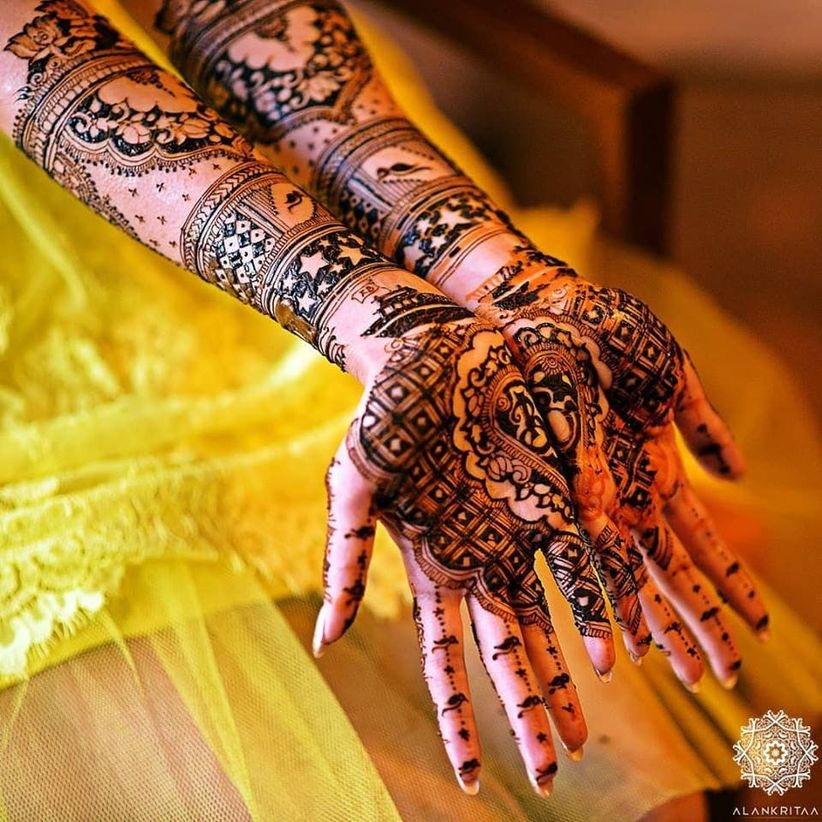 Alankritaa From their stunning and magical yacht proposal to the freedom with which she got her mehndi handcrafted, each element is truly special and is what defines the couple's journey as a whole. This is as special as it gets!
144. Paisley Peacock

Image Courtesy: Henna Paradise The magic of paisleys never gets old. And when one motif is so seamlessly interwoven with another (look at that Paisley peacock!), the end result is something more amazing than ever before.
145. The Heart & String Affair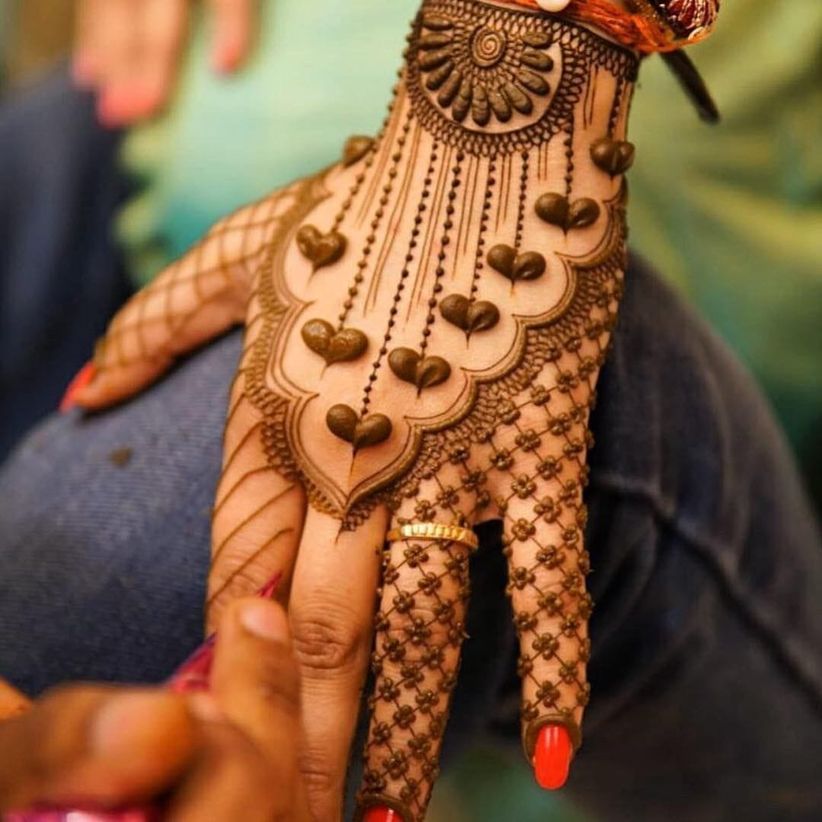 Amar Mehndi Artist Wear your heart on your sleeves by donning this unique design! This looks extra lovely because it adds a lot of oomph, without overcrowding your hands.
146. Dearest Dulhaniya - Bridal Mehndi That Traces the Shlokas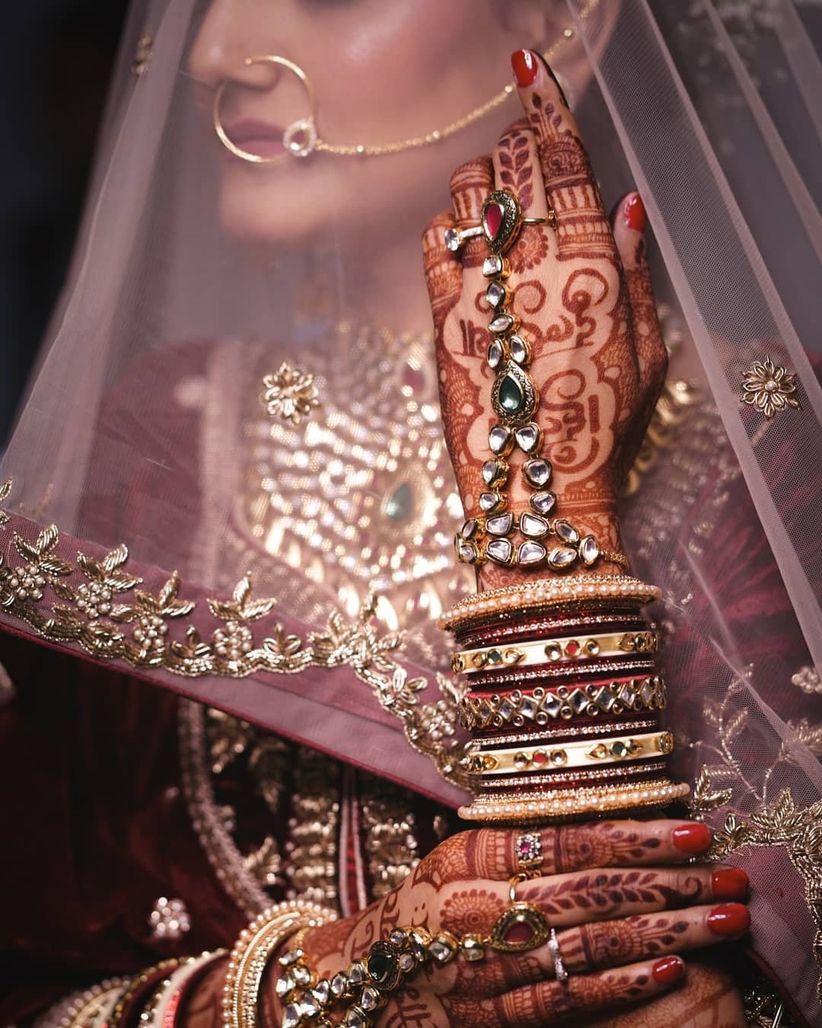 Image Courtesy: Deep Joshi Gallery
If you were always fascinated with Indian
Shlokas
and the
Vedas
, then using the same to curate your very own bridal mehndi design is totally worth a try. A little bit of the reverse mehndi element in the centre and a detailed fingertip design, we love everything about this mehndi design as it not only captures our traditional roots but this photograph in itself in perfection in a single word.
147. The Mandala Design with a Floral Wow Factor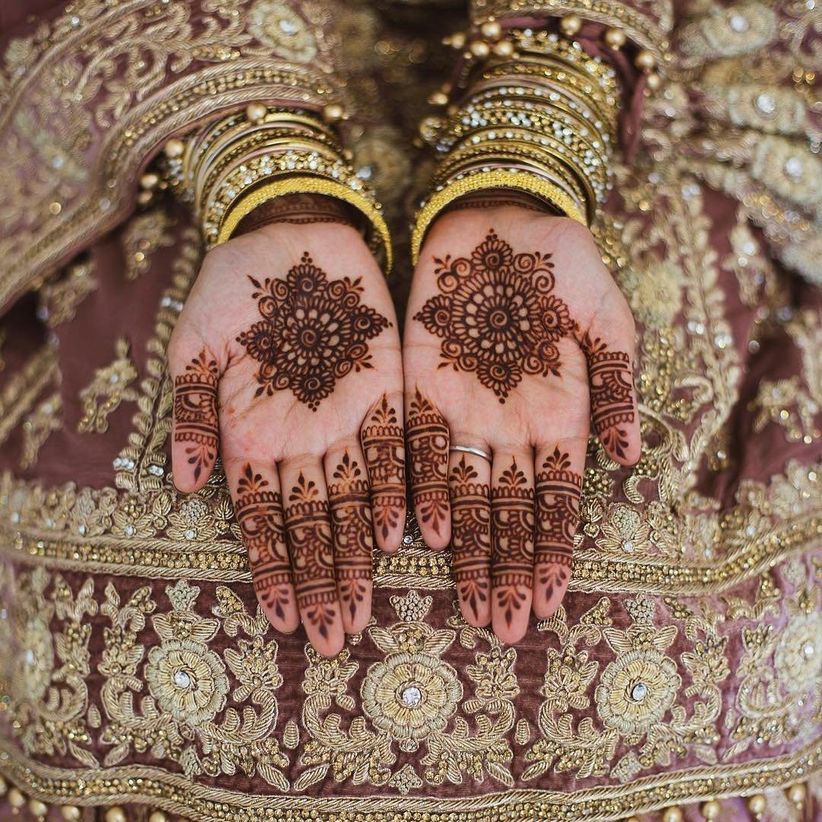 Image Courtesy: Tamanna Takes 
The delicate flower seated in the centre of this bride's palm and her minimalistic fingertip mehndi - she is a treat for sore eyes! Her pastel mauve lehenga matches to the pinkness of her palms and gives us jitters. It is trendy, it is chic and it is everything that perfection means.
148. Dainty Swirls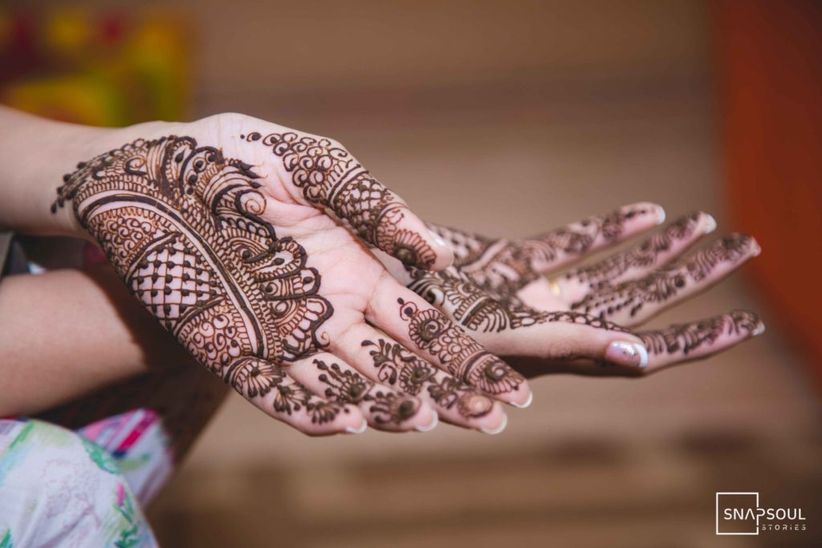 Snapsoul This palm mehndi = major goals! If you're a fan of swirls and flowers, this mehndi design will tick all the boxes in your mehndi checklist.
149. Single Band Mehndi Design For Hands and Feet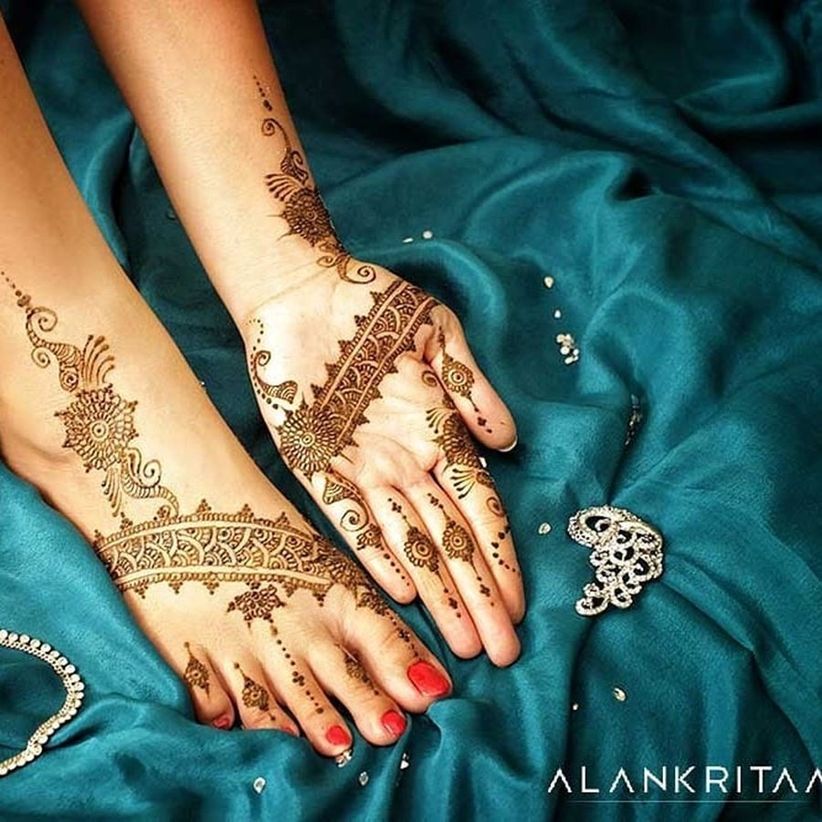 Alankritaa It is edgy, sharp and creative to say the least. What we love most about it is how this Arabian pattern traces the ankle of the bride and the cross-bow design which traces the length and breadth of the bride's foot without making it look too much.
150. Dulhan with Diya Design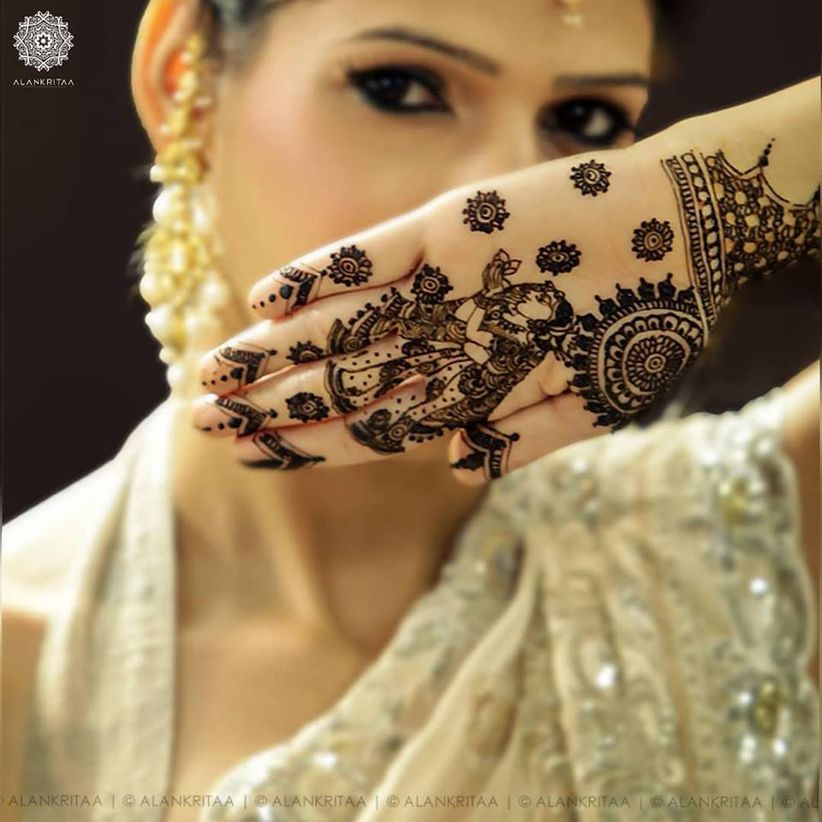 Alankritaa We love this picture and definitely her! You too can sport a similar henna look as it is minimal, new, chic and perfect for a millennial bride who wants to have it all. Don't forget to get such a perfect shot clicked when you are all decked up.
151. The Sakhi(Bestfriend) Style Mehndi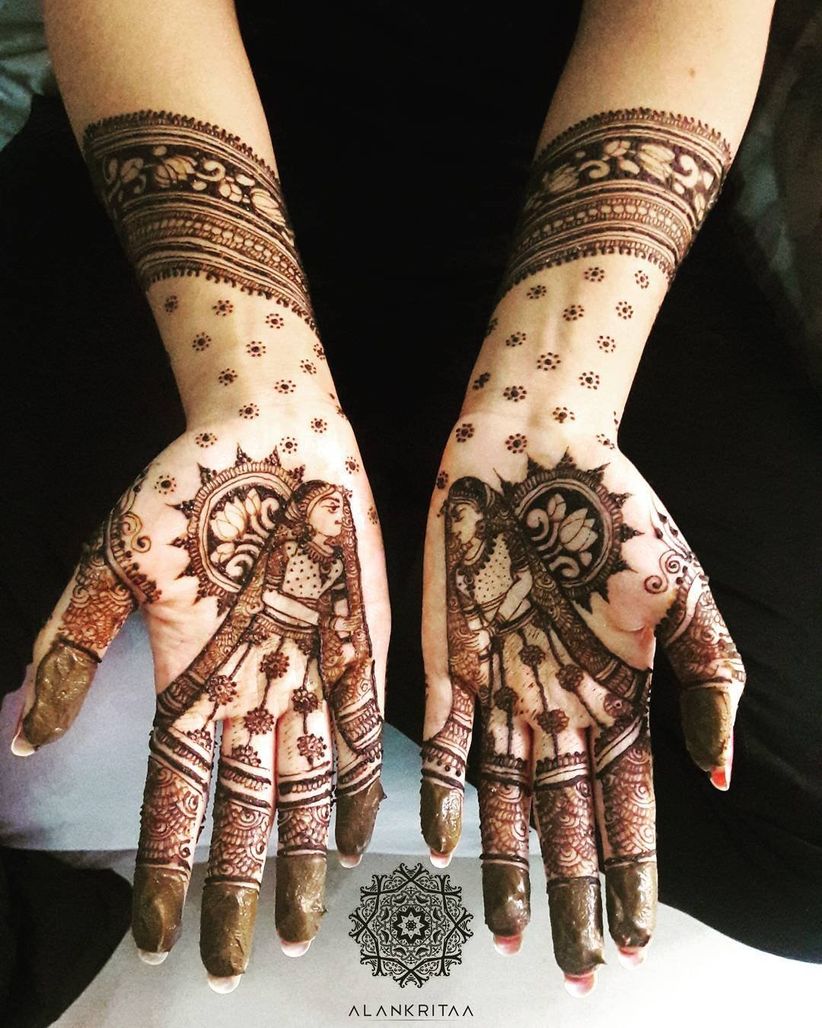 Alankritaa Just a little mehndi magic coming your way.
152. Rose Me Down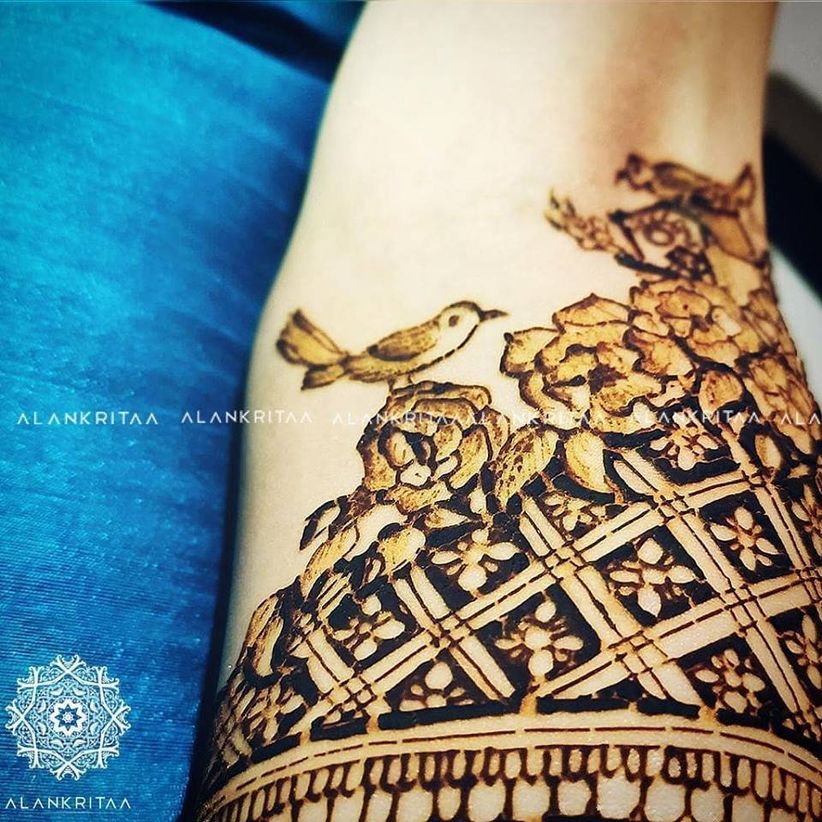 Alankritaa We can't stop obsessing over this intricate rose pattern! And the
Soni Chidiya.
G. Mehndi Designs for Grooms and Bros
Contrary to popular belief, mehndi designs are not restricted just to the bride and her tribe. The Groom and his Bros too flaunt unique mehndi patterns on the occasion of a wedding. As mentioned above, the significance of the mehndi ceremony is owing to it auspiciousness and the good fortune that it brings. We wouldn't want the groom to miss out on that just because he's a guy, would we? Check out these groom mehndi designs right now!
153. The Bride & Groom Style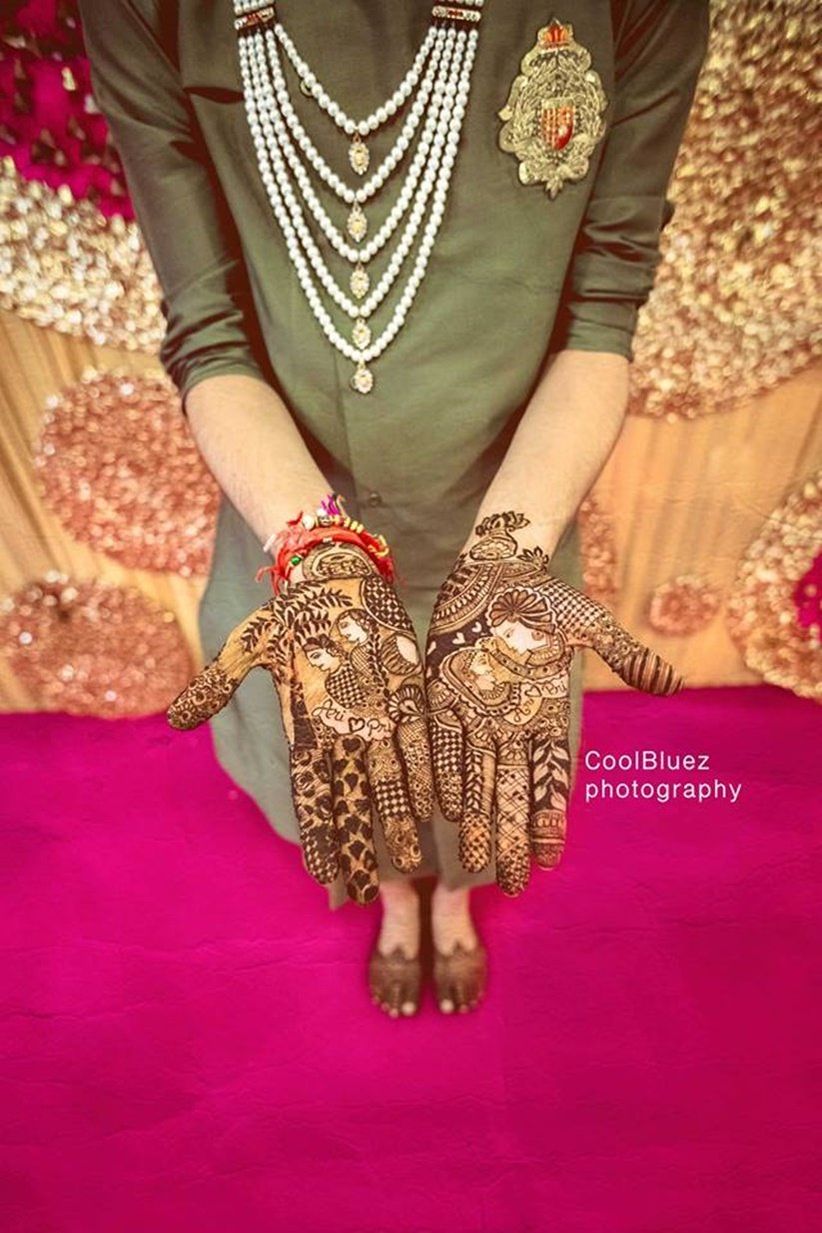 CoolBluez Photography Dulhan Dulha motif? Check! Radha Krishna designs that work to call out the beautiful love segment? Double check!
154. Hide n Seek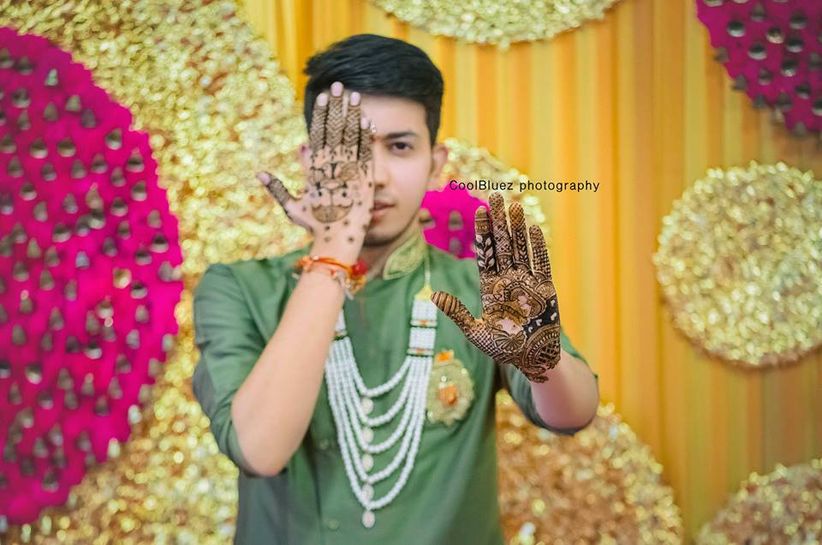 CoolBluez Photography #Groomgoalsalert and so is his stellar mehndi design! We would love to have a groom as cool as him! How about you? Let your personality show through your choice in Mehndi designs. Henna knows no gender and if you love it on her hands, go ahead and give them some competition.
155. Notorious Guest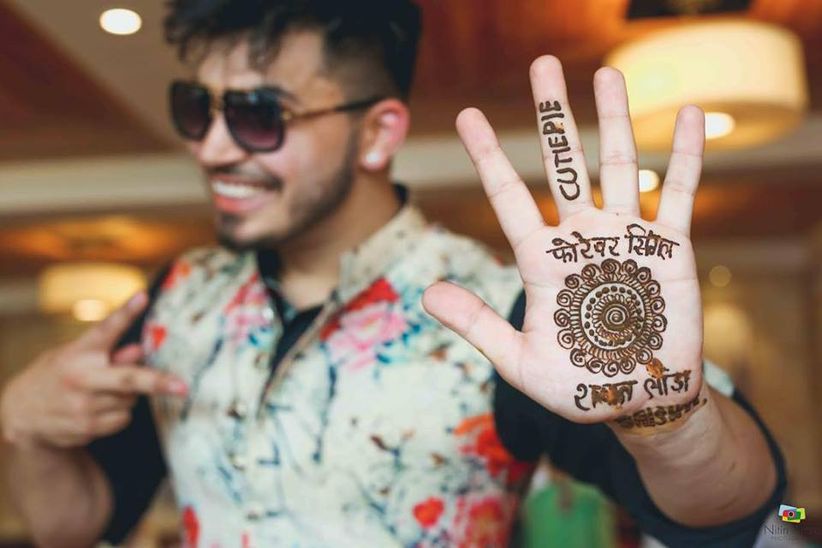 Nitin Arora Photography All images are the copyright of their respective owners. Sources via Pinterest.
This post was published on Best Candid Wedding Photographer in New Delhi India - Magica By Rish Agarwal