How To Plan A Pre Wedding Shoot At Taj Mahal
Taj Mahal is an epitome of love. Originally built by the Emperor of Mughals - Shah Jahan in the memory of his beloved wife, Mumtaz mahal, it's one of the seven wonders of the world, situated in Agra, India. What can be more beautiful than getting your pre wedding engagement shoot done at this majestic location?
We offer the Best Pre Wedding Engagement Shoot At Taj Mahal in India.
We're the only licensed photographers to shoot at Mehtab Bagh so you don't have to face any issues while getting the photo shoot there.
Here's why you should consider getting your pre wedding photo shoot done at Taj:
Iconic Location - There's literally no other location in the world that you can compare with the majestic Taj Mahal
Easy Access - Agra is just a drive away from New Delhi, which is also one of the biggest international airports in India. You can be anywhere in the world, just land at New Delhi airport and travel to Agra by road or train and get your shoot done!
The Ultimate Heritage: Taj Mahal is the ultimate mughal monument and it was also called as the "Jewel of Muslim Art in India". So if you fancy yourself in traditional Indian lehenga or anarkali, there can be no better background than a heritage site and that too, Taj Mahal for getting your engagement or pre wedding shoot done.
Beautiful Surroundings - The Taj is not only Taj. It has amazing beautiful surrounds like Mehtab Bagh which is across the river Yamuna and through where, the whole Taj is visible in all its glory. Here's how it looks like in photos: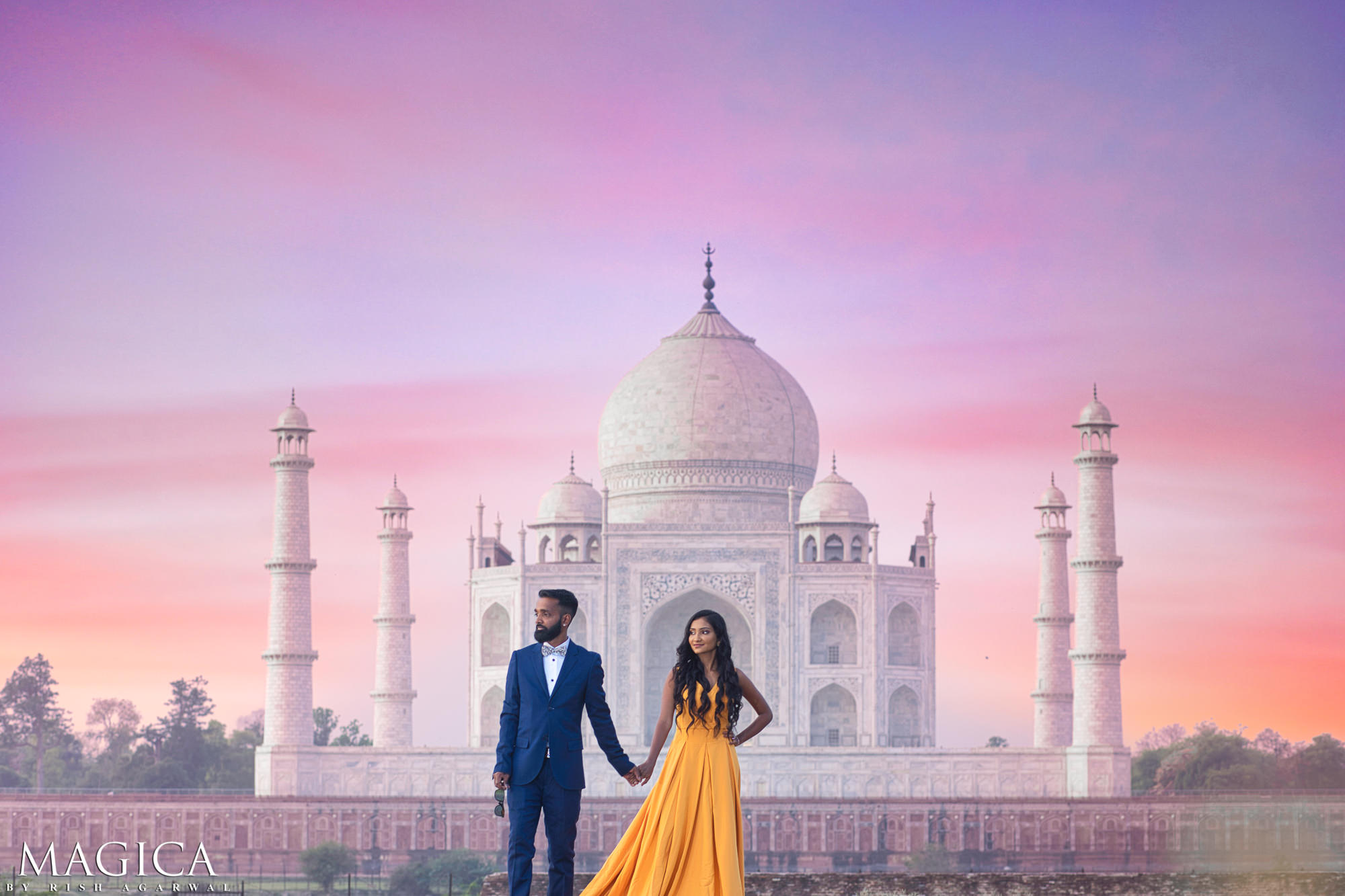 Some points which you should also note before you plan for the shoot:
Avoid Fridays - Taj Mahal is closed for general viewing on Friday. Although, you still can have your shoot done at Mehtab Bagh during early morning or late evening hours, you would not be able to go inside Taj and enjoy its beauty
Sunrise vs Sunset Shoot - As a photographer, I'd always prefer sunrise over sunset because everything from surroundings to your mood is fresh & we have seen much better shoot take place in mornings instead of evenings. However, evenings also have their own advantage and you can also include the boating area shoot in your plan if you're shooting in evening
Check for weather - Whenever you're planning for your pre wedding shoot at Taj Mahal, it's always a good idea to check the weather updates for Agra. It gets really hot during summers in Agra and we'll recommend you to avoid visiting in peak summer months. Winters might be a better option to get your pre wedding shoot done.
No changing rooms - Since Taj is a heritage site, you don't have the luxury of changing rooms in or around the area. It's always best to decide the best dresses for your shoot and commit to them. Rest is done by your enthusiasm 😄
Permissions & Constraints
No Video Shooting Allowed - Unfortunately, there's no video shooting possible at Taj Mahal. Only Photography
No Props - You will not be carry any fancy props inside the premises of Taj Mahal. But hey, keep it as natural as you can which is always the best opiont!
No Drone Camera - Taj Mahal and its vicinity is protected by strict aviation laws and no one can fly a drone around there
Style of Dresses - Our recommendation as wedding photographers is to choose plain & solid colors instead of anything flashy when it comes to choosing your attires because that looks best in front of the all-white Taj Mahal
Permission Costs - Other than the entry fee, there will be permission costs if you want to do a pre wedding shoot at Taj Mahal. For details, make sure to contact us today
So, if you want to plan a magical pre wedding shoot at Taj Mahal to be pretty much alive in your memories, well don't look beyond as we are right here to make your dream shoot a reality. We bet your photos will turn out to be gorgeous and you will be creating memories that you will cherish forever.