Taj Mahal - Pre Wedding Engagement Shoot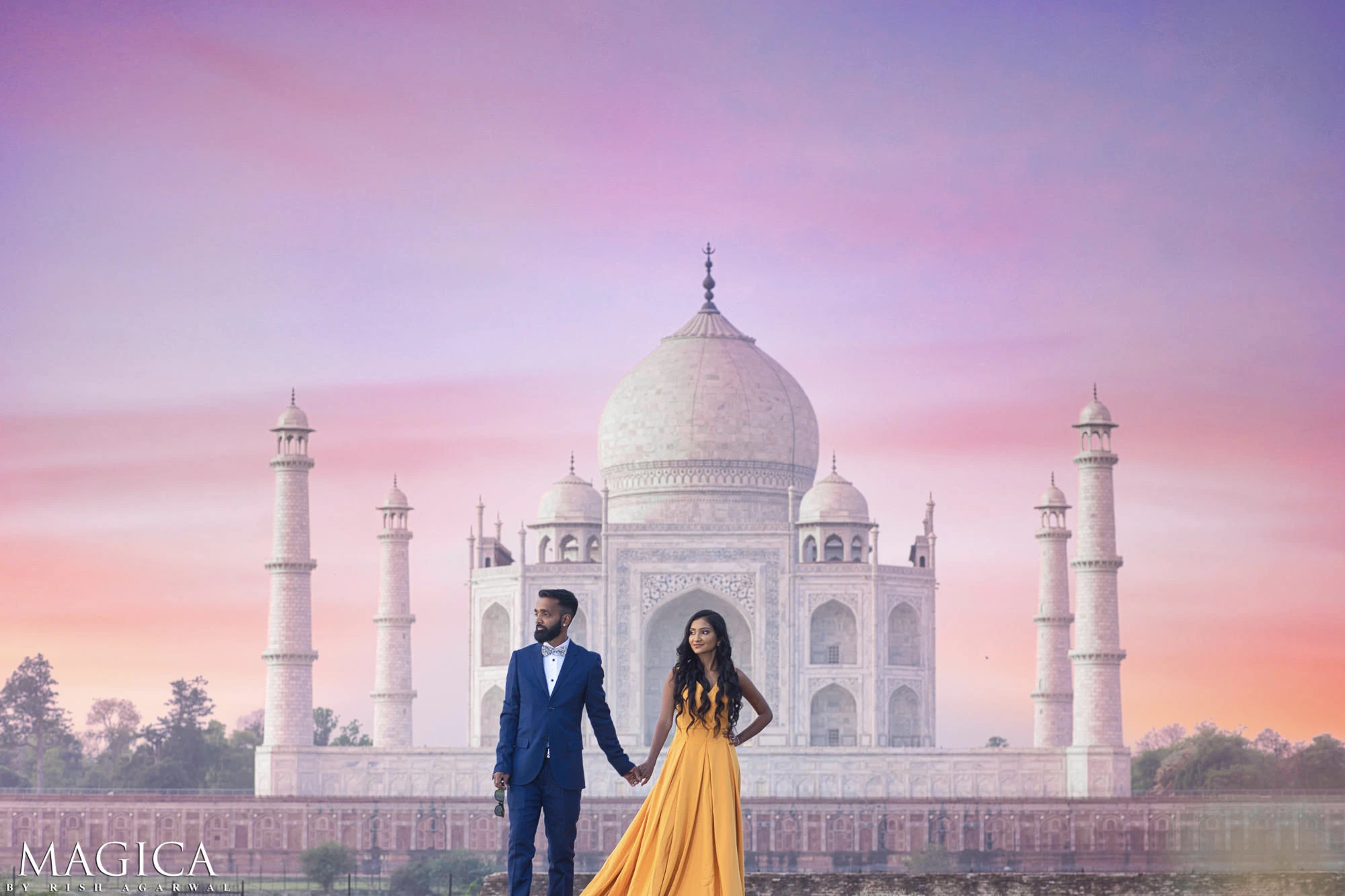 Taj Mahal is one of the greatest wonders of the world. A UNESCO world heritage site and built by Shah Jahan, it also is a very popular pre wedding shoot destination. We have had clients from all over the world contacting us to do their pre wedding shoot at Taj Mahal. 
Shooting at Taj Mahal is always a thrilling experience. When clients contact us to get their Pre Wedding Shoot at Taj Mahal done, we always give them an option to shoot early morning at Mehtab Bagh. Here's how it turned out that morning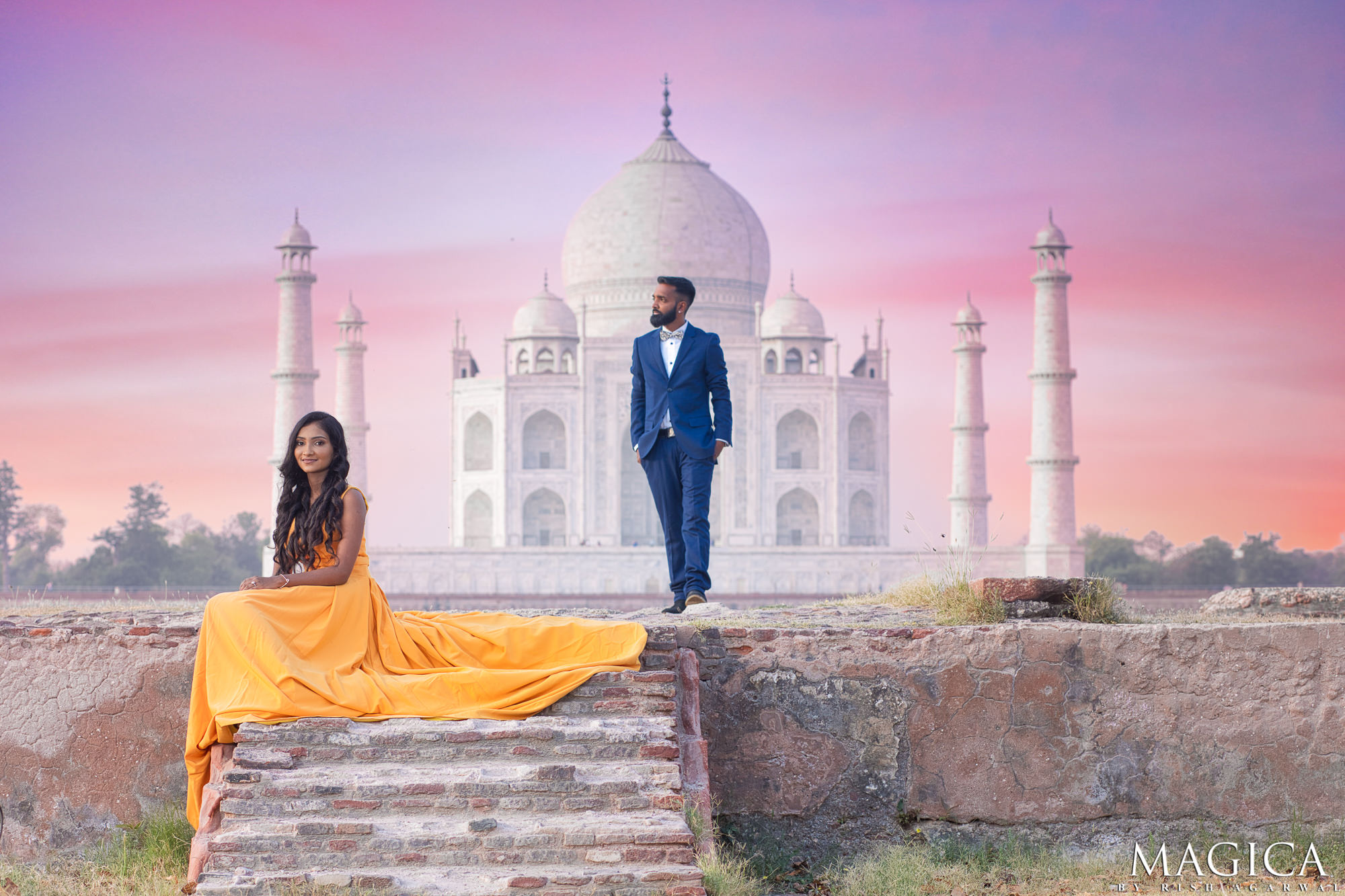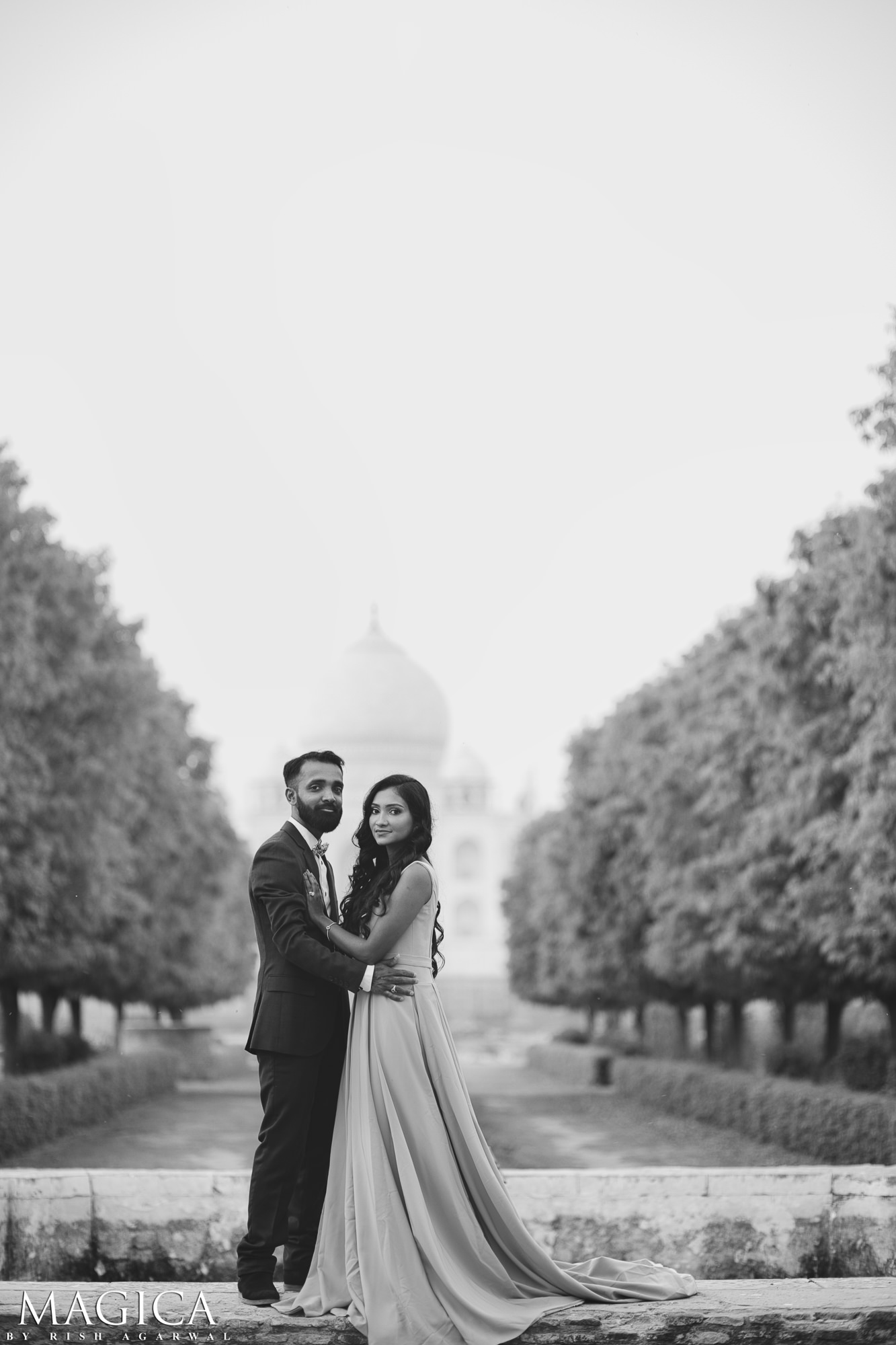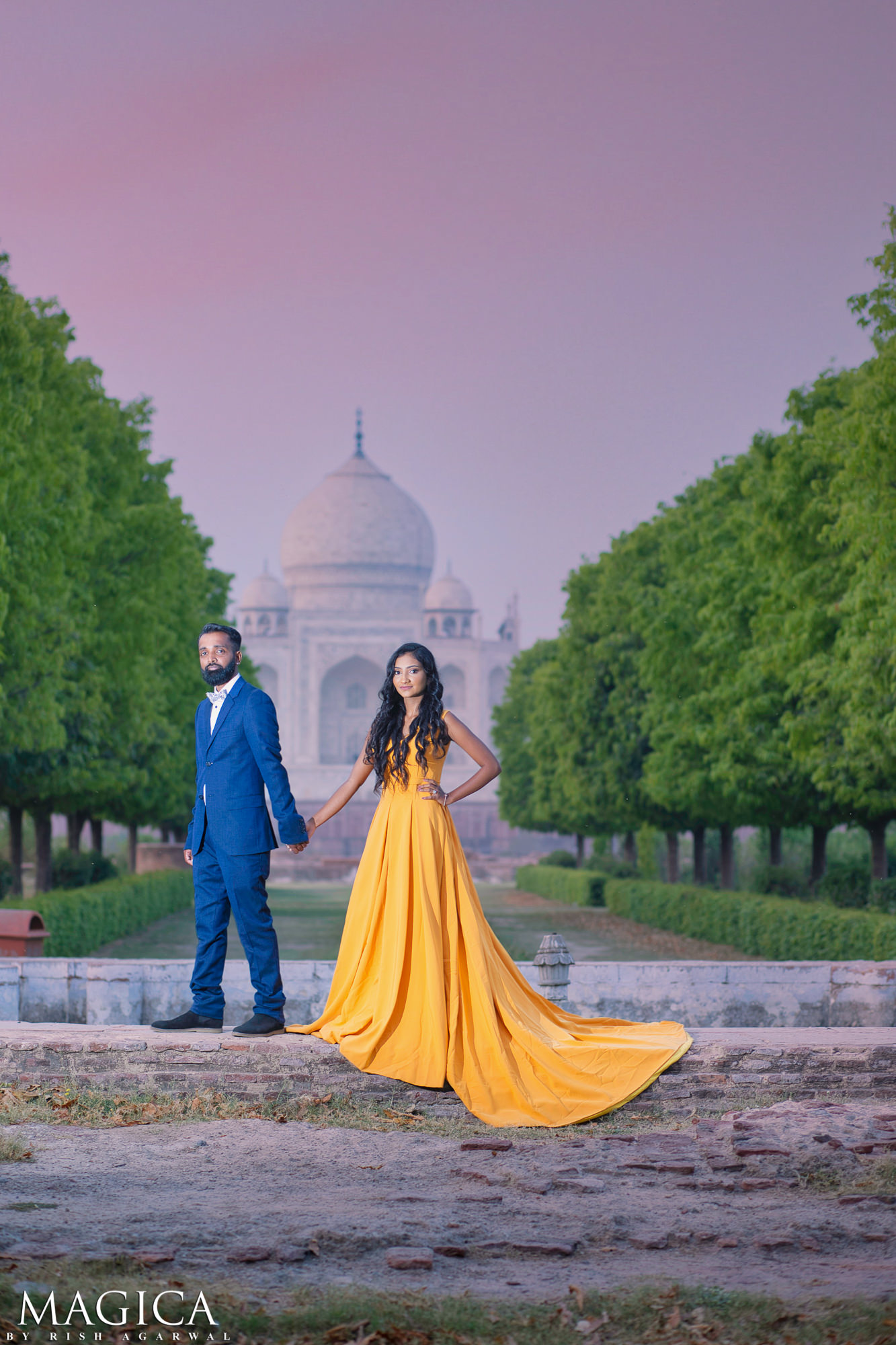 The Taj Mahal Palace is located in Agra, India. It was built by Shah Jahan as a tomb for his wife Mumtaz Mahal. It is one of the greatest works of art in the world and it is considered one of the seven wonders of the world by many people. This monument was built on a bank where the river Yamuna flows into the city. The Taj Mahal Palace has more than 200 rooms, 60 halls and a few other parts that have been preserved in its current shape. The main building is surrounded by gardens that have been kept with water and trees as well as flowers. The palace also has a huge mosque which has an area over 2,000 square meters. The park also contains ponds, temples, waterfalls, caves and lakes which are very beautiful to see when you are there for any period of time.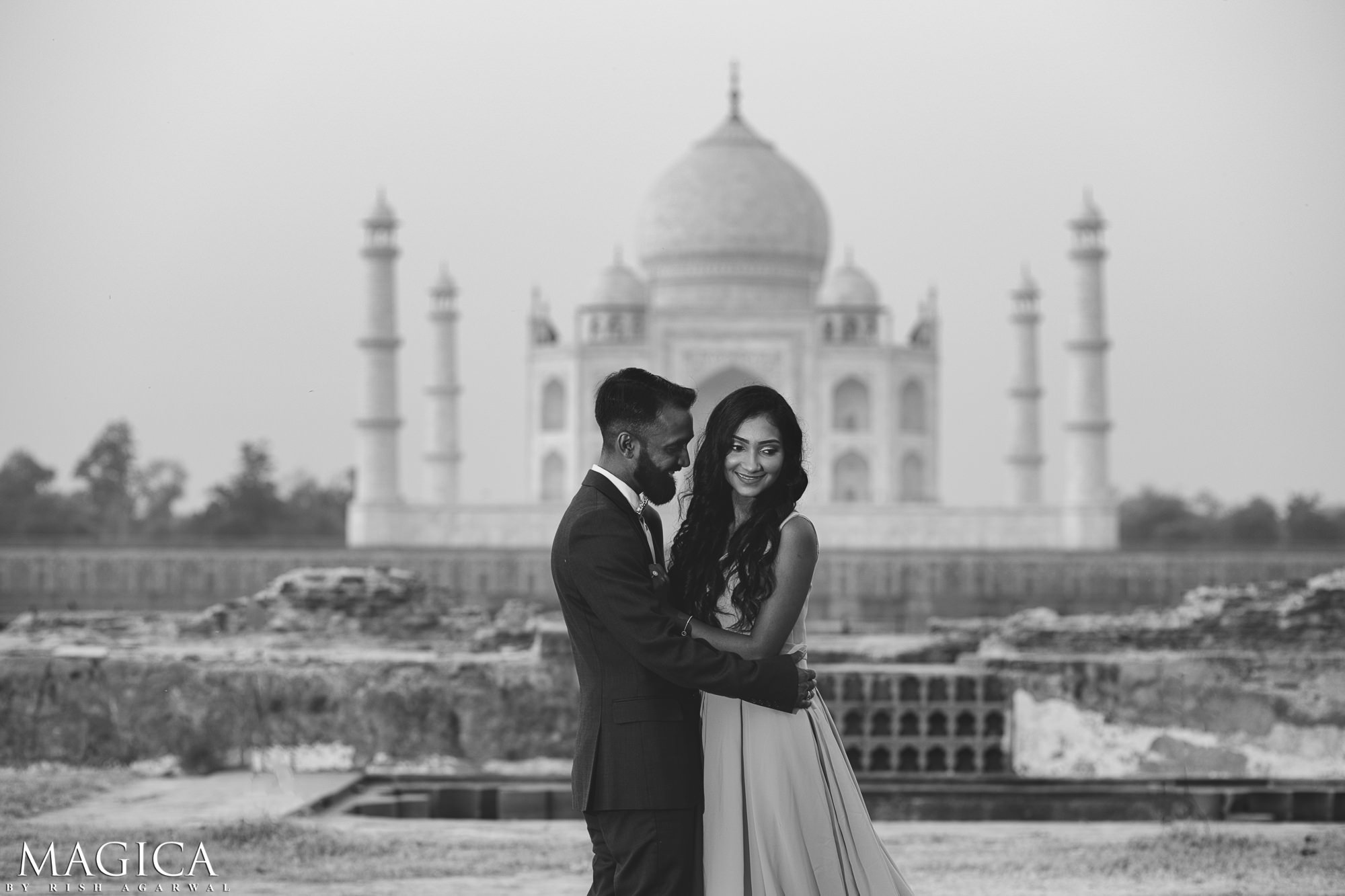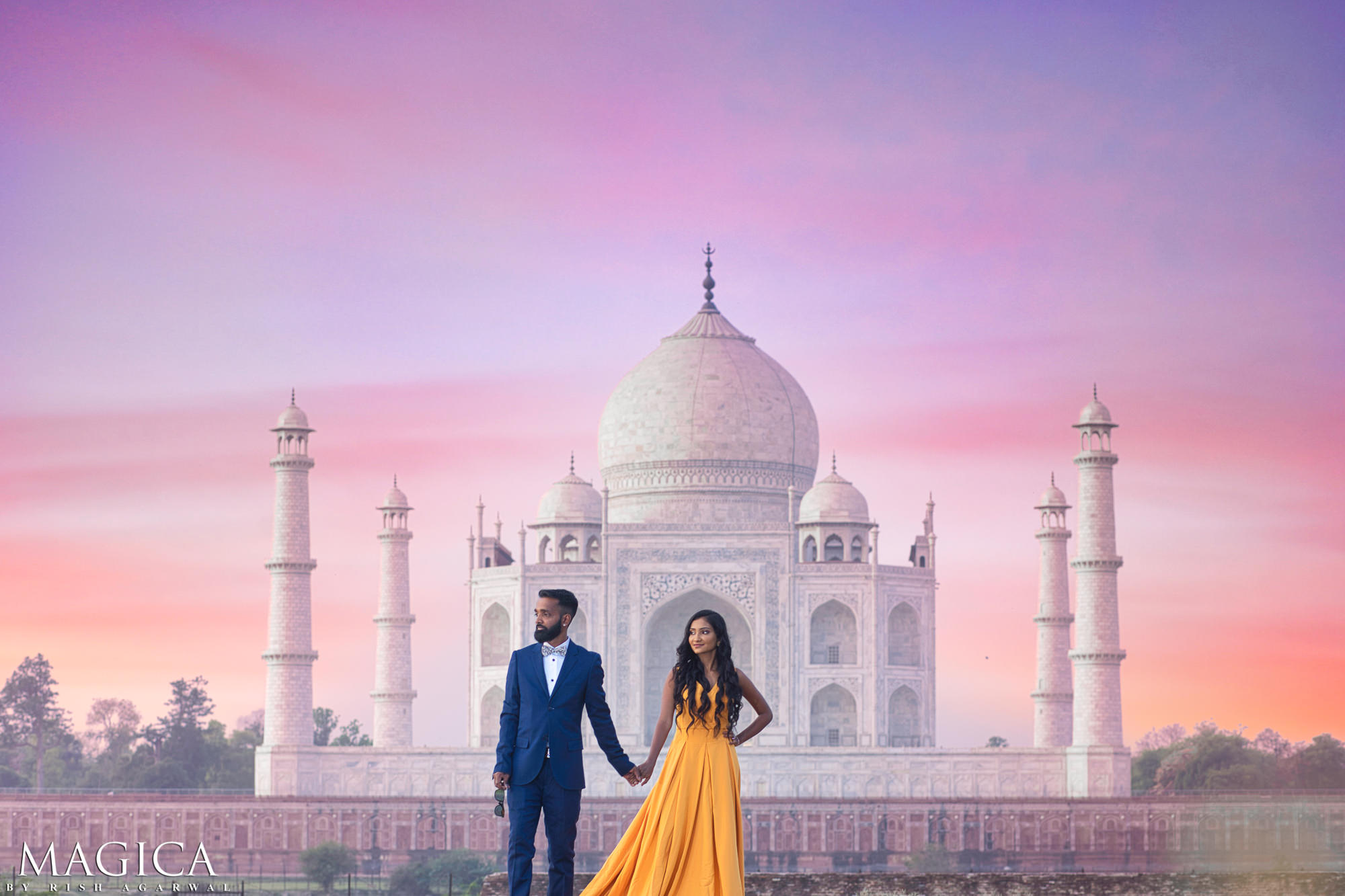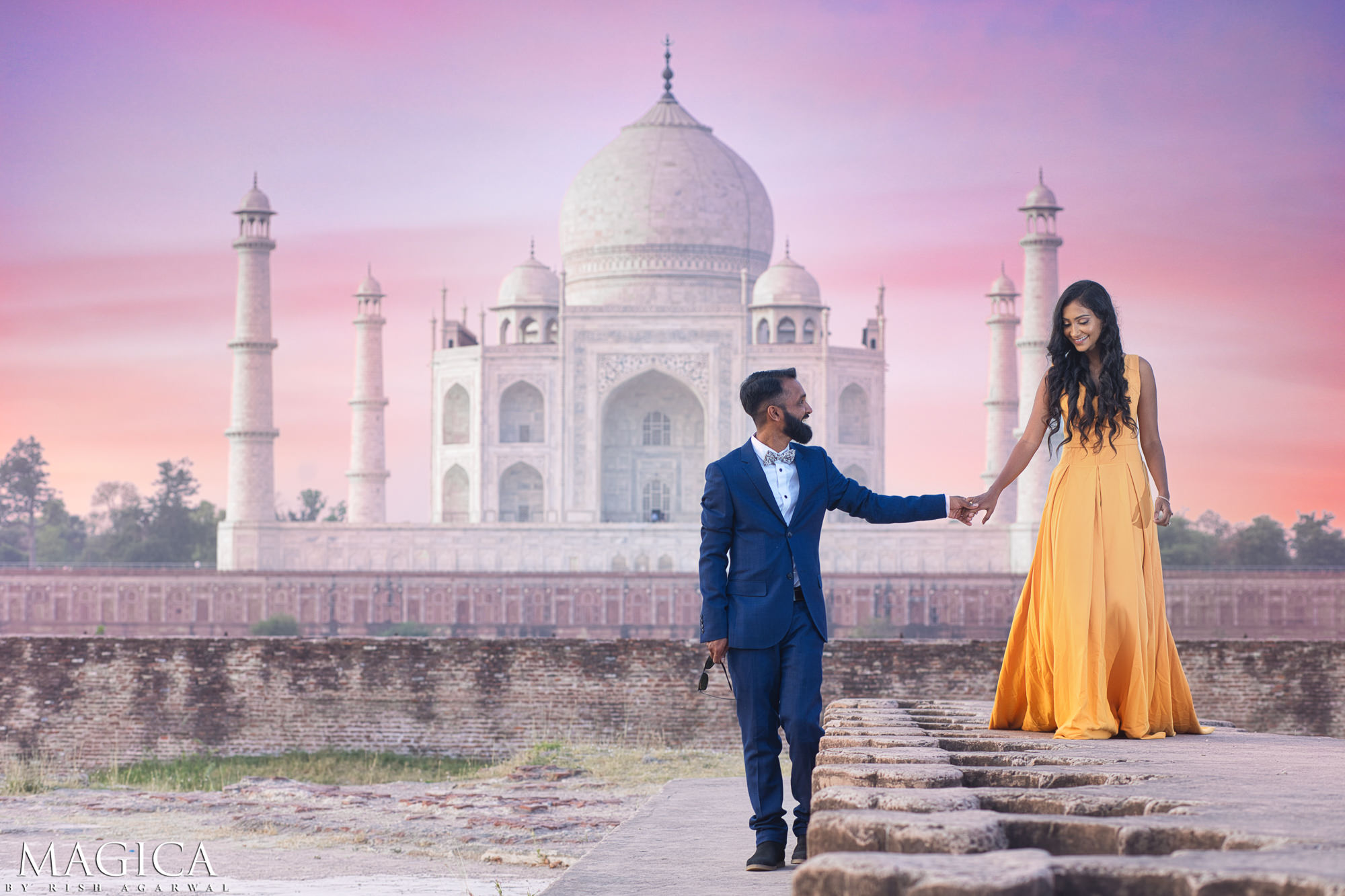 Taj Mahal was built between 1631-1653 under the supervision of Mughal Emperor Shah Jahan for his beloved wife Mumtaz Mahal who died in 1631 after giving birth to their first child Salim Jahangir (later Emperor Shah Jahan). Her tomb had been ordered to be built by her father Jahangir Bahadur who had also ordered her husband to build a magnificent palace in memory of her after she had died.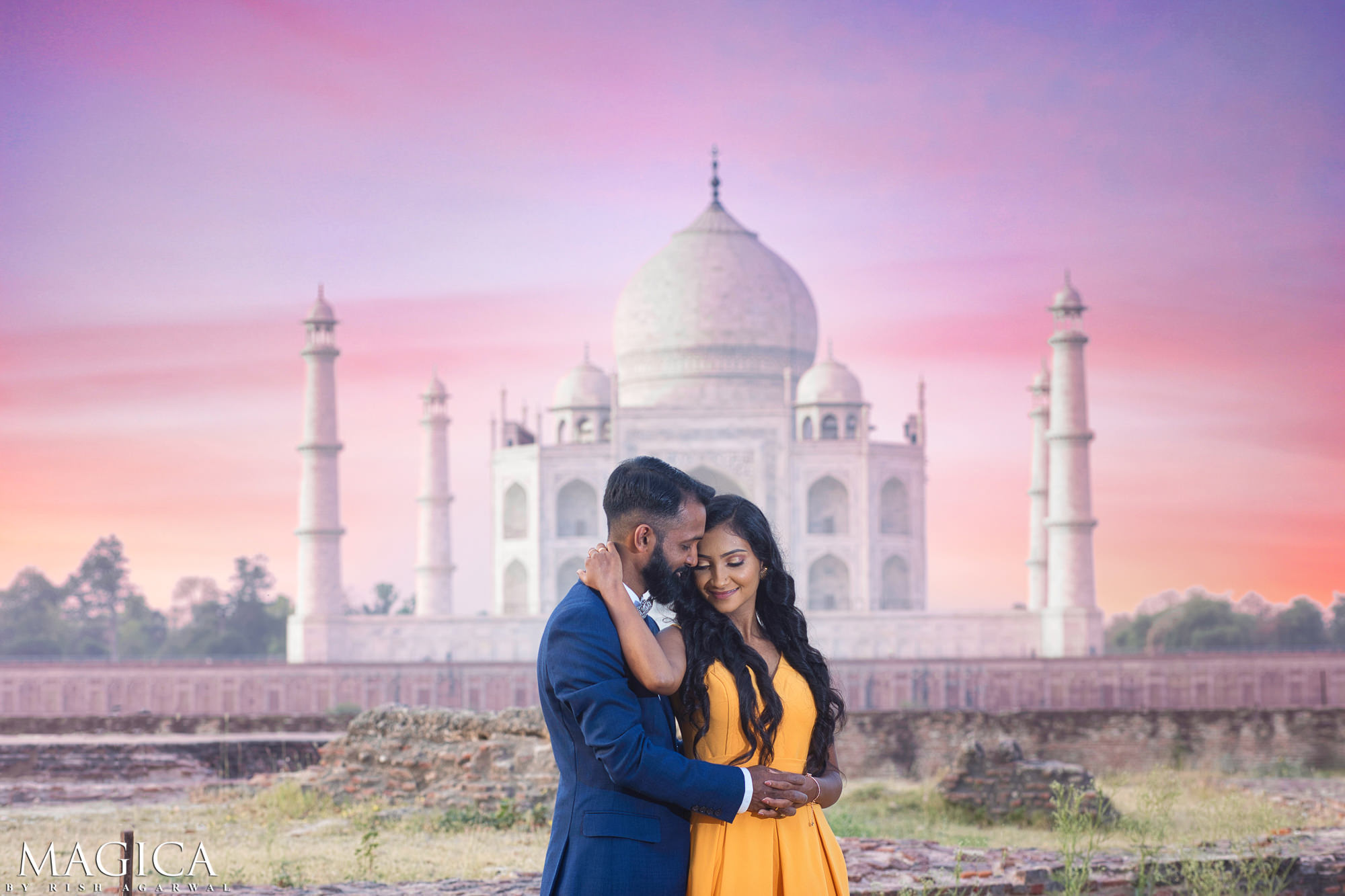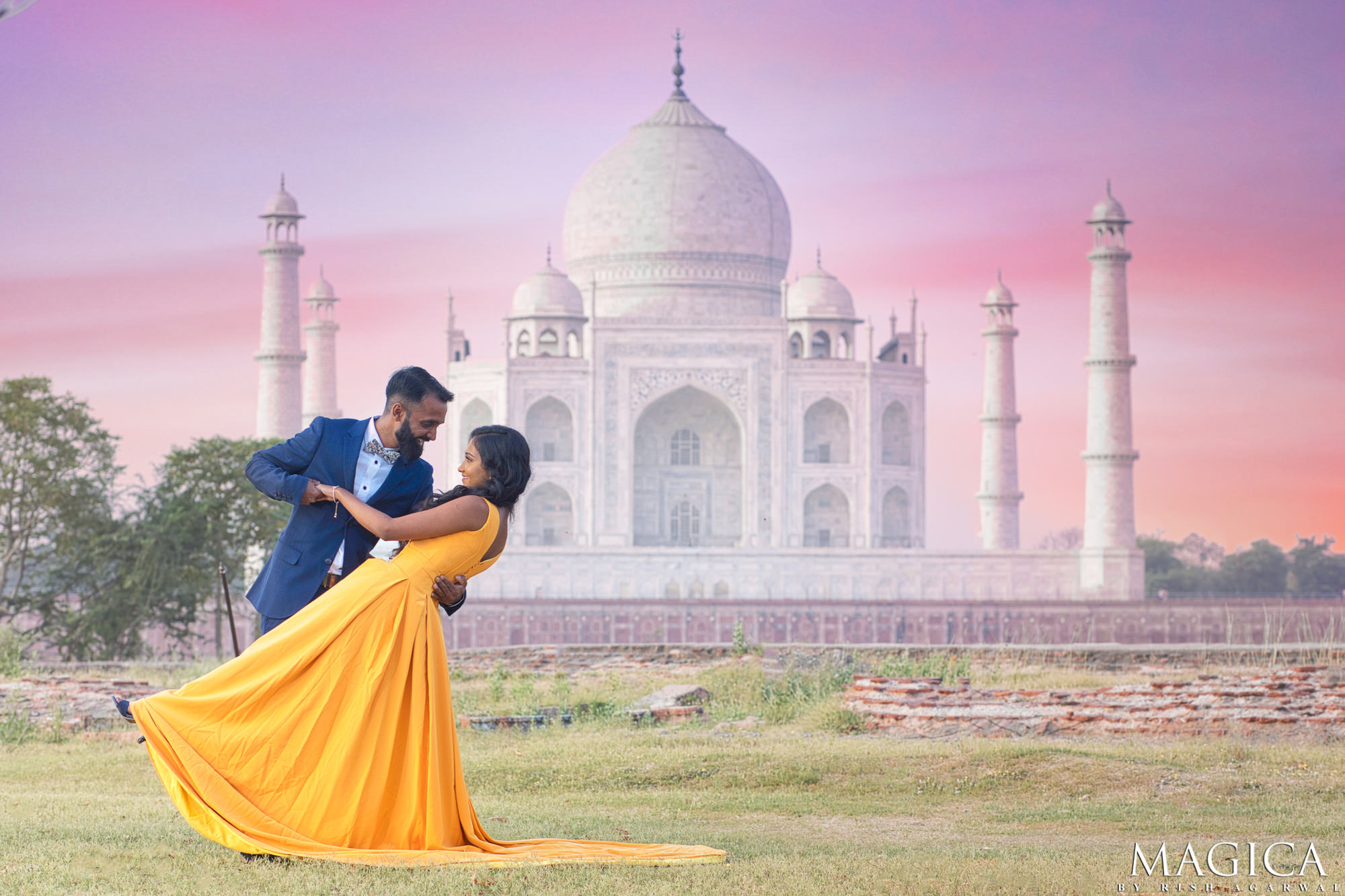 Mehtab Bagh or as they also call it, the 'Moonlit Garden' is probably the best location to get your pre-wedding shoot. It's located north of the Taj Mahal and measures about 300 by 300 metres and is perfectly aligned with the Taj mahal across the yamuna river. 

The Taj Mahal itself is a beautiful sight to behold and the site is located on the banks of the Yamuna river. It was built by Mughal Emperor Shah Jahan in 1631-32 and includes a beautiful white marble tomb for Mumtaz Mahal (the wife of Shah Jahan). The Taj Mahal has been declared as a UNESCO World Heritage Site. It also happens to be one of the most visited tourist spots in India for its beauty and history.

Many tourists visit this place to pay their respects at Mumtaz Mahal's tomb, but it also makes an excellent location for wedding photos as well.
The site of the Taj Mahal is located on the banks of the Yamuna River. The best time to shoot is in the morning or at night, when it is dark and you can get a good picture with a little light.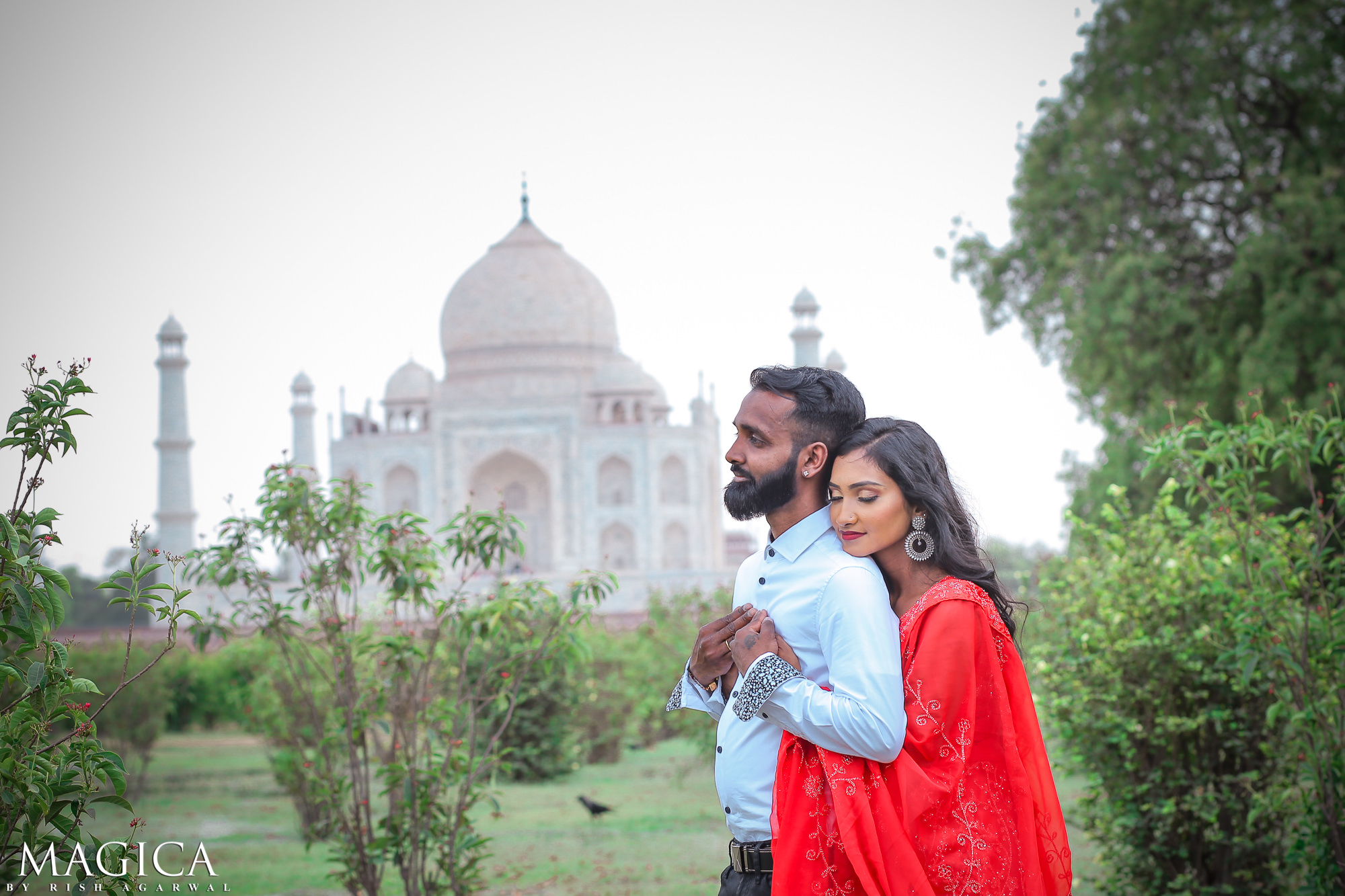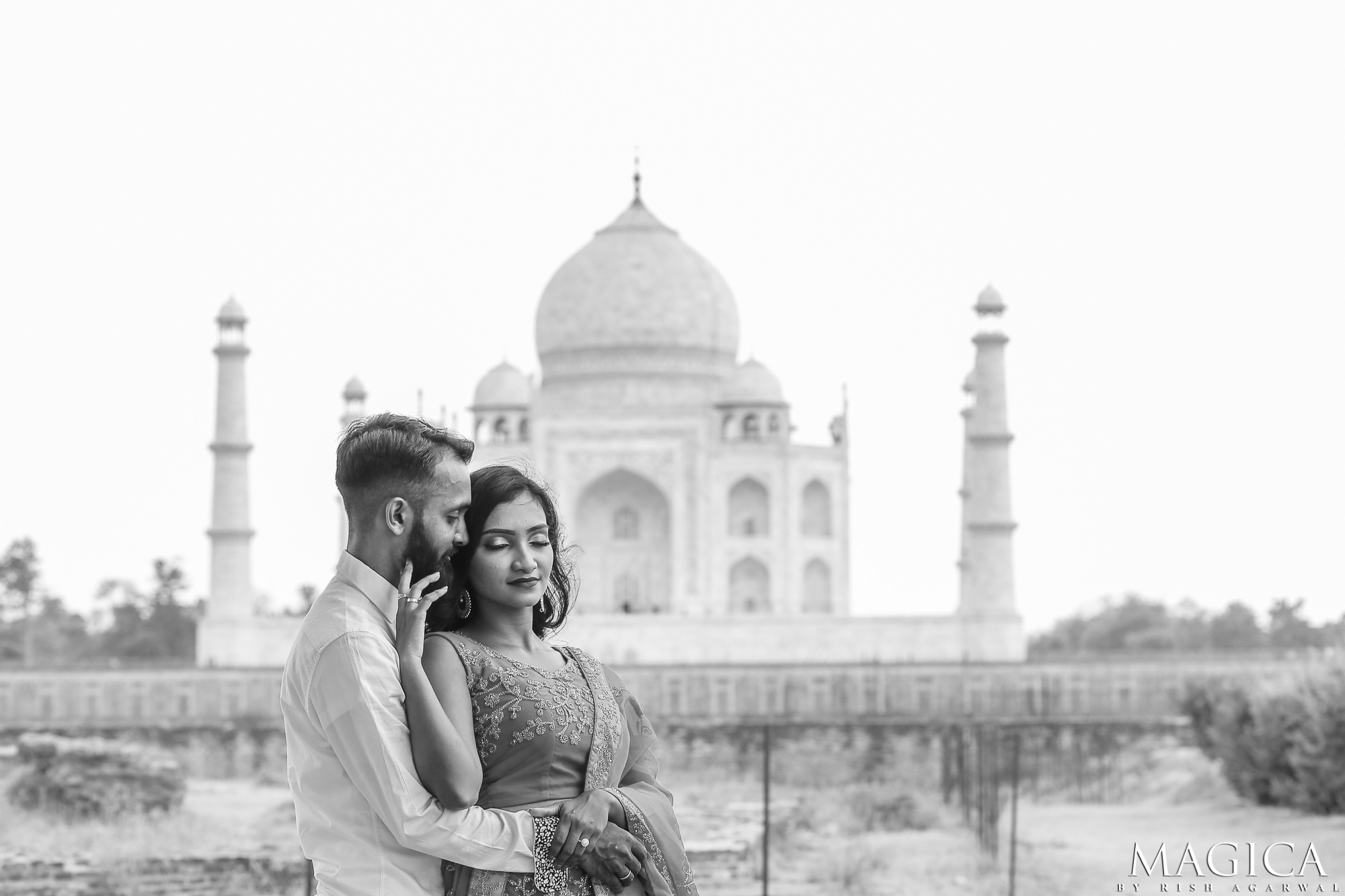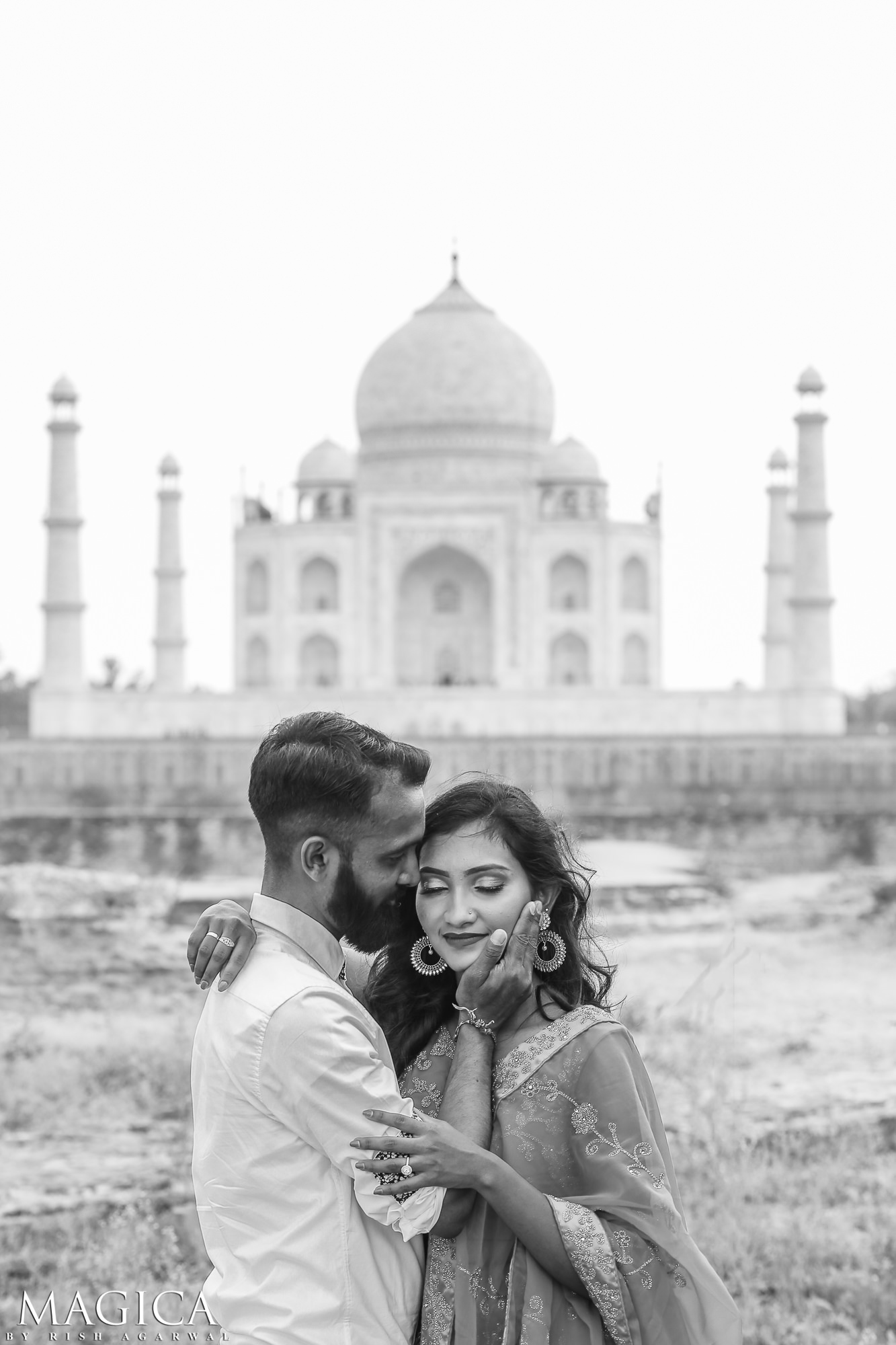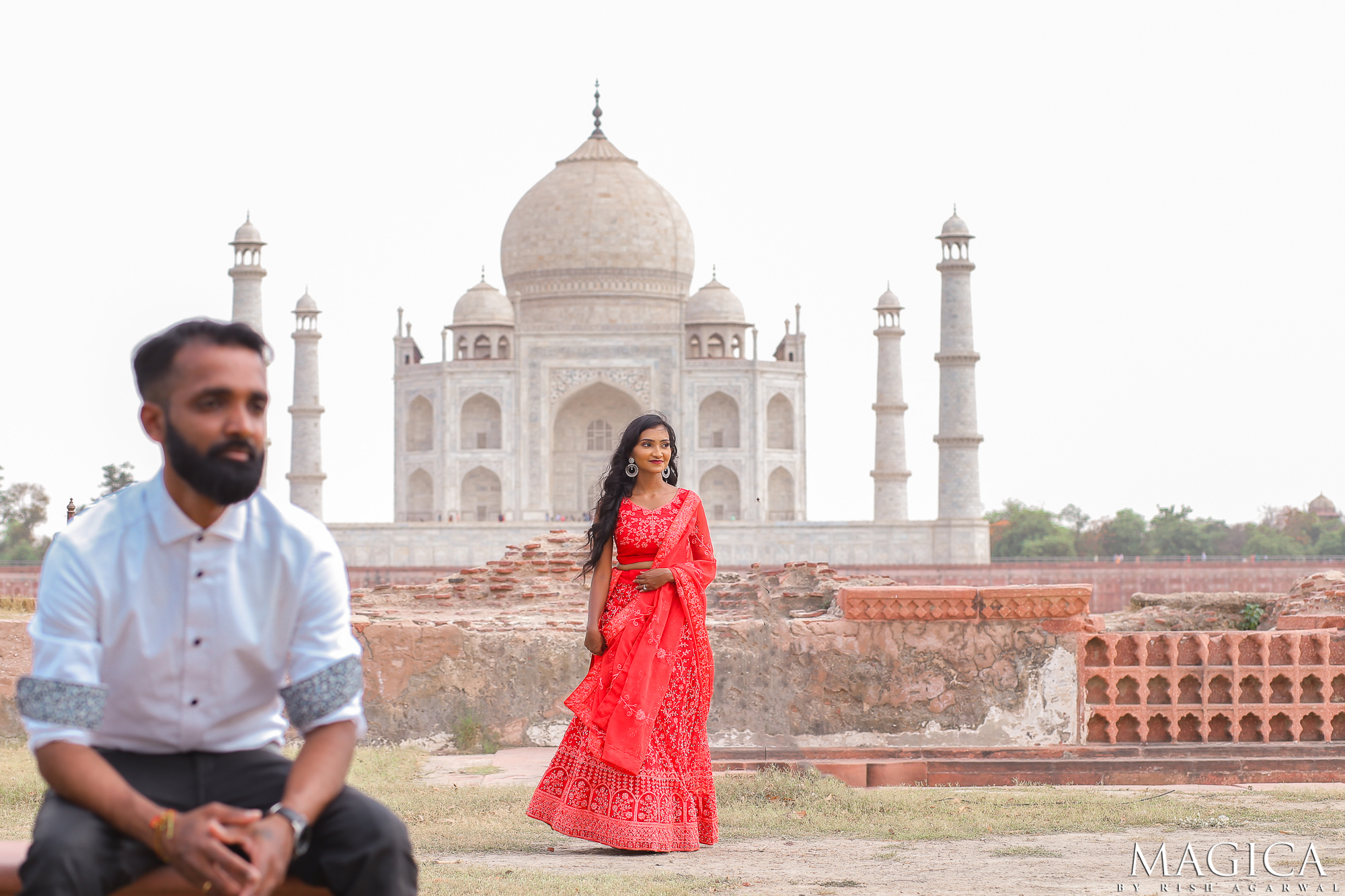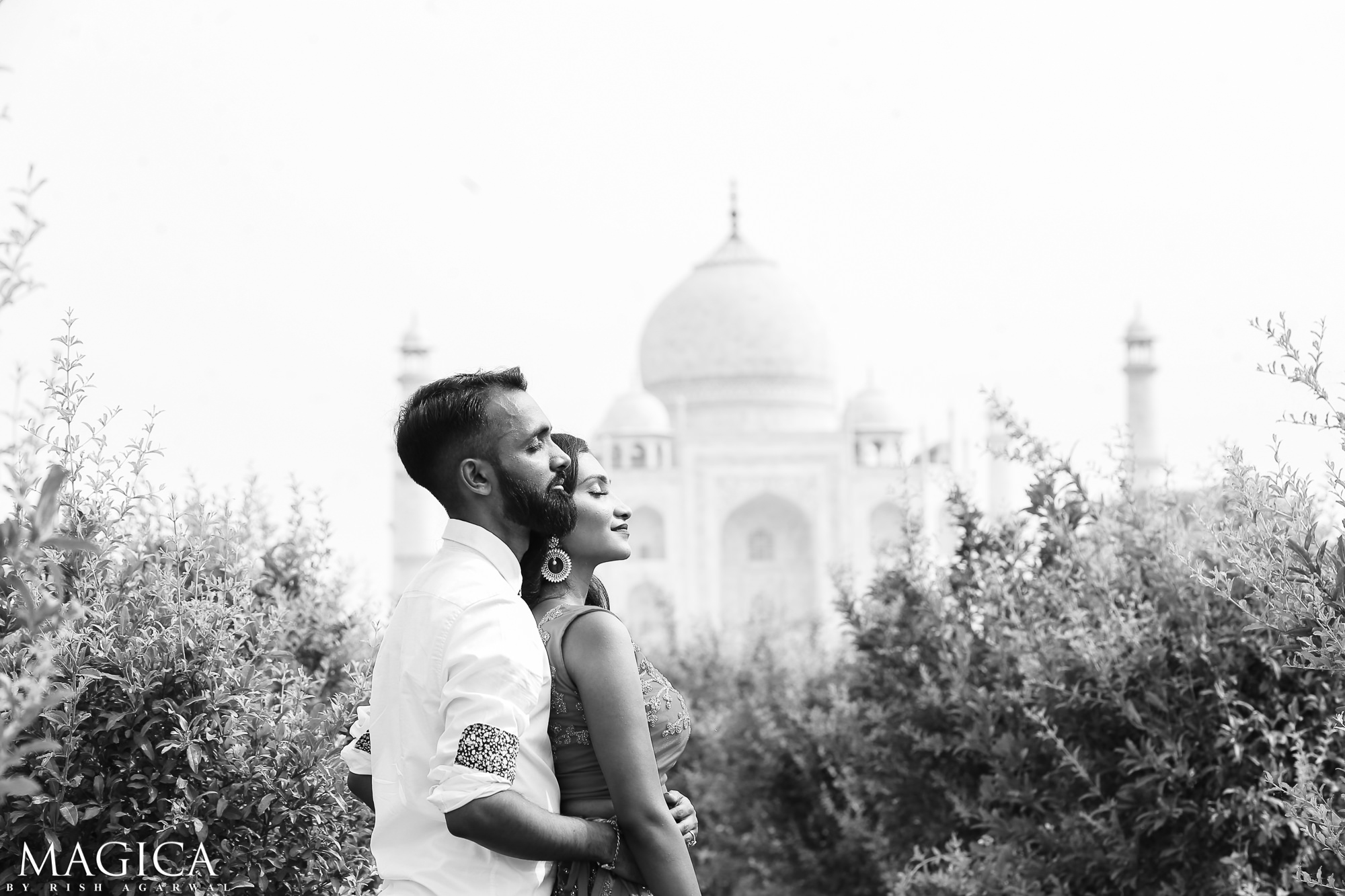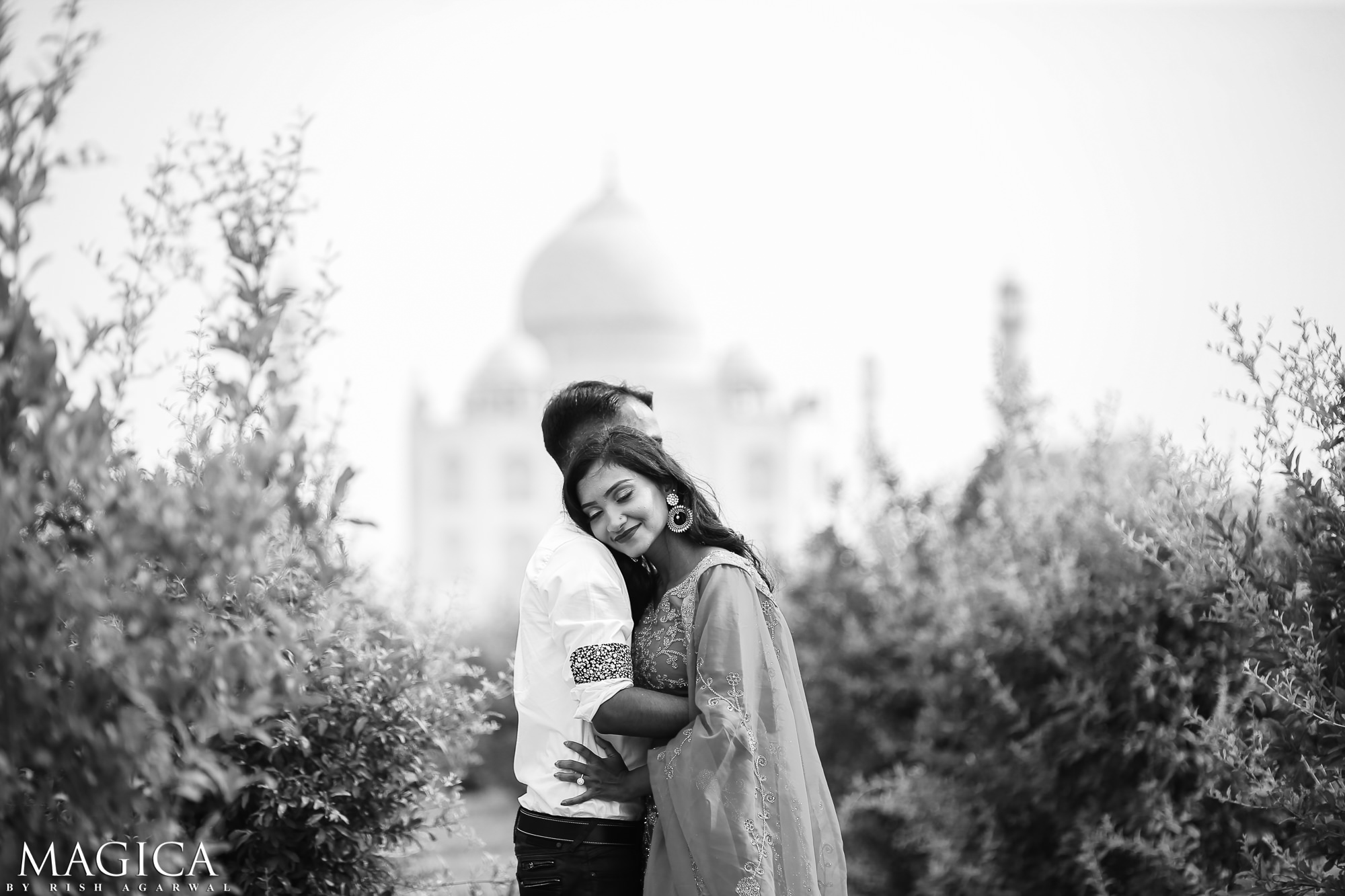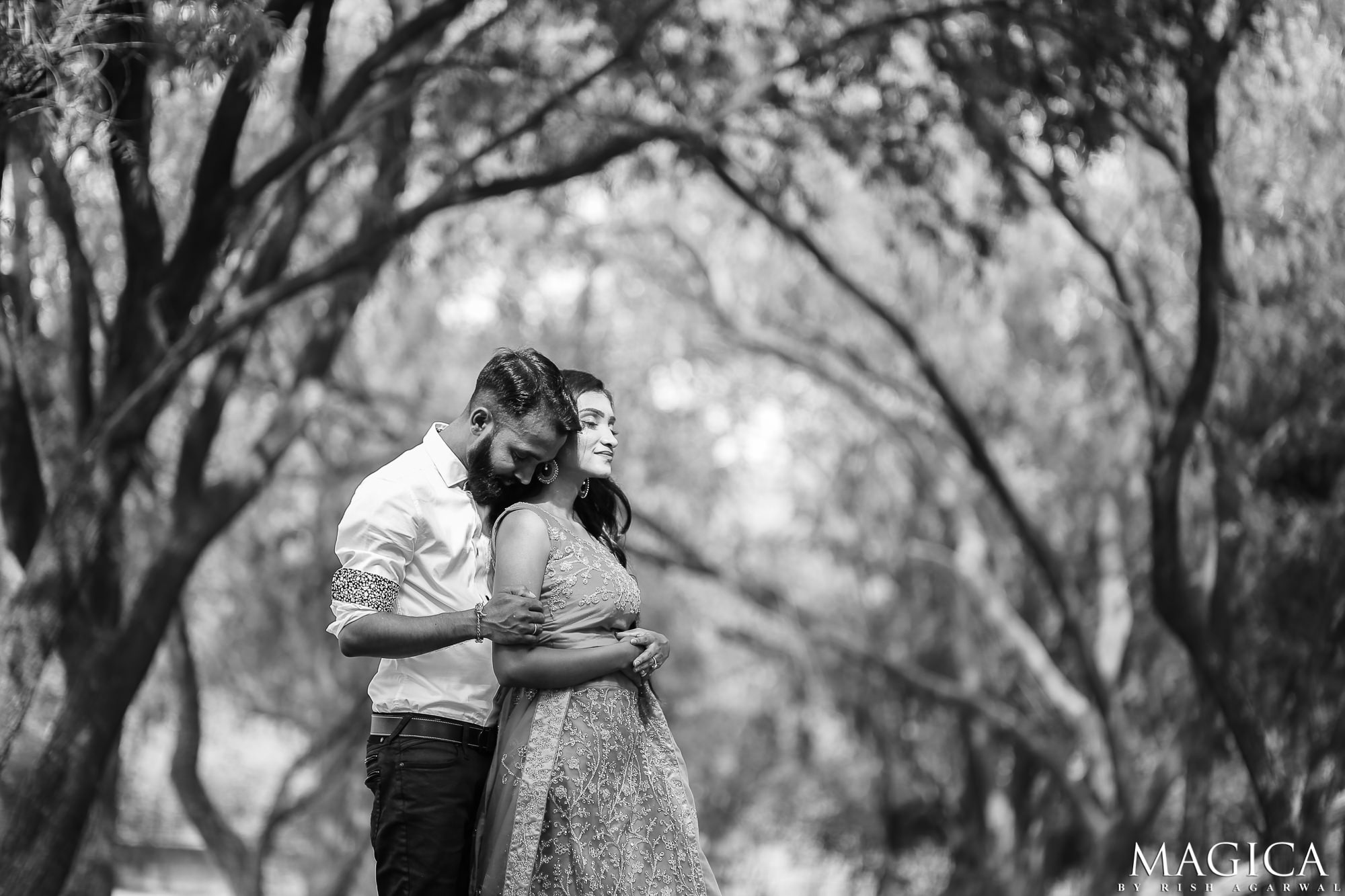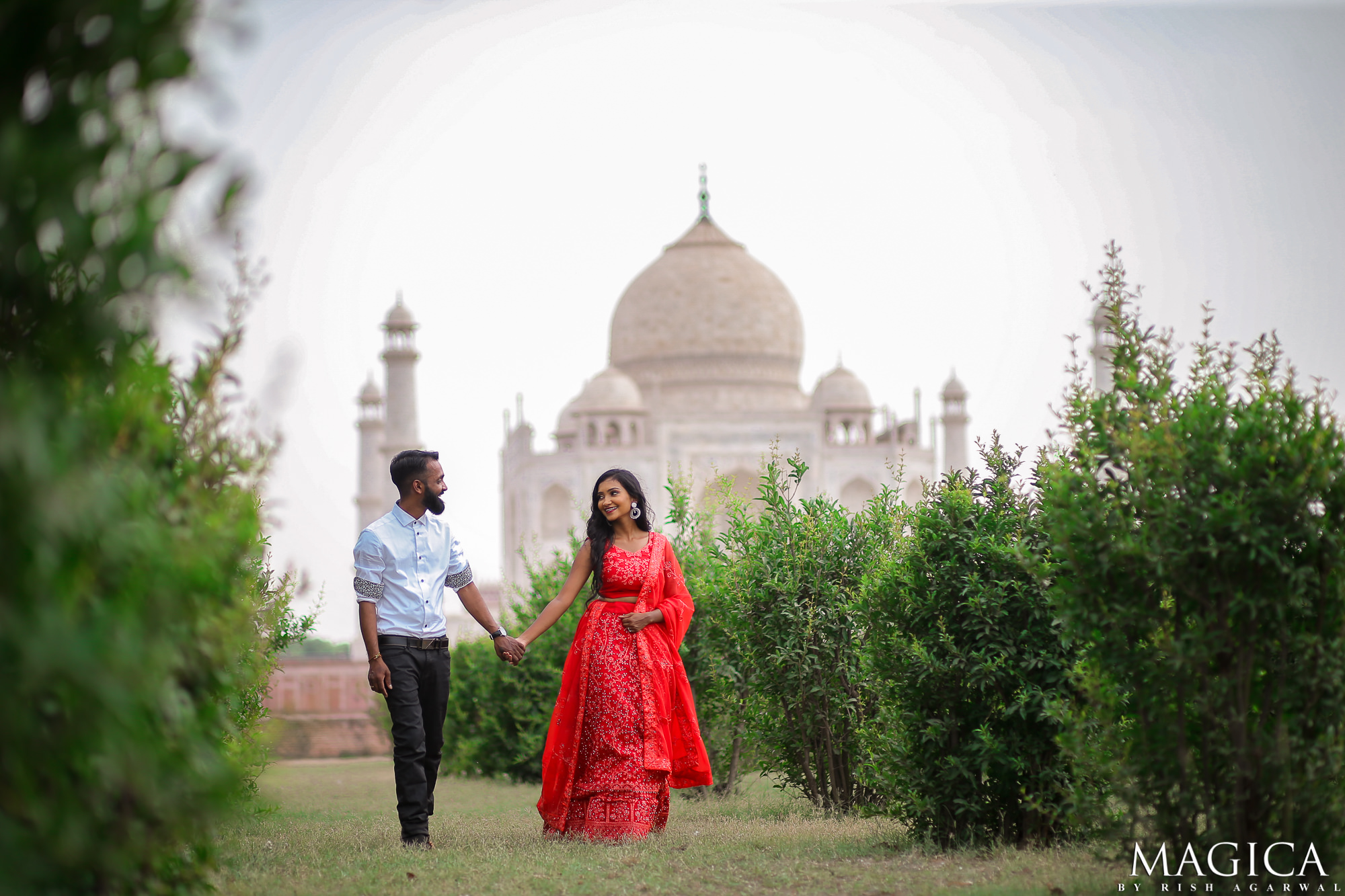 The boating area is a hidden gem of Mehtab Bagh and the pre wedding shoot at Taj Mahal. Make sure you take out some time to make some memorable photos here as well.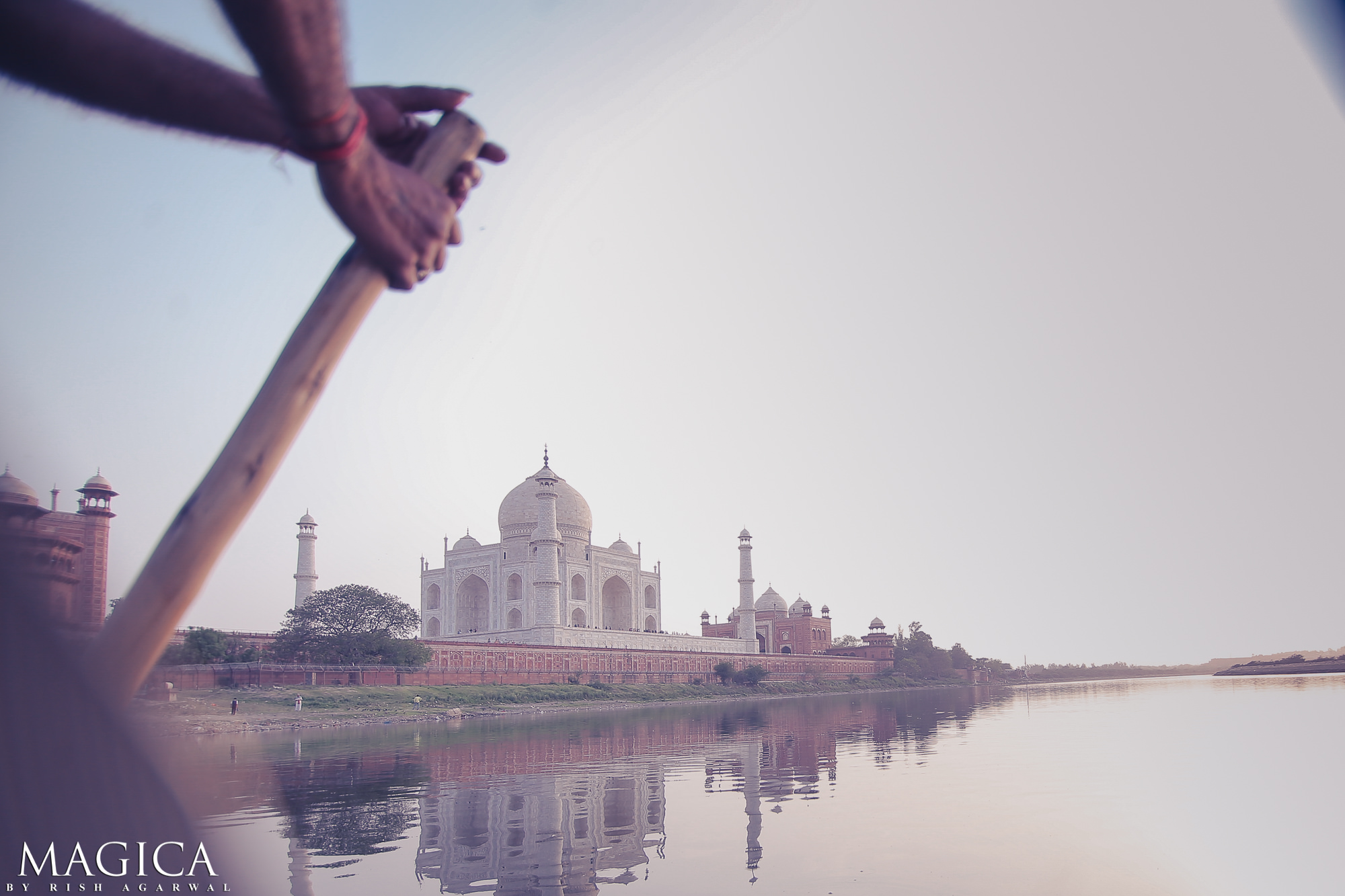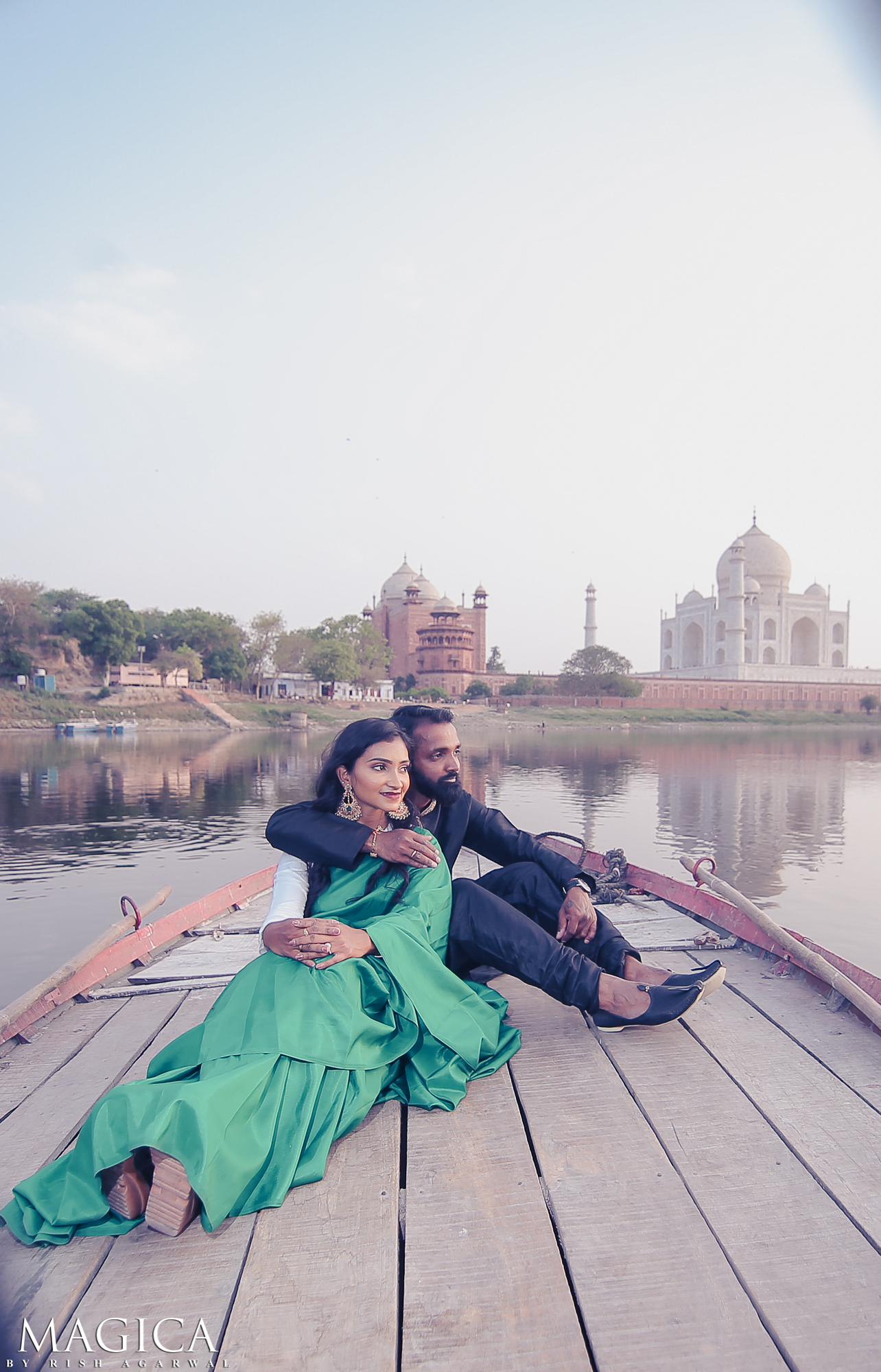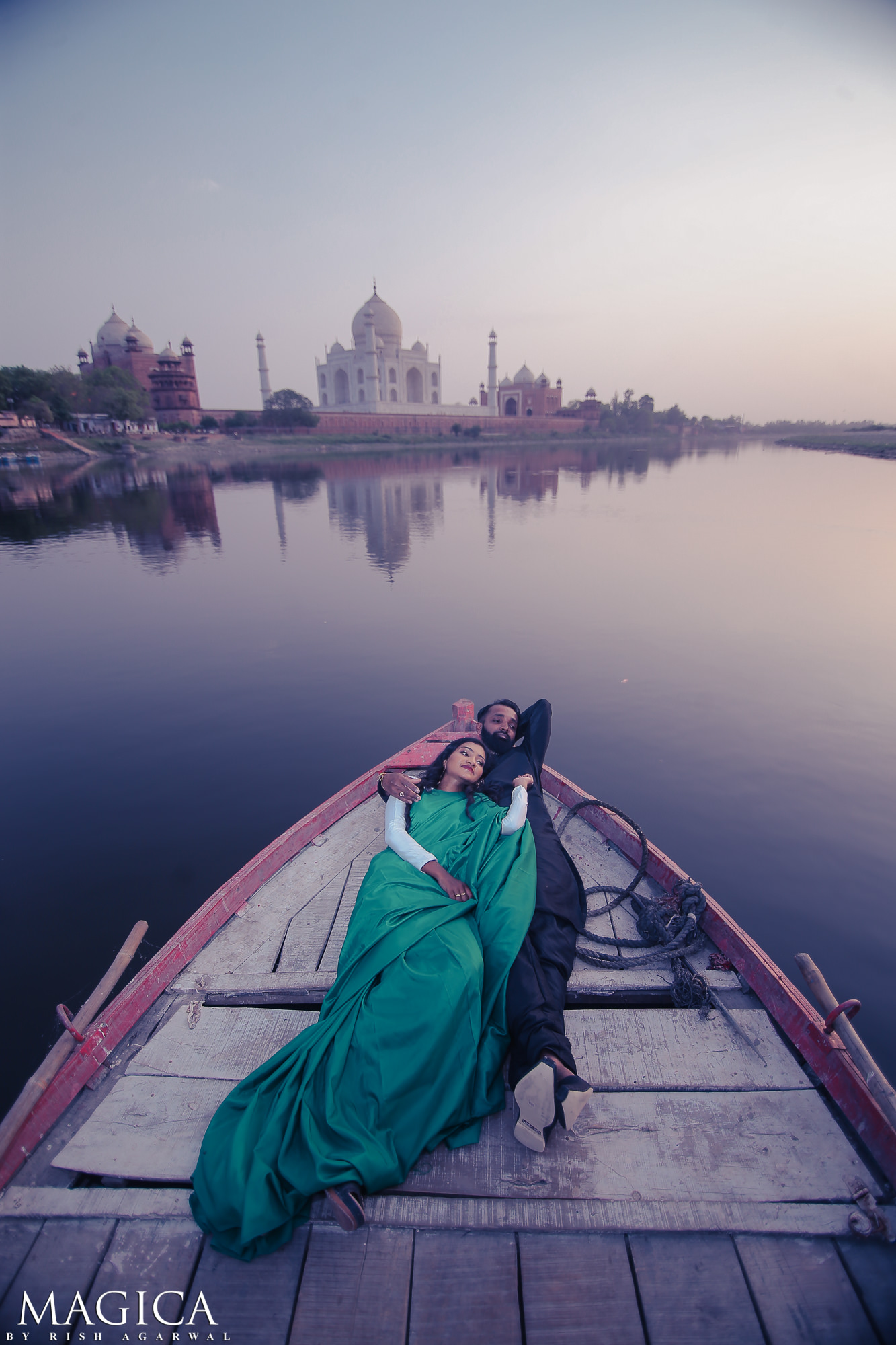 For best results, avoid shooting in direct sunlight since it will be too bright and you won't be able to see what you are shooting. 
To avoid this, shoot at an angle so that some of the sun rays do not hit your subject directly. 
If possible, try to get a location where there are less people so that you can get some privacy for your pictures. 
Try to select the attires which are complimentary to the background. Since Taj Mahal is a pure white monument, solid coloured attires in bright colors work best.
Taj Mahal Pre Wedding Shoot FAQs:
Is pre wedding shoot allowed in Taj Mahal?
Yes and no. If you want to go through official permission route, it'll be a long, tedious & very expensive process. However, through a licensed photographer, you can get your shoot done at Mehtab bagh, boating area and sunset point without any trouble.
How do I hire a photographer for the Taj Mahal pre wedding shoot?
It's really easy. Just hit the Contact Us button and drop us a message. We'll be more than happy to organize a shoot for you.
Is there a dress code for Taj Mahal?
There's no special or set dress code for Taj Mahal but if you're wondering what should you wear at the Taj Mahal photoshoot, we'd highly advice it to keep it less flashy and classy. Like we told above, solid colors work best. It's best to avoid very flashy and heavy lehengas also because you'll need to walk a lot during the pre-wedding shoot
How to plan the best pre wedding shoot at Taj Mahal?
We have written this guide for exactly that. Please go through it and don't hesitate to contact us if you have any further questions.
To book your pre-wedding shoot, contact us here: