Nishita & Michael - Taj Mahal, India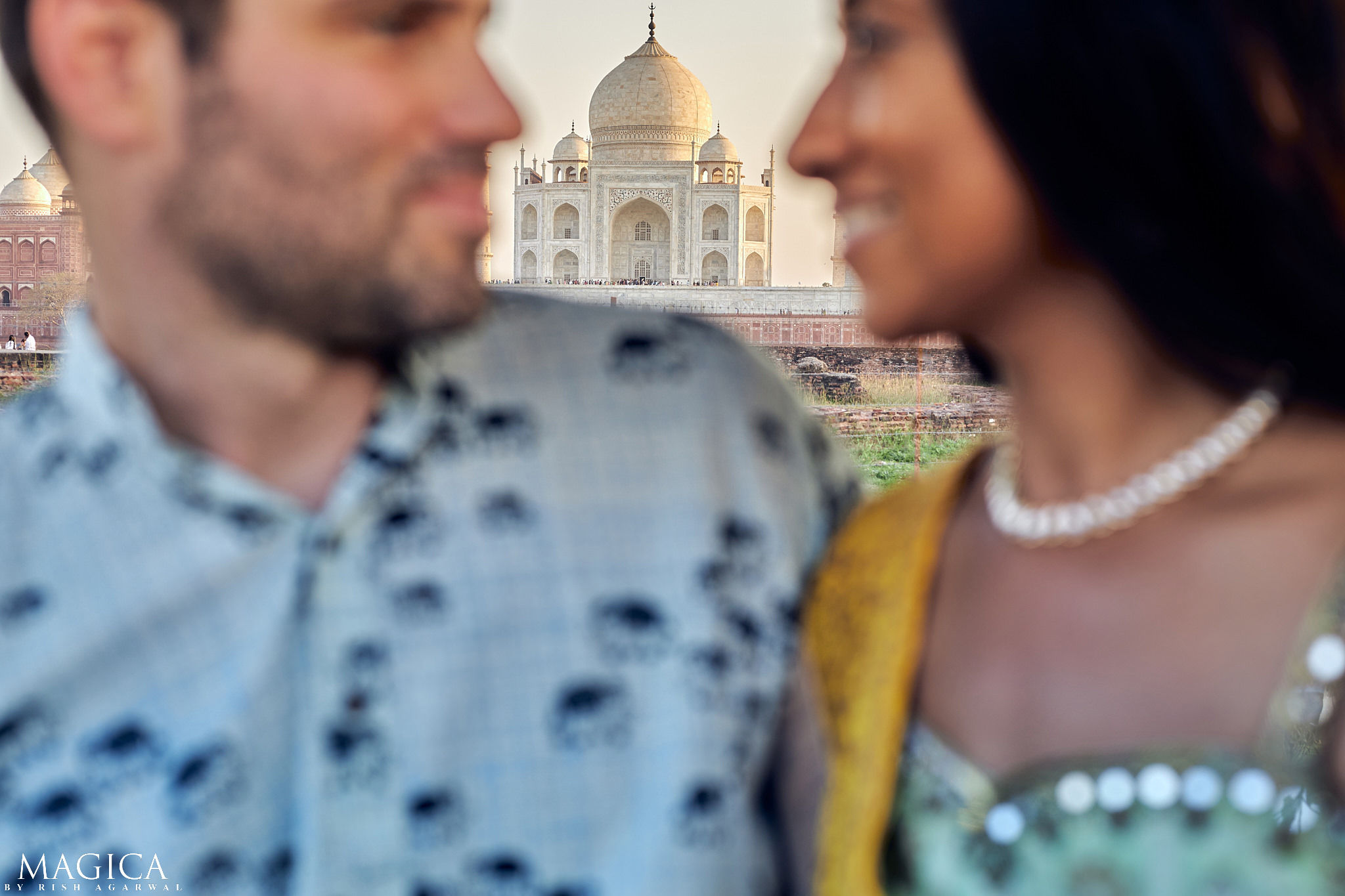 The Taj Mahal is a breathtaking masterpiece that has stood the test of time for centuries. From its intricate carvings to its majestic white marble dome, this architectural wonder has captured the hearts and imaginations of people all around the world. And what better way to immortalize its beauty than through a photo shoot?

As you plan for your photo shoot at the Taj Mahal, let us take you on a journey through one of our recent photo shoots at the Taj.
Imagine standing in front of the Taj Mahal at dawn, as the first rays of light pierce through the sky, casting a soft golden glow on the marble structure. This is the perfect time to capture the reflection of the Taj Mahal in the tranquil waters of the reflecting pool. The calmness of the pool is like a mirror, reflecting the majesty of the Taj Mahal in all its glory.

As you explore further, the Main Gate of the Taj Mahal will beckon you with its grandeur. Its arches and intricate carvings make for a stunning backdrop, a perfect place to capture the essence of the Taj Mahal.
The Gardens around the Taj Mahal are like a paradise on earth. The lush greenery and vibrant colors of the flowers create a stunning contrast against the white marble of the Taj Mahal. As you walk through the gardens, you'll be greeted by the chirping of birds and the sound of the flowing water. It is truly a tranquil escape from the hustle and bustle of everyday life.
But if you want to capture the Taj Mahal in all its grandeur and want to book your pre wedding shoot at Taj Mahal, then Mehtab Bagh is the place to be. Located on the opposite side of the Yamuna River, Mehtab Bagh offers a breathtaking view of the Taj Mahal. It is the perfect spot for a sunset photo shoot, as the golden hour light casts a warm glow on the Taj Mahal.
In conclusion, a photo shoot at the Taj Mahal is not just about capturing stunning photos, it is a journey through time and history. It is an experience that will stay with you forever, a moment frozen in time, a memory that you will cherish for a lifetime. So, pack your camera, head to Agra, and let the magic of the Taj Mahal unfold before your eyes.
Do check out With Love From Taj, our another popular & award-winning shoot done here