25+ Pre Wedding Shoot Poses Ideas
It's very special to photograph a pre-wedding shoot for a newly married couple. This can become their most significant phase before marriage, since it is not only a good picture with a spectacular background and location but also a time to bond as a couple. Having a pre-wedding shoot together is a break from all the preparation, and it will just be the two of them with one another.
Both of them have to carry it with them their whole life, so they have to have a lot of fun! It will be so much fun to look back on these memories and cherish them with your families and friends in the future.
Here are some ideas for your stunning pre-wedding shoot with your future spouse:
Lead the way
Another pose you can try is holding your partner's hand and running in a selected direction. For this pose to look stunning the photographer has to be ready with his continuous shoot mode on his camera and you both have to select a direction and look at each other. 
Goof Around
Goofing around with your partner will make the pics look adorable and genuine. Do not hesitate in front of the photographer, just be yourself in front of him/her. This is the best time to crack those PJs to crack up your better half in fits of laughter. 
Forehead Kisses
Forehead kisses are known to be the purest form of love. The picture with your partner kissing your forehead will make you feel all giddy and special whenever you will look at it hanging on your bedroom's wall. Ask the photographer not to just capture you two but use the location too. The beauty of the location will add a romantic touch to the picture. 
Forehead Touch
After a forehead kiss, touching both of your foreheads with each other is the next romantic thing. Here, use the location wisely. If it is sunset, use the setting sun as a center between both of your touching foreheads.  
Kneel Down
Kneeling in front of your partner is another romantic pose that can never go wrong. Kneel in front of her to show the immense amount of love you have for her and it would be nice romantic touch to the shot if you will hold a rose or some small token of love for her as a surprise. 
Reverse the role
Ladies even you can go down on your knees holding his hand, after all even he deserves to feel all giddy and happy when reminiscing the moment. 
On your toes, ladies
If your man is a bit taller than you, this pose will look gorgeous with you two. Ask the photographer to focus on both of your toes and with good background and ladies stand on your toes. It will be such a cute picture to look at.

 And it would be really adorable if he holds your pair of shoes while posing.
Flaunt your ring
Pose with showing off your rings to the camera. The photographer will either capture the whole of you both or just the hands wearing the rings. Either way, this picture will turn out to be stunning when executed properly.
Piggyback Ride
The Piggyback ride looks cute and you can use this as an opportunity to give your ladylove a piggyback ride. If you guys are a fun-loving couple this is one of the poses you can try.

And for fun and some uniqueness, you too can try to give your man a piggyback ride. Why should girls have all the fun!! Right?
Follow Me
Take inspiration from the famous photographer and travel influencer Murad Osmann, who started a photo series with his lady love named 'Follow Me to the'. Pose with your partner with a beautiful background. 
Twirl and look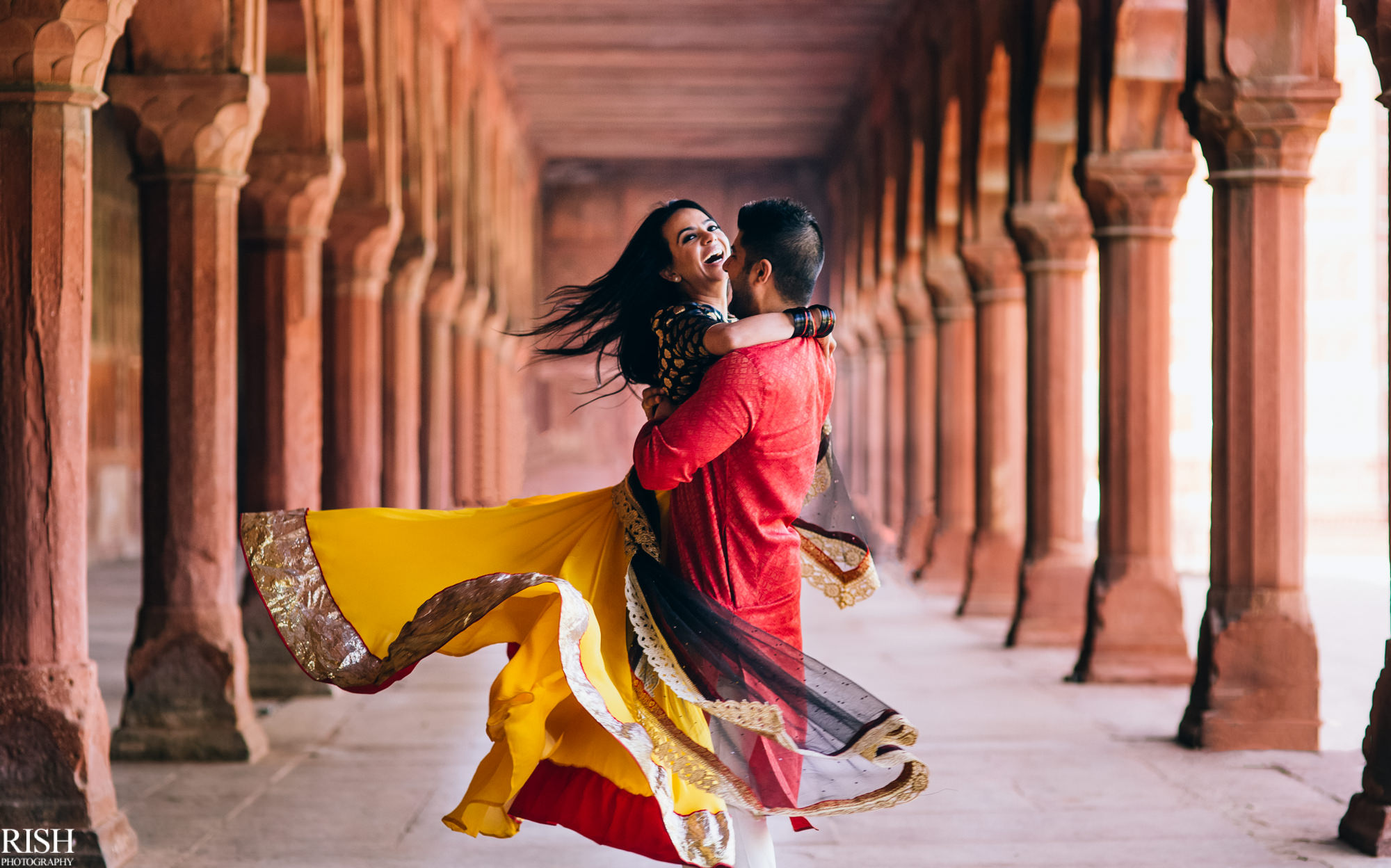 Another amazing pose for a couple is the girl twirling and her man looking at her lovingly. Ladies if you are wearing a heavy or a simple flowy long skirt, use the outfit for the execution of the pose and the photographer can do the rest.

If the pre-wedding photographer can take a shot from an up angle then you will have a stunning picture to carry for a lifetime. 
In the water
If you have selected a location with water bodies like a beach, or waterfalls, or a pool, use the water element in your shoot. On the beach, you both can ask the photographer to take a shot of you both walking on the shore with the waves touching your feet or get inside the beach, it's even better. 
Set Her Saree Pleats
Hello to all the boys out there, your lady love is a sucker for small cute gestures and one of the poses you can try is to sit on your knees and set her saree pleats. Trust us, these small cute gestures are what win her heart.
Lift Her Up
Gentlemen, lift her for a pose just like how you promised her to lift her spirits and mood whenever she feels down or low. 
Do push ups with her on the back
Do a push-up pose with her on your back showing the immense love and respect you have. This picture will make her and you both feel, that no matter what you will always be there to carry her burden, small or big, doesn't matter. 
Jump with joy
Think of the fact, finally, you both are tying the knot and going to start a new journey. This thought will make you jump in joy, so why not capture this moment. 
Sit on his lap
Another cute pose is just sitting on his lap and he lovingly holding you. Take inspiration from SamanthaPrabhu and her husband Naga Chaitanya. How adorable they look! 
Light some night lanterns or fireworks
You remember Peter Kavinsky and Lara Jean from the "To all the boys" movie series. Take inspiration from their lighting lanterns scene where they promised each other to never break each other's hearts and follow the aesthetics they used. 
Lift her up and twirl
Twirling has become a trend, and lifting her and twirling is a good idea for a pre-wedding shoot. This picture reflects the happiness and serenity between the couple and of course while shooting the happiness and the laughter come naturally which makes the picture more natural. 
Shower her with flowers
This picture will look absolutely gorgeous if executed properly. Ladies stand on lower ground and let your man stand on higher ground, now when he will shower you with flowers the photographer has to take a snap of this perfect moment. 
Lean on him
Ladies use your man as a pillar to lean and him holding you lovingly. This pose reflects the support of each other as a couple.
Lean on her
Ladies even you need to support your man, so let him lean on you while you are in a sitting position. 
Your personal photographer
In every relationship, there is one individual who loves taking snaps. So use this opportunity to show that in your shoot too. Let your partner take a snap of you and the photographer will capture that moment.
Fix her hair
Take a snap of you fixing her hair, after all, you are her life partner and these small gestures are what make the relationship going and this will melt hearts into a puddle. 
That loving gaze
Often, we look at our partner and think about how is she/he, my life partner. At some point, you may find your partner looking at you with a loving gaze; though you are doing nothing special. Let the photographer capture these moments.
Sunset kisses
Another pose which you can try with your partner is the lip kiss. To make it more interesting take the beach and sunset as the location and ask the photographer to click a silhouette shot while you both are kissing. This picture will look amazing with the sunset and the beach in the background. 
The Dream Pose
If you have seen enough Bollywood movies like us, then this one will be easier for you to understand. The flowy dupatta or saree will play the main role here to bring out the beauty of this picture. And who doesn't want a dreamy out of the movie sequence for their pictures?

Hire a boat for this shot and you might need a few more people to hold the end of the dupatta or saree to give that effect. 
One with your furry friend
If one of you owns a pet or if you both are planning to get a pet together, why not include the little furball! It will look super adorable and will make the shoot 10 times more fun and happening.
Plan a date night or picnic
Plan a date night or day picnic with your partner and ask your photographer to capture the moments between you both. Choose a beautiful location for your picnic or date night setup and wear outfits matching the vibe of the setup. A date night in the open with a lake in the background will look fabulous. This time will be precious for the couple too as they will get to spend some romantic time together. 
The one with Mrs. jacket on
Ladies, you can add a personal touch to your shoot by wearing a customized jacket with- " Mrs. (his last name)" on the back. Pictures like these are memories worth keeping and a gesture of love from you to him. 
The fault in our stars pose
Who can forget the famous Augustus and Hazel Grace love story? Recreate the movie poster with your partner. This picture gives all the romantic vibe and whenever you will look at the picture at your place, it will definitely make you fall in love with your partner again and again.
Conclusion
Every day in the wedding industry, trends are changing. Every couple wants to produce something new and the most crucial part of a shoot is the poses. To get the most sophisticated pictures of your loving moments, be a part of your interests as a couple and incorporate them into your shoot. If everything is possible when it comes to photography, then creativeness is no longer constrained. Every pose is a work of art. Don't be afraid to stare into the camera. Concentrate on your partner and think about the wonderful future you will build. The best photograph and after all these are the moments you want to preserve for your entire lifetime. Every best pre wedding photographer knows how to get the best shot, so follow his or her instructions.